Who is Laura Louie?
Laura Louie was born in 1965 in the United States; the actual date and place of her birth is unknown. She is a 55-year-old entrepreneur and activist, but probably best recognized for being the wife of famous Hollywood star Woody Harrelson.
How rich is she, as of now? Laura Louie Net Worth
As of early 2021, Laura Louie's net worth is close to $1 million, acquired through her successful involvement in several endeavors. Moreover, it is assumed that she shares the wealth of her famous husband, Woody Harrelson, who has an estimated net worth at over $70 million.
Early Life, Parents, Nationality, Ethnicity, Education
Laura Louie spent her early years somewhere in the United States, where she was probably raised by her parents; however, there is no information in the media about their names and professions; it's also unknown whether she has siblings or not. Laura holds American nationality, and belongs to Asian ethnic group. Regarding her education, she attended a college after completing her high school education, graduating with a degree in Business Management and Environmental Science.
Professional Career
Right after her graduation, Laura Louie landed a job in the film industry, working in the position of a personal assistant to her future husband Woody Harrelson on film productions.
She would later try herself as a businesswoman and entrepreneur, including co-founding the organic food delivery service Yoganics, alongside her husband Woody. In 2001, they launched a website called Voice Yourself, with their main goal to raise awareness of environmental conservation, and promote eco-friendly lifestyles and organic food.
Marriage with Woody Harrelson
Laura Louie met her future husband Woody Harrelson on the set of the film "Cheers" back in 1987 and became his personal assistant, but soon fell in love and became romantically involved. After 15 years of dating, the lovebirds eventually exchanged their wedding vows at a private ceremony which took place on 28 December 2008 in Maui, an island in Hawaii, where they currently reside with their children.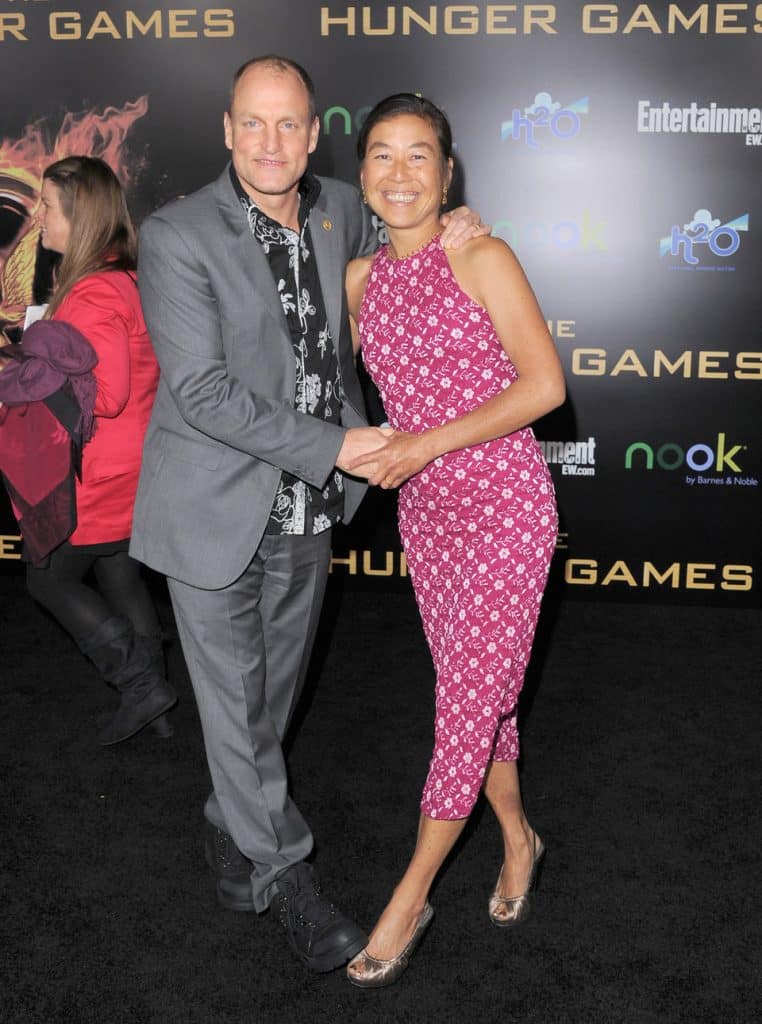 Mother of Three Daughters
Laura Louie and Woody Harrelson are the proud parents of three daughters. She gave birth to their first daughter named Deni Montana on 28 February 1993, then on 22 September 1996 they welcomed their second daughter named Zoe Giordano, while their third and youngest daughter named Makani Ravello was born on 3 June 2006.
Appearance and Vital Statistics
Laura Louie has long dark brown hair and dark brown eyes. She stands at a height of 5ft 9ins (1.75m), while her weight is approximately 130lbs (60kgs), and her vital statistics are 34-24-35, bra size 33B, and shoe size 7 (US).
Who is her husband? Woody Harrelson Short Wiki/Bio
Woodrow Tracy 'Woody' Harrelson was born on 23 July 1961 under the zodiac sign of Leo, in Midland, Texas USA. He is the son of Charles Voyde Harrelson, a convicted hitman who earned a life sentence for killing Federal Judge John H. Wood Jr., and Diane Harrelson, who worked as a secretary.
He spent his early years in his hometown, until he moved with his mother to Lebanon, Ohio in 1973, where he went to Lebanon High School. Upon matriculation in 1979, Woody enrolled into Hanover College, Indiana, from which he graduated with a BFA degree in Theatre and English in 1983.
Big Break and "Cheers"
Woody Harrelson made his debut appearance as an extra in the 1978 comedy film "Harper Valley PTA", while his big break came when he joined the cast of the NBC sitcom "Cheers" (1985-1993) as bartender Woody Boyd, which earned him the 1987 American Comedy Award for Funniest Newcomer – Male or Female, as well as the 1989 Primetime Emmy Award for Outstanding Supporting Actor in a Comedy Series.
Concurrently, Woody continued pursuing his film projects, playing Krushinski in the sports comedy film "Wildcats" (1986), Dustin in the romantic comedy film "Cool Blue" (1990), and Hank in the romantic comedy film "Doc Hollywood" (1991), alongside Michael J. Fox.
It was followed by his portrayals of Billy Hoyle in the 1992 sports comedy drama film "White Men Can't Jump" next to Wesley Snipes, and David Murphy in the 1993 drama film "Indecent Proposal", opposite Robert Redford and Demi Moore.
Worldwide Recognition
In 1994, Woody landed the roles of Mickey Knox in the crime film "Natural Born Killers", directed by Oliver Stone, and Pepper Lewis in the action comedy film "The Cowboy Way", after which he featured as Charlie Robinson in the action film "Money Train" in 1995. During the next year, he gained worldwide recognition starring as Larry Flynt in the biographical drama film "The People Vs. Larry Flynt", directed by Miloš Forman; for this role, Woody was nominated for an Academy Award for Best Performance by an Actor in a Leading Role and a Golden Globe Award for Best Performance by an Actor in a Motion Picture — Drama.
Woody's more serious performances followed, playing Flynn in the war film "Welcome To Sarajevo", and portrayingd Sgt. William Schumann in the political comedy-drama film "Wag The Dog", both in 1997. By the end of the decade, Woody had also starred in such major roles as Harry Barber in the 1998 neo-noir thriller film "Palmetto", Sgt. Keck in the 1998 epic war film "The Thin Red Line", and Vince Boudreau in Ron Shelton's 1999 sports film "Play It To The Bone", next to Antonio Banderas. In the same year, he also guest-starred as Woody Boyd in the episode "The Show Where Woody Shows Up" of the NBC sitcom "Frasier", for which he was nominated for a Primetime Emmy Award for Outstanding Guest Actor in a Comedy Series.
Continued Success
In 2001, Woody was cast as Nathan in the NBC sitcom "Will & Grace", after which he played Jason 'Woods' Valley in the 2003 criminal comedy film "Scorched", and portrayed Stanley 'Stan' P. Lloyd in the 2004 action comedy film.
Thereafter, he landed such roles as Bill White in the drama film "North Country" (2005), Dusty in the musical comedy film "A Prairie Home Companion" (2006), alongside Meryl Streep and Tommy Lee Jones, and Carter Page III in Paul Schrader's drama film "The Walker" (2007).
Later that year, he also played Dale in the political action-thriller film "Battle In Seattle", portrayed Robert O. 'Bob' Wilson in the documentary film "Nanking", and featured as Carson Wells in the Academy Award-winning crime thriller "No Country For Old Men", which led him to become a co-recipient of a Screen Actors Guild Award for Outstanding Performance by a Cast in a Motion Picture, along with Javier Bardem, Tommy Lee Jones and other cast members.
Further Work
In 2008, Woody landed the roles of Monix in the sports comedy film "Semi-Pro", next to Will Ferrell, and Ezra Turner in the drama film "Seven Pounds", alongside Will Smith.
He then played Captain Tony Stone in the 2009 war drama film "The Messenger", for which he received an Academy Award nomination for Best Supporting Actor. In the same year, he portrayed Charlie Frost in the sci-fi disaster film "2012", and starred in the role of Tallahassee in the post-apocalyptic zombie comedy film "Zombieland", which he would later reprise in its 2019 sequel entitled "Zombieland: Double Tap". Afterwards, he featured as a bartender in the martial-arts action film "Bunraku" (2010), and then starred as Tommy Bollinger in the romantic comedy film "Friends With Benefits" and David Douglas Brown in the drama film "Rampart", both in 2011.
"The Hunger Games" Film Series and Other Major Roles
In 2012, Woody landed the role of Haymitch Abernathy in the dystopian sci-fi action film "The Hunger Games", along with Jennifer Lawrence, Josh Hutcherson, and Liam Hemsworth.
He would later reprise the role in its three sequels – "The Hunger Games: Catching Fire" (2013), "The Hunger Games: Mockingjay – Part 1" (2014), and "The Hunger Games: Mockingjay – Part 2" (2015). Concurrently, he also starred as Steve Schmidt in the HBO political drama film "Game Change" (2012), which earned him a Golden Globe Award nomination for Best Actor – Miniseries or Television Film. He then played Merritt McKinney in the heist thriller film "Now You See Me" (2013) and its sequel "Now You See Me 2" (2016). Besides that, he was cast as Detective Marty Hart in the HBO crime series "True Detective" (2014), for which he also served as an executive producer.
Recent and Upcoming Projects
Woody's next major role came when he portrayed former US President Lyndon B. Johnson in the 2016 political drama film "LBJ", after which he wrote, directed, produced and starred as himself in the 2017 comedy film "Lost In London".
Later that year, he played Sheriff Bill Willoughby in the critically acclaimed crime drama film "Three Billboards Outside Ebbing, Missouri", for which he was nominated for an Academy Award for Best Supporting Actor. It was followed by his portrayals of the title role in Craig Johnson's comedy-drama film "Wilson", Rex Walls in the biographical drama film "The Glass Castle", and Jonathan Landay in the drama film "Shock And Awe".
His most recent major roles include Tobias Beckett in the 2018 space Western film "Solo: A Star Wars Story", directed by Ron Howard, Maney Gault in the 2019 period crime drama film "The Highwaymen", which he also produced, and Admiral Chester W. Nimitz in the 2019 blockbuster film "Midway". Moreover, he made appearance as Cletus Kasady a.k.a. Carnage in the superhero film "Venom" (2018), which he will reprise in its upcoming sequel entitled "Venom: Let There Be Carnage".
He will be feature in other upcoming film titles, such as "The Man From Toronto", "Kate", and "Triangle Of Sadness".
Theater Career
Between 1985 and 1986, Woody performed as Joseph Wykowski in Neil Simon's semi-autobiographical play "Biloxi Blues" at the Neil Simon Theatre, after which he starred as Jack in the play "The Boys Next Door" at the Lamb's Theatre from 1987 to 1988.
In 1999 he directed his own play entitled "Furthest From The Sun", at the Theatre de la Jeune Lune, which was followed by his performance as Bill Starbuck in the Broadway revival of "The Rainmaker" (1999-2000), written by N. Richard Nash. He then performed as Shannon in the play "The Night Of The Iguana" at the Lyric Theatre in London from 2005 to 2006. Woody also co-wrote and directed the Off-Broadway play "Bullet For Adolf" in 2012.