• Trevor Donovan is an American actor and model best known for his role as Teddy Montgomery in "90210"
• He is of mixed Welsh, German, Irish, English, Norwegian and Czech ethnicity and obtained a Bachelor's Degree in Graphic Design from the Art Institute of Los Angeles
• He had minor roles in various TV programs, then a recurring role in "90210" and minor roles in films such as "Surrogates", "Takers" and "Savages" as well as Hallmark films
• He is an animal lover, a children's book author, a social rights advocate and a volunteer for the Robert F. Kennedy Center for Justice and Human Rights
• His net worth is estimated to be over $10 million, mostly from his acting career
Who is Trevor Donovan?
Trevor Donovan is an American actor and model. He is popularly known for his role as Teddy Montgomery in the hit teen drama series "90210". He is to be part of the independent movie, "Reagan".
Early life, family, educational background
Trevor Donovan Neubauer was born on 11 October 1978, in Bishop, California USA. He spent his formative years in Mammoth, California, where he grew up doing outdoor activities such as snowboarding and skiing. His love of sports led him to be part of the US skiing team in the Junior Olympics.
Trevor is American and of mixed Welsh, German, Irish, English, Norwegian, and Czech ethnicity. There is little information about his parents and the rest of his family, except that he has a younger brother named Jake, who works as a fireman.
His well-educated, and earned his Bachelor's Degree in Graphic Design from the Art Institute of Los Angeles.
Career
In an interview, Trevor shared that his first love was individual sports. However, when he ended up in arts and advertising school, he began to take acting classes out of curiosity. Little did he know that his curious leaning towards acting would lead him to a rewarding career.
Television Star
Before Trevor became a popular and successful Hollywood star, he was in a few minor roles in various TV programs, with short and guest appearances in "CSI: Crime Scene Investigation" from 2000 to 2015, and Lifetime's "Drop Dead Diva" from 2008 to 2014.
In 2007, Trevor had his first stint, albeit short, in NBC's long-running daytime soap opera "Days of Lives" as "Jeremy Horton".
The role was previously played by Jeremy Allen and Jeffrey Clark as 1989. Two years later, he was also in ABC's "Melissa & Joey" from 2009 to 2015.
Trevor also had brief appearances in several Lifetime series including the "The Client List" from 2011 to 2013, "A Snow Globe Christmas" from 2013-2014, and "Bermuda Tentacles" in 2013.
90210
Those few appearances would land him to his breakthrough role in the popular teen drama series "90210". He first appeared in 2009 and later was given a recurring role in 2010, playing the character Teddy Montgomery, a former professional tennis player whose career ended when he suffered a knee injury. His womanizing ways were a face for his long struggle with his sexuality. Finally, in the third season of the show, the character came out of the closet and declared himself gay. Trevor was already 28 years old when he first played the 16-year-old character in 2008.
Film
Besides television shows, he was also in film projects. In 2009, he had a minor role in the sci-fi film "Surrogates", followed by a role in "Takers", an action flick released in 2010 with Chris Brown. In 2012, he was part of the cast of the movie "Savages".
Trevor also appeared in several Hallmark films, such as "Love, Fall, and Order" (2009), "Two for the Win" (2021), "USS Christmas" (2020), and "Nostalgic Christmas" (2019), among others.
He will portray John Barletta, Ronald Reagan's longest-serving Secret Service agent. Hallmark announced that this independent film "Reagan" will be hitting the screens in early 2022.
Personal Life
Trevor is one of those few celebrities who strive to stay away from the media and keep their personal lives as private as possible.
Nonetheless, there are still a few things that we have delved into about this handsome actor.
Renaissance Man
Trevor is one of those few modern-day men who is a jack of all trades. Besides having a degree, proven skill in acting, and enthusiasm in sports, he can also sing and play guitar, once in a punk band, proof that he's indeed a multi-talented individual.
He's also composed pieces entitled "Taming the Horse" and "Fields of Gold", performed in the movies "Strawberry Summer" and "Love Finds You In Charm", respectively.
Social Media
Although a private man, Trevor is active on his social media accounts, referring to these digital spaces as "An escape from negativity and a positive place for pet lovers.". Currently, he has 220,000 followers on Instagram, 715,000 likes on Facebook, and 148,000 followers on Twitter.
Romance
Before his character, Teddy Montgomery came out as a closeted gay, he was first a ladies' man. However, Trevor's romantic life is kept away from the public eye; he dated American actress Sonia Rockwell for about three years from 2006 to 2009.
He was rumored to be dating his friend Kerry Kennedy in 2012, due to their close alliance and shared interest in sports, animals, and social justice. However, it was silenced after it was proven that they were just friends and nothing more.
Following that, he was alinked with another high-profile persona, this time Michael Jackson's daughter, Paris. They were seen in public holding hands together. Paris, however, cleared this rumor by telling the press that it was just friendly.
Trevor is not known to be dating anyone as of mid-2021, and instead spends his time with his interests and dog babies.
Hobbies, favorite things, interesting facts
Dog Parent
Outside the limelight, Trevor is a caring animal lover. He has three dogs, namely Tito (bulldog), Shadow (golden retriever), and Chance (Labrador), whom he shares fondly in his social media accounts. His Instagram bio reads, "Dogs are the sapient species and we are the pets."
He's also written a dog-based theme children's book entitled "Love Always, Dogbert & Tito", and "Love Always… Dogbert's Journey". The Love Always series captures the adventures of Tito the Bulldog and Dogbert the German Shepherd that set to inspire and bring hope to children and adults alike.
Gay Role
Trevor admitted that he was surprised when his long-time character Teddy Montgomery came out as gay. Although taken aback, he felt honored to play that new stage of his character's life.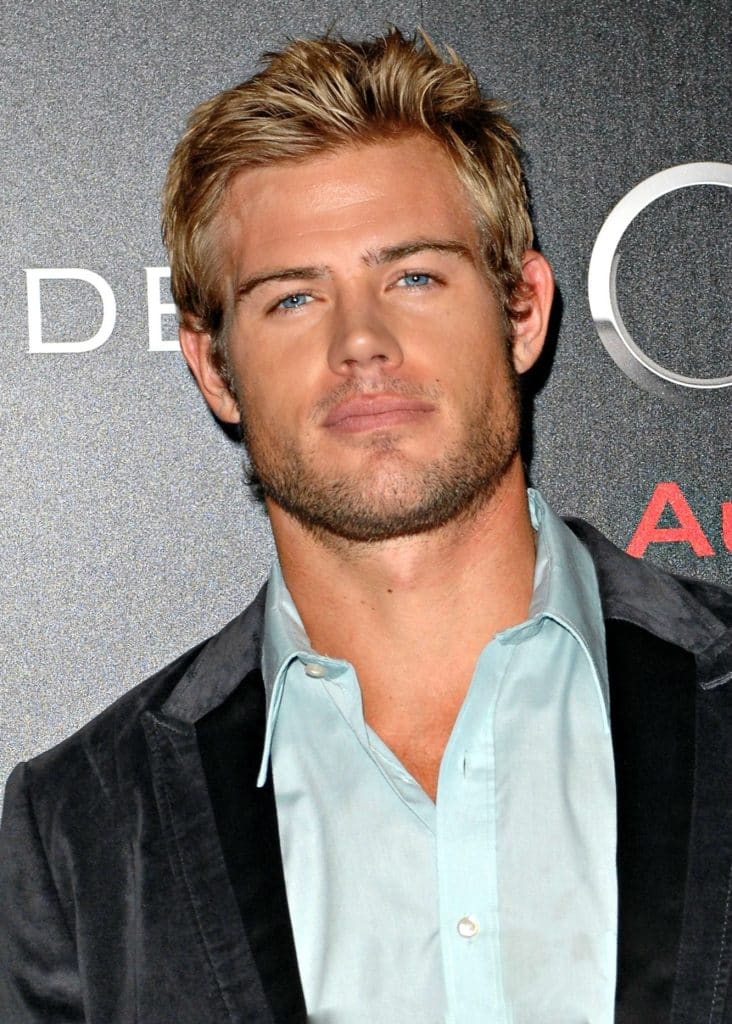 He shared that it allowed him to shine a light on the struggles of being a gay teen, and how difficult it was to declare it to your family and close circle.
In another interview, he mentioned that being gay on television helped him get girls in his personal life, adding that for some reason women were attracted to him, thinking that he was gay in real life; apparently, they wanted the challenge to try to change him. He wasn't complaining about this attention, instead, he welcomed it as a positive interaction with the opposite sex.
Social Rights Advocate
In addition to his handsome face, Trevor also has a beautiful heart. He is an active voice in the advocacy for equal human rights, and an ambassador for Habitat for Humanity, a non-profit organization working worldwide in helping the less fortunate have decent homes.
In addition, he also serves as an ambassador and volunteer for the Robert F. Kennedy Center for Justice and Human Rights. In the organization's Speak Truth to Power Program, Trevor is an active participant with friend Kerry Kennedy.
Appearance, clothing style
Trevor is stands tall at 6ft 3ins (190cms), and weighs around 200lbs (90kgs). He has an athletic muscular build with a chest size of 43 inches, waist size 32 inches, and biceps of 16 inches. He has gold-brown colored hair and blue eyes.
Net worth and salary
Trevor is one of those television stars who rose to stardom in their own time and made a sizeable fortune from their career. As of mid-2021, he is estimated to have a net worth of over $10 million.