• Veronica Falcon is a Mexican actress and choreographer born in 1966.
• She is best known for her role in the action crime series "Queen of the South".
• She has appeared in more than 50 movies and TV series.
• She has also been the choreographer on 16 movies and TV series.
• She has won 1 award and been nominated for •
• She has a net worth of over $1.5 million.
Who is Veronica Falcon?
Veronica Lopez 'Falcon' Casa Madrid, was born in Mexico City on 8 August 1966 – her zodiac sign is Leo and she holds Mexican nationality. She is an actress and a choreographer, who is perhaps known best for her portrayal of Camila Vargas in the action crime series "Queen of the South", created by M. A. Fortin and Joshua John Miller, and which stars Alice Braga, Hemky Madera and Peter Gadiot. It follows a woman who moves to Dallas from Mexico, and there tries to become the biggest drug smuggler. The series has been airing since 2016, and has been nominated for 19 awards, winning two.
Early life and education
Veronica was raised alongside her brother, now a sports journalist, in Mexico City by their mother who was a real estate broker, and their father who was an architect.
She became interested in acting at an early age, and practiced it at both elementary and high school. Veronica appeared in various plays, and dreamed about eventually starring in TV series and movies. Upon matriculating in 1984, she enrolled at a London dance institution from which she graduated with a Bachelor's degree in 1988; she also attended Gene Frankel's master class.
Roles in TV series
Veronica has appeared in more than 50 movies and TV series, and we are about to mention some of her most notable performances in this article.
She made her debut TV series appearance in 1987, with her portrayal of Chica en Bikini in a single episode of the comedy "Candido Perez, Dr.", but her following role only came 18 years later, when she was cast to play Dr. Rebeca Goldsmith in the comedy "Desde Gayola", but which was cancelled after airisng nine episodes.
The following years saw her appear in single episode of various series, until in 2010, Veronica played La Abadesa, one of the lead characters in the drama "Los Minondo", which also starred Claudette Maille and Juan Pablo Campa, but which was cancelled after 11 episodes because of low ratings.
Veronica went on to portray five characters in five episodes of the drama "La Rosa de Guadalupe", which has been airing since 2008 and now numbers close to 950 episodes, even though the series has received some poor reviews. The year 2012 saw her portray Cayetana in the drama "Capadocia", which starred Dolores Heredia, Juan Manuel Bernal and Aida Lopez, and follows several women spending time in jail for different crimes. It was a hit, and won six awards while being nominated for eight others.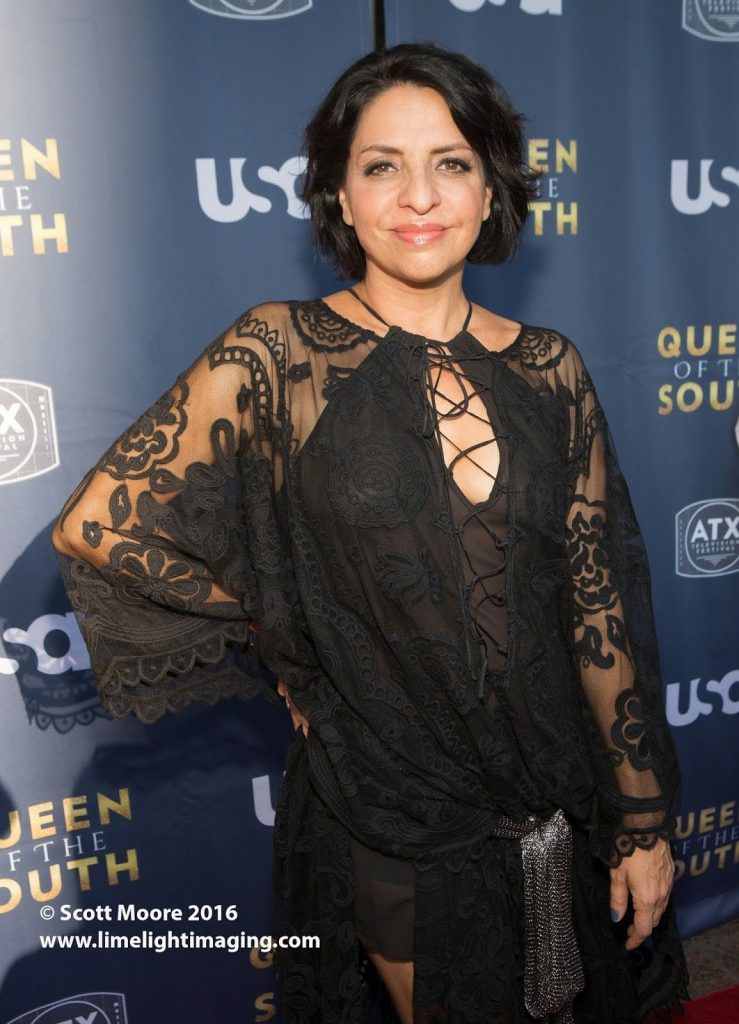 In 2013, Veronica appeared as Madre Ismael in the action crime drama "Sr. Avila", which was also very popular and won seven awards. In 2015, she portrayed Mirta 'Mirtita' Saavedra in seven episodes of the action crime "El Senor de los Cielos", which has been running since 2013 and counts over 610 episodes, and the same year Veronica starred as Maria Barbara in the drama "El Capitan Camacho", but which failed to attract a lot of attention.
Three of her most recent roles in TV series have been in eight 2019 episodes of the comedy crime drama "Perpetual Grace, LTD", six episodes of the crime drama "Perry Mason", and two episodes of the crime comedy "Why Women Kill".
She has recently been cast to appear in an episode of the upcoming mini-series – "The Falcon and the Winter Soldier".
Roles in movies
Veronica made her debut film appearance in the 1995 romantic drama "Midaq Alley", which starred Salma Hayek, Maria Rojo and Ernesto Gomez, and follows the lives of several people living in Mexico City's Callejon de los Milagros. The movie was a hit, winning 27 awards while it was nominated for 13 others.
Veronica went on to portray supporting characters in several movies, such as the 2007 mystery horror "The Wind of Fear", the 2009 horror thriller "Not Forgotten" and the 2010 action comedy "Te Presento a Laura". She also starred in two 2010 short movies – "Dar y Recibir" and "Invocacion". The year 2011 saw her portray one of the lead characters in the crime thriller "Days of Grace", written and directed by Everardo Gout, and which also starred Carlos Bardem, Kristyan Ferrer and Tenoch Huerta; it follows three people attending three Soccer World Cups in 2002, 2006 and 2010.
The same year also saw Veronica appear in the western adventure comedy "Saving Private Perez", then in 2012 she was cast as Aurora Garcia in the comedy "Cinnamon", and the following year saw her play supporting characters in both the horror thriller "El Edificio", and the drama "Sugar Kisses".
Three of her most recent roles in movies have been in the 2015 drama "The Heirs", the 2016 romantic comedy "Find a Boyfriend for My Wife… PLEASE!", and the 2021 action drama "Haymaker".
Veronica has recently finished shooting for the upcoming film "Voyagers", and has also been cast to appear in three other movies: "The Forever Purge", "Jungle Cruise", and "The Starling".
Other credits
Veronica has been the choreographer on 16 movies and TV series. She worked on 82 episodes of the series "Maria Mercedes", 88 episodes of the drama "The Other Woman", and the talk-show "Teleton XIII".
She served as a talent coach for the series "Ritmo-son", acting coach for the short film "Floppy", and movement coach for the comedy drama movie "Volando Bajo".
Veronica has two writing and directing credits – she directed the1993 series "Furia Musical", but which wasn't picked-up by any network, and in 1995 she both wrote and directed the talk-show "Salsaerobics". Her other writing credit was the 2006 short movie "Regoch".
Awards and nominations
Veronica has been nominated for four awards, winning one – in 2014, she was nominated for a Diosa de Plata Silvia for Best Supporting Actress for "Besos de Azucar", and in both 2017 and 2018 was nominated for an Imagen Award for Best Supporting Actress – Television for her performance in "Queen of the South". In 2019, she received an Impact Award for Outstanding Performance in a Television Series for "Queen of the South".
Husband and children
Veronica met her future other half, Marius Biegai sometime in the '90s when they appeared on the set of a TV series together. After several years of dating the two married on 22 August 1998 in a private ceremony attended by their closest friends and family. Veronica gave birth to their son Lucca, but on 20 June 2016, Veronica and Marius divorced for unknown reasons.
Marius is a famous actor, writer and cinematographer, who has been credited with appearing in more than 70 movies and TV series, while three of his most notable performances have been in the 2010 romantic musical comedy series "Los Heroes del Norte", the 2018-2020 comedy series "Single Parents" and the series "Queen of the South". He has only one writing and producing credit.
Victoria hasn't talked about anyone she might have been with since her divorce, so as of February 2021, she is single, was once married and has a son.
Hobbies and other interests
Veronica is keen on travelling, and her acting career has taken her to various US states, as well as a few European, Asian and African countries. She is today living in Los Angeles, California, which is one of her favorite cities.
She has been interested in languages since a very early age, and when she was 15, Veronica received a Teachers Degree in English.
She is a cat-person, and has several pet cats which can be seen featured in many of her Instagram pictures.
Veronica likes to watch Hollywood movies in her spare time – some of her favorite actresses are Julia Roberts, Kate Winslet and Scarlet Johansson, and a couple of her favorite movies are "The Runaway Bride", "The Eternal Sunshine of the Spotless Mind" and "Lost in Translation".
Age, height and net worth
Veronica's age is 54. She has long black hair and brown eyes, her height is 5ft 5ins (1.66m) and she weighs around 135lbs (62kgs).
As of February 2021, her net worth has been estimated at over $1.5 million.