• Viki Odintcova is a Russian supermodel and Instagram star.
• She achieved stardom through her photoshoot on the top of the Cayan Tower in Dubai.
• She has collaborated with a number of fashion brands and graced the pages of Playboy multiple times.
• She has been in several celebrity relationships with F1 champions, entrepreneurs and actors.
• Viki's net worth is estimated to be around $600,000 and she loves animals, traveling and fitness.
Who is Viki Odintcova?
Viki Odintcova is a Russian supermodel and Instagram star, who achieved stardom by making a stunning video and a photo session on top of Dubai's highest building, and also for appearing on the covers of such magazines as Maxim and Sports Illustrated, among others.
Viki Odintcova Biography: Age, Childhood, and Education
Viktoria Odintcova was born on 15 November 1994 under the Scorpio zodiac sign, in Saint Petersburg, Russia. She spent her childhood in her hometown, living with her parents and her two older brothers.
She was interested in modeling from an early age, and when she was 17 years old she went to a modeling agency with her brother, in hopes that she would be signed. Nevertheless, she finished St. Petersburg Model School, and later acquired a degree in marketing from Perm State University.
Career Beginnings
Viki's career started in 2014 when she became acquainted with Alexander Marvin, a popular photographer who has his own agency, Marvin Models. On his advice, Viki underwent several cosmetic surgeries, including breast and lip augmentations.
This helped her kick start her career –  her first campaign was for MCT Watches in August 2014. She continued with smaller promotional campaigns for various brands, but then in June 2015, she graced the cover of Playboy magazine.
Rise to Prominence
Viki was becoming a star on her own with every new picture and campaign posted on her official Instagram page. However, it was in 2016 that she left the world in awe with her stunt. Accompanied by three friends and models, she climbed to the top of the Cayan Tower in Dubai, where she did a photoshoot.
This wouldn't be that controversial, but she didn't have permission from the authorities, and didn't use safety equipment. She was photographed hanging from Dubai's tallest building, holding onto the hand of her companion, which sparked mixed comments. Criticized the instant she posted the pictures on her Instagram page, of course Viki still became a star, thanks to massive praise coming from her fans on her audaciousness.
Although she became a star overnight, the Dubai police were notified of the stunt, and Viki was interviewed, subsequently having to sign a statement saying that she wouldn't try such a stunt like that ever again.
Viki has since continued her career rather successfully, becoming an internet sensation thanks to her looks. She's collaborated with a number of fashion brands, and also graced the pages of Playboy on several occasions, including just a few days ago in mid-2021. She has also become a brand ambassador for FashionNova, and had her own photo spreads in Maxim and Sports Illustrated, among numerous other magazines.
Personal Life, Dating, Boyfriend, Relationships, Single?
When it comes to her personal life, Viki has been involved in quite a few celebrity relationships.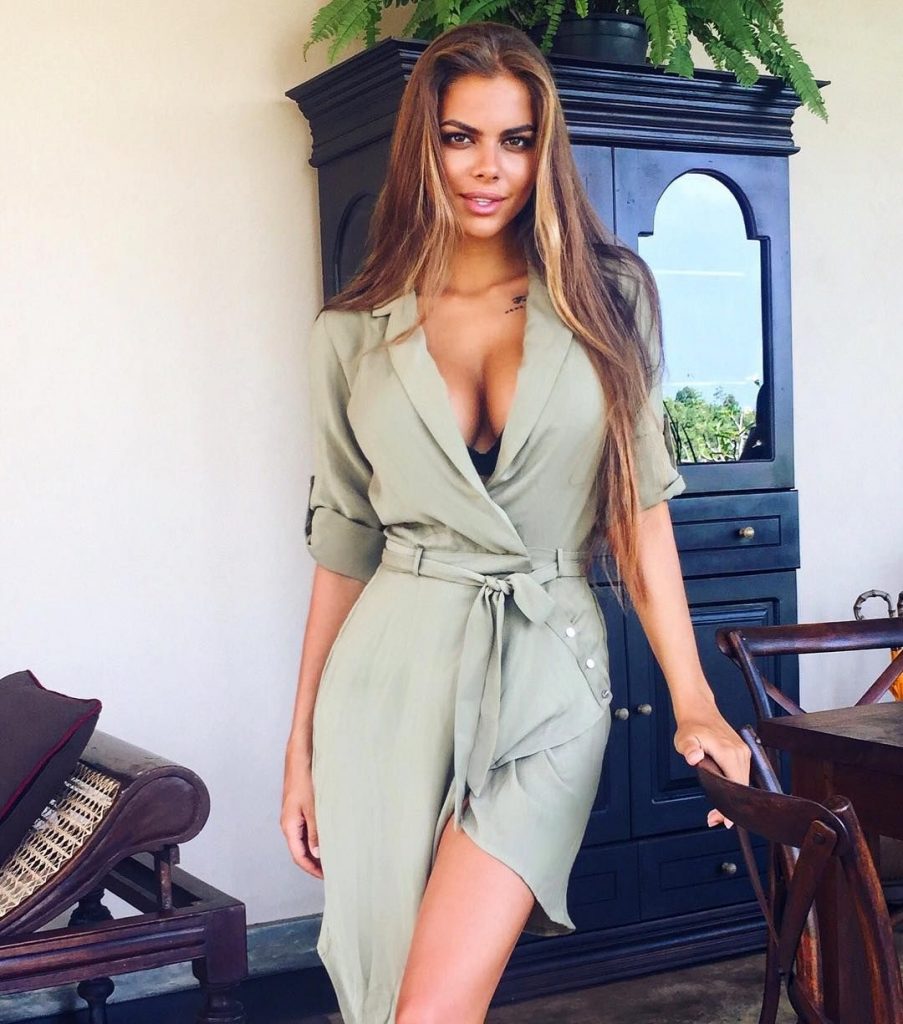 Back in 2016, she was in a relationship with Russian rapper Egor Kreed; the two met while working on the music video "I Like", however, their romance was only short-lived. Since then, she's been linked to several other celebrities, including the seven-time World Formula 1 Champion, Lewis Hamilton. The two have known each other since 2017 and dated for a while in 2020, butbroke-up although remaining rather close friends.
She was also briefly with another F1 champion, Fernando Alonso, however, like most of her relationships it was nothing serious.
She has often talked about how she receives messages on Instagram from popular soccer players, such as Neymar and Cristiano Ronaldo, but saying that she deleted the message sent to her by the latter, and never responded to him.
She has also been romantically linked to entrepreneur Pavel Durov, and actor Timur Batrutdinov.
Net Worth
As of mid-2021, Viki Odintcova's net worth has been estimated to be around $600,000, earned through her successful career as a model and Instagram star.
Appearance and Vital Statistics
This stunning model has dark brown hair and brown eyes. She stands at a height of 5ft 8ins (1.72m), weighs approximately 121lbs (55kgs), while her vital statistics are 36-24-36, bra size 34D. She has several tattoos on her body, including writing underneath her left collar bone.
Hobbies and Interests
Viki is an avid animal lover, has supported many animal rescue organizations, and has several animals as pets, including two dogs and a cat.
She enjoys traveling both for work and pleasure, and has stated that summer as her favorite season.
Furthermore, Viki can often be found in a gym, working on her fitness and looks. She's shared a few tips and tricks for an easier workout with her fans.