• Ami Dolenz is an American actress and producer born in 1969 and best known for her roles in romantic comedy "Can't Buy My Love" and "Miracle Beach".
• Her parents were both in the entertainment business and her father is Micky Dolenz, a drummer and vocalist of the popular 1960's rock band "The Monkees".
• Her career began in 1983 and she has appeared in multiple TV shows and movies, as well as doing voiceover work and running a custom-made jewelry shop.
• She is married to Jerry Trimble, an actor, stuntman, and former world kick-boxing champion, and they run a company together.
• She is also a writer, illustrator, and artist and in April 2020 she did an interview discussing her previous roles and her current life.
Who is Ami Dolenz?
A familiar face that graced the screens in the '90s, Ami Bluebell Dolenz is an American actress and producer best known for her roles in the romantic comedy "Can't Buy My Love" and "Miracle Beach". She was born on 8 January 1969, in Burbank, California, USA, into a show business family, so under the zodiac Capricorn sign, and holding American nationality.
Early Life and Family
Both of her parents were in the entertainment business. Her father is Micky Dolenz, a drummer, and vocalist of the popular 1960's rock band "The Monkees". Micky is also a veteran actor with an exciting and prolific career, with an estimated net worth of over $10 million.
Her mother is television presenter Samantha Juste, who became popular as a 'disc girls' on the British TV show "Top of the Pops". Her estimated net worth is $3 million, which she earned as a long-time host and TV presenter. Micky and Samantha tied the knot in 1968, but after only seven years, they parted ways, but remained on good terms until Samantha died on 5 February 2014. As it seems that talent runs in the family, her paternal grandparents were also actors, George Dolenz and Janelle Johnson. Ami has no siblings, but three step-sisters: Georgia, Charlotte and Emily, as her father Micky was married three times.
Career
As part of a family that is inclined to show business, it was inevitable that Ami would follow suit. She expressed a desire to be an actress at a young age, and after winning the Junior Art Contest at the age of fifteen, she decided to venture into acting. She was so adamant in pursuing her interests that she even dropped out of high school. Soon she began appearing in various TV shows, making her debut with a role in the movie called "The Children of Times Square". Soon afterwards, she made two guest appearances in "Growing Pains". Her second role came in 1998, with the role of Fran in the movie "Can't Buy My Love".
In the same year, she scored the recuring role of Melissa McKee in "General Hospital" – this soap opera garnered her two nominations in 1998 and 1999 for Young Award Artist. After quitting "General Hospital", she appeared in the coming-of-age comedy movie "She's Out of Control" alongside Tony Danza and Catherine Hicks.
In 1990 she took the role of Sloan Peterson in the TV show "Ferris Bueller", but unfortunately the show was canceled after 13 episodes. Following in the same year, she portrayed Lucy Bonett in the horror movie "Children of the Night, then in 1992 landed a lead role in "Miracle Beach", which definitely boosted her career and placed her into the limelight.
In the 1990s she landed numerous roles in movies and TV series such as "Murder She Wrote", "Saved by the Bell: The College Years", "Witchboard 2: The Devil's Doorway", etc. She also did a voiceover for a character in a children's show "The Secret Files of the Spy Dogs", followed by a four-year break from acting. She returned to the screens in the Independent Film Mr. Id. Her last role was in the 2007 movie "Even If".
Personal Life
Ami married Jerry Trimble on 10 August 2002. Her husband is an actor, stuntman and former world kick-boxing champion, best known for his roles in "Heat" and "The Master". He has appeared in sixty TV shows and films, but his most prominent role was in "Charlie's Angels", which scored him a nomination for the Taurus Award, category for the best fight.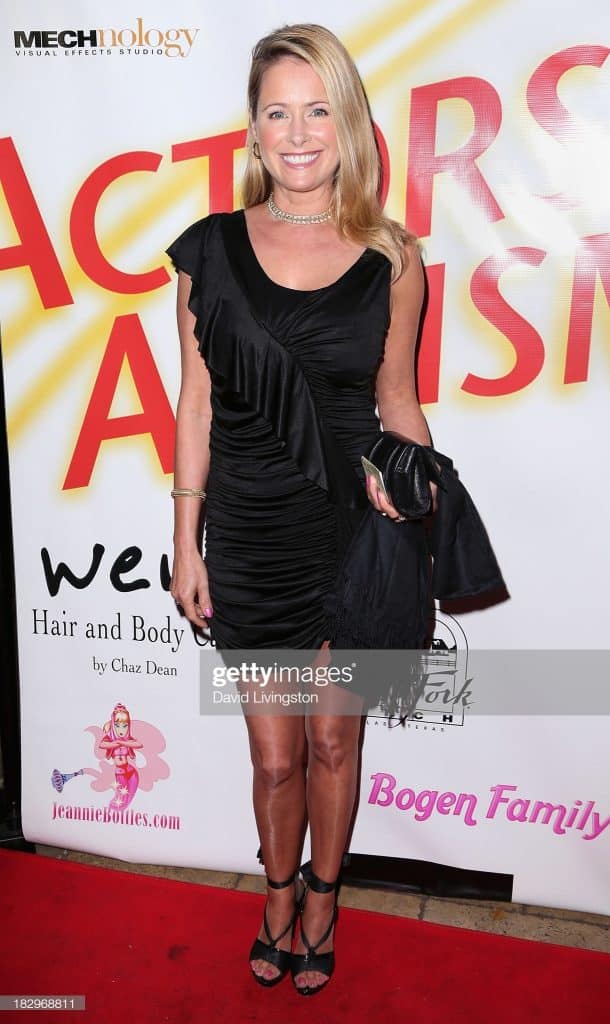 He also shared the screen with Tom Cruise in "Mission: Impossible III", yet again showing his martial arts skills. At the moment, they are both running KidPix productions, a company that organizes birthday parties and movie shoots for kids. Amy also runs a custom-made jewelry shop called "Bluebell Boutique", previously co-owned by Ami and her mother, prior to her passing. At moment, the successful couple is living in Vancouver, British Columbia.
Would you like to know her net worth?
Ami's estimated net worth is around $1 million, which she has earned from her long and varied career, additionally from multiple other sources of income, given that she co-runs a company, owns a shop and also sells her art pieces. Her husband's net worth is also around $1 million, as of early 2021.
Physical Stats and Hobbies
Ami is 5ft 3ins tall (160cm) and weighs around 115lbs (52kgs); her vital statistics are 35-25-35. She has blonde hair, and her face is further adorned with a pair of hazel eyes.
In her free time, Ami likes to do art projects using charcoal and ink. Her love for art grew over time and prompted her to start taking art classes – her favorite artists are Emily Carr and Henry Matisse. Eventually she decided to go to the Emily Carr University of Art and Design, and obtain a certificate for illustration. Besides art she also has a great passion for writing and story-telling – in 2012 she wrote and illustrated the children's book "Harold and Agatha: The Mysterious Jewel".
When asked about the inspiration and idea for the book, she said: "It was how I came up with the idea, kind of. When I would go to London to visit my dad, he would start with a Harold and Agatha story. He would pick me up at the airport, so every time I went he would tell me these stories just off the top of his head. Nothing was written down ever. That's the kind of how it came about. That's how I did Harold and Agatha: The Mysterious Jewel."
Ami's Instagram account has over 2,400 followers; she mostly uses her accounts to share and promote her artwork. Besides her art pieces, she usually posts photos of her family and pets. She has two dogs, Gracie and Molly. She launched her Twitter account in 2010, which counts more than 2,500 followers. She is also present on Facebook, and has amassed almost 3,000 followers.
Is there any chance Ami will return to the screen?
In a 2018 interview Ami was asked would she ever come out of retirement, and replied: "God, I don't know. To tell you the truth, that's what I ask myself all the time (Laughing). A part of me, because I haven't done it for such a long time, is a little nervous, but then people tell me, "Oh, it's just like riding a bike. You get back on the bike and you'll be fine". Honestly, until it happens, I really don't know what I would do."
Regardless of her decision, it is undoubted that she was a well-liked face in the industry of the 1980s and 1990s. Even though she doesn't act anymore, it's impressive how she's managed to establish herself as a writer, illustrator and artist. One of her latest appearances was in an interview in April 2020. She chatted with Jodi Ritzen in "Social Distancing with Ami Bluebell Dolenz"; in this video they discussed Ami's previous roles, and what is happening in her life at the moment.