• Jeff Wittek is a YouTuber, hairstylist, and comedian best known as a former member of David Dobrik Vlog Squad.
• He rose to fame with his self-titled YouTube channel and gained further recognition from the Vine platform.
• Jeff has an estimated net worth of $1.5 million.
• He has nearly 3 million followers on YouTube and 2 million followers on Tik Tok.
• Jeff is 6ft 1in tall, with brown hair and eyes. He is known for his muscular physique.
Who is Jeff Wittek?
Jeff Wittek is a YouTuber, hairstylist, and comedian, probably best known as a former member of David Dobrik Vlog Squad. He additionally rose to fame with his self-titled YouTube channel. Jeff was born under the Zodiac sign Sagittarius on 15 December 1989, in Staten Island, New York, USA; he holds American nationality, and as of mid-2021, he is 31 years old.
Early Life and Family
The information about his family and siblings is unknown. Jeff spent most of his life in Staten Island, and began working as a teenager at the local barbershop, where he learned the craft. In an interview, he said: "I didn't love school and loved the idea of making fast money. I would cut school and go hang out at the barbershop." However, not long after, he started hanging out with the wrong crew, eventually partnering to sell drugs. Later he moved to Miami, Florida, to meet the 'bigger fish', continuing his business selling various substances.
Unfortunately, this decision would have permanent consequences, as he was arrested for possession of marijuana, cocaine, and illegal drug trafficking. In the video blog with David Dobrik, Jeff explained how he managed to avoid those charges due to a minor technicality; reportedly, the officers who had searched his house and had performed the arrest didn't have a warrant. Later Jeff said: "15 years I was supposed to do was gone. I would still be in jail to this day, and now I was free to go."
After the unpleasant run-in with the police, Jeff still hadn't learned the lesson as he relocated to Los Angeles and continued selling marijuana. During this period, he opened his barbershop, and tried to launch a career as a social media star.
Rise to Stardom
In 2012, Jeff created the blog entitled "Behind the Cuts", on which he would post photos of celebrity clients to his barbershop, such as Pauly D, Mac Miller, and ASAP Rocky.
As he slowly gained popularity, he launched a YouTube channel, and become more active on other social media such as Instagram and Twitter.
Some of his die-hard fans might remember, but Jeff made his breakthrough in 2014 on the Vine platform, making short six-second videos with other social media stars, including Anwar Jibawi, Mandy Mancuso and Lele Pons. It didn't take long for Jeff to become a recognized member of the group which became very popular and accepted internationally.
After the platform's shut down, just like his fellow friends, he also transitioned to YouTube. In 2015, he also tried his luck with acting, appearing in two short movies on his YouTube channel entitled "Petting Scorpions" alongside Cierra Ramirez, Mandy Mancuso, and Anwar Jimbawi. Jeff continued in numerous videos created by friends, including "Girls vs. Boys | Lele Pons, Anwar Jibawi & Jeff Wittek" and "Dating a Latino Vampire | Lele Pons & Jeff Wittek".
According to his statement, in 2017 he met Toddy Smith, another former Viner and social media star, who was at the time a member of the Vlog Squad. Both of them were invited to an American Express brand deal event, during which they bonded over alcohol. At this time, he launched his YouTube series "Jeff Barbershop", which features Jeff giving haircuts to his influencer friends.
Vlog Squad and his YouTube Channel
Jeff continued hanging out with Toddy, and in 2018 he made his first appearance in David Dobrik's video. In a video posted on his channel, Jeff disclosed: "On our first interaction, I didn't plan on vlogging with him, I was hanging out with Todd, and David showed up." Soon Jeff became a regular on Vlog Squad, often appearing in David's videos, gaining more popularity with his charisma and sense of humor.
However, in 2020 the global pandemic made filming video blogs impossible, so Jeff focused on creating his own content on YouTube, as he launched the series "Don't Try This at Home" with David, which houses similar video blog content with extreme and dangerous challenges. Jeff said: "When I'm the least comfortable, I'm the most happy. I like the chaos."
Eye Accident
Unfortunately, these YouTube series would leave a heavy mark on Jeff's psychological and physical health, as he almost lost his life in the process of filming stunts. In the video uploaded to his channel entitled "HOW I BROKE MY FACE | Ep 2 | Don't Try This At Home", the group tried skydiving for the first time. However, David was constantly raising the stakes – he had the idea of taking an excavator to a lake and filming funny videos. Originally they planned to attach an inflatable raft and hold onto it while David, who operated the excavator, would swing them in circles.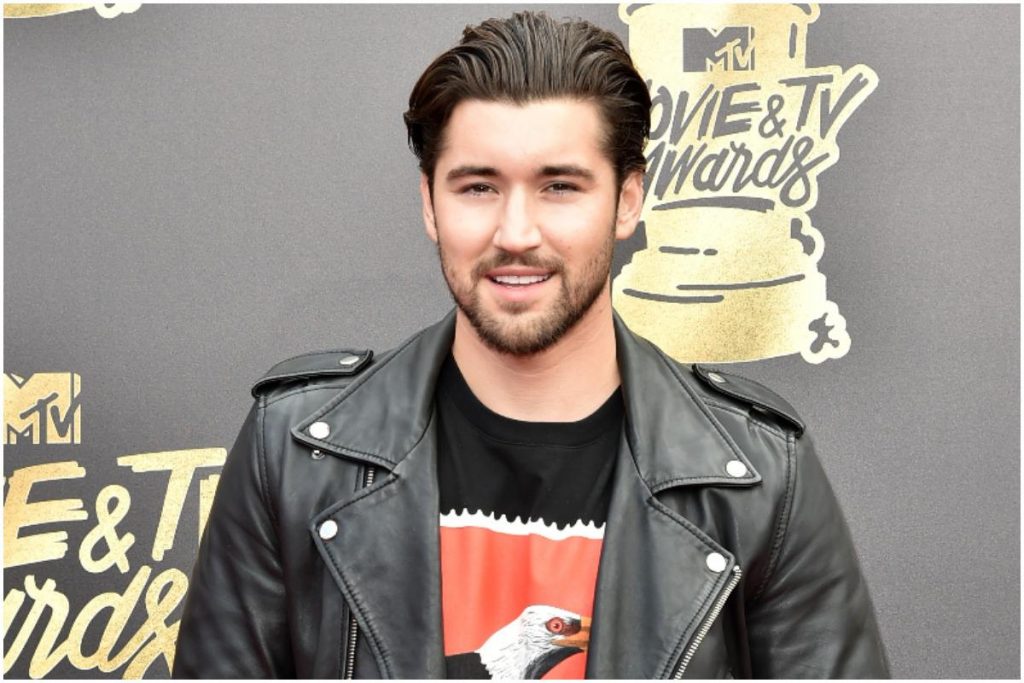 In the video posted to Jeff's channel, he said that it had seemed a relatively safe environment, as they were surrounded by water and trees. Then the squad decided to take it to another level and hop on and holding tightly to the rope while David swung it. Jeff said:"Corinna gets on it and then David started moving it. The shot looks so sick, it looks beautiful. The thing (rope) comes off and it starts falling down while Corinna started shouting "Put me down. You take things too far David".
After Corinna, Jeff hopped onto the rope, saying "I just jumped out of a plane 20 times. What is the worst that could happen if I swing from a rope over a one-foot lake. And yes, I didn't know I was gonna go that fast so I grabbed the rope and tried to make a funny video." During this incident, David swung too fast, and Jeff hit the metal arm of the excavator, sustaining various injuries to his body and face, and was subsequently rushed to  hospital.
Following this dangerous stunt, he tried to play down his injuries, but soon it became evident that he was seriously injured. He posted a selfie that indicated that he had grave problems with his left eye and was one step away from losing sight in it. In his video entitled "WILL I LOSE MY EYE? | Final Episode | Don't Try This At Home, he said:" I was in a lot of pain, I tore some ligaments in my leg, I broke my foot, I broke my hip, I shattered my skull in nine places, I shattered my eye socket, and I almost died."
His relationship with David Dobrik
Following the incident, reportedly the whole squad began resenting David for his reckless behavior. Additionally, it seemed as if David wasn't that much bothered by the fact that he almost killed one of his friends. In the video Jeff posted, he said that he had waited for Dobrik to check on him and have a real man-to-man conversation about the situation.
Even though some reports suggested that David paid for Jeff's hospital bills, that didn't mend the relationship. Since the incident, it seems that Jeff would no longer be part of the Vlog Squad. He had previously  been criticized for placing his friends in uncomfortable and dangerous situations.  According to reports, Jeff is currently trying to disassociate from the Vlog Squad and David Dobrik. Recently, David called out Jeff in a video, inviting him for a boxing match. Jeff discussed the invitation in an episode of his podcast, indicating that this beef is not even close to being over. Additionally, David received a lot of backlash after a girl accused some members of Vlog Squad of sexual assault,
Social Media Accounts
Jeff's YouTube currently has over three million followers, and his Instagram  almost the same. Jeff is active on Paetron, which counts over 11,000 patrons.
He's also very popular on Tik Tok, on which he has nearly two million followers with over 21 million likes.
Jeff has also launched a podcast entitled "Jeff FM" on Spotify with interesting content; two episodes are entitled "Surprising My Crew With Dream Vacation to Miami" and "Jeff responds to David Dobrik Calling Him Out To Box."
He also has another YouTube channel entitled "Jeff FM", which houses similar content to his podcast on Spotify. This channel currently has over 100,000 followers.
Personal Life
In 2015 Jeff began dating actress, singer, and social media star Cierra Ramirez, however, after three years together, the couple parted ways, according to some reports because chaotic schedules meant that they were spending less and less time together, focusing on pursuing their careers. Since then, Jeff hasn't been associated with anyone.
Some rumors circulated about Jeff hooking up with Vlog Squad members, however, Jeff hasn't disclosed any information, or confirmed the rumors.
What is his net worth?
His estimated net worth is around $1.5 million, earned largely through his career as a social media star and YouTuber. Besides his YouTube channel, he earns through paid sponsorship with various brands, including VPN, Old Spice and American Express.
Physical Stats
Jeff is 6ft 1in tall (185cm), while his weight is about 180lbs (82kgs), and his body measurements are 42-32-37. His hair is brown, and so are his eyes. According to some media outlets, Jeff was known as "the hottest" member of the Vlog Squad, often praised for his looks and physique. He is very active physically, and visits the gym on a regular basis.
In a recent episode of his podcast, Jeff said that the accident at the lake and subsequent surgeries caused him to lose weight as he was temporarily bed-ridden. However, he has managed to get into shape, flaunting his muscular and fit body in his videos and podcast.