• Jeannie Louise Gaffigan is an American actress, producer and writer.
• She is best known for writing and producing 21 episodes of "The Jim Gaffigan Show".
• She has been married to comedian Jim Gaffigan since 2003 and they have five children together.
• Jeannie has battled cancer, and wrote a book about her experience.
• She and her husband have a combined net worth of over $30 million.
Who is Jeannie Gaffigan?
Jeannie Louise Gaffigan (nee Noth) was born in Milwaukee, Wisconsin USA, on 9 March 1970 – her zodiac sign is Pisces and she holds American nationality. She's an actress, film producer and writer, who's probably known best for having written and produced 21 episodes of her husband Jim Gaffigan's comedy "The Jim Gaffigan Show", which aired in 2015 and 2016 and also starred Ashley Williams and Michael Ian Black. It's loosely based on her and Jim's family life, following a couple who are raising their five children in New York City, while living in a two bedroomed flat.
Early life and education
Jeannie was raised alongside her eight siblings in Milwaukee by their mother who was a housewife, and their father who worked for the "Milwaukee Journal" as a film and theatre critic.
Jeannie grew up being interested in movies and TV series, as she and her siblings spent the majority of their spare time watching TV with their parents. She appeared in a couple of school plays while attending a local high school, and upon matriculating in 1988, she enrolled at Marquette University's Diederich College of Communication, from which she obtained her Bachelor's degree in 1992.
Acting credits
She has seven acting credits. Jeannie made her debut TV series appearance in the 1997 episode "Last Flight Out" of the fantasy horror drama "Ghost Stories", while the following year saw her make her debut film appearance with her portrayal of Call Girl in the drama "A Killing", but which failed to attract any attention.
In 2002, Jeannie played Zelda in the comedy movie "Hacks", while the same year saw her as Lana in the comedy movie "Maybe It's Me", neither of which attracted a lot of attention. In 2006, she portrayed A, one of the lead characters in the comedy "By My Oswald", written and directed by Don Cato, and which also starred Rich Bogle and Katha Cato. It follows a militant vegetarian known only as 'B', who has hired an activist known as 'A' to help him/her with a holiday mission which could change life on Earth. The movie won a Queens Film Festival Spirit Award for Best Drama.
Jeannie's other two roles have been in six episodes of the romantic comedy series "My Boys" between 2006 and 2009, and four episodes of "The Jim Gaffigan Show" in 2016.
Writing, producing and directing
Jeannie has six writing credits including "The Jim Gaffigan Show", while all her other credits have been her husband Jim's TV specials and documentary videos, such as "King Baby" in 2009, "Mr. Universe" in 2012, and "Noble Ape" in 2018. She has eight producing credits, and has once again only produced her husband's shows.
She has directed four of Jim's shows too, including "The Jim Gaffigan Show", "Cinco" and "Quality Time".
Other credits
Jeannie received special thanks for the 2017 biographical documentary comedy movie "Gilbert".
She has made a guest appearance in various talk-shows, such as "The Late Late Show with Craig Ferguson", "Megyn Kelly Today" and "CBS News Sunday Morning".
Jeannie can be seen featured in various TV specials, including "The 2020 Primetime Creative Arts Emmy Awards", and the "14th Annual Stand Up for Heroes".
Love life and marriage with Jim Gaffigan
Jeannie met Jim Gaffigan sometime in 2000 in New York, and after around three years of dating, the two exchanged vows at St. Patrick's Old Cathedral on 26 July 2003 in front of their closest friends and family members. In 2005, she gave birth to their daughter Marre Gaffigan, who was followed by their son Jack Gaffigan in 2006. On 10 May 2009, Jeannie gave birth to their daughter Katie Louise Gaffigan, then their second son Michael Gaffigan on 19 June 2011, and third son Patrick Gaffigan in 2012.
Jeannie hasn't spoken of any other men whom she has perhaps been with, while it's known that Jim was once in a relationship with Melissa Midwest, who's an American pornographic actress; they dated for around six months before splitting.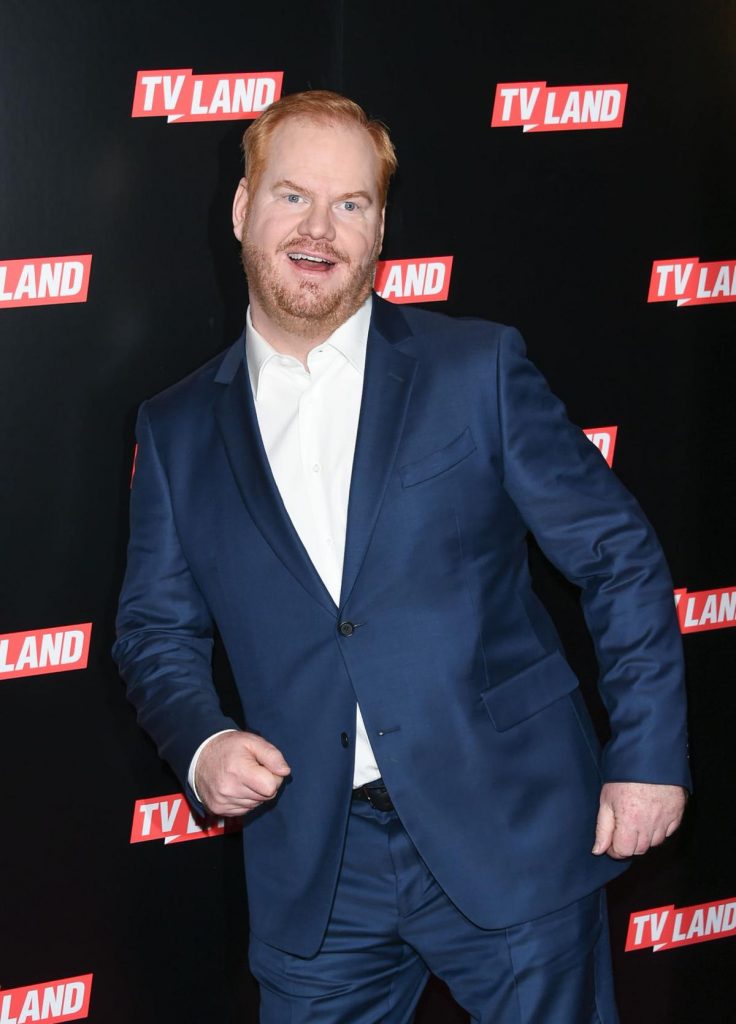 As of April 2021, Jeannie's married to Jim Gaffigan, and they have five children together.
Hobbies and other interests
Jeannie's a huge fan of comedy, and has watched numerous comedians perform stand-up comedy, while her favorite is the late Robin Williams.
She's passionate about travelling, and has kept her husband company at many of his red carpet events, while the two have also visited various European and Asian countries.
Jeannie's a highly religious person, who goes to church at least once a week.
She likes to drink wine and cocktails.
In her spare time, Jeannie enjoys watching movies starring her favorite actors and actresses Tom Hanks, Will Smith and Natalie Portman, such as "Sleepless in Seattle", "You've Got Mail" and "Leon: The Professional".
Battle with cancer
Jeannie was diagnosed with a benign brain tumor on 14 April 2017, and it was reported that it was as big as a pear. The surgeons at Mount Sinai Hospital in Manhattan removed the tumor during a nine-hour surgery, leaving her left vocal cord paralyzed which was fixed by a type one thyroplasty procedure in 2019.
On 1 October 2019, Jeannie published her book "When Life Gives You Pears: The Healing Power of Family, Faith, and Funny People", which follows her life during and after her battle against cancer.
Age, height and net worth
Jeannie's age is 51. She has long brown hair and blue eyes, her height is 5ft 8ins (1.73m) and she weighs around 128lbs (58kgs). As of April 2021, her and Jim's shared net worth has been estimated at over $30 million.
Who is Jim Gaffigan?
James Christopher 'Jim' Gaffigan was born in Elgin, Illinois USA, on 7 July 1966 – his zodiac sign is Cancer and he holds American nationality. He's an actor, stand-up comedian, producer and a writer, who's probably known best for his work as a comedian.
Jim was raised in Elgin alongside his five siblings by their mother Marcia Miriam (nee Mitchell) who was a charity worker, and their father Michael Ambrose Gaffigan who was a banker. Marcia died in 1990 from cancer, while Michael died from lung cancer in 1999. Jim studied at La Lumiere School, at which he played football, while he became interested in comedy after he began watching the show "Saturday Night Live". He matriculated in 1984, and then enrolled at Purdue University where he stayed for a year before switching to Georgetown University's McDonough School of Business, from which he graduated with a Bachelor's degree in finance in 1988.
It was two years later that Jim moved to New York to launch a career as a stand-up comedian, and performed at various comedy clubs for the following seven years before he was finally invited to perform in "The Late Show with David Letterman", which made him a popular stand-up comedian. He has since been performing around New York and in California, including for various charitable causes.
Jim launched his acting career in the early '90s, and has to this day appeared in more than 200 commercials. Some of his most notable performances have been in the comedy series "That '70s Show", the sitcom "Flight of the Conchords", and the teenage comedy movie "17 Again". He has recently been cast to play Mr. Smee in the upcoming adventure fantasy movie "Peter Pan & Wendy".