• Canadian-American actress Megan Follows born in Toronto, Ontario in 1968
• Active in film industry, starred as Anne Shirley in 1985 mini-series "Anne of Green Gables"
• Raised alongside 3 older siblings; studied at local high school, chose to focus on acting
• Appeared in nearly 100 movies and TV series; starred in "Reign" from 2013-2017
• Directing credits include 2018 short thriller "Held" and 2020 romantic comedy "Marry Me This Christmas"
Who is Megan Follows?
Canadian-American actress Megan Elizabeth Laura Diana Follows was born in Toronto, Ontario, Canada, on 14 March 1968, making her zodiac sign Pisces. She's appeared in nearly 100 movies and TV series, but is probably still known best for starring as Anne Shirley in the 1985 family mini-series "Anne of Green Gables", which also starred Colleen Dewhurst and Richard Farnsworth. The mini-series follows an orphan who's been sent to stay with a brother and sister by mistake, and it won 13 of its 19 award nominations.
Megan's still active in the film industry, and in early 2023 is shooting for the upcoming films "Maternal" and "Stealing the Sky".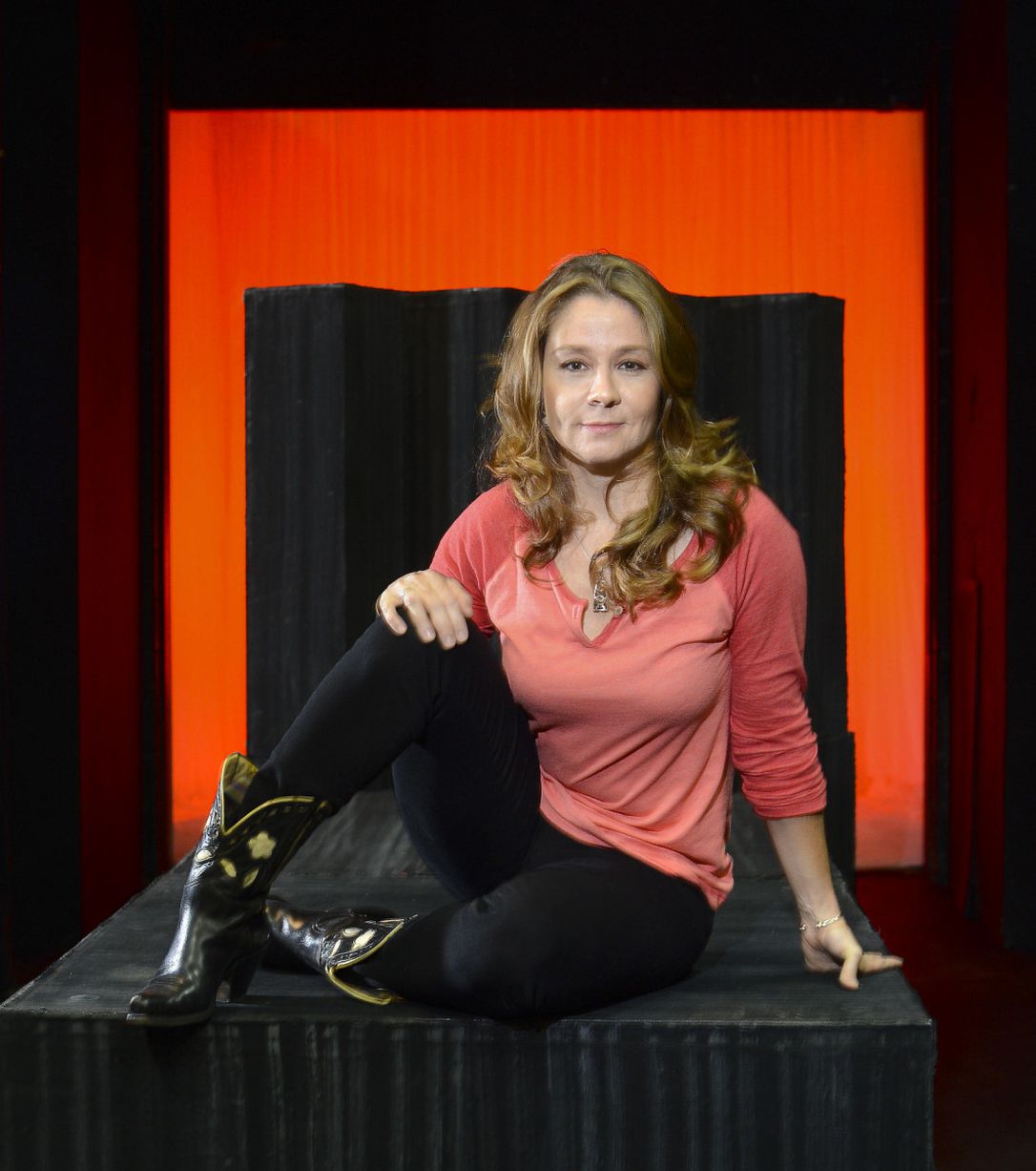 Education and early life
Megan was raised alongside three older siblings in Toronto, by their Canadian mother Dawn Greenhalgh who was an actress, and Canadian father Ted Follows who was a theatre actor and film director, but who divorced when Megan was a teenager. Her brother Laurence is an actor, sister Samantha an actress, and second sister Edwina a screenwriter.
Megan became interested in acting at a very early age, and was nine when she appeared in a Bell Canada commercial, and 10 when she made her debut TV series appearance, playing a supporting character in several episodes of the 1978 drama "A Gift to Last".
She's since been active in the film industry, while also studying at a local high school in Toronto – upon matriculating she chose to focus on acting, rather than pursue a college degree.
Roles in TV series
In 1979 and 1980, Megan starred as Jenny Tanner in the family adventure series "Matt and Jenny", created by William Davidson, and which also starred Derrick Jones and Neil Dainard. It follows a brother and sister who've just arrived to Canada from England, and are searching for their uncle.
The first half of the '80s saw Megan appear in an episode or two of the comedy "Hangin' In", the family adventure "The Littlest Hobo" and the comedy "Domestic Life", and she then starred as Anne Shirley in the 1987 romantic mini-series "Anne of Avonlea". It also starred Colleen Dewhurst and Marilyn Lightstone, and follows Anne Shirley as she's teaching at a girl's boarding school; the mini-series won eight of its 14 award nominations.
Some of Megan's best performances in the '90s were perhaps in the 1993 crime mystery "Second Chances", the 1998 drama "Linehan", and the 1999 action horror comedy "Big Wolf on Campus".
What marked the new millenium for her was perhaps playing Janice Keneally in four episodes of the 2005 comedy "Robson Arms", created by Gary Harvey and Susin Nielsen, and which starred Jason Dedrick, Tom Saunders and John Cassini. It follows a group of people living in an apartment building in Vancouver, British Colombia, Canada, it aired from 2005 through 2008 and won six of its 37 award nominations.
From 2013 through 2017, Megan starred as Catherine de' Medici in the drama "Reign", created by Laurie McCarthy and Stephanie Sengupta, and which also starred Adelaide Kane and Celina Sinden. It follows the life of Mary, Queen of Scots and the series won four of its 25 award nominations.
Megan's three most recent TV series roles have been playing Edith Mooreland in eight episodes of the 2020 adventure fantasy "October Faction", Lily Borden in nine episodes of the 2021 family drama "Heartland", and Ellen Cooper in seven episodes of the 2021 drama "The Republic of Sarah".
Roles in movies
Megan's debut film role was playing Laura McLain in the 1980 romantic comedy "The Mating Season", and some of her following roles were in the 1981 short fantasy "The Olden Days Coat", the 1982 drama "Jen's Place", and the 1983 short drama "Boys and Girls".
She played Rachel Brown in the 1988 historical drama "Inherit the Wind", directed by David Greene, and which starred Kirk Douglas, Jason Robards and Darren McGavin. It follows a liberal attorney who's defending a man accused of teaching Darwinism in the 1920s – the movie won four of its five award nominations.
The first half of the '90s saw Megan appear in a couple of not-so-popular movies, such as the 1991 crime dramas "The Chase" and "Cry in the Wild: The Taking of Peggy Ann", and the 1993 comedy "When Pigs Fly". In 1999, she starred as Cousin Helen in the drama "What Katy Did", directed by Stacey Stewart Curtis, and which also starred Alison Pill and Martha Burns. It follows a widowed man as he's raising his 13-year-old daughter with the help from her aunt.
Some of Megan's most notable performances in the 2000s were perhaps in the 2002 historical drama "The Stork Derby", the 2004 drama "Plainsong", and the 2009 drama "Booky's Crush".
She voiced Meg O'Leary in the 2015 animated fantasy "Pirate's Passage", directed by Mike Barth and Jamie Gallant, and which starred Donald Sutherland, Gage Munroe and Carrie-Anne Moss. It follows a mysterious sailor who's arrived to Grey Rocks, Nova Scotia, and has offered his help to a woman and her son; the film was nominated for two awards.
Megan's since appeared in only one movie: she portrayed Diane in the 2019 drama "Lie Exposed".
Megan Follows in "Lie Exposed" (2019) on Amazon Prime and Google Play (via @NotDoneAbusingU IG) pic.twitter.com/qKk8oZ2Cx6

— ReignedUsIn (@ReignedUsIn) December 9, 2020
Other credits
Megan has 11 directing credits, including the 2018 short thriller movie "Held", five episodes of the 2019 family series "Heartland", and the 2020 romantic comedy movie "Marry Me This Christmas".
Some of her talk-show appearances have been in "Life and Times", "Odd Job Jack" and "The Hour".
Awards and nominations
Megan's won five of her 16 award nominations. Some of her wins include a 1989 Aftonbladet TV Prize, Sweden for Best Foreign TV Personality – Female (Bästa utländska kvinna), a 2020 Canadian Screen Award for Best Direction in a Children's or Youth Program or Series, for "Holly Hobbie" and a 2020 Directors Guild of Canada Award for Outstanding Directorial Achievement for Family Series, for "Heartland".
Love life and marriage
Megan avoids speaking about her love life in public, but it's known that she was married, and has two children.
Megan and Canadian chief lighting technician and photographer Christopher David Porter married in 1991, after they had met on the set of the 1990 mystery thriller movie "Deep Sleep". She gave birth to their daughter Lyla Anne Porter in December 1991, and their son Russell Porter followed on 13 July 1994; Megan and Christopher divorced in 1996.
She was then in a long-term relationship with Canadian actor Stuart Hughes; he's had roles in over 70 movies and TV series, and is probably best known for playing Angus in the 2017 movie "The Drawer Boy". Megan and Stuart broke up in 2010.
She hasn't mentioned other men whom she's dated; Megan seems to be single as of January 2023, was married to Christopher David Porter, and they have two children together.
Hobbies and interesting facts
Megan's recently become a US citizen.
She starred alongside her mother in the 1985 movie "Anne of Green Gables".
Megan was a member of the Soulpepper Theatre Company, and some of the plays in which she starred include "Top Girls", "The Real Thing" and "Fool for Love".
She's followed by more than 220,000 people on Instagram, and has posted over 550 pictures and videos onto the social media network.
Megan's favorite season is winter, mostly because she likes snow and holidays.
Her favorite actresses are Meryl Streep and Kate Winslet, and some of her favorite movies include "Don't Look Up", "Death Becomes Her" and "It's Complicated".
Height, eyes and wealth
Megan's age is 54. Her hair and eyes are brown, she's 5ft 4ins (1.63m) tall and weighs about 115lbs (52kgs).
Megan's net worth's been estimated at over $2 million as of January 2023.