• Mitchel Musso is an American actor, songwriter, and musician, best known for roles in "Hannah Montana" and "Pair of Kings".
• His career began early, so he was homeschooled. He has two brothers, Mason and Marc.
• He has had many acting roles in films and TV series and has released a debut album and several singles.
• Despite rumors, he has not confirmed any dating relationships, but is close friends with Emily Osment.
• His net worth is estimated at around $3 million and he is active on social media.
Who is Mitchel Musso?
Mitchel Tate Musso is an American actor, songwriter, and musician, perhaps best recognized for his roles in "Hannah Montana" and "Pair of Kings". He was born under the Zodiac sign Cancer on 9 July 1991 in Garland, Texas, the USA. As of 2021, he is 29 years old, and he holds American nationality.
Early Life and Family
Both of his parents Katherine and Samuel Musso were actors who actively performed with the local community theater. From an early age, Mitchel observed his parents slowly taking an interest in acting and theater. He started his career very young, which prevented him from attending school like other children, hence he was homeschooled. Most of his life, Mitchel spent in  Rockwall, Texas. Regarding his siblings, he has two brothers Mason and Marc. Mason is the lead singer of the American pop-rock band called "Metro Station".
Mason started the band In with Trace Cyrus, the older brother of Miley Cyrus. However, after a couple of years, they announced that they parted ways.  However, in 2020 they reunited forces once again and released a single. His other brother Marc is also an actor.
Career
He kicked off his acting career in 2002 in the short movie "Am I Cursed?". In 2003 he made his Hollywood movie debut starring in "Secondhand Lions" opposite his brother Marc. His role as a boy in the movie garnered him a nomination for Young Artist Award in the category for the Best Performance In A Feature Film – Young Actor Age Ten or Younger. He also voiced the character named Curt in three episodes of "King of the Hill".  The following year he made an appearance in an episode of "Oliver Beene".
In 2005 he appeared under the Disney's Banner in "Life is Ruff", portraying Raymond Figg and a TV film "Walker Texas Ranger: Trial by Fire" opposite Selena Gomez.
In 2006 he voiced D.J. in "Monster House" and appeared on the Disney Channel Games, playing for the Red team.  The same year he landed his most prominent role of Oliver Oken in the teen sitcom "Hanna Montana" and starred as Andy Larkmon in "Squirrel Boy".  He additionally voiced a recurring character in the 2007 animated comedy series "Phineas and Ferb". In June 2008, he presented the Spotlight Awards at the North Shore Music Theatre.  The following year he returned to the movies in another Disney movie, "Hatching Pete", and "Hannah Montana: The  Movie". The same year he played himself in an episode of the animated series "Yin Yang Yo!"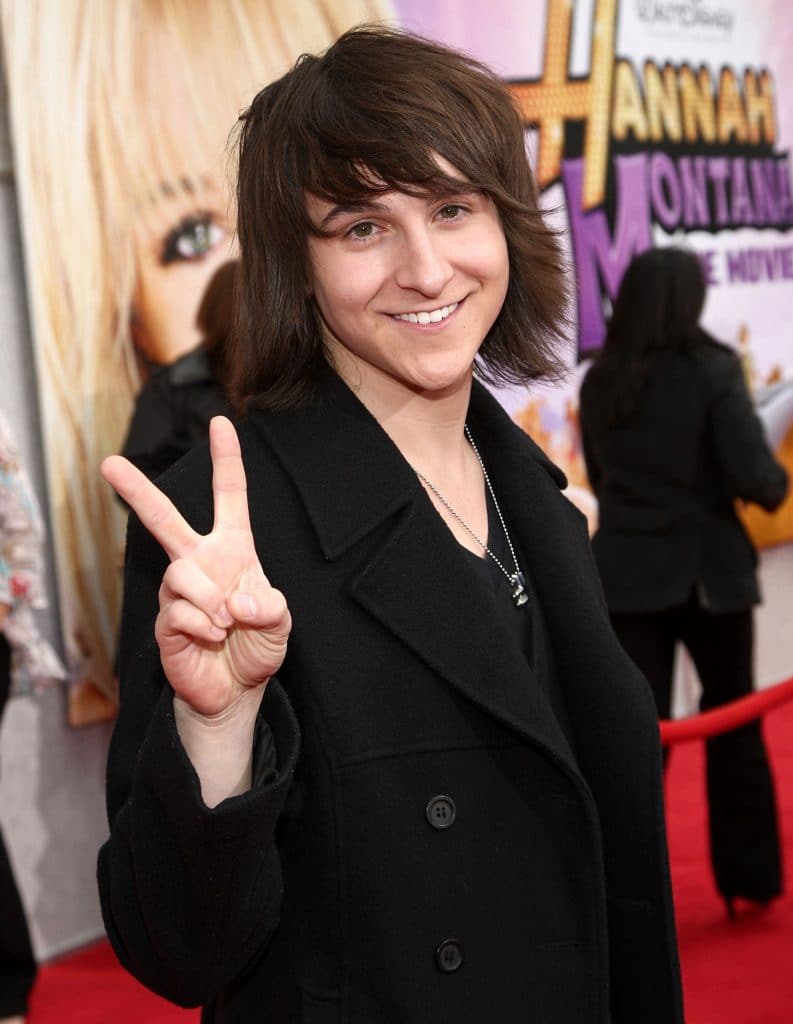 In 2010 he landed the main role as King Brady in "Pair of Kings", which ran for three seasons. He additionally voiced a character in "The Search for the Santa Paws" and the animated movie "Phineas and Ferb: Across the 2nd dimension", based on the series. The following year Mitchell was chosen as the host of Disney Channel's reality series named "PrankStars". The series premiered on 15 July 2011 and ran for only one season consisting of four episodes. The show was canceled due to Mitchel's DUI charge, which also cost him his role in "Pair of Kings". Mitchel was subsequently replaced on the third season by Adam Hicks.
In 2014 he appeared in "Sin of our Youth" followed by his roles in "The Sand" and "Characterz".
In 2016 he voiced a character in "Milo Murphy's Law". Two years later, he portrayed Zane Daniels in the independent movie "Bachelor Lion".
Music Career
Besides his prolific acting career, he also dipped his toes in the music industry.  He sang several tracks for Disney, including a remix of the "Lean on Me" song, featured in "Snow Buddies" and "If I Didn't Have Your" with Emily Osment. In "Hatching Pete", Mitchell collaborated with Tiffany Thorton and sang "Let It Go", the soundtrack for "Sonny with a Chance".
His other singing credits include "The Girl Can't Help It" for another Disney movie called "Princess Protection Program" and "Live like Kings" featured in "Pair of Kings". In 2009 he joined the talented cast of School House Rock and sang "The 3R's".
An aspiring musician, Mitchel released a debut album in 2009. He released two singles, "The in Crowd" and "Hey". Additionally, Mitchel sang the theme song in the short period he hosted "Prank Stars". The same year he opened for his brother's band "Metro Station". After headlining a tour, Mitchel held two free concerts in 2010. The same year he released the EP "Brainstorm", which consisted of eight tracks, including "Just Go", "Empty", and "Celebrate".
What is he doing now?
Given his last acting credit was in 2018 and he has not come out with a new music album, it appears that Mitchel is laying low. However, he voiced a character in the sequel of the 2020 animated movie "Phineas and Ferb the Movie: Candace against the Universe".
Personal Life
Even though rumors were circulating that Mitchel is gay, they were never confirmed.
Previously it was rumored that he dated Katelyn Traver Cody Kennedy and Erin Barr. In 2009 he began a romantic relationship with his co-star from "Hannah Montana" Emily Osment. However, they broke up in 2011. Mitchel quickly moved on and started dating the actress Gia Mantegna the same year. Even though there was no official news about their break-up, in 2015, many media outlets began reporting that Mitchel started dating Haley Rome. However, neither of them came forward with any information. Additionally, Mitchel does not have photos with any girlfriend or female friends on his social media.
Regarding his relationships with the cast of "Hannah Montana", he is still very close to Emily Osment, judging from their social media accounts.
Legal issues
After failing to slow down, in October 2011, Mitchel was pulled over by traffic officers and subsequently charged with a DUI (Drinking under the influence). The officers detected the smell of alcohol after which, they proceeded to give him a breathalyzer and sobriety test. The test determined that Mitchel crossed the legal limit; he was at the time 20 years old hence was charged with underage drinking. He was released on a $5,000 bail, given that he did not have any priors. In an interview, he said." In becoming an adult, I have learned first-hand that stepping up and taking responsibility is the best way to move forward. I am especially thankful to my family and fans for their unwavering support and encouragement. I am glad to now put this in the past". Ultimately, this DUI charge cost him a great deal, given that he was consequently dropped from both "PrankStars" and "Pair of Kings".
Physical stats and Hobbies
Mitchel is 5ft 8ins (173cm) tall and weighs around 150lbs (68kgs). His hair is dark brown, and his eyes are hazel. Even though many remember him rocking long hair, today, Mitchel looks quite different. Besides changing his hair, given his fit stature, it appears that he is very physically active and maintains his figure.
What is his net worth?
Mitchel's net worth is estimated at around 3 million, which he acquired through his acting and music career. Even though he has resumed landing jobs through Disney, his professional career took a significant blow due to the DUI charge.
Mitchel is very active on his social media. His Instagram counts over 200,000 followers, while his Twitter account has nearly 2 million followers. On Twitter, he usually posts throwback photos and interesting quotes.