• Noah Andrew Ringer was born in Dallas, TX USA in 1996
• He is an actor and martial artist, best known for his portrayal of Aang in the 2010 movie "The Last Airbender"
• He was home-schooled and passed his GED in 2014
• He has won numerous awards in martial arts and was nominated for a Young Artist Award in 2011
• He is 24 years old, has a net worth of over $2 million, and is passionate about travelling, playing sports, and watching movies
Who is Noah Ringer and where is he today?
Noah Andrew Ringer was born in Dallas, Texas USA, on 18 November 1996 – his zodiac sign is Scorpio, and he holds American nationality. He's an actor and a martial artist, who's probably still known best for his portrayal of the lead character Aang in the 2010 action adventure family movie "The Last Airbender", written and directed by M. Night Shyamalan, and which also starred Nicola Peltz and Jackson Rathbone. The film follows the young Avatar Aang, who has to learn to control all four elements and with their power prevent the Fire Nation from destroying the Earth Kingdom and the Water Tribes. It won eight of the 20 awards it was nominated for.
BIG NEWS! Got my driver learner's permit today after 3 weeks of driver's Ed. Drove home. This pic is while at a stop…

Posted by Noah Ringer on Monday, July 22, 2013
Noah hasn't been active in the film industry since 2011, and today appears to be focused on his career as a martial artist.
Early life and education
Noah was raised in Dallas by his German mother and American father, but nothing about the two is known, as they prefer to stay away from the media's attention. He hasn't spoken about having any siblings, and is thus believed to be an only child.
Noah was ten years old when his mother enrolled him at the American Taekwondo Association (ATA) Martial Arts, and he fell in love with it, and showed great talent. It took him only a couple of months to start competing, and in December 2008 just a month after turning 12, Noah obtained his black belt. He was home-schooled as his parents disliked the educational system.
Noah kept his head shaved at all times, and his fellow martial artists called him 'Avatar' because he resembled the character Aang from the animated action adventure series "Avatar: The Last Airbender". After hearing about his nickname, Noah's Tae Kwon Do instructor Master Eric Pechacek watched the series, and after noticing that the two were really alike in both personality and appearance, he told Noah about the series, and it instantly became his favorite.
In July 2008, Noah's instructor urged him to attend the open casting call for the role of Aang in the movie "The Last Airbender", so Noah dressed-up as Aang, and filmed himself while quoting a few lines from the animated series. Around a month later, he was invited to meet the film's director M. Night Shyamalan in Philadelphia, and again a month later, he was notified that he had won the role.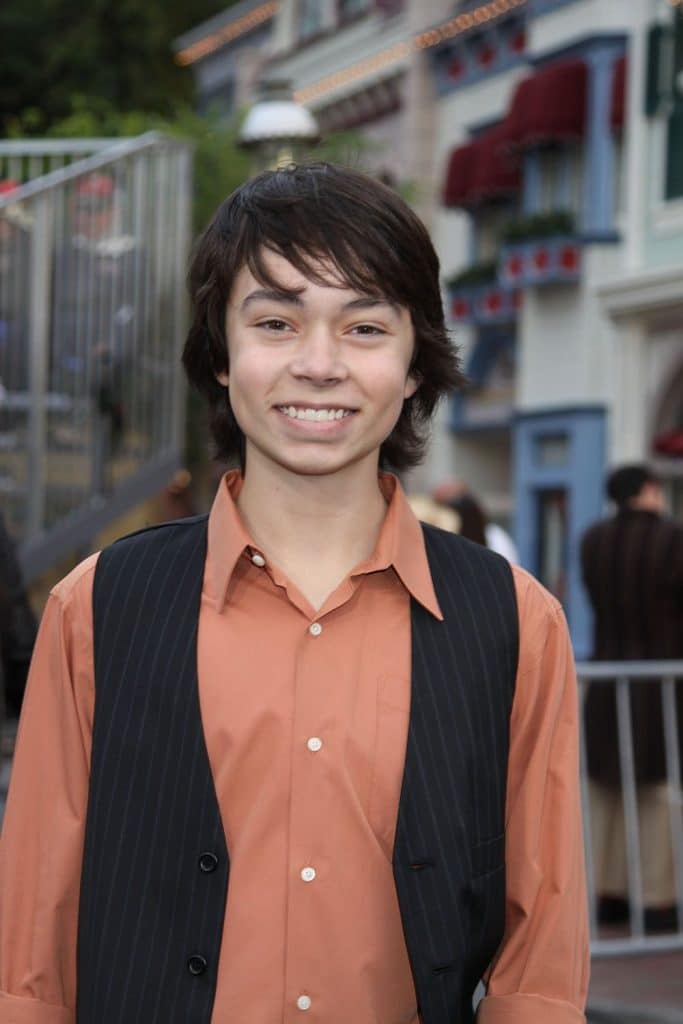 Noah had around four weeks to prepare himself for the shooting, and so practiced acting at the Dallas Young Actors Studio.
In 2014, he passed his General Educational Development Test (GED), equivalent to a high school diploma.
Career as an actor
Noah has only one other acting credit besides "The Last Airbender". In 2011, he played Emmett Taggart in the critically acclaimed action science fiction thriller movie "Cowboys & Aliens", written by Roberto Orci and eight others, directed by Jon Favreau and which starred Daniel Craig, Harrison Ford and Olivia Wilde. The film follows the arrival of aliens in Arizona in 1873, and the cowboys and Native Americans who are fighting them to prevent them from taking over the world. The movie won one of the 18 awards it was nominated for.
Other credits
In 2010, Noah voiced Aang in the video game "The Last Airbender".
The year 2010 also saw him star in two documentary movies – "The Last Airbender: Siege of the North" and "Discovering 'The Last Airbender'". In 2011, Noah made a guest appearance in the episode "I Know Why the Caged Bird Sings Karaoke" of the talk-show "Conan", and he was also featured in the short documentary film "Igniting the Sky: The Making of Cowboys & Aliens".
In 2015, he served as the correspondent in two episodes of the talk-show "The Art Craze".
Awards and nominations
Noah has been nominated for a single award: a 2011 Young Artist Award for Best Performance in a Feature Film – Leading Young Actor for "The Last Airbender".
Career as a martial artist
Noah's first tournament win was at the World Championships held in Arkansas, as he beat everyone in every category he fought in. Following the tournament, he became interested in Extreme Martial Arts, also known as XMA, and this got him to invent new moves. Noah went on to practice using various weapons, while he was mostly interested in the bō staff because that's the weapon of the character Aang. In the two years following his debut tournament entry, Noah competed in around 24 other tournaments, winning 80 gold medals and 20 others. In February 2008, he was rewarded The Competitor of the Year Award, and at the 2008-2009 Texas State Championship, Noah won in five categories: X-Treme Weapons, X-Treme Forms, Sparring, Traditional Weapons and Traditional Forms.
He's today teaching other ATA students.
Love life and relationships
Noah prefers to keep the details of his love life to himself, and hasn't spoken about any women (or men) he has perhaps been with, however, there are various rumors circulating the internet concerning his relationships and sexual orientation.
There have been some claims that Noah was spotted in early 2021 with his girlfriend while they were looking for engagement rings. According to the rumors, they were seen going from shop to shop searching for the right rings for them, however, no evidence has been provided to support these claims, nor has Noah commented on this.
There are also some of his fans who believe Noah to be gay, while one has even claimed to have seen him being too close to his male friend, however, this hasn't been confirmed either.
As of March 2021, Noah appears to be single, hasn't married and doesn't have children.
Hobbies and other interests
Noah dislikes social media networks, and isn't active on any, although there are a couple of active fan-made accounts.
He's passionate about travelling, and his career as a martial artist has taken him all around the US to attend his tournaments and championships. Noah has apparently also been to Europe and Asia to compete.
He's an animal lover, and has two pet dogs.
He's keen on playing various sports with his friends, including soccer, tennis and table tennis.
Late at night, Noah enjoys watching movies starring his favorite actors and actresses Jackie Chan, Keanu Reeves and Angelina Jolie, such as "Drunken Master", the trilogy "The Matrix" and "Lara Croft: Tomb Raider – The Cradle of Life".
Age, height and net worth
Noah's age is 24. He has short brown hair and brown eyes, his height is 5ft 5ins (1.65m) and he weighs around 128lbs (58kgs).
As of March 2021, his net worth has been estimated at over $2 million.