• Canadian Primetime Emmy Award-winning actor
• Best remembered as Louis Tully in "Ghostbusters" and Wayne Szalinski in "Honey, I Shrunk the Kids"
• Left acting in 1997 due to being a single parent
• Signed a deal to reprise his role in the sequel "Shrunk" in 2020
• Career began with radio disc jockey and CBC's "90 Minutes Live" and "SCTV", which earned him fame for his impressions and the creation of characters Bob and Doug McKenzie
• Received an Oscar nomination for his role in "Little Shop of Horrors" and continued to work in various films and TV shows in the '80s and '90s
• Also released several comedy albums and has a net worth of $10 million
Who is Rick Moranis?
Rick is a Canadian Primetime Emmy Award-winning actor, perhaps best remembered as Louis Tully in the film "Ghostbusters", and as Wayne Szalinski in the film "Honey, I Shrunk the Kids" (1989), in addition to several other notable roles that he's secured in his career.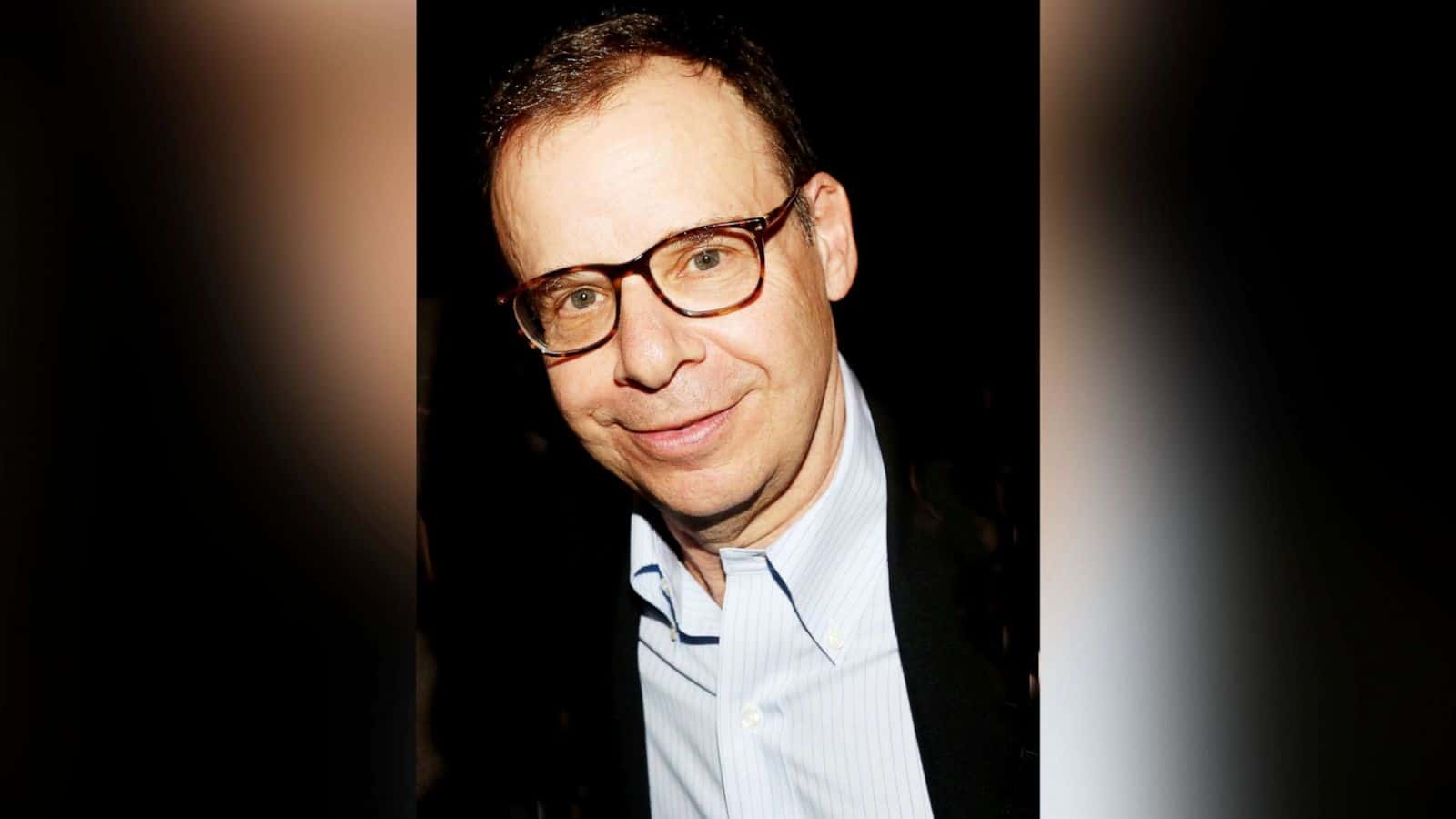 What Happened to Rick Moranis?
Rick left acting in 1997, realizing that he couldn't focus fully on acting and associated traveling, as he was a single parent to the two children he fathered with his wife Ann Belsky, who sadly passed away with cancer in 1991. Since then, he's landed a few voice acting roles, and made a guest appearance on "Late Night with Conan O'Brien" discussing his reasons why he left acting, and his future plans.
However, in 2020 he signed a deal to reprise his role as Wayne Szalinski in the sequel "Shrunk", which is now in pre-production.
Rick Moranis Wiki: Age, Childhood, and Education
Frederick Allan Moranis was born on 18 April 1953, in Toronto, Ontario, Canada, the son of Jewish parents whose names and vocations have been left out of the media, but his mother is of Polish Jewish ancestry, and his paternal grandparents were Jacob and Lena Moranis, Russian Jewish immigrants
He went to the Sir Sandford Fleming Secondary School, after which he enrolled at York University in Toronto.
Career Beginnings
Before acting, in the early '70s Rick launched a career as a radio disc jockey under the name Rick Allan. He worked at three radio stations before teaming up with Rob Cowan to perform on CBC-TV in their spoof of "Hockey Night in Canada", which earned national acclaim. In 1977, Rick created a series of live performances on CBC's "90 Minutes Live", producing a number of comedy radio specials and television comedy pilots with the help of Winnipeg-born writer, director and performer, Ken Finkelman.
However, it was in 1980 that he joined the third season of the show "Second City Television". Dave Thomas, who was already a writer and performer on the show, persuaded him to join "SCTV", and he remained in the show for 26 episodes, earning fame for his impressions of Woody Allen, Merv Griffin, David Brinkley and George Carlin, among many others.
Together with Thomas, he created characters Bob and Doug McKenzie, a couple of Canadian buffoons needed for a two-minute program rendered as identifiable Canadian content. The characters were a part of the sketch "The Great White North", and became an international phenomenon, which earned Rick wide praise.
The sketch became the premise for the film "Strange Brew", which was Rick's film debut. He and Thomas teamed up again to bring the two famous characters to the big screen in a misadventure, in which the infamous duo starts working at the Elsinore Brewery.
Rise to Prominence
With the success of "Strange Brew", Rick continued in the same fashion into the mid- '80s, co-starring in the award-winning action crime-drama film "Streets of Fire", alongside Michael Pare and Diane Lane in 1984.
The same year, he was Louis Tully in the Academy Award-nominated action fantasy-comedy film "Ghostbusters", directed by Ivan Reitman and starring Bill Murray, Dan Aykroyd, and Sigourney Weaver, about three parapsychologists who start a unique ghost removal service. The film has become a cult classic, and he reprised his role in the sequel "Ghostbusters II" in 1989, with all stars returning from the original.
The following year, Rick starred in the comedy movie "The Last Polka", written by Eugene Levy and John Candy, who also co-starred in the film.
Then in 1986, he starred in the Oscar-nominated horror comedy-musical "Little Shop of Horrors", co-starring Ellen Greene and Vincent Gardenia, about a nerdy florist who finds a chance for love and success with the help of a giant man-eating plant.
Dark Helmet – an excellent tribute to Rick Moranis' character from the film Spaceballs by ZBrushCentral member Brett Sinclair https://t.co/645vBdZgWM pic.twitter.com/dSzPtoDDkx

— ZBrush (@pixologic) July 10, 2019
The following year he starred with John Candy and Mel Brooks in the award-winning sci-fi adventure comedy film "Spaceballs", and before the decade ended, secured one of his major roles as Wayne Szalinski in the BAFTA-winning family adventure comedy-film "Honey, I Shrunk the Kids", about a scientist who accidentally shrinks his and two other neighborhood children to the size of insects. The film became another instant hit and spawned several sequels and spin-offs, including "Honey, I Blew Up the Kid" (1992), then "Honey, I Shrunk the Audience!" (1994), and "Honey, We Shrunk Ourselves" (1997).
He also starred as Nathan in the 1989 Academy Award-nominated comedy-drama film "Parenthood, with Steve Martin as the main star.
The '90s and Retirement
He began the new decade next to Steve Martin in the comedy crime film "My Blue Heaven", while in 1993, he starred in the comedy film "Splitting Heirs", co-starring Eric Idle and Barbara Hershey.
The following year, he was Barney Rubble in the fantasy comedy film "The Flintstones", about the beloved Stone Age family set in the modern-day Stone Age world, with John Goodman as Fred Flintstone.
After 1997 he took an indefinite hiatus, but not before he was David Leary in the award-winning comedy thriller film "Big Bully".
He still hasn't returned to the screen, but he has lent his voice to several characters across a multitude of animated series and films. Some of these include Mr. Cuddles the Teddy Bear in the animated film "Rudolph the Red-Nosed Reindeer & The Island of Misfit Toys" (2001) then Rutt in the animated film "Brother Bear" (2003), among others.
2003 Brother Bear Official Trailer 1 Walt Disney Pictures

2003 Brother Bear Official Trailer 1 Walt Disney PicturesFollow kloklineatYoutube: http://bit.ly/2CmXJJz#klokline #kloklineCinemaProduction: Walt Disney PicturesDirector: Aaron Blaise, Robert WalkerCast:Joaquin Phoenix … Kenai (voice)Jeremy Suarez … Koda (voice)Jason Raize … Denahi (voice)Rick Moranis … Rutt (voice)Video: https://www.youtube.com/watch?v=6-9g434R7UoPlease leave your comments, suggestion, feedback

Posted by Klokline Cinema on Wednesday, April 24, 2019
Comedy Albums
Additional to his work as an actor and voice actor, Rick has released several comedy albums – his debut "You, Me, the Music and Me" was in 1989, followed by the 2005 comedy album "The Agoraphobic Cowboy", which earned him the 2006 Grammy for Best Comedy Album. His latest release is the 2013 album "My Mother's Brisket & Other Love Songs".
Net Worth
According to sources, Rick Moranis's net worth is estimated at $10 million, as of early 2023.
Personal Life, Married, Wife, Children
Rick was married to costume designer Ann Belsky from 1986 until her death from cancer in February 1991. The couple welcomed two children, Rachel and Mitchell Moranis.
Appearance and Vital Statistics
Rick Moranis has dark brown hair and blue eyes. He's recognized for his nerdy looks including wearing large glasses. He stands at a height of 5ft 6ins (1.68m), while he weighs approximately 143lbs (65kgs).