• Samantha Ponder is an American sportscaster
• She is married to Christian Andrew Ponder and they have three children together
• She is physically active and enjoys playing tennis, table tennis and horseback riding
• Her net worth is estimated to be more than $15 million
• She has blue eyes, blonde hair and is 5ft 6ins (1.68m) tall
Who is Samantha Ponder?
American sportscaster Samantha Ponder was born Samantha Sainte-Claire Steele in Phoenix, Arizona USA, on 11 December 1985, so her zodiac sign's Sagittarius. She's probably known best for the work she's done for the American international basic cable sports channel ESPN, mostly covering the National Football League (NFL).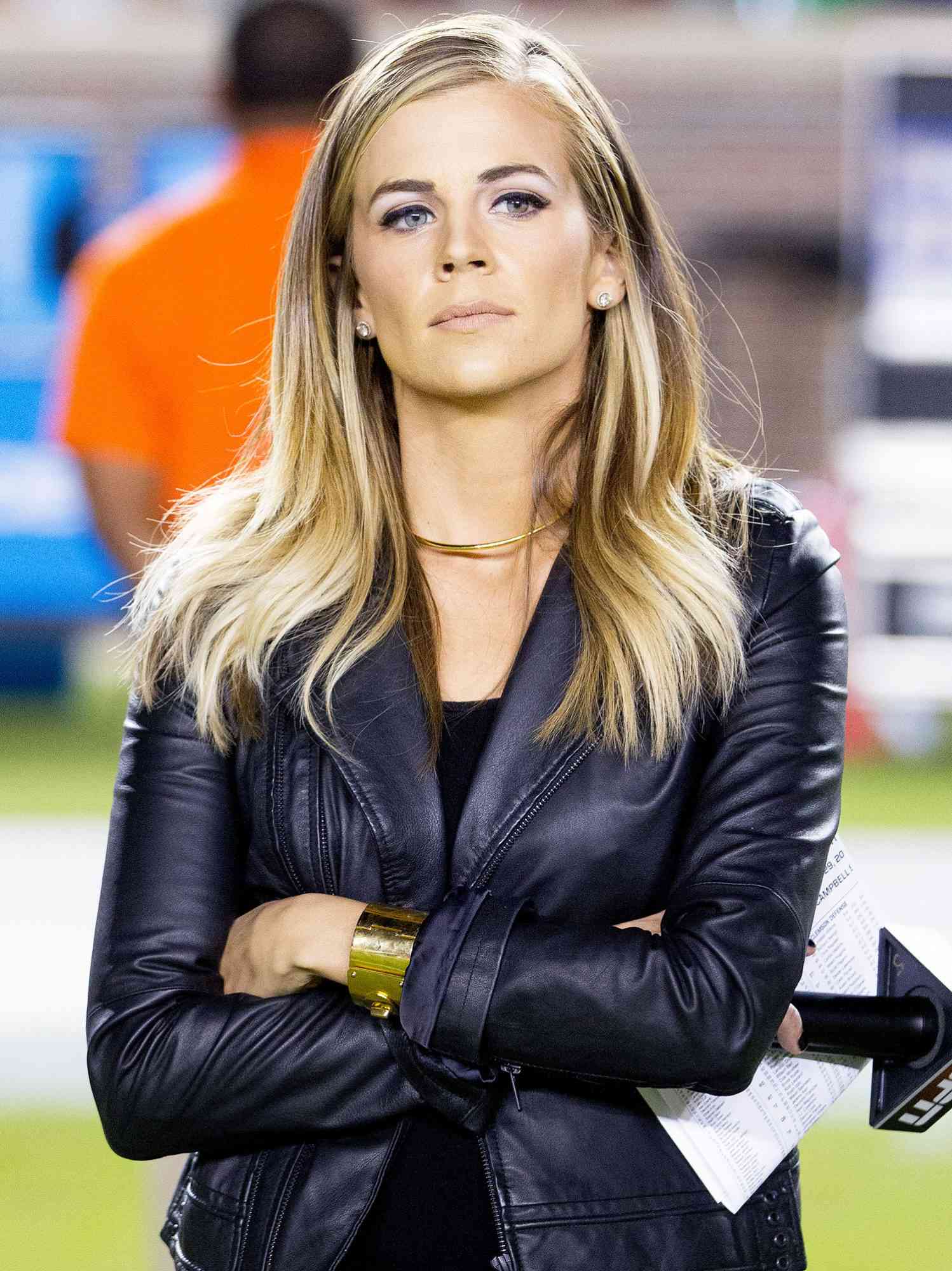 Education and early life
Samantha was raised alongside three siblings in Phoenix, by their father Jerry Steele and mother Cindi, both of whom worked for M. A. D. Services as Christian preachers.
She became interested in sports while studying at Central High School, and was a member of her school's volleyball team, while she also enjoyed playing basketball and tennis with her peers. Samantha completed her high school education in 2004, and then moved to New York City, where she studied at The King's College.
She began working as a journalist while still attending College, and transferred to Liberty University two years later, after having been offered a job in Lynchburg, Virginia. She graduated with a Bachelor's degree in 2009, and then focused on her career as a sportscaster.
Samantha's career
While in New York City, Samantha worked as a hostess at ESPN Zone to financially support herself, and had a chance to meet college football researcher Ben Keeperman, who was at that time employed at ABC Sports Radio. She was invited to join the network as an intern, and was then hired by ABC-TV as a research assistant; not long after this, Samantha was invited to work at the sports TV network Liberty Flames as their sideline reporter, which was why she transferred to Liberty University.
Following graduation, she worked as a sideline reporter for Fox College Sports and Fox Sports Net, covering Big 12 and Pac-10 college football and basketball games.
It was announced by ESPN on 7 July 2011 that Samantha had begun working as their sideline reporter, and she, Lowell Galindo and Kevin Dunn became the first three talent hires for the ESPN's newly formed regional sports Longhorn Network (LHN).
After she began working at LHN, Samantha moved to Austin, Texas where she's since been living.
YouTube videos
Although Samantha doesn't have her own YouTube channel, ESPN and other users have uploaded many videos which feature her onto their channels, and two of these have even been watched over a million times. These mostly feature Samantha interviewing famous athletes, or expressing her opinion about football games, star transfers and players' abilities; we're going to write about the three most popular YouTube videos which feature Samantha, and which have contributed to her popularity on the internet.
Her #1 video "Randy Moss' emotional message remembering Kobe Bryant: 'Mamba Forever' | NFL Countdown", was uploaded by ESPN on 2 February 2020, and has since been viewed more than 1.7 million times; it features Samantha talking about the famous American basketball player Kobe Bryant, after he had died in a helicopter crash.
Samantha's #2 video "The RIDICULOUS Barstool VS ESPN Controversy, Banning Terry Richardson, and More…" was uploaded by Philip DeFranco on 24 October 2017, and has been viewed nearly 1.2 million times; it features famous American YouTuber Philip talking about Samantha, ESPN and Terry Richardson.
Her #3 video "Dave Portnoy Confronted by Sam Ponder After Canceled Pardon My Take ESPN Show", was uploaded by Barstool Sports on 16 October 2020, and has been watched close to 500,000 times; it shows Samantha and American internet celebrity Dave Portnoy discussing a cancelled ESPN show.
Samantha's an Instagram star, as today there are close to 600,000 people following her on the social media network, onto which she's posted nearly 1,500 pictures and videos, with most of these showing her working, or spending time with her family.
She's been active on Twitter since August 2009, and has tweeted nearly 15,000 times; close to 500,000 people are following Samantha on the network today, as she's keeping them up to date with all the happenings in NFL.
Samantha's Facebook page numbers close to 20,000 followers – her most recent update was on 10 October 2022.
Husband and children
Samantha's a devout Christian, and was introduced by a mutual friend to American former football quarterback Christian Andrew Ponder in May 2012; after quite a brief courtship, the two married in Hudson, Wisconsin on 17 December 2012, in front of their many friends and family members. From 1 January 2013, she began appearing on ESPN broadcasts as Samantha Ponder.
Samantha gave birth to her and Christian's daughter Bowden Saint-Claire 'Scout' in July 2014, and their son Robinson True followed in June 2017; in July 2018, Samantha gave birth to their second daughter Price Anne-Drew.
It's widely believed that Christian was also Samantha's first boyfriend, although this hasn't been confirmed by her.
Samantha's married to Christian Andrew Ponder as of January 2023, and they have three children together.
Interesting facts and hobbies
Samantha's physically highly active, and exercises at the gym nearly every day, and in any spare time, she also enjoys playing tennis and table tennis with her friends.
She's worked with a number of charity organizations since the launch of her career, while she's mostly into helping underprivileged youth develop interest in sports.
Her favorite color's green.
Samantha's a lover of animals, with horses and dogs being her favorites; she's an avid horseback rider.
She loves the feeling of sun on her skin, which is only one of the reasons why summer's her favorite season, as Samantha's also an avid scuba diver, and enjoys paddleboarding.
She's passionate about history, and has read many books, with her favorites are about World War II.
Samantha's favorite actresses are Meryl Streep and Sandra Bullock, and some of her favorite movies include "Hope Springs", "The Devil Wears Prada" and "The Iron Lady".
Height, eyes and wealth
Samantha's age is 37. She has blue eyes and blonde hair, is 5ft 6ins (1.68m) tall and weighs about 125lbs (57kgs).
Samantha's net worth's been estimated at more than $15 million, as of January 2023.