• Shannyn Sossamon is an American actress and movie director born in Hawaii in 1978
• She has had roles in close to 50 movies and TV series, and is best known for her role in the 2006 fantasy comedy movie "Wristcutters: A Love Story"
• She has won one award out of eight nominations, a Young Hollywood Award for Breakthrough Performance – Female in 2002
• She has two sons and is currently unattached
• She has a net worth of over $3 million
Who is Shannyn Sossamon?
American actress and movie director Shannon Marie Kahololani "Shannyn" Sossamon was born in Hawaii, USA, on 3 October 1978, making her zodiac sign Libra. She's had roles in close to 50 movies and TV series, and is perhaps still best known for her playing of Mikal in the 2006 fantasy comedy movie "Wristcutters: A Love Story", which Goran Dukic wrote and directed, and which starred Tom Waits, Shea Whigham and Patrick Fugit. The movie follows an afterlife way station made only for people who had committed suicide, and won nine of its 15 award nominations.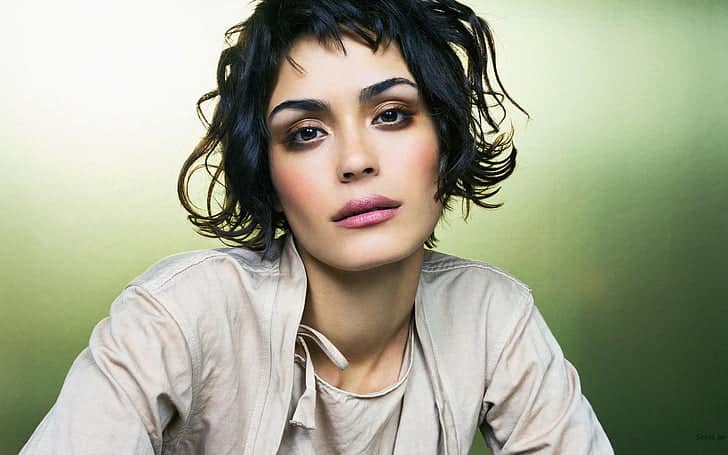 Early life and education
Shannyn and her sister, American singer-songwriter Jennifer Lee Lindberg, were raised in Reno, Nevada by their parents who divorced when Shannyn was five years old; the girls were then raised by their mother, who went on to marry American salesman Randy Goldman.
Shannyn became interested in acting while attending Galena High School, and during her four years there appeared in many school plays, as well as in a couple performed at a local theatre. She matriculated in 1995, and then moved to Los Angeles, California together with a couple of friends, wanting to pursue a career as a professional dancer; she instead became a DJ, and launched her acting career in 1997, thus leaving dancing behind her.
Roles in TV series
Shannyn's debut TV series role was playing Fashion Model in three episodes of the 1997 comedy "Mr. Show with Bob and David", and her following role came in 2004, when cast to play Myra Denning in the crime mystery "Law & Order: Special Victims Unit".
In 2007, she portrayed Kira Klay in the drama "Dirt", created by Matthew Carnahan, and which starred Courteney Cox, Ian Hart and Josh Stewart. The series follows the lives of a tabloid editor and her photographer, and was nominated for a Banff Television Festival Award for Best Continuing Series. In 2007 and 2008, Shannyn appeared in nine episodes of the fantasy horror "Moonlight", which won two awards, and the year 2010 saw her appear in 10 episodes of the comedy "How to Make It in America".
In 2013, she played Alex in the romantic thriller "Mistresses", created by K. J. Steinberg, and which starred Rochelle Aytes, Jes Macallan and Alyssa Milano. It follows the lives of four girlfriends, and the series won a People's Choice Award for Most Popular Foreign Drama of the Year at the 2013 Seoul International Drama Awards.
Shannyn's three most recent TV series roles have been in the 2014 episode "Chapter 7: The Ringing of the Bell" of the short animated adventure "Over the Garden Wall" (voice role), 18 episodes of the 2016 action crime adventure "Sleepy Hollow" and 14 episodes of the 2016 science fiction mystery "Wayward Pines".
Roles in movies
Shannyn's debut film role was her playing of Girlfriend in the 1999 music video "Cher: Strong Enough", and the following year saw her appear in the music video "Korn: Make Me Bad".
She gained recognition in 2001, with her portrayal of Jocelyn in the critically acclaimed romantic action adventure "A Knight's Tale", written and directed by Brian Helgeland, and which starred Heath Ledger, Mark Addy and Rufus Sewell. It follows a peasant squire whose master's died, and who's now pretending to be a knight; the movie won four of its 17 award nominations. Shannyn appeared in several other hit movies in the 2000s, including the 2005 short fantasy "The Double", the 2007 horror thriller "Catacombs", and the 2009 thriller "The Heavy".
The year 2012 saw Shannyn play Lydia in the drama "The End of Love", written and directed by Mark Webber, who also starred in it alongside Shannyn and Alia Shawkat. The movie follows the life of Mark whose wife's just passed away, and has left him to raise their infant son all by himself; it was nominated for a Grand Jury Prize for Dramatic at the 2012 Sundance Film Festival.
Shannyn's also known for playing the lead character Courtney Collins in the 2015 mystery horror thriller "Sinister 2", directed by Ciaran Foy, and which also starred Robert Daniel Sloan and James Ransone. It follows a mother and her two sons who've moved into a haunted house, and the movie won one of its four award nominations.
Shannyn's three most recent film roles have been in the 2021 thriller "The Undertaker's Wife", and in 2022 the action thriller "There Are No Saints" and the mystery horror "Grimcutty".
There Are No Saints – Official Trailer

There Are No Saints – Official TrailerIn Theatres May 27th, 2022 |© 2022 Saban FilmsDirector: Alfonso Pineda UlloaWriters: Paul SchraderActors: Neal McDonough, Ron Perlman, Brian Cox, Tommy Flanagan, Shannyn Sossamon, Tim Roth, Paz Vega, Karla Souza, José María Yazpik, Keidrich Sellati, Gustavo Sánchez Parra, Horacio Garcia Rojas, Gary Carlos Cervantes, Kristyan Ferrer, Vincent Rivera, Rachel Noll James, Armando Hernández, Álex Perea, Gabriel Santoyo, Ari Brickman, Brian Glanney, John Gilbert, Leticia Fabián, Ricardo Mestre, Michael Caden, Natália Subtil, Arnulfo Reyes Sanchez, César René Vigné, Jeff McNeal, María José Medellín, Del ZamoraGenre: Action | Adventure | Crime | ThrillerRun Time: 1 hour 45 minutesLooking to start a new life, a former hitman nicknamed The Jesuit (Jose Maria Yazpik) is unable to escape the sins of his past. With enemies on both sides of the law, he has nowhere to turn when his only son is kidnapped by a ruthless cartel boss (Ron Perlman). He'll stop at nothing to save his boy in this gritty action-thriller from the writer of TAXI DRIVER.#OfficialTrailer​ #Trailer #ThereAreNoSaintsMovie​ #SabanFilms #SRGFXMovieTrailers #SRMovieTrailers #SrgfxPresents #PWDsLifePortal

Posted by SRGFX Movie Trailers on Tuesday, April 19, 2022
Other credits
Shannyn wrote and directed the short series "The Maude Room: A Variety Show".
She composed the music for the 2009 video "Elephants".
Some of Shannyn's most recent talk-show appearances have been in "Made in Hollywood", "Let's Go, DFW!" and "Bret Eston Ellis Podcast".
Awards and nominations
Shannyn's won one of her eight award nominations: a 2002 Young Hollywood Award for Breakthrough Performance – Female.
She was also nominated for four Teen Choice Awards, twice for her performance in "A Knight's Tale", "40 Days and 40 Nights", and "One Missed Call".
Love life and husband
Shannyn avoids talking in public about her love life, but there are several men whom she's dated, that her fans know about. In 1998 and 1999, she was romantically linked to non-celebrity American Paolo Keppella, then from 2002 through 2004, Shannyn was in a relationship with American author and illustrator Dallas Clayton, and gave birth to their son Audio Clayton on 29 May 2003. There are rumors circulating the internet, claiming that Shannyn dated famous American actor Joaquin Phoenix in 2005 and 2006, but this hasn't been confirmed.
She also dated American musician Eugene Goreshter in 2006, and another American musician, Tygh Runyan in 2010.
In December 2011, Shannyn gave birth to her second son Mortimer Kaufman, but the boy's father's name hasn't been disclosed.
Shannyn hasn't spoken of other men whom she's been with, and seems to be unattached as of December 2022, hasn't married, and has two sons.
Interesting facts and hobbies
Shannyn was featured in three commercials prior to the launch of her acting career.
Magazine "Stuff" ranked her #55 on their 2002 list of 100 sexiest women on Earth.
Shannyn was a jury member at the 2010 Indian Film Festival of Los Angeles.
She was 25 when she began learning to play the guitar, following the birth of her first son, and was then a member of the indie rock and psychedelic band Warpaint, founded by her sister; Shannyn learned to play the drums for the band.
She's a fan of American actors Johnny Depp and Matt Damon, and some of her favorite movies are "City of Lies", "Black Mass" and "The Professor".
Height, eyes and wealth
Shannyn's age is 44. She has black eyes and hair, she's 5ft 8ins (1.74m) tall and weighs about 140lbs (63kgs).
Shannyn's net worth's been estimated at over $3 million, as of December 2022.