• Alaina Marie Mathers is the adopted daughter of famous American singer-songwriter, rapper and actor, Eminem.
• She is a social media star and socialite, and was raised in the US by her mother Dawn Scott.
• Alaina is a mental health advocate, and is into spreading the body positivity.
• She is currently dating an unknown man, and is 27 years old.
• Eminem is an award-winning rapper and actor, who has sold over 220 million albums and was married to Kimberly Anne 'Kim' Scott twice.
Who is Alaina Marie Mathers?
She was born as Amanda Marie Scott in the USA, on 3 May 1993 – her zodiac sign is Taurus and she holds American nationality. She's a social media star and a socialite, but who's probably only known to the public because she's the adopted daughter of Eminem, a famous American singer-songwriter, rapper and actor.
Early life and education
Alaina was raised in the US by her mother Dawn Scott who was a drug addict – after it became obvious that Alaina's mother was no longer able to take care of her, Alaina was adopted by Eminem and his now former wife Kim. She was around 11 years old at the time; in 2016 when she was 23, her mother died of a heroin overdose.
Alaina was raised alongside Eminem's biological daughter Hailie, and attended a local high school at which she was mostly interested in singing and acting. Upon matriculating in 2011, she enrolled at the University of Oakland from which she graduated with a Bachelor's degree in public relations in 2014.
Alaina's career
Alaina hasn't shared any details concerning her career with her public, and prefers to keep it away from the media's attention. She's rumored to be currently working at Genesis Medical Group in Zanesville, Ohio.
Love life and relationships
Alaina's quite open in regards of her love life, and has uploaded numerous pictures featuring herself and her partner onto her Instagram account, but hasn't disclosed anything about him, including his name.
In one of these pictures, she has written about having had a crush on the man for around 15 years, but hasn't disclosed for how long they've been together. There are rumors circulating the internet that Alaina and her partner have exchanged vows, however, no evidence has been provided to support these claims nor has Alaina commented on this. The two have adopted a puppy which can also be seen featured in many of her Instagram pictures,
She hasn't spoken about any other men with whom she has perhaps been, but it's believed that Alaina was in a couple of short-term relationships prior to meeting her current partner.
As of April 2021, she's dating an unknown man, hasn't married and doesn't have children.
Hobbies and other interests
Alaina's a mental health advocate, and is into spreading the body positivity. Her Instagram account is filled with pictures that feature her wearing bikinis and summer clothes, and as she's overweight, not everybody supports what she's doing. Nevertheless, Alaina's confident in her actions, and her goal is to empower women and help them feel good about their bodies.
Summer's her favorite season as she enjoys sun tanning and drinking cocktails at the beach. She likes to drink various other alcoholic drinks, with her favorite being wine.
She's keen on travelling, and has been to many US states as well as several European countries, including Italy and France.
In her spare time, Alaina likes to watch movies starring her favorite actor and actress Channing Tatum and Amanda Seyfried, such as "Letters to Juliette", "Dear John" and "Les Miserables".
Age, height and net worth
Alaina's age is 27. She has long brown hair which she usually dyes various colors including red and blonde, her eyes are green and her height is 5ft 8ins (1.73m), while she weighs around 175lbs (80kgs). As of April 2021, her adoptive father Eminem's net worth has been estimated at over $230 million.
Who is Eminem?
Marshall Bruce Mathers III was born in St. Joseph, Missouri USA, on 17 October 1972 – his zodiac sign is Libra and he holds American nationality.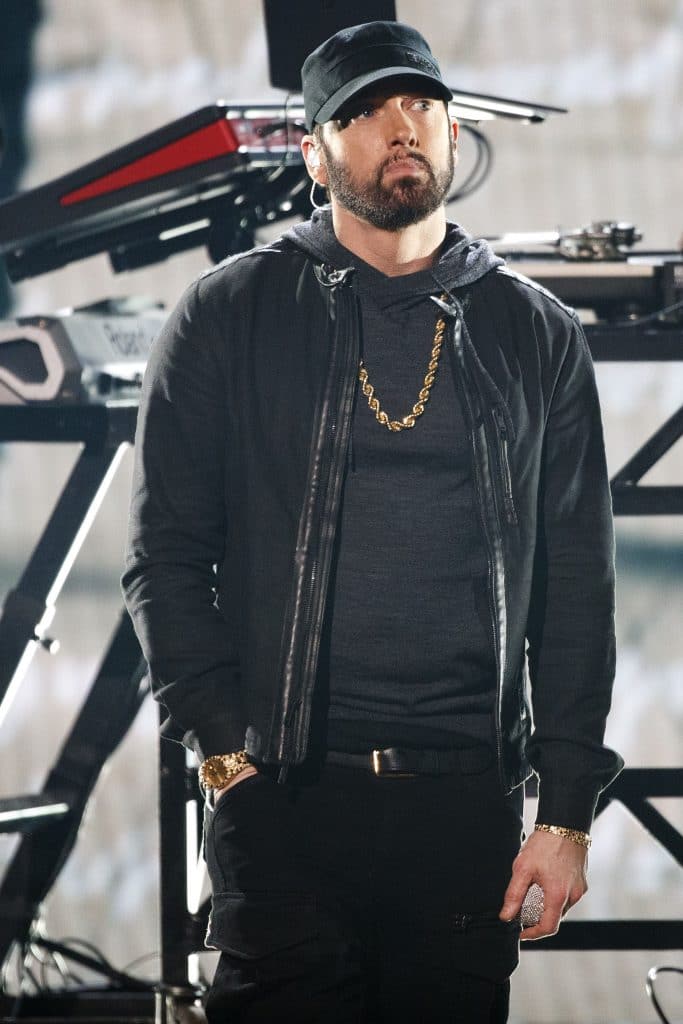 He's one of the most popular rappers in the world, having sold over 220 million albums, while he's won many awards including an Oscar, 17 Billboard Music Awa,rds and 15 Grammys.
He was raised as an only child in St. Joseph by his mother Deborah Rae 'Debbie' (nee Nelson) and his father Marshall Bruce Mathers Jr. Eminem's father eventually abandoned the family, and had two children named Michael and Sarah with another woman. Eminem was bullied while growing up, and one of the boys named D'Angelo Bailey once hurt Eminem's head so badly that Deborah filed a lawsuit against the school, however, it was dismissed. Eminem attended Lincoln High School, but dropped out when he was 17 to pursue a career as a rapper.
He was also interested in literature at that time, but still chose not to pursue a college degree, nor to become a writer.
Eminem began performing as a rapper as soon as he quit school, but it wasn't until 12 November 1996 that his debut album was released, entitled "Infinite". After he came up with the alter ego Slim Shady in the late '90s, he began attracting more attention, and with the release of his third album "The Marshall Mathers LP" in May 2000, he became famous all around the US. It sold over 1.7 million copies in only a week, and Eminem's following album "The Eminem Show" was released in May 2002, and was also a hit, topping various US charts.
Eminem has been making music to this day – his most recent (11th) album, "Music to Be Murdered By – Side B", came out on 18 December 2020.
He's also an actor, mostly known for having starred as himself in the 2002 autobiographical drama movie "8 Mile", which follows his way up in the music industry. Some of the other movies he has appeared in include the 2008 science fiction action "Jumper", the 2009 comedy "Funny People", and the 2014 political action comedy "The Interview".
Eminem married Kimberly Anne 'Kim' Scott twice. They met at high school, and after Kim and her twin sister Dawn left home, they moved in with Eminem's mother and him. He was 15 at the time, and he and Kim dated on-and-off for many years before marrying in 1999, but then divorcing two years later; they have a daughter together named Hailie who was born on 25 December 1995.
Eminem and Kim remarried in January 2006, but divorced again later that year. He hasn't publicly spoken of any other women he has been with, but has been linked with many, including Kesia Alvarez, Beyonce and Tracy McNew.
He's addicted to several prescription drugs, including Valium, Ambien and Vicodin. Eminem has talked about how his mother used to put Valium in his food and drinks because it was easier to control him that way. In December 2007, he overdosed on methadone, and was two hours away from dying, as his doctor has stated. Eminem has apparently been sober since April 2008.