• Arlene Silver is a former professional make-up artist and the second wife of Dick Van Dyke
• Born in 1971, she graduated from California State University in 1999 with a degree in Communications and Film
• She and Van Dyke married in 2012 despite a 46-year age gap, and have six cats together
• Van Dyke's estimated net worth is $50 million
• She is active on Instagram and Twitter, usually posting selfies and photos with Van Dyke and their cats
Who is Arlene Silver?
Even though many recognize her as the "child bride", Arlene Silver is a former professional make-up artist who rose to fame as the second wife of Dick Van Dyke, the famous and versatile veteran in the entertainment industry. Arlene was born under the Zodiac sign Virgo on 21 September 1971, in New York City USA. She holds American nationality, and as of 2021, she is 50 years old.
Early life and Family
Not much information is available about her background and family. It's known that she spent most of her childhood in The Bronx with a brother named Jonathan, and later moved to study at the California State University, graduating in 1999 with a degree in Communications and Film.
Career
Even though many recognize her only as van Dyke's wife, she has been in the entertainment industry for a long time. Upon finishing college, Arlene tried her luck as a make-up artist, landing her first job three years later as a production assistant on the movie "Carolina". In 2007 she was credited for "The Men of Delta Farce Salute the Troops", "Hacienda Confidential", and "Murder 101: If Wishes Were Horses., and the following year she worked on "Making Witless: The Cast on the Cast", "Larry's Use of Analogy", and "Die Laughing".
In 2016 she appeared in the documentary "Welcome Home Dick Van Dyke", which she also produced. The movie follows Van Dyke's return to his hometown Danville, Illinois, with city tours and recounts of his favorite memories. The following year she appeared in another documentary film, entitled "If You're Not In the Orbit, Eat Breakfast".
How did she meet Dick Van Dyke?
The couple met in 2006 at the Screen Actors Guild Awards while they were in the green room, as told by Van Dyke in his interview with FOX News 11. Smitten by her gorgeous looks, Van Dyke approached Arlene and introduced himself, while stressing that he "had never introduced [himself] to a strange girl in [his] life" before. Arlene's reaction was hilarious, as she had asked him, "Weren't you in Mary Poppins or something?". Later, she admitted in an interview that she had known him from somewhere, but couldn't put her finger on it. The pair struck up a conversation, continuing their friendship over the following years. In 2008Van Dyke employed her as his personal make-up artist on the set for his crime series "Murder 101: New Age".
Her marriage to Van Dyke
In the interview with Oprah Winfrey, Van Dyke disclosed that he hadn't planned for a romance to happen, disclosing " She would drop by, cook me a dinner or bring me dinner and just took care of me. So I mean I had to marry her. I became totally dependent." They also expressed their insecurities revolving around their relationship due to the 46-year gap between them, and even Dyke's brother told him the relationship wouldn't work. However, they were in love and adamant in their decision. After six years, they finally tied the knot on 29 February 2012 at the Malibu Chapel. At the time, Arlene was 40, while Van Dyke was 86 years old. Their marriage attracted a lot of backlash from the public, criticizing their union due to the huge age gap. Neither Arlene nor Van Dyke concerned themselves with the rumors, as they are happy together, and believe that age is just a number.
Briefly about Dick Van Dyke
A household name, Dick Van Dyke is a versatile entertainer, actor and producer whose career has spanned over seven decades, writing history with evergreens such as "Mary Poppins" and "Chitty Chitty Bang Bang". He was born under the Zodiac sign Sagittarius on 13 December 1925, in West Plains, Missouri, so as of 2021, he is 95 years old. Van Dyke has a star on the Hollywood Walk of Fame, and has also been inducted into the Television Hall of Fame.
He's had various interesting and unusual professions in his life. Interestingly, during his formative years he considered a career as a Presbyterian Minister. However, his love for and interest in entertainment and acting were stronger. In his senior year, he joined the US Army as a radio announcer during World War II, which prevented him from matriculating. However, he obtained his high school diploma in 2004.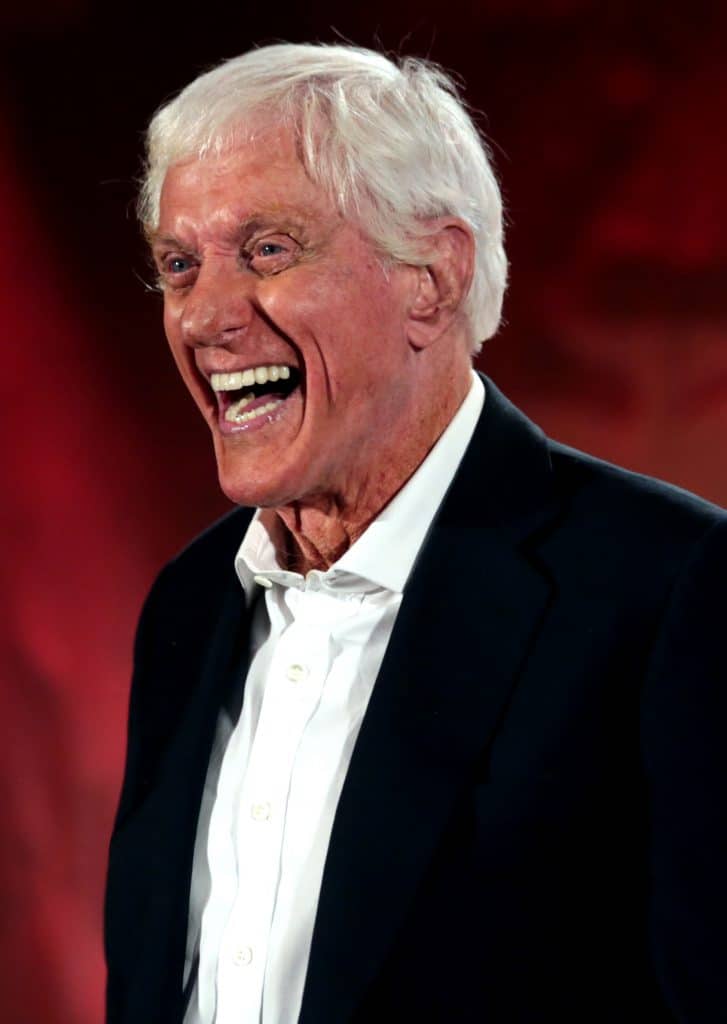 After successful tours with his good friend and pantomime performer Phil Erickson, Van Dyke made his Broadway debut in the play entitled "The Girls Against the Boy", which became an instant hit, winning four Tony Awards. Crowned with the title Best Featured Actor Tony, Van Dyke transitioned to TV, making his debut in 1954 in the competitive show "Chance of a Lifetime".
In 1961, he appeared as Rob Petrie in "The Dick Van Dyke Show", a major hit that received four Emmy Awards for Outstanding Comedy Series, while Van Dyke garnered three Emmy Awards for Outstanding Lead Actor in a Comedy Series. During his time on TV, he received numerous awards from appearing in several TV series including "Van Dyke and Company", "The Carol Burnett Show", and "Diagnosis: Murder".
In 1963 he made his movie debut with "Bye Bye Birdie", which achieved success, followed by one of his greatest performances in the musical fantasy movie "Marry Poppins".
Even though his performance was criticized for his attempt at a cockney accent, the movie became one of the most popular and internationally recognized movies.
After bouncing around various movies, in 1968 he appeared in "Chitty Chitty Bang Bang" another successful musical. His other notable movie credits include "Dick Tracy", "Curious George", and the three installments of the comedy franchise "Night at the Museum". In 2019 he appeared in the sequel entitled "Mary Poppins Returns", which scooped positive reviews and smashed at the box office. Besides numerous Tony and Emmy Awards, he has also garnered a Grammy Award.
His relationships before Arlene
Even though his marriage to Arlene was her first time tying the knot, it was not the first time for the comedian mogul. In 1948 he married Margerie Willet, with whom he has four children: Christian, Berry, Stacy, and Carrie Beth. However, after 25 years of marriage they parted ways.
A little disappointed in married life, in 1976 he began a relationship with the actress Michelle Triola Marvin, who became famous for suing her ex-husband Lee Martin. Van Dyke and Michelle lived together for 30 years until she passed away from lung cancer. Additionally, most of Van Dyke's children married, and now he is a proud grandfather of seven grandchildren.
What is her net worth?
Even though her exact net worth, which she has acquired through her career as a make-up artist and assistant, remains unclear, since marrying Van Dyke, their net worth is estimated at around $50 million.
Physical stats and Hobbies
The information about her height and weight is unavailable. Her natural hair is brown, further adorned with blue eyes. In her free time, she likes to watch movies, cook, and do aero yoga. She is also very good at belly dancing.
Arlene and Van Dyke have several cats, which she posts on her Instagram account. In 2020 with her husband she supported the campaign of Bernie Sanders in the Democratic Party presidential primaries.
In an interview, Van Dyke talked about Arlene and how she kept him on his toes, saying: "My wife is a good singer and dancer, so there's a lot of singing and dancing going on around here. I got up the other morning, she was in the kitchen doing the dishes, and she had her tap shoes on, and she was tap dancing while she was doing the dishes."
Arlene is very active on her Instagram account, which has over 6,000 followers, while her Twitter counts over 7,000 fans. She usually posts selfies and photos with Van Dyke and their cat. Judging from her Instagram feed, she is a very lovable and goofy person, who enjoys spending time with her equally goofy husband.