• Luciana Paluzzi was born in Rome, Italy in 1937 and was a former actress and film producer.
• She is best known for her role in the fourth James Bond movie "Thunderball".
• She attended a local high school and studied naval engineering at the Scientific Academy of Milan.
• She is married twice, has a son, Charles, and lives in Bel Air, Los Angeles.
• Her net worth is estimated to be $13 million.
Who is Luciana Paluzzi?
Luciana Paluzzi was born under the zodiac sign of Gemini on 10 June 1937, in Rome, Italy. She is a former actress and film producer, with 82 credits to her name, perhaps best known for her role in the fourth James Bond movie "Thunderball", in which she played the S.P.E.C.T.R.E assasin Fiona Volpe. It's a spy movie directed by Terence Young, premiered on 9 December 1965 in Tokyo, about James Bond's mission in The Bahamas to find two nuclear bombs stolen by S.P.E.C.T.R.E. The film had five award nominations and five wins, including an Oscar for Best Effects, Special Visual Effects.
Early life and education
Luciana was raised in Rome by her parents – Luciana's dad was Manlio Paoluzzi, an Italian army officer, and her mother was Maria Rota Paoluzzi , who was once one of Benito Mussolini's (leader of Fascist Italy) mistresses. There is no information about her having any siblings.
She attended a local high school, and upon matriculating in 1955, she studied naval engineering at the Scientific Academy of Milan – Luciana was the only woman in her class. After two years, she started her career as a model, however, that changed shortly afterwards, when she got her first acting role by chance, while she was visitng her father's friend in Rome; she had a very short two-line role in "Three Coins in the Fountain", and that was where it all started.
Roles in TV series
In 1957, Luciana appeared in the anthology series "Rheingold Theatre", originally entitled "Douglas Fairbanks, Jr Presents", starring Christhopher Lee, Ron Randell and Douglas Fairbanks Jr. In the same year, she was cast to play Little Fawn in "Sword of Freedom", an adventure drama created by Hannah Weinstein, which follows the Republican's  battle against the Duke's dictatorship in Florence.
In 1960, she starred as Simone Genet, in the adventure drama "Five Fingers", directed by Montgomery Pittman and Lamont Johnson, about a succesful undercover agent named Victor Sabestian, and Simone Genet who is a singer and his romantic interest.
Over the next few years, Luciana appeared in a few series, such as "Bonanza" (1962), "Burke's Law" (1964), "The Girl from U.N.C.L.E." (1966), and others.
In 1971, she acted alongside Rod Taylor and Dennis Cole, in the action series "Bearcast", created by Douglas Heyes. Two years later, Luciana appeared in an episode of the series "Search", an American science fiction drama which won an award for Best Foreign Series (Mejor Serie Extranjera) on TP de Oro, Spain 1975.
In 1988, she was cast to play Liana Labella in the popular mystery series "Hawaii Five-0″, created by Leonard Freeman. It had 22 award nominations and four wins, including two Primetime Emmys.
Roles in movies
In 1958, Luciana appeared in the television movie "Le Fatiche di Ercole", an adventure about the muscular hero Hercules.
She was then cast in the 1959 movie"Der Tiger von Eschnapur", followed by movies such as "Return to Peyton Place", "La Polizia Sta au Guardare", "The Great Kidnapping" and several others.
Her most recent movie role was in 1978 , in the drama "Il Commissario Verrazzano" ("Deadly Chase"), in which she potrayed the character Rosy. The film is about an inspector who's investigating the death of someone's brother, whose case was filed as a suicide. This was her final film role before retiring from acting.
Love life and relationships
Luciana Paluzzi has married twice, and between those two marriages had a long-term relationship.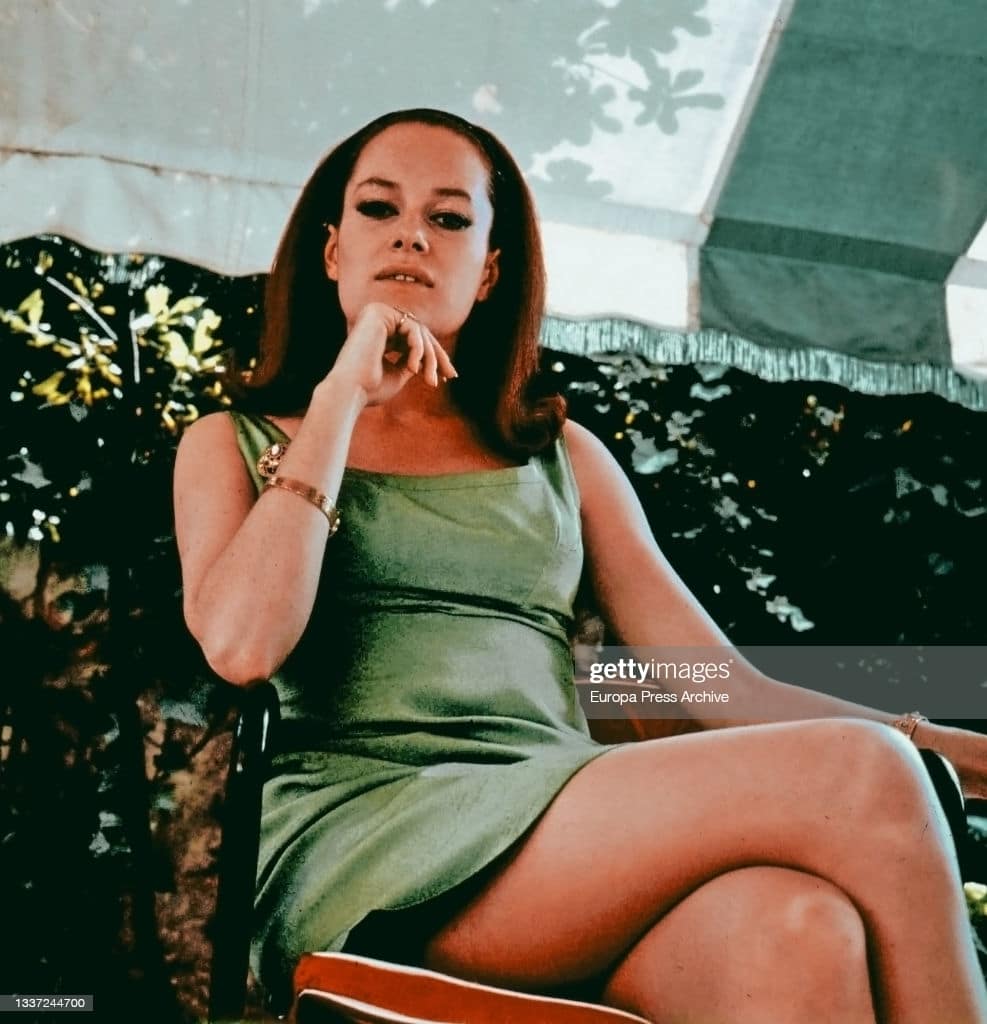 Her first husband was Brett Halsey, who is also an actor. After the wedding in 1960, they made a movie together entitled "Return to the Peyton Palace". The couple had a son named Charles, born on 13 June 1961, but divorced a year after his birth, and Luciana was granted custody.
Between 1962 and 1970, Luciana dated Tony Athony, an actor and producer who was inspired by her work in the movie "Green Slime", and based on that, he wrote and produced the hybrid "Spaghetti Western", for which he became somewhat popular.
She married her second husband, Michael Jay Solomon, in 1979.
Michael is an American bussinesman and entertainment executive, who became president of Warner Bros International Television in 1985, in the same year when she moved to New York with him and her son. This marriage was the reason why she ended her movie career, and in 1980 became a sales representative of Canale 5 and it:Reteitalia in the US, which she described as a quiet job. Luciana is very supportive of her husband, and follows him on all of his international travels.
Interesting facts and hobbies
Lucinaa was originally cast to play the lead Bond girl in the movie "Thunderball" (1965), but eventually they gave the role to former Miss France Claudine Auger, and instead, Luciana played the supporting role of the evil Fiona Volpe.
After filming the movie, she returned to Italy, but for some reason was taken less seriously as an actress, and Italy's top filmmakers, including Federico Fellini, didn't want to give her a role in their films.
She is fluent in Italian and English.
Luciana's trademarks are her voice and red hair.
She loves to cook, especially Italian homemade dishes.
Luciana is also a fan of photography, so when she travels around the world, she doesn't go anywhere without her camera. She likes to take pictures of nature.
Two of her favorite hobbies are watching movies and reading, so after a long day of work, she likes to relax with a book in her hand, or by watching James Bond movies.
Luciana now lives in Bel Air, Los Angeles, and seems to be enjoying the sunny days with her friends and family.
 Age, height and net worth
Luciana is 84 years old; she still goes to the gym, so her health condition is pretty good. She has short red hair and dark brown eyes, is 5ft 6ins (1.67m) tall, and weighs around 143lbs (65kgs).
As of August 2021, her net worth has been estimated at about $13 million, accumulated from her careers in both acting and business.