• Stephen Carver, known professionally as Saberspark, is a YouTuber and social media star
• His eponymous YouTube channel has over 1 million subscribers and 280 million views
• His most popular videos are from his series "What RUINED/RUINING...", "What the HELL...", "Weird Episodes", "Nerd Echo", "Let's Watch", "History of...", and "Video Essays"
• He is 32 years old, 6ft tall, has brown hair and wears glasses
• His net worth is estimated at over $700,000
Who is Saberspark?
Stephen Carver was born under the zodiac sign of Libra on 11 October 1988, in Georgia USA. Known professionally as Saberspark, he's a YouTuber and a social media star, perhaps mostly known for his eponymous YouTube channel, which he launched on 18 September 2007. It's today subscribed to by over a million people, and numbers more than 280 million views of all his videos combined, which mostly feature his essays and reviews about media, entertainment, animated movies and cartoons.
Early life and education
Saberspark was raised in Georgia by his parents, about whom nothing's known, as he respects their privacy. He hasn't spoken of having any siblings, and so is believed to be an only child.
Saberspark grew up being interested in video games, movies and cartoons. He attended a local high school, and upon matriculating in 2007 he enrolled at college, but after two years, he nearly flunked out, eventually graduating in 2011. However, as he's said, he had no idea what he actually wanted to do in life, so worked all kinds of jobs, such as being a lifeguard, a copier salesman, and a barista.
Most popular YouTube videos
Saberspark is now known for reviewing animated films and cartoons, video essays, vlogs about animation and his personal life. We are going to mention three of his most popular YouTube videos, which have helped him gain many new subscribers.
His most watched video is "What RUINED Sony Pictures Animation?", with over five million views. It was released on 10 August 2017 as part of the series called "What RUINING/RUINED…", in which Saberspark discusses certain studios and franchises.
His second most viewed video was relesaed on 24 November 2018, and is from his series "What the HELL…"  The video "What the HELL is EL Arcande Noe? ( Furry Noah's Ark)"   has been watched almost five million times.
Saberspark relesaed his third most viewed video "What the HELL is Red Shoes and the Seven Dwarfs" on 19 June 2020; this video has been watched over four million times, and has generated more than 20,000 comments.
Saberspark has several other popular series on his YouTube channel, such as "Weird Episodes", "Nerd Echo", "Let's Watch", "History of…", and "Video Essays"
Saberspark is followed by more than 11,000 people on Instagram, and has uploaded over 140 pictures, most of which have been taken during his everyday life. The pictures of his dog have the largest number of likes and comments.
He launched his Twitter account in April 2012, and it's today followed by close to 200,000 people, while he's tweeted over 4,500 times, most often about his videos and everything else related to his YouTube channel.
He has a membership on the platform called Patreon, which was made for creators to get paid by fans for their creations.
Other media platforms and social media networks used by Sabespark are Tik-Tok, Merch and Ko-Fi.
His Twitch account has more than 50,000 followers; he goes livestreaming almost every day, playing video games or watching movies with his fans.
Saberspark has been active for about nine years on his Reddit account.
His Facebook account has been deactivated for unknown reason, however, if someone tries to find him on this social media network, there are still numerous fake accounts under his name.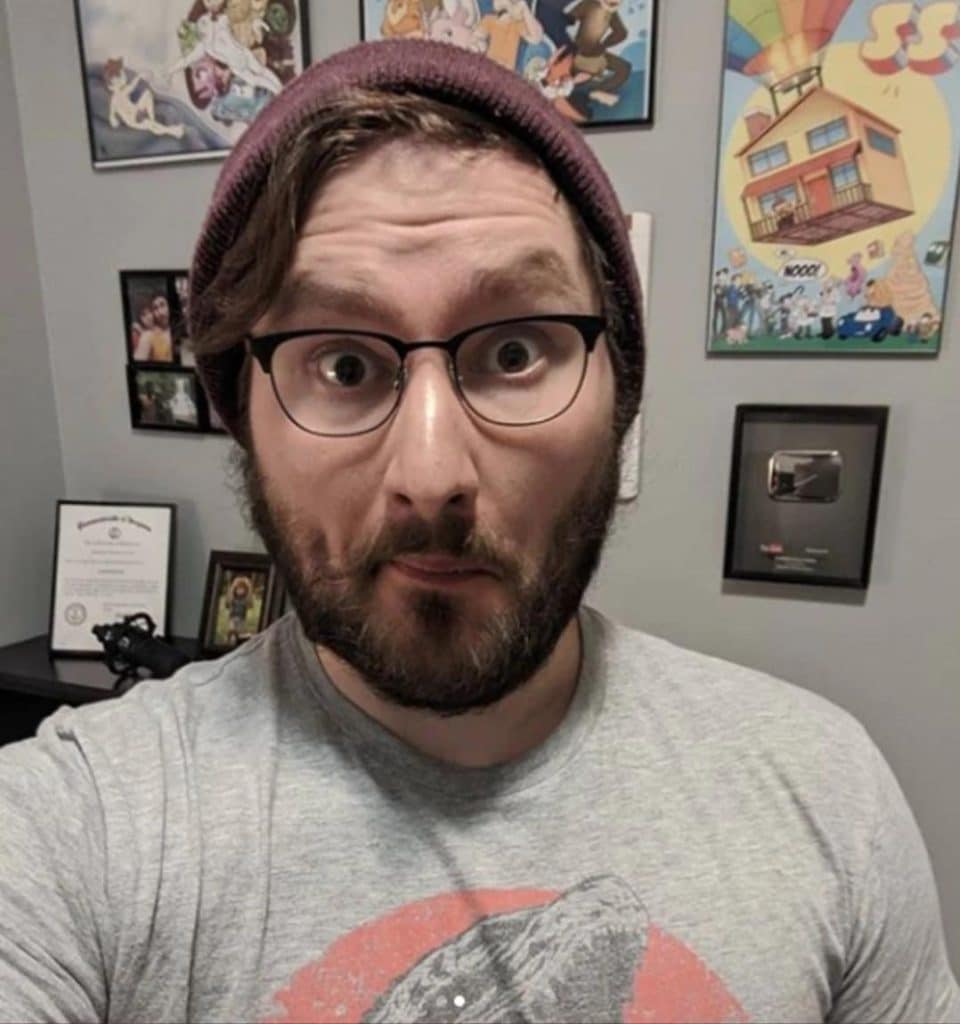 Love life and relationships
Saberspark prefers not to share the details of his private life with his fans, but it's widely known that he was once in a relationship with a girl known as Cosmic Melody on her social media accounts. She seems to be a scientist, cosplayer and a cat enthusiast – according to her Twitter account description.
Saberspark hasn't revealed her real name. – they often posted pictures of the two of them together onto their Instagram accounts, featuring them travelling, going out for dinner, and on his birthday in 2017, Saberspark posted a picture of a cake that she made for him. He wrote in the heading: "I have the best girlfriend lol".  It's assumed that they spent more than three years together, however, it's uncertain whether they're still together or not.
There have been various rumours about his sexual orientation – he even announced once that he was in a relationship with a YouTuber known as Black GryphOn, but then said that it was just a joke. Black Gryphon is a 31 years old American-Canadian YouTuber, singer and producer, real name Gabriel Christian Brown, who didn't react to Sabersparks's announcement.
As of August 2021, Saberspark appears to be single, hasn't married, and doesn't have children.
Hobbies and other interests
In his spare time, Saberspark loves to watch movies of any genre, but his favorite is comedy. He likes to laugh, and often advises his fans to spend their days just laughing.
Saberspark is a big fan of the series "My Little Pony"; actually, his first ever uploaded video on YouTube, "Ballad of the Brony" in December 2011, was about this series. He once tweeted that he still watches it from time to time.
Saberspark adores Godzilla, and everything about it.
He likes to travel, and has been to a couple of US states, but has said that his dream travel destination is Disneyland in California.
Saberspark is an animal lover, with dogs being his favorites. He has a pet dog named Lamb, and he posts pictures of him onto his Instagram account almost every day.
Age, face and net worth
Saberspark is 32 years old. In most of his videos, he can be seen hiding behind a cartoon character that he made and named Saberspark. He revealed his face when his YouTube channel hit 200,000 subscribers. so to thank all of them. Saberspark has brown hair with a long beard and brown eyes – he wears glasses; his cartoon character looks a lot like him. Saberspark's height is 6ft (1.83m) and he weighs around 176lbs (80kgs).
As of August 2021, his net worth has been estimated at over $700,000.