• Valorie Curry was born in Orange County, California, USA in 1986.
• She is an actress and producer with an estimated net worth of over $5 million.
• She has been active since the mid-2000s, starring in 18 television and film roles.
• She has appeared in movies such as "The Twilight Saga: Breaking Dawn • Part 2", "American Pastoral", "Blair Witch", "After Darkness" and "Inherit the Viper".
• She is married to actor Sam Underwood and is pansexual.
Who is Valorie Curry?
Valorie Mae Curry was born on 12 February 1986 under the zodiac sign of Aquarius, in Orange County, California USA. She is a 35-year-old actress and producer, probably best recognized for landing the role of Emma Hill in the Fox crime thriller series "The Following" (2013-2014), playing Kelsey in the Showtime comedy series "House Of Lies" (2015-2016), and featuring as Dot Everest in the Amazon Prime Video superhero series "The Tick" (2016-2019).
How rich is she, as of now? Valorie Curry Net Worth
As of mid-2021, Valorie Curry's net worth is estimated at over $5 million; acquired through her successful involvement in the world of entertainment as a professional actress and producer, who has garnered 18 television and film acting credits since she launched her career in the mid-2000s.
Early Life, Parents, Nationality, Ethnicity, Religion, Educational Background
Valorie Curry spent her early years in Orange County, where she was raised by her father, Edwin B. Curry, and her mother, Karen V. Curry; the professions of her parents haven't been revealed to the public. She is the youngest of three children, with a brother named David and sister named Colleen. She holds American nationality and belongs to White Caucasian ethnic group. She was educated  atSonora High School in La Habra, California, and matriculated in 2004. She then obtained her degree in Theater from California State University, Fullerton, Theatre & Dance Dept.
Career Beginnings
Valorie Curry started pursuing her professional acting career on stage, performing with The Second City and Phantom Projects theater groups and starring in such roles as Monique in "Out, Out, Brief Candle!", and Jennie Mae in "The Diviners". She also appeared in other productions, including "How To Succeed In Business Without Really Trying", "Oklahoma!", "The Diary Of Anne Frank", and "Bus Stop", to name a few. She then made her debut TV appearance when she won the supporting role of Jahne Kuhne in the second season of the teen noir mystery drama series "Veronica Mars", aired on UPN from 2005 to 2006.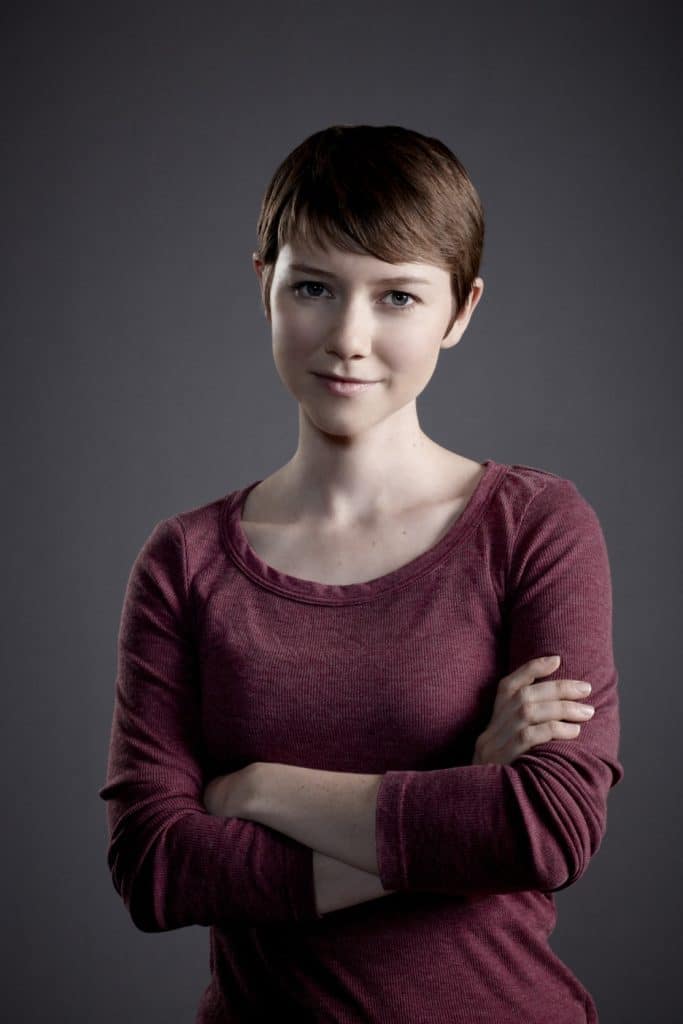 Her next roles came in 2011, when she had the part as Melody in the short comedy-drama film "I Love You Like Crazy", written and directed by Tess Sweet, and made a guest appearance as Hannah McCray in the episode "Indelible" of the CBS police procedural crime drama series "CSI: NY (Crime Scene Investigation: New York)".
Rise to Fame
In 2012, Valorie Curry provided her voice to the title character in the short animated drama film "Kara", which she would later reprise in the 2018 adventure video game "Detroit: Become Human". It earned her a Gamers' Choice Award nomination for Fan Favorite Female Voice Actor, and a National Academy of Video Game Trade Reviewers Award nomination for Performance in a Drama, Lead.
She then guest-starred as Rose-Marie Farrow in the episode "Heeeeere's Lassie" of the USA Network detective comedy-drama series "Psych", and featured in the music video for the song "After Midnight" by rock band Blink-182, both also in 2012.
Later that year, Valorie took the role of Charlotte in the romantic fantasy film "The Twilight Saga: Breaking Dawn – Part 2", the second installment of "The Twilight Saga" film series, directed by Bill Condon and based on Stephenie Meyer's novel of the same title. She starred next to Robert Pattinson and Kristen Stewart, and although it didn't receive critical acclaim, the film was a huge box office success, grossing almost $820 million worldwide against the budget of $136 million.
Continued Success
Valorie Curry's first main role came with the role of Emma Hill in the first two seasons of the crime thriller TV series "The Following", that ran on Fox from 2013 to 2014. The series also starred James Purefoy and Kevin Bacon, and follows a psychotic serial killer, who communicates with other serial killers and creates a new cult. It was followed by her portrayal of Alexia in the short drama film "Bus Stop" in 2015.
She then was chosen to play Kelsey in the Showtime comedy series "House Of Lies" between 2015 and 2016. Created by Matthew Carnahan and based on Martin Kihn's book "House Of Lies: How Management Consultants Steal Your Watch And Then Tell You The Time", the series is about a group of management consultants who are willing to do anything to get business done.
Recent Projects
In 2016, Valorie landed the role of Rita Cohen in the crime-drama film "American Pastoral", sharing the screen with Ewan McGregor, Dakota Fanning and Jennifer Connelly. During the same year, she played Talia in Adam Wingard's supernatural horror film "Blair Witch", which is the third installment of the "Blair Witch" franchise. It premiered at San Diego Comic-Con and became a commercial success.
Her next significant role came when she joined the cast of the superhero streaming TV series "The Tick", in which she portrayed Dot Everest from 2016 to 2019.
The series was created by Ben Edlund for Amazon Prime Video. Concurrently, she starred in the title role in the short romantic drama film "Ophelia" (2017), for which she was also an executive producer. It was followed by her appearances as Margot in the American-Mexican sci-fi film "After Darkness", and as Eve in the crime drama film "Inherit The Viper", starring next to Josh Hartnett and Margarita Levieva, both in 2019.
Most recently, it was announced that she will play Katherine Solomon in the upcoming NBC action-adventure series "The Lost Symbol", based on the book of the same title by Dan Brown.
Appearance and Vital Statistics
Valorie Curry has middle-length red-dyed hair and blue eyes. She stands at a height of 5ft 4ins (1.63m), her weight is around 117lbs (53kgs), while her vital statistics are 32-24-35, bra size 32B, dress size 4 (US), and shoe size 6 (US).
Personal Life
Valorie Curry is married to Sam Underwood, her co-star in "The Following". The couple exchanged their wedding vows at a ceremony held on 13 May 2016.
After identifying as a bisexual person for a while, she came out as a pansexual person in October 2019, which doesn't seem to have affected her marriage. Her residence is in New York City.