• Bernard Hill is a veteran English actor, possibly best known for his roles in "Titanic" (1997) and "Boys from the Black Stuff" (1982).
• He was born into a family of miners in Manchester, England and attended Manchester Polytechnic School of Drama.
• Bernard's film debut was in "It Could Happen To You" (1975) and he was internationally recognized after appearing in an episode of "Black Stuff" (1979).
• He has earned a net worth of $11 million from his over 40 year career in acting and directing.
• Hobbies include horseback riding, karate, and being a supporter of the Manchester United Football Club.
Bernard Hill is a veteran English actor, possibly still best known as Captain Edward Smith in "Titanic" (1997) and Yosser Hughes in "Boys from the Black Stuff" (1982). In recent times, Bernard has kept a relatively low profile – blame it on retirement or something else.
Although the elderly actor has had a fulfilling career on screen, fans are still curious as to what he's now doing. Discover all there is to Bernard Hill in this biography.
Early Life, Family, Educational Background
Bernard Hill was born under the zodiac sign of Sagittarius on 17 December 1944, in Blackley, Manchester England. He is an English native and holds British nationality.
Bernard was born into a family of miners, and raised as a Catholic. At this time, there are no details relating to Bernard's parents or siblings, if any.
Following Bernard's educational background, we understand that he decided to become an actor late in life. He didn't imagine ending up as an actor, given the type of family he was born into. Bernard attended Xaverian College, and went on to study at Manchester Polytechnic School of Drama, at the same time as future actor Richard Griffiths. In 1970, Bernard graduated with a diploma in Theater, and soon afterwards started to get acting roles in local theaters.
Career
Bernard's acting career spans over three decades and a variety of platforms, including theater stages, TV dramas and movies.
His debut on-stage appearance was at Lyric Theatre, London in 1974, where he played John Lennon in "John, Paul, George, Ringo… and Bert".
Some of his other theater credits are "Twelfth Night" (1978), "The Plough and the Stars" (1984), "Macbeth" (1986), and "A View from the Bridge" (1995). His stage career includes appearances in the Lyric Theater, Young Vic Theater, Hampstead Theater, Aldwych Theater and Strand Theater all in London.
Bernard made his film debut as Syph in the teen drama "It Could Happen To You" (1975). Then, he took minor roles in "The Sailor's Return" (1978), "Gandhi" (1982), "No Surrender" (1986), "Madagascar Skin" (1995) and "The Ghost and the Darkness".
Even as a struggling actor, Bernard was selective in the roles he took on, and would only accept well written projects that reflected the true essence of the actor.
His first hit movie appearance was in "Titanic" (1997) as Captain Edward J. Smith. In the early 2000s, he auditioned for the role of Gandalf in "Lord of the Rings", but was given the role of King Theoden, so in 2002, he joined the cast of "The Lord of the Rings: The Two Towers". Since then, he has contributed to various movies as both narrator and actor, including "Wimbledon" (2004), "The League of Gentlemen's Apocalypse" (2005), "Exodus" (2007), and "ParaNorman" (2012).
Bernard Hill first tried his hand at television drama series in 1973, when he played Edward Thornley in "Hard Labour", aired on BBC. Subsequently, he played Gratus in "I, Claudius" (1976), and became internationally recognized after he appeared in an episode of "Black Stuff" (1979), as Yosser Hughes, reprising his role in 1982 for "Boys from the Black Stuff".
Other TV series Bernard has contributed to are "Henry VI" (1983), "Telltale" (1993), "The Gambling Man" (1995), "Wild China" (2008), "Wolf Hall" and "Unforgotten", both in 2015.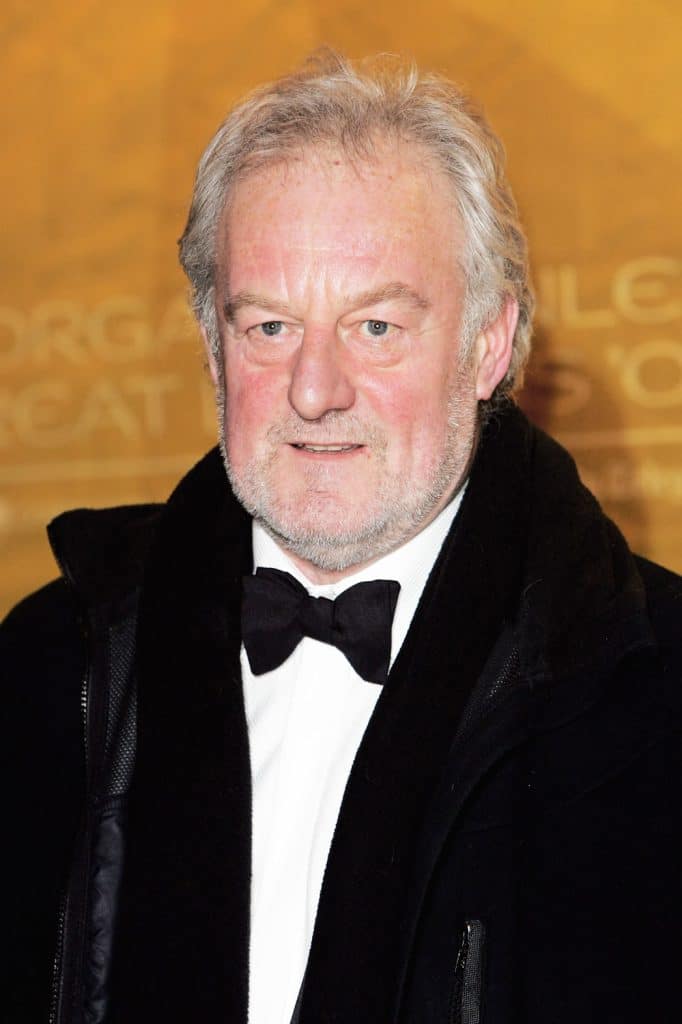 Having had a successful acting career, Bernard has received many nominations for his outstanding contributions to films he has appeared in. Some of them are:
BAFTA Television Awards-Best Actor (1983)
Screen Actors Guild Awards- Outstanding Performance by a Cast in a Motion Picture (1997) and (2002)
 Screen Actors Guild Awards- Outstanding Performance by a Cast in a Motion Picture, which he won in 2003.
He was recently nominated for BAFTA Television Awards- Best Actor in 2006. However, he did not win the award.
According to Rotten Tomatoes, his highest rated performance in a movie is in "The Lord of the Rings: The Two Towers" (2002), while his lowest rated movie performance is in "Gothika" (2003).
Personal Life, Wife and Children
Bernard is inactive on social media, hence his fans do not know much about his personal life. However, in an interview, Bernard mentioned sustaining some injuries while filming "Lord of the Rings: The Two Towers", first breaking his sternum, and later on had his ear slashed open accidentally by a sword.
Bernard married Marianne Hill in 1976, and they have stayed married for 45 years. The couple have a son named Gabriel.
The 76 year old is very passionate about charity. In 2009 and 2011, he abseiled down a lighthouse alongside 89 others to raise money for the Royal National Lifeboat Institution Charity.
In 2019, he was awarded an Honorary Doctorate of Letters from the University of East Anglia, England UK.
He now lives with his family in Suffolk County, East Anglia in England.
Appearance, Clothing Style
Bernard is 5ft 9ins (1.75m) tall, and weighs about 220lbs (100kgs). The naturally blond man is now going grey because of his age, but his eyes still retain their blue color.
He loves to look smart therefore, alternates between suits and button-down shirts for public appearances. For casual outings, he prefers large tee-shirts and jeans.
Hobbies, Favorite Things and Interesting Facts
Bernard is a die-hard supporter of Manchester United Football Club.
He is left-handed.
He holds a purple belt in karate.
He was almost cast for the role of Russell in "Doctor Who: Attack of the Cybermen" but the role was eventually given to Terry Molloy.
Bernard loves horseback riding.
He is an advocate for accessible mental healthcare.
Net Worth and Salary
Bernard Hill started acting fully at age 31, so he has had a career which is over 40 years long. His primary source of income is acting, and a little bit of directing, through all of which he's accumulated a net worth of about $11 million. Details of property owned by Bernard Hill and his family, are unavailable to the public at this time.