• Douglas Christopher Judge, born in Los Angeles, California in 1964
• Played American Football at Carson High School and University of Oregon
• Known for his role in the Canadian-American military sci-fi TV series "Stargate SG-1"
• Voiced Kratos in the "God of War" video games, and other characters in various other projects
• Has a net worth of approximately $3 million
Christopher Judge is an American film, T, and voice actor, who is perhaps best known for his role in the Canadian-American military sci-fi TV series "Stargate SG-1", and for voicing Kratos in the "God of War" games.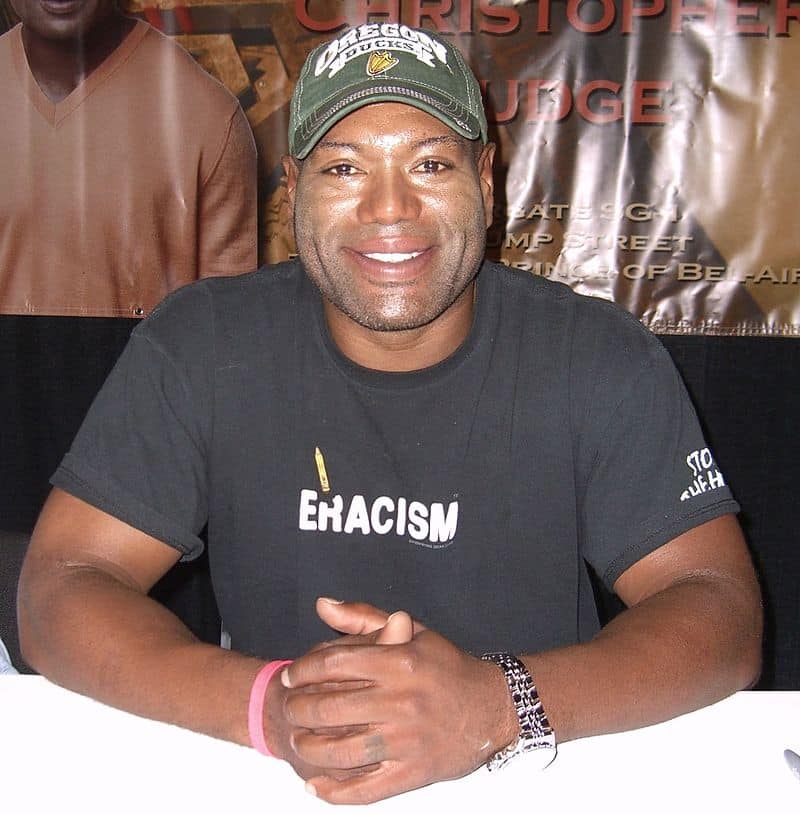 Age, Early Life, and Education Background
Douglas Christopher Judge hails from Los Angeles, California, and was born under the Libra zodiac sign on 13 October 1964, which makes him 58 years old as of early 2023. He's the elder brother of the actor, Jeff Judge. Douglas grew up watching a lot of films and TV series and he dreamt of becoming an entertainer in the future.
Christopher showed athletic inclination when he was young and played American Football when he was a student at Carson High School. He matriculated to the University of Oregon after he won an athletic scholarship, and played defensive back and safety for Oregon Ducks, scooping the Casanova Award when he was a freshman. Following graduation, Douglas was selected to host a radio show in Oregon, then later moved back to Los Angeles after he gained enough experience. Despite being a good player, he never considered a career in Football.
Hobbies and Interests
Judge is an outdoorsy person who enjoys playing golf with friends in his spare time.
He's also committed to charity work – he's collaborated with Boys & Girls Clubs of Canada (BGC Canada), a national, non-profit organization supporting the youth with programs for healthy living, job training, physical activity, and leadership.
Acting and "Stargate-SG-1"
Judge started taking acting classes at Howard Fine Studio in Los Angeles in 1989. He later appeared in several projects in the '90s, including the comedy movies "Bird on a Wire", the comedy "House Party 2", and the series' "Neon Rider" and "Sirens," which aired on ABC.
Watching House Party 2 and I see this fake ass Kratos Christopher Judge he look and sound so different 🤣🤣 pic.twitter.com/5HpllsAVmZ

— R.I.P Optimus_Code (@hard8_times) June 28, 2020
Thereafter, he landed the starring role of Teal'c in 211 episodes of Jonathan Glassner and Brad Wright's sci-fi "Stargate SG-1." He shared the screen with Richard Dean Anderson, Michael Shanks, and Amanda Tapping ,and appeared in the show for 10 years from 1997 to 2007, during which he also appeared in various films, such as "Snow Dogs" and "A Dog's Breakfast" which was written and directed by his "Stargate" co-star, David Hewlett. Subsequently, he appeared in an episode of the action series "NCIS: Los Angeles," the 2012 hit superhero movie "The Dark Knight Rises," and the 2014 Danny Trejo-starred horror film "Reaper."
Voicing Projects
Christopher has voiced various characters in TV series and games – in 2000, he voiced Plato in 13 episodes of the third season of the animated kid's TV series "Adventures from the Book of Virtues", and in the same year, he voiced Coach Simon Grey in the animated series "Action Man", and Magneto in "X-Men: Evolution." In 2003 and 2004, he lent his voice to the animated series "He-Man and the Masters of the Universe", then provided additional voices in Blizzard Entertainment's game "World of Warcraft" in 2004, and later voiced Jericho in the game "Turok." Subsequently, he lent his voice to the games "Stargate SG-1: Unleashed" and "World of Warcraft: Warlords of Draenor."
2017 saw Judge voicing Brick Crashman in the animated show "Wacky Races", and in 2018, Christopher voiced Kratos in the action-adventure game "God of War", reprised the role of in the action-adventure game "God of War Ragnarök" in 2022. Between 2019 and 2021, he voiced Oreskis in two episodes of the adult animated comedy-drama "Final Space", and later in 2021, he voiced Black Panther in the action-brawler game "Marvel's Avengers", before he lent his voice to the Netflix Original adult animated series "The Guardians of Justice" in 2022.
Other Works
Judge wrote various episodes of "Stargate SG-1" from its fifth season including the 19th episode of season six entitled "The Challenging," followed by the 10th episode of season seven, "Birthright," and the ninth episode of season eight entitled "Sacrifices."
Awards and Nominations
In 2002, Christopher was nominated for a Saturn Award for Best Supporting Actor in a Television Series.
In 2018, he was nominated for The Game Award for Best Performance in "God of War."
He was later nominated for two awards in 2019 including a BAFTA Games Award for Best Performer in "God of War." He scooped a NAVGTR Award for Outstanding Performance in a Drama, Lead for his contribution to "God of War", and The Games Award for Best Performance in "God of War Ragnarök" in 2022. Moreover, in the same year, he was nominated for a Golden Joystick Award for Best Performer in "God of War Ragnarök".
Social media Presence
Judge launched his verified Twitter account (@iamchrisjudge) in June 2011 – he now has around 250,000 followers. He's also active on Instagram (@iamchrisjudge) with over 45,000 followers. moreover, he has over 15,000 followers on Facebook.
Personal Life
Judge married the Canadian model Margaret Schinke on 21 August 1995, and they've welcomed three children together: the professional Football linebacker, Cameron Judge, who plays for Canadian Football League's (CFL) team, Calgary Stampeders (he was born one year before their marriage in 1994), Catrina Jasmine Judge, who is a model, and Christopher Jordan Judge, who is also a professional footballer. ThChristopher and Margaret separated in 2001, and eventually divorced in December 2011.
Shortly after his separation, Judge began dating the former Canadian make-up artist and model, Gianna Patton, who was born on 5 July 1974, in Oromocto, New Brunswick. Gianna is an alumnus of the University of Victoria and she studied make-up for films and television at the Blanche MacDonald Institute of Design. The couple welcomed a daughter named Chloe Jolie Judge on 7 February 2005; they later walked the aisle on 28 December 2011.
Height, Weight, and Physical Appearance
Judge is of Cherokee and Afro-American ethnicity, has a set of black eyes and black hair. He's 6ft 2ins (1.88m) tall and weighs around 240lbs (109kgs). His trademarks include a slow speech pattern, and a deep and commanding voice.
Net Worth
Christopher has been active in the showbiz industry for over three decades now, which has made him fairly wealthy and famous. He's accumulated his net worth from his acting, voicing, and screenwriting career, and is worth approximately $3 million as of 2023.