• Debra Paget is an American actress born in 1933
• She starred in 45 movies and TV series before retiring in 1965
• She became a born-again Christian and hosted a show on the Christian network Trinity Broadcasting
• She has been married three times and has a son with her third husband Ling C. Kung
• Debra's net worth is estimated to be over $10 million
Who is Debra Paget?
American actress Debra Paget was born Debralee Griffin on 19 August 1933, meaning that her zodiac sign's Leo. She had appeared in 45 movies and TV series prior to her retirement in 1965, and is probably still best known for her playing of Lilia in the 1956 adventure family movie "The Ten Commandments", directed by Cecil B. DeMille, and which also starred Charlton Heston, Yul Brynner and Anne Baxter. It follows the life of Moses, and the movie won 13 of its 25 award nominations, including an Oscar win for Best Effects, Special Effects.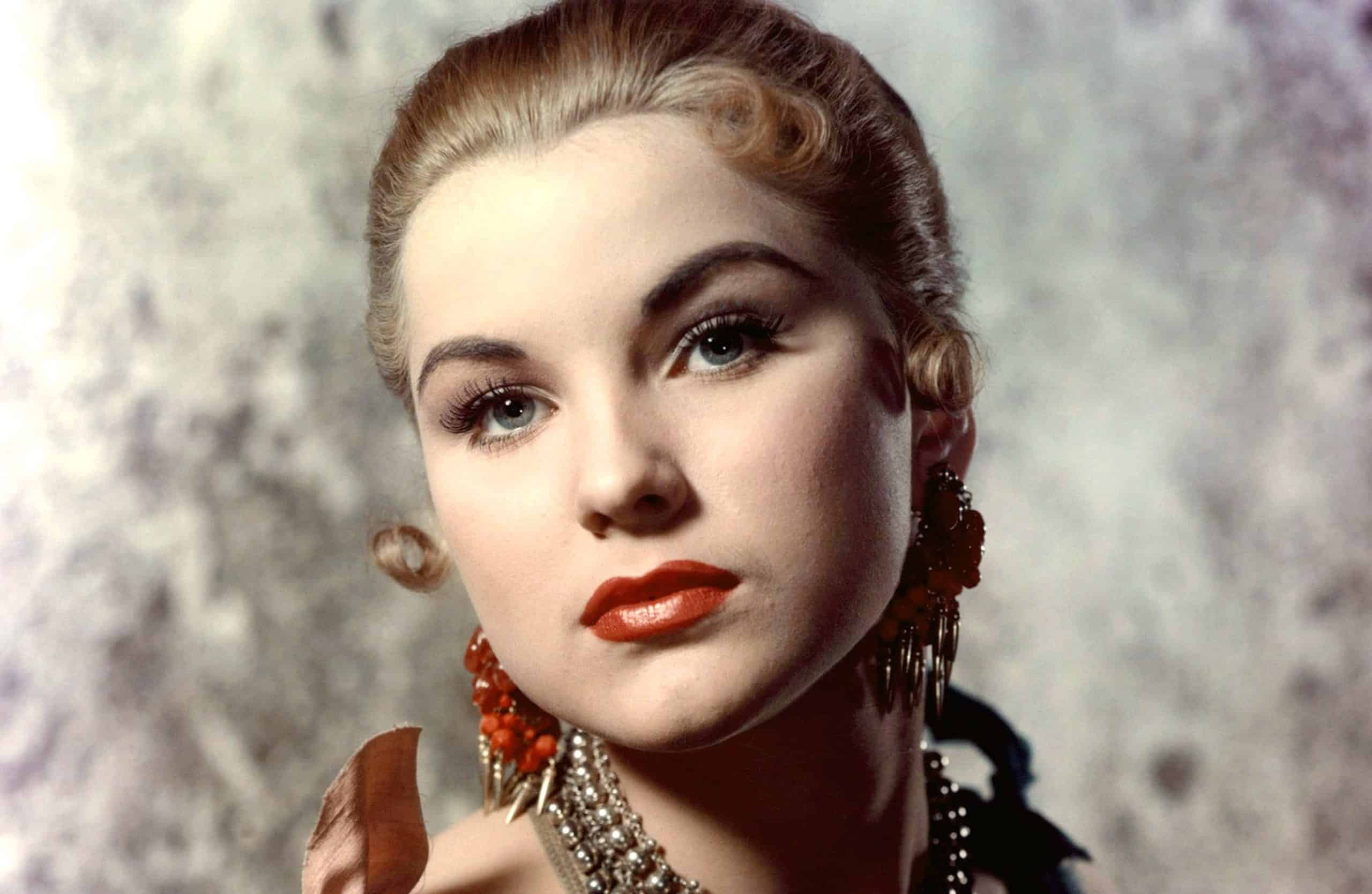 Education and early life
Debra was raised in Denver alongside four siblings, by their father Frank Henry Griffin who was a painter, and mother Margaret Allen (nee Gibson) who was an actress.
Debra fell in love with acting at a very early age, and the family thus moved to Los Angeles, California in the second half of the '30s, where she studied at the Hollywood Professional School. Debra's late siblings Ruell Shayne, Lisa Gaye and Teala Loring were also actors.
She was 13 when she appeared in her first theatre play, Shakespeare's "The Merry Wives of Windsor", and was 15 when she made her debut film appearance, playing Teena Riconti in the 1948 crime drama "Cry of the City".
Upon matriculating from a local high school in 1951, Debra focused on acting and didn't enroll at college. It's unknown why and when she adopted her stage name.
Roles in movies
In 1949, Debra appeared in the romantic comedy "Mother Is a Freshman", and the same year saw her play supporting characters in the family science fiction comedy "It Happens Every Spring", and the crime drama "House of Strangers".
She portrayed Sonseeahray in the 1950 romantic western "Broken Arrow", directed by Delmer Daves, and which also starred James Stewart, Jeff Chandler; it follows Tom Jeffords who's trying to prevent a war from starting between the Apaches and the settlers, and the film won two of its 11 award nominations, including three Oscar nominations for Best Cinematography, Color, Best Writing, Screenplay and Best Actor in a Supporting Role (Jeff Chandler).
Debra could then have been seen appearing in several popular movies, such as the thriller "Fourteen Hours" and the action adventure "Anne of the Indies" both in 1951, and the 1952 comedy "Belles on Their Toes".
She starred as Lucia in the critically acclaimed 1954 action adventure "Prince Valiant", directed by Henry Hathaway, and which also starred James Mason and Janet Leigh. It follows a young Viking who wants to become King Arthur's knight, so that he can put his exiled father back on his throne. In the same year, Debra appeared in the historical action "Demetrius and the Gladiators", and the western "The Gambler from Natchez".
In 1956, she played Cathy Reno in the romantic musical "Love Me Tender", which Robert D. Webb directed, and which also starred Richard Egan and Elvis Presley. It follows a Confederate team who've just robbed a Union payroll train. A couple of her roles in the remainder of the '50s were in the 1957 crime adventure "The River's Edge", the 1958 fantasy science fiction adventure "From the Earth to the Moon", and the 1959 romantic adventure "The Tiger of Schnapur".
In 1961, Debra played the lead character Linda Marlow in the science fiction "Most Dangerous Man Alive", directed by Allan Dawn, and which also starred Ron Randell and Elaine Stewart. It follows former mobster Ron Candell who mutated while going through a nuclear testing area, and is now seeking revenge against his former partners in crime.
Debra's final three film roles were in the 1961 adventure "I Masnadieri", the 1962 mystery horror comedy "Tales of Terror", and the 1963 horror "The Haunted Palace".
Roles in TV series
Debra's debut TV series role was her playing of Ruth Brand in the 1956 episode "Shadows" of the mystery horror "Matinee Theatre", and the same year saw her play Mary Connors in the episode "Gun in His Hand" of the drama series "The 20th Century-Fox Hour".
In 1956 and 1957, Debra played both Maria and Natalie in the drama "Climax!", which starred William Lundigan, Art Gilmore and Mary Costa – each of its episodes featured a different cast and story, aired from 1954 to 1958, and was nominated for 29 awards. The remainder of the '50s saw Debra appear in an episode of the western "Cimarron City", another western "Wagon Train", and the western adventure "Riverboat".
The year 1960 saw her play Mara Robinson in the episode "Millionaire Mara Robinson" of the drama "The Millionaire"; it starred Marvin Miller, Paul Frees and Roy Gordon, aired from 1955 to 1960, and follows a wealthy businessman as he's giving $1 million to people whom he'd never met before.
Debra's final three TV series roles were in the 1961 episode "Man of Another Breed" of the western "Tales of Wells Fargo", two episodes of the 1962 western "Rawhide", and two episodes of the 1965 action crime adventure "Burke's Law".
Other credits
Debra co-hosted the 1957 show "Premiere Performance", and was featured in the 1985 TV special "The 2nd Annual American Cinema Awards".
She's made a guest appearance in over 10 talk-shows, including "The Juke Box Jury", "Bicentennial Minutes" and "Praise".
Awards and nominations
Debra won a 1987 Golden Boot Award.
She was also nominated for a 1951 Golden Laurel Award for Top New Female Personality.
Life after acting
Following her retirement, Debra became a born-again Christian, and started hosting her show "An Interlude with Debra Paget" on the Christian network Trinity Broadcasting.
She's been staying away from the media's attention since the second half of the '90s, and has since August 2004 been leading a peaceful life in Houston, Texas.
.
Love life and spouse
Debra's relationships were quite sensational – it's widely believed that the late American singer and actor Elvis Presley asked Debra to marry him after they had met in 1956, but that Debra was at that time in love with the American film producer, businessman and pilot Howard Hughes Jr.
She married American singer and actor David Street on 14 January 1958, but apparently their divorce was finalized on 11 April of the same year.
Debra wed her second husband, American movie director Oscar 'Budd' Boetticher Jr. on 27 March 1960, but they split after only 22 days, and divorced in 1961.
Her third husband was Chinese-American businessman Ling C. Kung, whom she married in 1964; she gave birth to their son Gregory Teh-chi Kung, however they divorced in 1980.
Debra hasn't spoken about having had any other boyfriends, and seems to be unattached as of December 2022, has been married thrice and has a son with her third husband Ling C. Kung.
Happy 86th Birthday Debra Paget! Born August 19, 1933…

Over 40 film/tv roles including Demetrius and the Gladiators, The Ten Commandments 1956, Broken Arrow, Belles on Their Toes, Love Me Tender…https://t.co/sbD1sLU5o8 pic.twitter.com/Pqp0BLsIP3

— Classic Movie Hub (@ClassicMovieHub) August 19, 2019
Interesting facts and hobbies
Debra never auditioned for a role in the 1956 movie "The Ten Commandments", but the producers knew that they wanted her to appear in the film.
American businesswoman Priscilla Presley's revealed that she copied Debra's hairstyle in the movie "Love Me Tender", so that she could attract Elvis Presley.
Debra's stated in an interview that she rarely goes to the movies nowadays, because there's a large difference in the morality of the movies which she appeared in, and those made today.
Famous American actress and producer Debra Winger was named after her.
Her brother Frank Griffin also appeared in the 1956 movie "Love Me Tender".
Some of Debra's favorite actors and actresses are James Stewart, Gloria Stewart and Elvis Presley, and a couple of her favorite movies are "A Tale of Africa", "Fools' Parade" and "Right of Way".
Height, eyes and wealth
Debra's age is 89. Her eyes are blue and her hair's brown, she's 5ft 2ins (1.57m) tall and weighs about 120lbs (54kgs).
Debra's net worth's been estimated at over $10 million, as of December 2022.