• Eric Balfour is a 43-year-old actor, director, producer, and writer from Los Angeles, CA, USA.
• His net worth is over $500,000, earned mostly through his career in the entertainment industry.
• He began his career in 1990 and has since worked on over 90 TV and film titles.
• He is also the lead singer of the group Born as Ghosts, previously known as Fredalba.
• He is married to fashion designer Erin Chiamulion and they have one son together.
Who is Eric Balfour?
Eric Salter Balfour was born on 24 April 1977 under the zodiac sign of Taurus, in Los Angeles, California USA. He is a 43-year-old actor, director, producer, and writer, probably best recognized for landing the role of Milo Pressman in the Fox action-drama series "24" (2001-2007), playing Kemper in the slasher film "The Texas Chainsaw Massacre" (2003), and Duke Crocker in the Syfy supernatural drama series "Haven" (2010-2015). Besides that, Eric is known as the lead singer of the group Born as Ghosts, previously known as Fredalba.
How rich is he, as of now? Eric Balfour Net Worth
As of early 2021, Eric Balfour's net worth is over $500,000, earned mostly through his involvement in the entertainment industry by working on over 90 television and film titles since he launched his career back in 1990. He has also increased his wealth through his music career.
Early Life, Parents, Siblings, Nationality, Education
Eric Balfour spent his early years in his hometown of Los Angeles, where he was raised with his younger sister named Tori in an Ashkenazi Jewish family by their father, David Balfour who worked as a chiropractor, and mother Sharon (née Salter), a marriage and family counselor. He has a Balfour. He holds American nationality. Regarding his education, Eric matriculated from Burbank High School.
Career Beginnings
Eric Balfour started his career by making appearances in the seventh season of the popular Disney Channel children's series "Kids Incorporated", from 1990 to 1991.
He then landed the role of Billy Ruskin in the ABC sitcom "Arresting Behavior" (1992), and played Matt in the made-for-TV drama film "Bloodlines: Murder In The Family" (1993). Thereafter, Eric made a number of minor appearances in TV series, such as "Step By Step", "Boy Meets World", and "Dr. Quinn, Medicine Woman", to name a few. In 1996, he made his feature-film debut with the role of Greg in the thriller film "Shattered Image", and played Vince Fortner in the made-for-TV teen crime drama film "No One Would Tell".
These was followed by his portrayals of Jesse in two episodes of The WB's supernatural drama series "Buffy The Vampire Slayer", and Kyle in the romantic comedy film "Trojan War", both in 1997.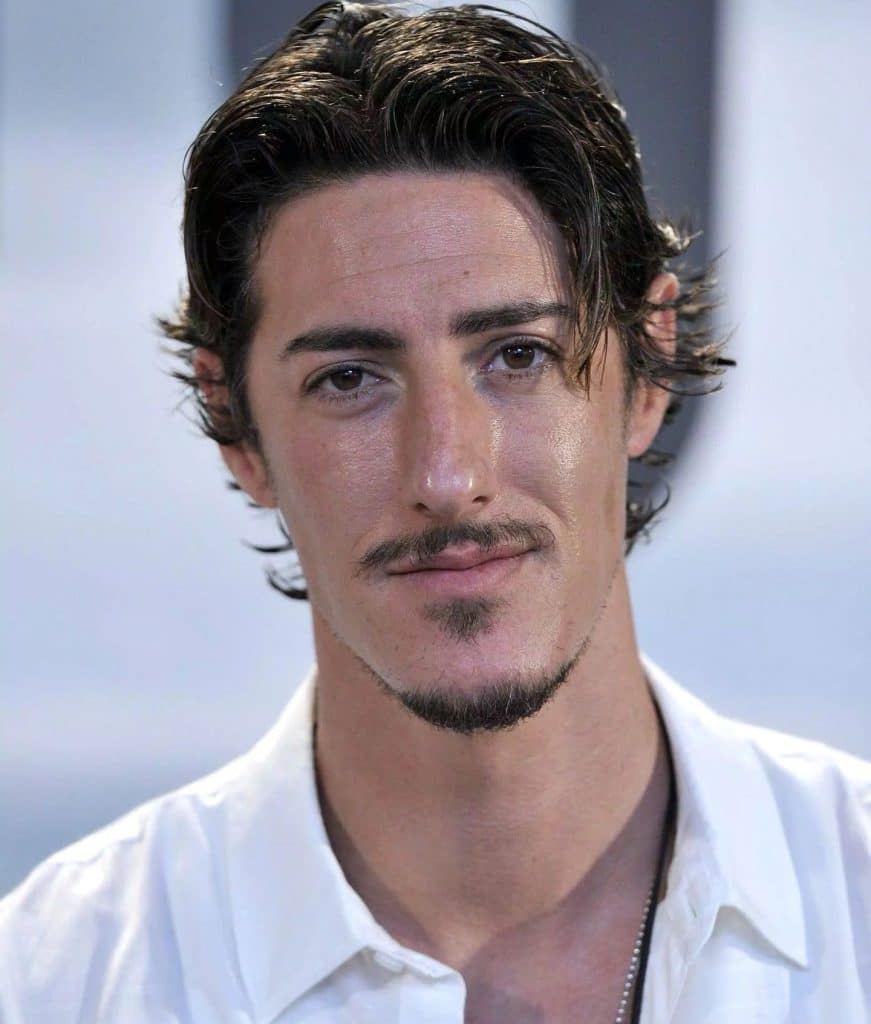 By the end of the decade, he had also starred in such roles as a hippie guy in the teen romantic comedy "Can't Hardly Wait" (1998), Andy Martin in the horror film "Scrapbook" (1999), and Cameron in the romantic fantasy comedy film "What Women Want" (2000), next to Mel Gibson and Helen Hunt.
Rise to Prominence
In 2001, Eric took the roles of Pvt. Morris in the action-drama film "Rain", and a security guard in the romantic comedy film "America's Sweethearts". He came to prominence with the role of Gabe Dimas in the HBO comedy-drama series "Six Feet Under" from 2001 to 2003, then joined the cast of the Fox action-drama series "24", playing Milo Pressman in the first season between 2001 and 2002, later reprising the role in the sixth season in 2007.
In 2003, he played Sheik's grandson in the comedy-drama film "Secondhand Lions", and featured as Kemper in the slasher film "The Texas Chainsaw Massacre", alongside Jonathan Tucker and Jessica Biel.
Between 2003 and 2004, Eric was cast as Calvin Banks in the short-lived ABC show "Veritas: The Quest", followed by his portrayals of Saleem Haddad in the action crime drama film "Face Of Terror", and Christopher Gains in the NBC police procedural crime drama series "Hawaii", both in 2004.
Continued Success
In 2005, Eric landed the roles of Andrew in the thriller "Rx", David in the erotic drama film "Lie With Me" opposite Lauren Lee Smith, and Grant in the comedy-drama film "In Her Shoes", along with Cameron Diaz and Toni Collette. Later that year, he was cast as Charlie Tibideaux in the UPN soap opera "Sex, Love & Secrets", followed by his portrayals of Brian Peluso in the short-lived NBC legal drama series "Conviction" and Skip in the comedy-drama film "The Elder Son" both in 2006, and Paul Grogan in the made-for-TV drama film "Protect And Serve" (2007).
In 2008, he played Comanche / Bix in the action/neo-outlaw biker film "Hell Ride" and starred in the role of Mahmoud in the neo-noir superhero film "The Spirit", next to Gabriel Macht, Eva Mendes, and Sarah Paulson. In 2009, Eric portrayed Sean in the sex comedy film "Spread", alongside Ashton Kutcher, and featured as Taylor in the psychological thriller film "Horsemen". During the same year, he also starred as Prof. Jack Randall in the made-for-TV action-adventure fantasy film "Rise Of The Gargoyles", and Eric Gracen in the MTV supernatural mini-series "Valemont".
Further Work
In 2010, Eric appeared in such roles as Trace McGraw in the made-for-TV horror film "Dinoshark", Victor Dean in the action crime film "Beatdown", and Jarrod in the sci-fi disaster film "Skyline", directed by the Strause brothers.
Later that year, he joined the main cast of the Syfy supernatural drama series "Haven", in which he starred as Duke Crocker for five seasons until 2015. Concurrently, he continued to work on other projects, in 2011 landing the roles of Will Edwards in the action-adventure film "The Legend Of Hell's Gate: An American Conspiracy", Frank in the comedy film "Do Not Disturb", and Michael Grey in the horror film "Cell 213".
Eric then starred as Bluffys in, and directed the made-for-TV comedy film "Inland Empire" (2012), and played Brad in the horror film "Backcountry" (2014), next to Missy Peregrym. Two years later, he took the roles of Sheriff Adam in the horror film "Little Dead Rotting Hood", Randall in the fantasy thriller film "Fashionista", and Dayne in the drama film "Tao Of Surfing".
Recent and Upcoming Projects
In 2017, Eric had a part as Ryan Hinds in the thriller film "200 Degrees", which he also produced, and played Mark in the drama thriller film "A Midsummer's Nightmare". These were followed by his portrayal of Peter Farrell in the 2018 thriller film "Agenda: Payback", for which he also served as a producer.
In 2019, he directed the adventure comedy film "7 Days To Vegas", while his next significant role came in 2020 when he starred as Pistol in the family adventure film "Timecrafters: The Treasure Of Pirate's Cove". Later that year, he joined the cast of The CW's fantasy drama series "Charmed" as Julian Shea, and has been playing the role ever since.
Most recently, he won the recurring role of Boone in the Netflix comedy series "Country Comfort", and portrayed a local legend in the thriller film "The Runner", both in 2021.
Regarding his upcoming projects, it's announced that he will appear as Bobby Beausoleil in the drama film "Manson Girls". Moreover, he is currently working on the drama film entitled "Bright In A Hollow Sky".
Music Career
Apart from his acting career, Eric Balfour is also known for being a musician. He started his music career in the early 1990s when he became a member of the band Blessed with Soul, alongside Brittany Murphy. In 1997, he co-formed the urban/funk band called Fredalba; they subsequently released their debut EP, "Real Low Underneath", while their debut studio album, entitled "Uptown Music For Downtown Kids" was issued via Piller Records in 2003; they would re-release the album through Universal Distribution in 2004. Two years later, the band changed its name to Born As Ghosts.
Releasing this Sunday! My interview with the very Talented @ERICBALFOUR star of Country comfort on @NetflixUK https://t.co/3DDWrKPBKG had a blast shooting the breeze with him! @MCMComicCon @walescomiccon @Showmasters @RealKiefer @DarkoneOfDamned @propstore_com pic.twitter.com/8ckQqtLtCz

— BE MORE SUPER (@bemoresuper) April 8, 2021
Appearance and Vital Statistics
Eric Balfour has short dark brown hair and dark brown eyes. He stands at a height of 6ft 2ins (1.88m), while his weight is around 177lbs (80kgs). His waist size is 32, his biceps 15, and his shoe size is 10 (US).
Personal Life
Eric Balfour became romantically involved with actress Moon Bloodgood in 2004. In the following year, they engaged but went their separate ways in 2007. He then went on to date Chilean actress Leonor Varela from 2007 to 2010. In 2010, he started dating fashion designer Erin Chiamulion. After five years of dating, the couple tied the knot at a ceremony held in Pacific Palisades, California on 30 May 2015. They welcomed their first child, a son named Oliver Lion Balfour, on 2 August 2018. The family resides in Los Angeles.