• Greyston Holt was born in 1985 in Calgary, Alberta and raised in Salt Spring Island, British Columbia.
• He started his acting career in 2004 and was nominated for a Leo Award in 2008.
• His most well-known role was as Clayton Danvers in the TV series "Bitten" (2014-2016).
• He is in a long-term relationship with actress Cristina Rosato, who is also his travel companion and Italian teacher.
• He has amassed a net worth of approximately $400,000 from his various acting roles.
What do you know about Greyston Holt?
Born 30th September 1985 in Calgary, Alberta, Canada, Greyston Stefancsik is an actor and producer known as Greyston Holt, whose name is synonymous with many adventure and spooky productions such as "The Killing Game (2011)", See No Evil (2014), the Space TV fantasy horror series, "Bitten" (2014 – 2016), "50 States of Fright" (2020) or one of his other many horror movies and series!
Greyston's grandparents immigrated from Hungary, and he was raised by his parents, Mike and Nancy on Salt Spring Island, British Columbia. His father was a drummer in a popular rock band, and spent over seven years traveling around as a professional musician. Music must have rubbed off on his son, as Greyston learned to play guitar while at high school. When he was 19 he formed a hardcore metal band, but then his career veered in a different direction. Greyston had impulsively taken an acting class in high school to fill out his art credits, and found that he loved it.
This now 36-year-old, brown haired, grey eyed star is 6ft 2in tall (1.88m) and is seen as good looking and a great actor, yet he himself claims he's terrible at speaking in public and that the support of his family and friends has been 'invaluable and integral' to his success. He does snowboarding, yoga and Crossfit, and has a passion for being in nature, traveling, food and culture, and, judging by his Instagram page, photography.
How did Greyston cultivate his career?
Greyston's mother mentioned his passion for acting to a co-worker who happened to have a casting agent sister in Vancouver, and when she offered to introduce Greyston to her, he grabbed the opportunity, and hopped on a seaplane to meet her. Apparently this woman is still his agent to this day. He moved to Vancouver after high school to follow his dream, and embarked on a career doing what he loved.
Greyston took on parts in some minor roles from 2004, kicking-off as Greyston Stefancsik in the horror film titled "The Sisterhood" directed by horror movie director, David DeCoteau, who discovered Greyston at a model/talent convention in Vancouver. He then emerged as Greyston Holt (Holt being his mother's maiden name) in the TV movie "Killer Bash".
Amongst other roles, Greyston performed in Steven Spielberg's award-winning TV mini-series "Into the West" in 2005, the TV series "Smallville", "Blood Ties", "Flash Gordon" and "Seven Deadly Sins" all in 2007. It was only when he played the recurring role of Ray Prager Jr in the series "Durham County" from 2007 to 2010 that something clicked in his mind that he could 'actually have a career in acting' – in 2008 he was nominated for a Leo Award as the Best Supporting Performance by a Male in a Dramatic Series" for his role in this series.
After a string of support roles in various other TV series, including "SGU Stargate Universe", "Once Upon a Time", "Psych", "Alcatraz" and his vampire part in "Supernatural", it was only in 2014 that Greyston hit the big time as Clayton Danvers, a werewolf in the popular TV series "Bitten", which broke records as Space TV's highest-rated original series at the time. He recounts how before he came to Toronto to audition for the part, he took his friend's dog for a walk and, to get into the part of a werewolf, ran around the mountain naked, screaming and howling, much to the dog's astonishment.
Greyston was nominated for a Leo Award in 2014 for Best Lead Performance by a Male in a Dramatic Series, and for a Golden Maple Award for Best Actor in a TV Series Broadcast in the US in 2015. Since 2017 he has appeared in many more TV shows, including "Riverdale", "Batwoman" and "50 States of Fright".
Greyston's acting persona has been coined as 'brooding and dangerous', and that can be attributed to around 50 horror movies to his credit. However, he has also made a good job of performing in Westerns and romances. He has said that he enjoys dressing up as different characters, but that he's more at home with comedy roles, as they correlate with his actual personality; his dream is to portray a 16th Century period character
Greyston Holt's love life
Greyston posts many photos on his Instagram page, of his travels with his companion who has been around since at least 2014, the beautiful actress, 38-year-old Cristina Rosato. He has even posted the odd salutation to his love, e.g. his Instagram post on the 9th March, 2019 where he quotes, 'Mother and lover. My rocks', under a photograph. Yet the nitty-gritty info of his longstanding relationship with Cristina is kept a tightly guarded secret by both parties. It's not known when and how they met, but the couple have been living together for several years. It's also not known what romantic liaisons Greyston had prior to Cristina, nor vice versa, as Cristina too keeps her personal life private. Greyston describes himself as the quiet type who sits and waits in the corner, hoping for a beautiful girl to come and chat him up, and feels that he's ever so lucky to have Cristina in his life.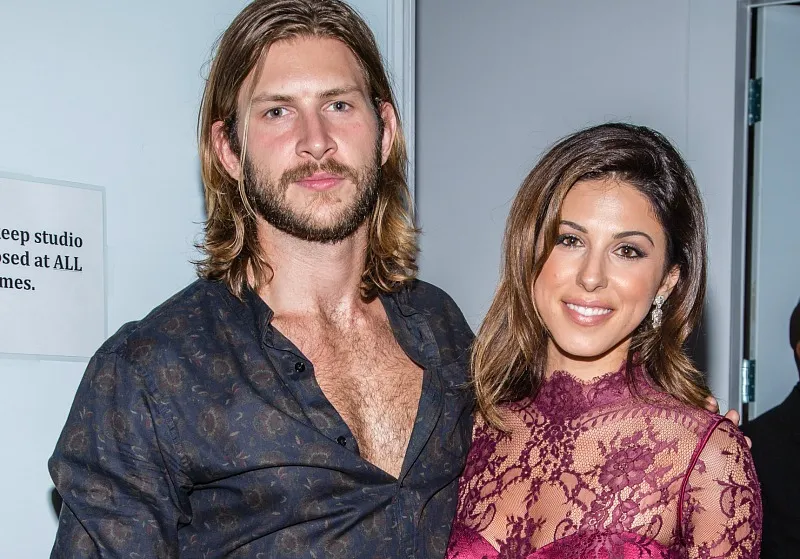 Cristina was born to Italian parents on 6th January 1983, in Montreal, Quebec, Canada. She stands an elegant 5ft 7in tall (1.7m) and has dark brown hair and eyes. She speaks Italian, English, French and Spanish fluently and is teaching Greyston to speak Italian. At the age of six Cristina was inspired by the movie, "Indiana Jones", and decided she wanted to act. It was only when she was 17 that she signed up with an agency, but without experience at the time, it was recommended that she take acting classes and, in her words, she 'loved it and became obsessed with acting'.
Cristina appeared in some French productions in Montreal, having commenced her training at the American Academy of Dramatic Arts in Los Angeles, California. She has appeared in many movies and series since 2003, such as "Little Italy" in 2018, "City on a Hill" and "Mafia Inc" in 2019, as well as starring in the TV series "Trauma" from 2010 to 2014. In 2017 she played a role in the movie "Mother", with a star-studded cast including Jennifer Lawrence, Javier Bardem, Ed Harris and Michelle Pfeiffer amongst others, and most recently in the Disney remake of  "Turner & Hooch". Cristina has also done voice overs for characters in video games e.g. "Assassins Creed".
In 2019, Cristina was busy filming "The Vegas" in Argentina, which opened her up to the tango and the country's history, when the pandemic broke out and interrupted the shoot. During lockdown, Cristina and her cousin Lara Villani, wrote a book about the pandemic, "A Hero Too". Illustrated by Leanne Thiessen, it aims to help kids navigate these strange times, and to raise funds for the Save the Children Foundation in Canada.
What is Greyston Holt up to now?
Greyston has been working on "Riverdale", the 2017 series inspired by the Archie comics now in its 6th season. Greyston plays the recurring part of Glen Scot, an FBI agent who is in a romantic relationship with Betty.
Movie that just recently wrapped in Vancouver—as in yesterday—FOR BETTER OR WORSE *may* be holiday-related. Seems to be fall-winter set, anyway. It stars Cristina Rosato and Greyston Holt and was directed by David I. Strasser.

📸 https://t.co/yKOw3tM1Be pic.twitter.com/rExQiD9T9q

— Ho! Ho! Holiday Viewing! (@SleepyKittyPaw) June 24, 2020
Luckily for Greyston and Cristina, both being actors and a couple, they have been busy filming the romantic movie "A Wedding to Remember" during the pandemic, while others were not easily able to work. They adhered to the pandemic safety guidelines for themselves and their crew, and only took their masks off when filming together. The movie was launched in Canada in January 2021. Greyston stated that viewers enjoy watching people falling in love and, as the world is so crazy right now, he felt it was time for some light escapism to take people's minds off the stress.
Greyston Holt Popularity and Wealth
Greyston was active on Twitter where he has almost 29,000 followers until he last tweeted in December 2020. He's still active on Instagram with over 52,000 followers.
His face being synonymous with not only a long list of horror movies, but a variety of genres, and his growing popularity have, according to informed sources, garnered Greyston a current net worth of approximately $400,000. Not bad for a guy who fell into the craft of acting on impulse, has shown remarkable talent, and whom we'll surely be seeing more of in the future!