• Miya Cech is an actress and model born in Tokyo, Japan on 4 March 2007.
• She is currently being homeschooled and is known for her roles in "American Horror Story", "The Darkest Minds", "The Astronauts", and "Rim of the World".
• She is active on social media, where she posts her modeling photos, updates on her upcoming projects, and speaks out against racism.
• Her favorite fashion brands are Burberry, Uniqlo, and Fendi.
• Miya's net worth is estimated to be over $350,000.
Miya Cech Wiki bio
Miya Cech was born in Tokyo, Japan on 4 March 2007 – her zodiac sign is Pisces, she holds both Japanese and American nationality and her ethnicity is Asian. She is an actress and a model, perhaps known best for her portrayal of Zu in the 2018 action drama film "The Darkest Minds".
Early life and education
Miya came to the US as a baby and was raised by her adoptive parents G. Cech and Er Cech alongside her brother Nikko, and sisters Emi and Kai Marie. The family moved from Northern Carolina to Los Angeles, California when she was five years old, so that she could pursue a career in the entertainment industry. Miya started modeling at the age of four, and became a child actress at the age of eight. She is currently being homeschooled.
This Sunday @BACTheatre's is Presenting a Very Special Episode of #SUNDAYSPOTLIGHT With @Nickelodeon's @miyacech to Support the Rise in Hate Crimes Surrounding the #AAPI Community:

You Can RSVP Here:https://t.co/5evuHHNtlx pic.twitter.com/gqOcOl7dwM

— Celeb Secrets (@celebsecrets) May 20, 2021
Roles in TV series
Miya made her TV series debut in 2015, when she guest starred in an episode of the action drama "Hawaii Five-0", and has since appeared in numerous TV series. The same year, she had a minor role in an episode of the popular Nickelodeon's comedy "The Thundermans", and she also appeared in an episode of the crime drama "Hand of God".
The year 2016 was even more successful for her, as she landed the role of Amy Chen in the sixth season of the popular anthology horror series "American Horror Story" (AHS) created by Ryan Murphy and Brad Falchuk, and starring Evan Peters, Sarah Paulson and Lily Gabe. The show has aired on FX for nine seasons so far, with every season presented as a self-contained mini-series.
AHS has received many positive reviews by the critics, and has won 127 awards, including two Golden Globes and six Primetime Emmy Awards. Miya appeared in two episodes of season six, dubbed "Roanoke", which follows a series of supernatural events related to the haunted farmhouse in North Carolina. She played the youngest member of the Chens, a Taiwanese immigrant family, who moved into the infamous farmhouse unaware of its dark secrets.
From 2017 to 2019, she played Ali Wong's daughter Marigold in the ABC's sitcom "American Housewife", created by Sarah Dunn and starring Katy Mixon, Diedrich Bader and Johnny Sequoyah.
The series follows the daily mishaps of Katie Otto, a mother and wife from Connecticut who lives in a modest house among her rich neighbors. The series aired for five seasons from 2016 to 2020, but with no mention of its continuation.
In 2019, she had a small role in an episode of the superhero series "Arrow", and in the same year, she played Akiko Yamato in all three episodes of the mini-series "Are You Afraid of the Dark?"
Since 2020, Miya has been starring in the Nickelodeon's action-adventure "The Astronauts", which also stars Bryce Gheisar, Keith L. Williams and Kayden Grace Swan. The series is praised for its unique premise, following five children who snuck onto a spaceship and were accidentally sent into space.
Miya plays the main character Samantha "Sammy" Sawer-Wei, the commander of the ship's crew. The series has aired nine episodes, and averages about 450,000 viewers per episode.
Roles in movies
The first movie role for Miya was in the 2016 short drama "Angeltown", then the following year she starred in the short fantasy drama "Unbound".
Perhaps the breakthrough film role for Miya would be her portrayal of the audience's favorite character, Zu, in the 2018 dystopian superhero drama "The Darkest Minds", based on the bestseller novel by Alexandra Bracken.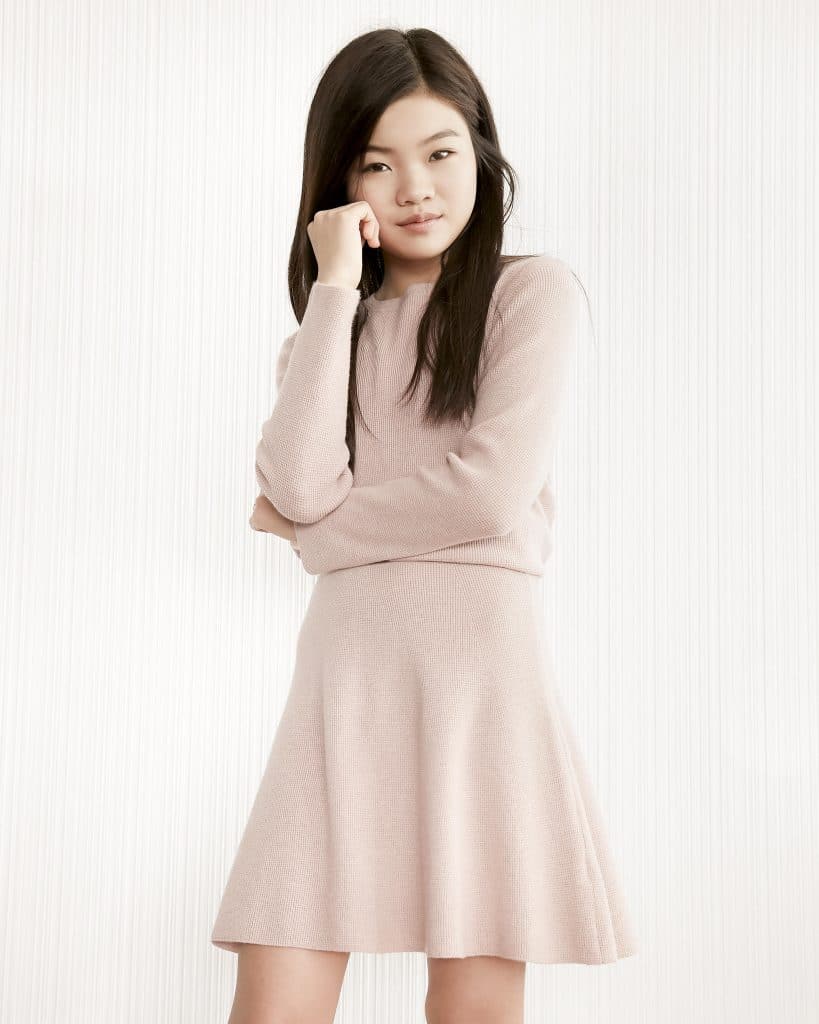 The filmscript was written by Chad Hodge, directed by Jennifer Yuh Nelson, and starred Amandla Stenberg, Harris Dickinson and Mandy Moore, and follows a group of teenagers who have obtained superpowers, and have to hide from the government.
In 2019, she played one of the leads in the Netflix's supernatural adventure comedy "Rim of the World" written by Zack Stentz, directed by McG, and which also starred Jack Gore and Benjamin Flores Jr; it follows a group of teenagers who are fighting an alien invasion. About her character ZhenZhen, Miya said 'She shows a lot of girl power, and kind of helps wrangle these boys'.
She also appeared in the 2019 romantic comedy "Always Be My Maybe", and most recently, in 2021 she starred in the comedy "Marvelous and the Black Hole".
Friends and relationships
Despite being homeschooled, Miya is very sociable and has made many friends while working with other teenage actors. While filming "Rim of the World" and "Astronauts", she regularly uploaded photos with her co-stars onto her Instagram account, in which they can be seen casually hanging out off-set.
In "Rim of the World", Miya's co-star Jack Gore was playing her character's love interest but the two's relationship in real life stayed strictly friendly.
She doesn't appear to be dating anyone at the moment, and her parents think it's for the best as she is only 14.
Miya is very active on all her social media accounts onto which she posts her modeling photos, updates on her upcoming projects, as well as more casual content.
She's been outspoken against racism, and has made several posts to raise awareness of Asian hate in the US.
Her Instagram bio reads 'Sister, Daughter, Friend, Storyteller'. She currently has over 336,000 followers on Instagram, over 9,500 followers on Twitter and her Facebook page numbers more than 32,000 likes. As she is still very young, all her accounts are co-managed by her parents.
Hobbies and other interests
Even with her acting career on the rise, Miya still enjoys doing occasional modeling gigs, and loves fashion in general. Some of her favorite fashion brands are Burberry, Uniqlo and Fendi, and her favorite designer is Lirika Matoshi who has designed the viral strawberry dress.
Miya also loves to watch movies in her spare time, with some of her favorites being comedies such as "Mean Girls", "21 Jump Street" and "Megamind", while her favorite actors and actresses are Jim Carrey, Tom Hanks and Any Poehler.
Age, height and net worth
Miya is 14 years old. She has long black hair and brown eyes, she's 4ft 11ins (1.5m) tall and weighs around 110lbs (50kgs).
As of May 2021, her net worth has been estimated at over $350,000.