Who is Luke Wilson?
Luke Cunningham Wilson was born in Dallas, Texas USA on 21 September 1971 – his zodiac sign is Virgo and he holds American nationality. He's an actor, film writer and producer, who's probably still known best for his starring role as Mitch in the 2003 comedy movie "Old School", written and directed by Tod Phillips, and which also starred Vince Vaughn and Will Ferrell. It follows three college friends who have launched their own fraternity, and the movie was nominated for five awards.
Early life, brothers and education
Luke was raised in Dallas alongside his older brothers Owen and Andrew, by their mother Laura Wilson (nee Cunningham) who was a photographer, and their father Robert Andrew Wilson who was a TV and advertising executive, who died in 2017 aged 76.
Luke studied at St. Mark's School of Texas – his brother Owen has stated that he was elected class president during his first year there. He was mostly focused on playing sports, and excelled at track and field. Upon matriculating in 1989, Luke enrolled at Occidental College in Los Angeles at which he became interested in acting, and appeared in various plays performed at both the college and a local theatre. He obtained his Bachelor of Arts degree in 1993, and then chose to focus on his acting career.
Roles in movies
Luke has now been credited with appearing in close to 90 movies and TV series, and we're about to mention more of his notable performances.
He made his debut film appearance in 1993, with his portrayal of Anthony Adams in the short crime comedy "Bottle Rocket", a role which he reprised in 1996 when the short was turned into a full-length movie written and directed by Wes Anderson, and which also starred Owen Wilson and Ned Dowd. It follows three friends who are planning a heist, and the movie won two of the three awards for which it was nominated.
Some of the hit movies in which Luke appeared in the following years were the musical drama "Telling Lies in America" and the  mystery horror "Scream 2" both in 1997, and the 1998 romantic comedy drama "Rushmore" which starred Bill Murray.
In 2000, he portrayed the supporting character Dink in the family comedy "My Dog Skip" written by Gail Gilchriest, based on the novel by Willie Morris, directed by Jay Russell, and which starred Frankie Muniz, Kevin Bacon and Diane Lane, in the story which follows the early life of a boy and his dog Skip – it won seven of the 11 awards for which it was nominated.
Luke was then cast in supporting roles in the 2000 action adventure comedy "Charlie's Angels" – reprised in the 2003 "Charlie's Angels: Full Throttle" – the 2001 romantic comedy "Legally Blonde", and later that year in the comedy drama "The Royal Tenenbaums", which won 11 awards and was nominated for 46 others including an Oscar. The year 2007 saw him play Zeke in the crime action drama "3:10 to Yuma" written by four people, directed by James Mangold and which starred Russell Crowe, Christian Bale and Ben Foster.
It follows a rancher who's holding a captured outlaw awaiting for his trial and who's trying to persuade the rancher to let him go. The movie won three of the 35 awards for which it was nominated, including two Oscar nominations.
In 2008, Luke was cast to star alongside Radha Mitchell and George Lopez in the comedy drama "Henry Poole Is Here", while a couple of his following notable performances were in the 2009 crime comedy "Middle Men", the 2010 comedy "Death at a Funeral", and the 2014 romantic comedy "The Skeleton Twins" in which he starred alongside Kristen Wiig and Bill Hader.
In 2015, he portrayed Roger Goodell in the biographical sports drama "Concussion", written and directed by Peter Landesman, and which starred Will Smith, Alec Baldwin and Albert Brooks. It follows Dr. Bennet Omalu who has just discovered the cause of brain damage in football players; the movie won four of the 20 awards for which it was nominated, including a Golden Globe nomination.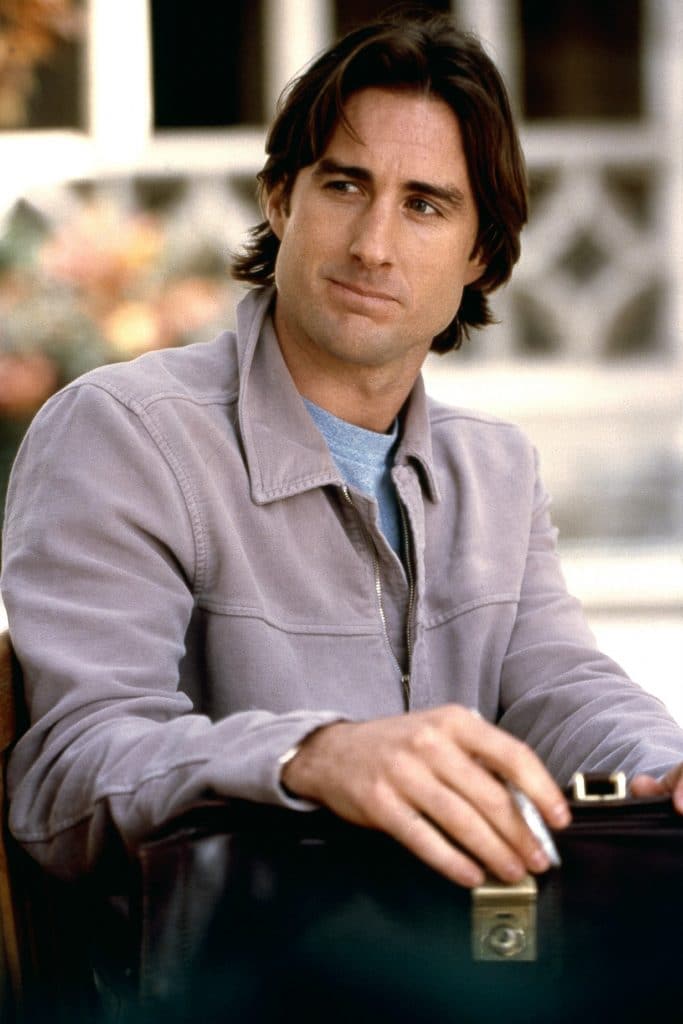 Three of Luke's most recent movie roles have been in the  romantic drama "All the Bright Places", the comedy "The Swing of Things", and the  animated family drama "Bobbleheads: The Movie" (voice role) all in 2020. He's currently shooting for five upcoming movies, including the mystery crime drama "The Cleaner", the action family adventure "New-Gen" and the action thriller "Gasoline Alley".
Roles in TV series
Luke has mostly been focused on appearing in movies, and doesn't have many TV series credits.
He made his debut TV series appearance in 1998 with his portrayal of Sheriff Hartwell in the episode "Bad Blood" of the mystery crime drama "The X-Files", and in 2004, he made a guest appearance in the episode "Talk Show" of the comedy drama "Entourage".
Between 2002 and 2005, he appeared as Casey Kelso in six episodes of the critically acclaimed romantic comedy "That '70s Show", created by Mark Brazill, Bonnie Turner and Terry Turner, and which starred Topher Grace, Ashton Kutcher and Mila Kunis. It follows a group of friends living in Wisconsin in the '70s, aired from 1998 to 2006, and won 15 awards including a Primetime Emmy, while being nominated for 77 other awards. In 2011, Luke was made a main cast member of the comedy "Enlightened", which won Laura Denn a Golden Globe Award for Best Performance by an Actress in a Television Series – Comedy or Musical. The year 2013 saw him portray Will Keith Kellogg in the episode "Detroit" in the historical comedy "Drunk History", and in 2016, Luke starred as Bill Hanson in the musical comedy drama "Roadies".
Two of his most recent TV series roles have been in the 2019 episode "The Pilot" of the fantasy comedy drama "Room 104", and the action crime adventure "Stargirl", in which he played Pat Dugan and S.T.R.I.P.E. in 14 episodes in 2020 and 2021.
Other credits
He received special thanks for the 2013 animated adventure comedy movie "Free Birds".
Luke has two writing, two directing and five producing credits. In 2005 and 2014, he wrote, produced and directed, the romantic comedy movie "The Wendell Baker Story" and the short drama film "Satellite Beach", respectively. His three other producing credits were the 2016 animated crime documentary film "Tower", the 2020 documentary series "Emergency Call", and the upcoming mystery crime movie "The Cleaner".
Love the glass door. Art. Old record player? Minor chord violation. 9/10 #lukewilson pic.twitter.com/76zBeEuICb

— Room Rater (@ratemyskyperoom) October 27, 2020
Luke has been featured in numerous documentaries, such as the 2003 short video "'Masked & Anonymous' Exposed", the 2006 short video "Anatomy of a Scene: Shark Attack", and the 2008 short movie "The Making of Bottle Rocket".
He has made a guest appearance in many talk-shows, including "Good Morning America", "The Talk" and "Entertainment Tonight".
Awards and nominations
Luke has been nominated for 19 awards winning 12, some of which were a 2005 Festival Award for Best Film for "The Wendell Baker Story", a 2014 Santa Barbara International Film Festival Bruce Corwin Award for Best Live Action Short Film for "Satellite Beach", and a 2018 News & Documentary Emmy Award for Outstanding Historical Documentary for both "Independent Lens" and "Tower" (shared with colleagues).
Some of the awards Luke has been nominated for include a 2001 Circuit Community Award for Best Cast Ensemble for "The Royal Tenenbaums" (shared with colleagues), a 2003 MTV Movie Award for Best On-Screen Team for "Old School", and a 2021 Academy of Science Fiction, Fantasy & Horror Films Saturn Award for Best Supporting Actor in a Television Series for "Stargirl".
Love life and relationships
Luke's more or less open when it comes to talking about his love life, and there are seven girls whom he has dated that the public knows about.
In 1997 he began dating Drew Barrymore, who's a famous American actress, film producer and director. They could've been seen attending most of their red carpet events together, but in 1999 after around two years of being together, they split for unknown reasons.
In 2001, Luke started seeing the American actress and model Gwyneth Paltrow, a relationship which lasted for only around a year. In 2003 he dated Joy Bryant, who's an American businesswoman, actress and a model, but they split after around half a year.
Luke's following three relationships lasted for around a year all together, and these were with the American glamour model Jennifer Walcott, the American model Audra Lynn and the American actress and film director Alison Eastwood.
In 2009, he began dating the American actress Meg Simpson and the two were together for around six years before splitting in November 2014. In July 2015, they were seen sitting together on a bench in Santa Monica, California while Meg was seen crying.
As of May 2021, Luke's single, hasn't married and doesn't have children.
Hobbies and other interests
Luke's passionate about travelling and his acting career has taken him all around the US, while the popular actor has also been to various European and Asian countries, with his dream travel destination being Florence in Italy.
He was once very sporting, but doesn't exercise anymore, despite in his own words getting older and fatter, drinking a lot of beer and eating lots of pasta.
Luke loves to read books – his favorite genre is history, while his favorite book is "The Diary of a Young Girl" by Anne Frank.
He has his own favorite actors and actresses, some of whom are Russell Crowe, Matt Damon and Amanda Seyfried, and a couple of his favorite movies include "The Gladiator", "Good Will Hunting" and "Letters to Juliette".
Age, height and net worth
Luke's age is 49. He has short brown hair and brown eyes, his height is 5ft 11ins (1.81m) and he weighs around 172lbs (78kgs). As of May 2021, his net worth has been estimated at over $50 million, while his brother Owen's net worth has been estimated at over $70 million.
https://www.instagram.com/p/BsETb4plqm5/
Who is his brother Owen Wilson?
Owen Cunningham Wilson was born in Dallas on 18 November 1968, – his zodiac sign is Scorpio and he holds American nationality. He's an actor, film producer and a moviemaker, who has been credited with appearing in around 80 movies and TV series, and won 15 awards of the 66 for which he has been nominated, including an Oscar nomination.
Owen studied at New Mexico Military Institute from which he matriculated in 1986, and then enrolled at the University of Texas at Austin, from which he graduated with a Bachelor of Arts degree in English in 1990.
He gained recognition in 2000 after starring alongside Jackie Chan in the martial arts western comedy movie "Shanghai Noon", and a couple of his following notable performances were in the 2001 action comedy movie "Zoolander", the 2002 buddy spy comedy film "I Spy", and the 2004 action adventure comedy movie "Around the World in 80 Days".
2006 saw him star alongside Ben Stiller in the comedy movie "Night at the Museum", and in 2010, Owen starred alongside Robert De Niro in the comedy movie "Little Fockers". The year 2014 saw him appear in the critically acclaimed comedy film "The Grand Budapest Hotel", and in 2017 he starred alongside Julia Roberts in the family drama movie "Wonder". Most recently in 2021, Owen starred alongside Salma Hayek in the drama film "Bliss".
In August 2007, Owen attempted suicide, and was then diagnosed with depression; he was treated at Cedars-Sinai Medical Center as well as at St. John's Health Center.
His girlfriend Jade Duell gave birth to their son in January 2011, but by the end of the year, the two had split for unknown reasons. His new girlfriend Caroline Lindqvist gave birth to his second son in January 2014, and in October 2018, his next girlfriend Varunie Vongsvirates bore him a daughter – it was reported in November 2019 that Owen hadn't even met her.