K Callan:
• Veteran author and actress
• Best known for portraying Martha, C. Kent's mother in ABC's "Lois and Clark" TV series
• Appearances in many plays, films and TV shows
• Written various books
• Net worth of around $5 million
Katherine Callan, aka K Callan, is a veteran author and actress, who is best known for portraying Martha, C. Kent's mother, in ABC's "Lois and Clark" TV series.
Early Life, Education Background, Parents
Katherine Elizabeth Borman was born under the Capricorn zodiac sign on 9 January 1936, in Dallas, Texas, USA, which makes her 85 years old as of 2021. She went to a local high school located in Dallas, before joining Texas State University. Katherine took a long break from her studies, and became very busy teaching and singing at an Air Force Base to earn a living, not to mention her marriage in 1957, which made moving to New York impossible for her.
However, she later moved to Manhattan and joined HB Studios Training Institute, where she was trained in acting at Herbert Berghof Studio.
Career
Stage Appearances
Katherine has appeared in many plays such as "Inherit the Wind" at the Margo Jones Theatre, Dallas, as Hawker, in 1955. She portrayed a hooker in "The Boofer" (1969) performed at Herbert Berghof Playwrights Theatre located in New York. Callan played the role of Harriet in the play "Sticks and Bones" performed in 1972 at John Golden Theatre.
Her other works on stage include "Blessing" at Manhattan Theatre Club (1975), "Red Rover," in which she portrayed Vic at Melrose in Los Angeles, and "April Show," performed in Mesa, California, at South Coast Repertory (1983).
Film and TV Appearances
Katherine made her on-screen debut in in 1962, when she featured in an episode of "Route 66" that was shot in Dallas, portraying a Western Union operator. She portrayed Mary Lou in  1970's "Joe" by the late famed film director John G. Avildsen, and had guest roles in films such as 1976's "One Day at a Time" as Alice Butterfield, and "St. Elsewhere" (1985) as Patty Galecki.
She's featured in various other TV shows and movies including "Fast Break" in 1979, in which she played Ms. Tidwell, "The Onion Field" and "Blind Ambition" both in 1979, 1980's "American Gigolo," "Police Squad!" in 1982, "Cutter to Houston" (1983), and many more.
Callan was praised for her recurring role as Martha Kent  in "Lois & Clark: The New Adventures of Superman" from 1993 through 1997, which pushed her career on the TV to new heights. She's also made appearances in TV series such as: "Star Trek: Deep Space 9" (1993), "Cold Case" (2006) in which she portrayed Helen Rusell, "Diagnosis: Murder" (2000),"Meet The Browns" (2009-2010), "How I Met Your Mother" (2007-2012), and 2016's "Veep," among others.
Callan has featured in many movies since the '90s  including 1991's " The Unborn," in which she appeared as Martha Wellington, "Frankie and Johnny," 1998's "Border to Border" as Mrs Piston, "A Fare to Remember" in the year that followed, "Devious Beings" (2002), 2005's "Crazy Love" and "Nine Lives," "Midnight Clear" (2006), "Why Did I Get Married Too?" in 2010, 2013's "Samuel Bleak" among others. Her most recent role was in 2019's "Knives Out," in which she portrayed Great Nana Thrombey.
Katherine has written various books, including "The Script Is Finished Now What Do I Do?" "Los Angeles Agent Book," "How To SellYourself as an Author," "Life of the Party," among others.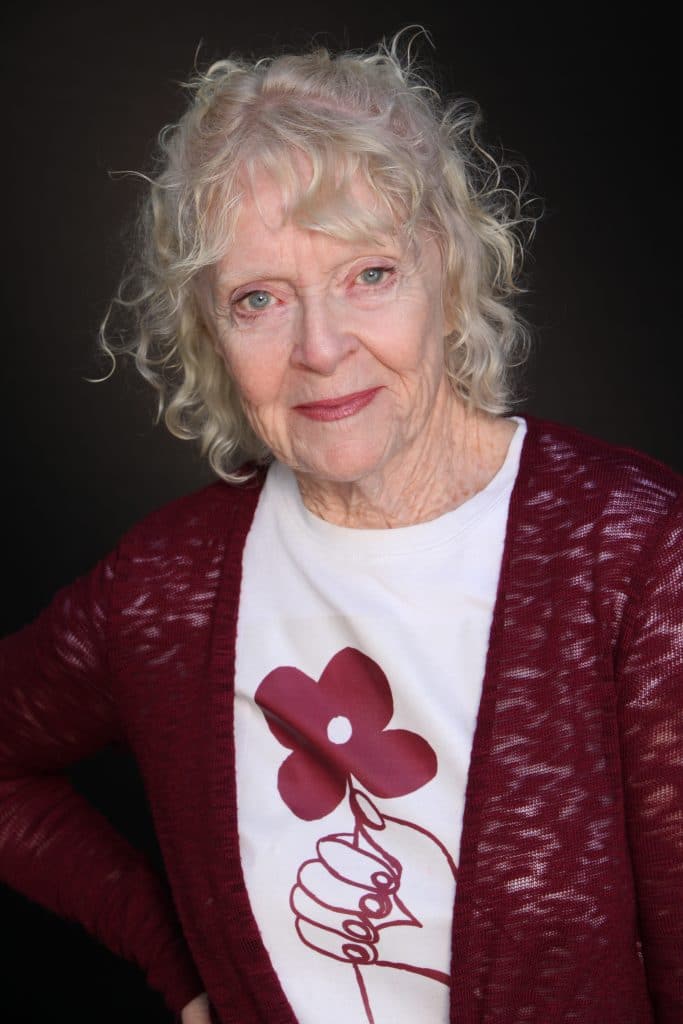 Personal Life
Callan wed James Ruskin Callan, an established author, on 4 June 1957, in a private wedding ceremony. She hadn't come into the limelight then, and was an ordinary girl, and due to this fact, their wedding ceremony didn't attract media attention, and so there are very few details recorded about the day she walked down the aisle. In the pair's years of togetherness, they expanded their family to five as they welcomed three children, Kelly, Kristi and their son Jamie. The duo, however, went through a rough patch, which led to their divorce 11 years later in 1968.
All Katherine's children are now have families of their own.
She is a grandmother who finds a lot of pleasure in playing with her grandchildren. Callan family was faced with a tragic event a few years back, when all of her grandchildren were attacked by a wild tapir. One of Katherine's grandchild, Ethan, tried his best to save his siblings but he unfortunately failed and all apart from him succumbed to the injuries inflicted. He was badly injured and the struggle left him disfigured.
Body Measurements
Callan has a slim physique, with long blonde hair and blue eyes. She's 5ft 7ins (1.71m) tall and weighs around 120lbs (56kgs), with vital statistics of 34-26-35, bra size 32B, dress size 6(US), and shoe size 8 (US).
Net Worth
Callan has dominated the showbiz industry for nearly six decades now, and has not only carved a name for herself but also accumulated a hefty net worth from her professional career. She has earned part of her net worth from several endorsements and her career as an author. She is worth approximately $5 million as of 2021, according to various reliable sources.
Who is K Callan's Ex-Husband, James R. Callan
James Ruskin Callan was born on 5 November 1932, in Dallas, Texas, which makes him 88 years old as of 2021. He was born to John Ruskin Callan and his mother Lorena 'Watts' Callan. Jim, as most of his friends call him, graduated with a degree in English from St. Mary's University, and has a master's degree in Arts from the University of Oklahoma (1969).
James has been a teacher at Jesuit High School (1955-1960) in his hometown, and at Dallas Public Schools in 1961-1964 before he worked for Aero Research Laboratory as a Consultant. He was a Research Engineer at Schlumberger Research Centre for 12 years and as a Vice President of  C Systems, Ltd. since 1982. After his thirty -four year detour in computer science and mathematics, James then got back to what he really liked most: writing.
James likes reading and travelling, and is also a fitness enthusiast who still likes to play tennis.
His favourite color, food, and music are blue, ice cream and classical respectively.