• Roberta Shore is an American actress born in 1943
• She is best known for her role in the western series "The Virginian"
• She has been married three times and has two children with her second husband
• She is a music fan and enjoys travelling
• Her net worth is estimated at over $3 million
Who is Roberta Shore?
Roberta Jymme Schourop was born in Monterey Park, California USA, on 7 April 1943 – her zodiac sign is Aries, and she holds American nationality. She's an actress, who's been credited with appearing in over 30 movies and TV series, while she's perhaps still known best for her portrayal of Betsy Garth in the critically acclaimed western series "The Virginian". Created by Charles Marquis Warren, it starred Doug McClure, James Drury and Lee J. Cobb, and follows people living in Wyoming in the 1890s; the series won two of the five awards for which it was nominated.
Roberta 'retired' from acting three times, and has returned three times.
Early life and education
Roberta was raised in Monterey Park, Los Angeles by her parents, about whom nothing's known, as she respects their privacy. She hasn't spoken of having any siblings, but is believed to have a sister.
She became interested in acting while still attending an elementary school, and was 13 years old when she launched her acting career, with an appearance in the 1956 episode "Dirty Face" of the drama "Jane Wyman Presents the Fireside Theatre"; the same year also saw Roberta play Jennie, in the episode "Sizeman and Son" of the crime comedy drama "Playhouse 90".
She continued acting throughout her entire education. Roberta attended San Gabriel High School, and upon matriculating in 1961, didn't enroll at college, but remained focused on acting.
Roles in TV series
Roberta gained recognition in 1958, when she portrayed Laura Rogan, in 15 episodes of the family comedy drama "The Mickey Mouse Club", created by Walt Disney and Hal Adelquist, and which starred Jimmie Dodd, Sharon Baird and Bobby Burgess. It's a variety show for the youth, and won one of the three awards for which it was nominated, including a Primetime Emmy nomination. Roberta reprised her role as Laura Rogan in the same year, in the comedy "Annette".
The following years saw her appear in an episode or two of various series, including the drama "Studio One", and the western comedy "Maverick".
In 1959, she was cast to play Joyce Kendall in the family comedy "Father Knows Best", created by Ed James, and which starred Robert Young, Lauren Chapin and Jane Wyatt. It follows the family man Jim Anderson, his wife Margaret, and their kids Kathy, Bud and Betty. The series was a hit, winning 15 awards including nine Primetime Emmys, while it was nominated for 18 other awards.
In 1960 and 1961, Roberta appeared in an episode of nearly 10 series, including the family comedies "The Donna Reed Show" and "The Many Loves of Dobie Gillis", and the drama "Goodyear Theatre".In 196 2, she portrayed Henrietta 'Hank' Gogerty, one of the lead characters in the adventure comedy "The Bob Cummings Show", created by Roland Kibbee, and which also starred Robert Cummings and Murvyn Vye. It follows Bob who's a charter pilot, and has converted his car into a 'plane.
Between 1960 and 1962, Roberta played various characters in the family comedy drama "The Adventures of Ozzie and Harriet", and her final role in a TV series before she retired for the first time, was in 70 episodes of the popular western "The Virginian" between 1962 and 1965.
Roles in movies
Roberta made her debut film appearance in 1959, with her portrayal of Franceska Andrassy in the family fantasy comedy "The Shaggy Dog", directed by Charles Barton, and which starred Fred MacMurray, Jean Hagen and Tommy Kirk. It follows a teenager who occasionally mysteriously turns into a sheepdog; the film won one of the two awards for which it was nominated. The same year saw her play Cherie in the romantic drama "Blue Denim", as well as Anne Talbert in another romantic drama – "A Summer Place".
In 1960, Roberta was cast to portray Richelle 'Ricky' Summers in the drama "Because They're Young", as well as Linda Harder, in the critically acclaimed romantic drama "Strangers When We Meet".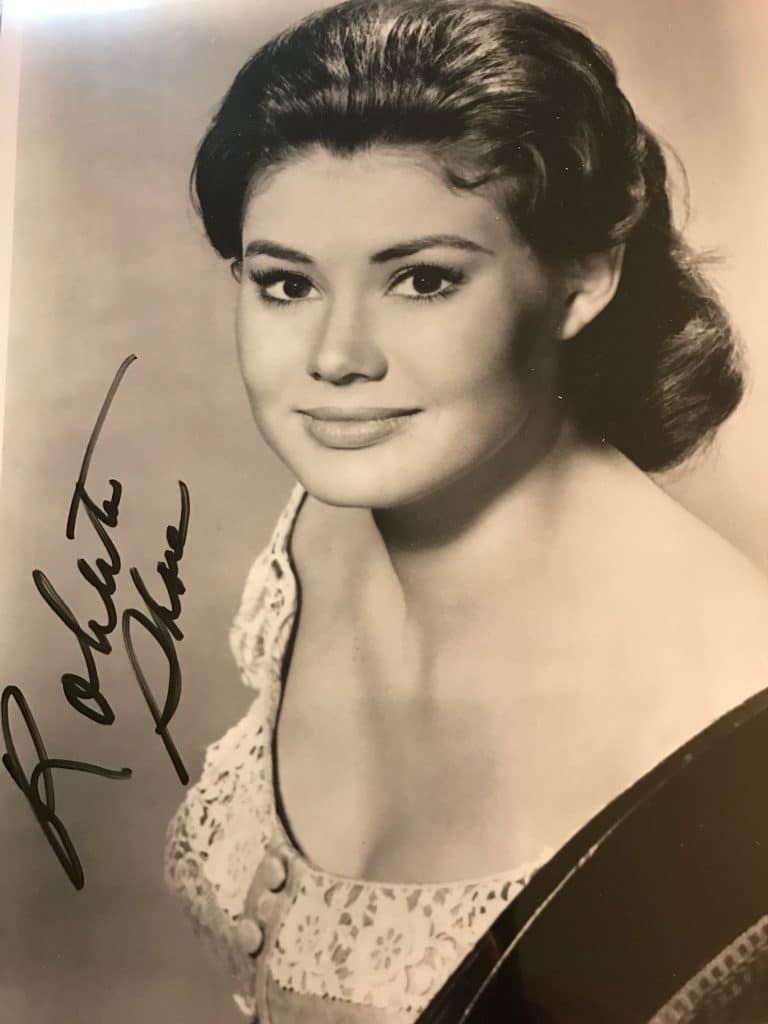 Written by Evan Hunter and directed by Richard Quine, it starred Kirk Douglas, Kim Novak and Ernie Kovacs in the story of a bored husband, who starts an affair with a married woman from down the street. In 1961, Roberta appeared in the action crime drama "The Young Savages", as well as in the romantic comedy "Bachelor in Paradise".
In 1962, she played Lorna, in the hit romantic crime drama "Lolita", directed by Stanley Kubrick, and which starred James Mason, Shelley Winters and Sue Lyon. It follows a college professor who has fallen in love with a 14-year-old girl, and the movie won two of the 12 awards for which it was nominated, including an Oscar nomination.
Roberta returned from her first retirement in 1974, with her portrayal of Peggy, School Secretary, in the short drama "Cipher in the Snow"; she then retired again, but eventually returned in 2003, when she appeared in the adventure drama "The Book of Mormon Movie, Volume 1: The Journey".
Roberta then retired yet again, but has just recently returned to the film industry, as she's currently shooting for the adventure drama "Billy and the Bandit", and the mystery drama "Greenbriar".
Other credits
Roberta performed the song "Who, Baby?" in the 1959 romantic drama movie "Blue Denim", and sang eight songs in eight episodes of the series "The Virginian".
She has made a guest appearance in a number of talk-shows, including "The Dick Clark Show", "The Bob Hope Show", and "The Jack Benny Program".
Love life and husband
Roberta has married thrice. She exchanged vows with her first husband, Terry C. Barber, on 4 March 1983; a non-celebrity American, he died of a brain tumor on 12 December 1987.
On 19 December 1964, Roberta married the American businessman Kent Christensen, and they share two children.
It's widely believed that the marriage lasted for around a decade, but neither Roberta nor Kent have spoken of the exact date of their divorce.
She then married Ron Frederickson, an actor with 14 credits to his name, and who's perhaps still known best for his portrayal of Lucifer, in the 1969 fantasy drama "Mormon Temple Film". The two are leading a seemingly happy life today, and they don't have children.
As of August 2021, Roberta's married to her third husband Ron Frederickson, and she has two children with her second husband, Kent Christensen.
Hobbies and other interests
Roberta's a huge fan of music, and spent the '80s working as a disc jockey for various radio stations. Her favorite genres are rock and pop, while her favorite performer is the late Frank Sinatra. She can also yodel.
Roberta's passionate about travelling, and her acting career has taken her all around the USA, visiting nearly every state. She's also travelled to other continents, including Europe and Asia.
She's a cat-lover, and has had many pet cats.
Roberta has her own favorite actors and actresses, some of whom are Hugh Grant, Meryl Streep and Julia Roberts, while a couple of her favorite movies are "Notting Hill", "The Runaway Bride" and "Kramer vs. Kramer".
Age, height and net worth
Roberta's age is 78. She has long gray hair which was once brown, her eyes are brown, she's 5ft 3ins (1.61m) tall, and weighs around 115lbs (52kgs).
As of August 2021, her net worth has been estimated at over $3 million.