• Talia Shire is an American actress, born in 1946.
• She is best known for her role in the Rocky movie series.
• She has also appeared in The Godfather series and various other films.
• She has been married twice and has three children.
• Talia is 75 years old and has an estimated net worth of $20 million.
Who is Talia Shire?
Talia Rose Shire (nee Coppola) was born in Lake Success, New York State USA, on 25 April 1946 – her zodiac sign is Taurus, she holds American nationality, and is of Italian descent. She's an actress, with over 70 credits to her name, while she's perhaps still known best for her portrayal of Adrian in the 1976 sports drama movie "Rocky". Written by Sylvester Stallone, who also starred in it alongside Talia and Burt Young, the movie follows a boxer who's about to face a heavyweight champion. It won 23 awards, including three Oscars, while it was nominated for 21 other awards.
Talia reprised her role in the 1979 "Rocky II", the 1982 "Rocky III", and the 1985 "Rocky IV".
Early life and education
Talia was raised in Lake Success alongside her brothers Francis Ford Coppola and August Coppola, by their mother Italia (nee Pennino) who was a housewife, and who died in 2004 aged 92, and their father Carmine Coppola, who was a composer, pianist and a songwriter, and who died in 1991 aged 81. Her brother Francis is a famous film director and producer, while August was an author, academic and a film executive.
Talia became interested in acting while attending a local high school, but was urged by her family to focus on her education.
Upon matriculating in 1964, she enrolled at a college, then two years later Talia moved to Yale Drama School, from which she graduated with a Bachelor's degree in 1968; it was only then that she focused on acting.
Roles in movies
Talia made her debut film appearance in 1968, with her portrayal of June in the action drama "The Wild Racers", and a couple of her following roles were in the 1970 "The Dunwich Horror", the 1970 science fiction comedy "Gas! -or- It Became Necessary to Destroy the World in Order to Save It", and the 1971 comedy drama "The Christian Licorice Store".
She gained recognition in 1972 with her portrayal of Connie, in one of the best movies of all time: the crime drama "The Godfather".
Directed by her brother Francis, it starred Marlon Brando, Al Pacino and James Caan, and follows a mafia boss who's transferring the family and business' control to his son. The movie won 33 awards, including three Oscars, and was nominated for 30 other awards. Talia reprised her role as Connie in the 1974 sequel "The Godfather II", as well as in the 1990 sequel "The Godfather: Part III".
The '90s saw her appear in a couple of critically acclaimed movies, including the 1992 comedy "For Richer, for Poorer", the  drama "Born Into Exile" and theromantic drama "She's So Lovely" both in 1997. Her following notable performance was in the 2004 comedy "I Heart Huckabees", written and directed by David O. Russell, and which starred Jason Schwartman, Jude Law and Naomi Watts.
It follows a husband and wife who are both detectives, and the movie won three of the 14 awards for which it was nominated.
A couple of Talia's following roles were in the 2008 comedy "Looking for Palladin", the 2009 romantic comedy "My Secret Billionaire", and the 2013 drama "Palo Alto".
Two of Talia's most recent movie roles have been in 2018, in the crime drama "Con Man", and the drama "Working Man"; she's currently shooting for two upcoming movies, the romantic family drama "Romancing Brazil", and the drama "Chantilly Bridge".
Roles in TV series
She has mostly been focused on appearing in movies, but has appeared in around 10 TV series.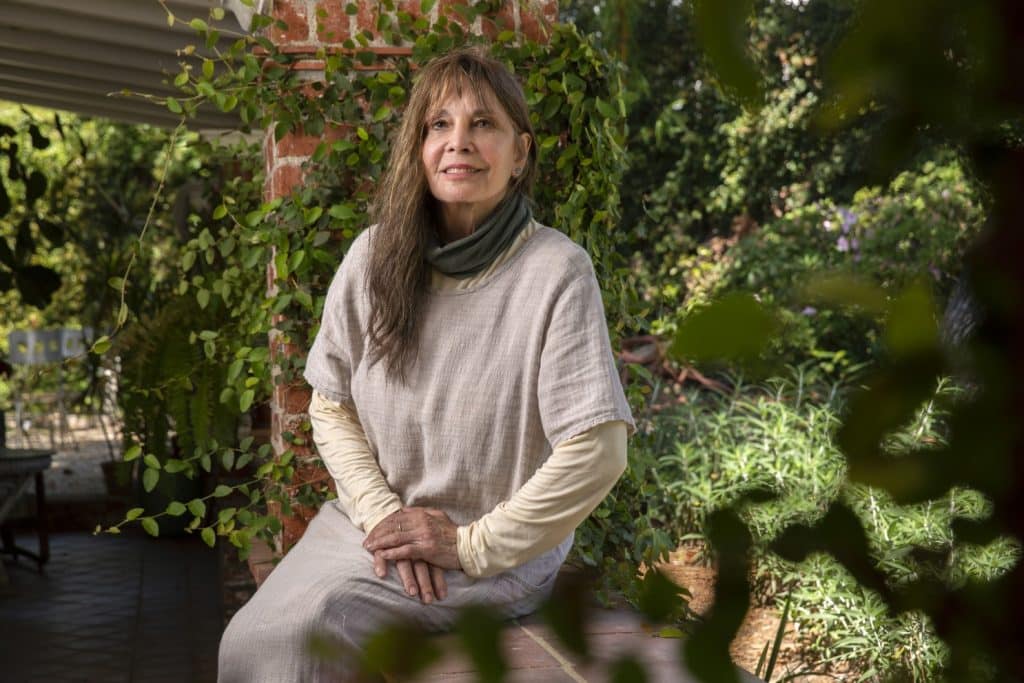 Talia made her debut TV series appearance in 1970, with her portrayal of Lydia in the episode "Child's Play" of the comedy "My World and Welcome to It". The following years saw her appear in an episode or two of various series, such as the 1976 drama "Rich Man, Poor Man", the 1977 crime thriller mini-series "The Godfather Saga", and the 1987 family adventure comedy "Faerie Tale Theatre".
Her following appearance was in the 1992 episode "Please, God, I'm Only 17" of the adventure comedy drama "CBS Schoolbreak Special", and in 2005, she portrayed an actress in the episode "Sylvester Stallone" of the documentary "Biography".
Three of Talia's most recent roles in TV series have been in two episodes of the 2017 drama "Kingdom", and in 2018 two episodes of the 2018 comedy "Grace and Frankie", and the episode "Rule #149: Don't Eat the Yellow Snow" of the comedy drama "Girlfriend's Guide to Divorce".
Other credits
In 1995, Talia directed the drama movie "One Night Stand".
She has three producing credits: the 1986 family science fiction "Hyper Sapien: People from Another Star", the 1987 adventure drama "Lionheart", and the 1998 horror thriller "The Landlady".
She has received special thanks for nine movies, including the 1999 comedy "Palmer's Pick-Up", the 2000 comedy drama "Bel Air", and the 2013 romantic science fiction drama "Her".
Talia has been featured in various documentaries, such as the 2005 short video "The Making of 'Dunsmore", the 2012 movie "The Godfather Legacy", and the 2021 film "Stallone: Frank, That Is".
She has made a guest appearance in a number of talk-shows, including "The Mike Douglas Show", "The Merv Griffin Show" and "Made in Hollywood".
Awards and nominations
Talia has won six of the 13 awards for which she has been nominated. Her wins include two Monte-Carlo Comedy Film Festival Awards in 2002 and 2004, a 2010 Action on Film International Film Festival Lifetime Achievement Award, and a 2010 Garden State Film Festival Wave of Excellence for Filmmaking Award.
She has also been nominated for two Academy Awards (Oscars), a Golden Globe, three Razzie Awards, and a National Society of Film Critics Award.
Love life and husband
Talia has been married twice. She exchanged vows with the famous American composer and writer David Shire on 29 March 1970, in a large ceremony attended by many of their friends and family members. In 1975, she gave birth to their son Matt Orlando Shire, who's today a writer and producer. Talia and David divorced on 8 May 1980, for unknown reasons.
On 23 August 1980, she married the American actor and film producer Jack Schwartzman, and in the same year Talia gave birth to their son Jason Francesco Schwartzman; their second son, Robert Carmine Schwartzman, was born in 1982. Talia and Jack's marriage ended on 15 June 1994, when Jack passed away from pancreatic cancer.
She was also in a relationship with Roger Corman, an American actor, film producer and director.
As of July 2021, Talia appears to be single, was married twice, and has three children.
Hobbies and other interests
Talia loves to travel, and her acting career has taken her all around the world. She has been to nearly all of the US states and various European countries, as well as to a couple of Asian, African and South American countries.
Talia's dream travel destination is Venice in Italy.
She enjoys tasting various cuisines, and her favorite is Italian food, as she loves pasta and pizza.
Talia's a lover of animals, with dogs being her favorites; she's had various pets, including dogs, cats and hamsters.
She has her own favorite actors and actresses, some of whom are Robert De Niro, Marlon Brando and Natalie Portman, and a couple of Talia's favorite movies are "Scent of a Woman", "Apocalypse Now" and "A Streetcar Named Desire".
Age, height and net worth
Talia's age is 75. She has long brown hair and brown eyes, her height is 5ft 4ins (1.63m) and she weighs around 120lbs (55kgs).
As of July 2021, her net worth has been estimated at over $20 million.