• Erik Cassel was an engineer, inventor and entrepreneur best known for being a co-founder, administrator, and former Vice-President of Engineering of Roblox.
• At the time of his death in 2013, his net worth was estimated at over $1 million.
• He graduated from Cornell University and began his career at Knowledge Revolution.
• He co-founded Roblox Corporation in 2004 and became known as 'erik.cassel' on the platform.
• He passed away in 2013 after a three year battle with cancer.
Who is Erik Cassel?
Erik Cassel was born on 16 December 1967 under the zodiac sign of Sagittarius, in California, USA; he passed away at the age of 45 on 11 February 2013 in the United States. He was an engineer, inventor and entrepreneur, probably best recognized for being a co-founder, administrator, and former Vice-President of Engineering of Roblox, an online game platform.
Impromptu early morning testing session at http://t.co/2oW7VqwM. Thanks #ROBLOX community!

— Erik Cassel (@CasselErik) February 17, 2012
How rich is he, as of now? Erik Cassel Net Worth
At the time of his death, Erik Cassel's net worth was estimated at over $1 million, earned through his successful involvement in the gaming industry.
Early Life, Parents, Siblings, Nationality, Ethnicity, Educational Background
Erik Cassel never shared any details about his early years. It's believed that he spent his childhood in California, and that he was raised by his parents; however, there is no information about their names and professions.
It is also unknown whether he had siblings, or was an only child. He held American nationality and belonged to White Caucasian ethnic group. Regarding his education, Erik was a graduate of Cornell University in Ithaca, New York.
Career Beginnings
Right after his graduation in the late 1980s, Erik Cassel started to pursue his professional career and landed a job at the company Knowledge Revolution, founded by David and Greg Baszucki.
It was based on the distribution of Interactive Physics, a 2D simulated physics laboratory program originally written for Macintosh computers, for which he served as a Vice-President of Engineer. As a part of the company, in the early 1990s Erik also worked on its follow-up called Working Model, a mechanical design software. By the end of the decade, the company was acquired by MSC Software for $20 million, in which Erik and David obtained their senior positions.
Roblox
In 2004, Erik and David came up with an idea to establish their own company; they started to work on an early prototype of Roblox, an online game platform initially called DynaBlock, and later renamed. The same year, the duo founded Roblox Corporation, a video game developer located in San Diego, California; the game was officially released two years later, on 1 September.
As time passed Roblox became one of the fastest-growing private companies in the US, and Erik became known on the platform under the username 'erik.cassel'. He was active on his account, but actually rarely played video games, although he even had a Series 1 Roblox toy based on his character.
Appearance and Vital Statistics
Erik Cassel had short naturally blonde hair and blue eyes. Information about his height, weight, vital statistics, biceps size, and shoe size isn't available.
Personal Life, Death and Memorial
Erik Cassel kept his personal life under wraps. He never revealed if he was married or not, however, there is information in the media that his sons are active on their Roblox accounts under the usernames 'redustian' and 'stunshocker', so we assumed that he had at least two children, and was probably married.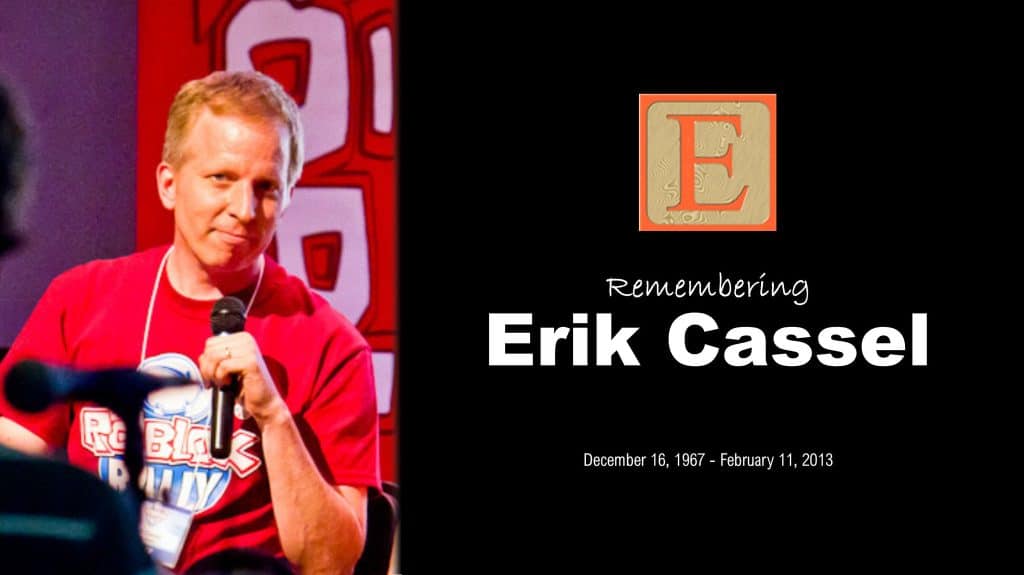 On 11 February 2013, the Roblox staff announced on the company's official Twitter account that Erik had passed away at the age of 45, after battling cancer for three years.
The next day, hundreds of users assembled in the Erik Cassel Memorial to mourn his death, with many of these people even dressing-up like his character, to pay tribute to him. A few days later, Roblox launched a T-shirt called 'Official Erik Shirt' and changed the name of the 'Well Worn Hat' to 'Erik Cassel's Hat'. The items were put on sale in the avatar shop.