• Abby Brammell is an American actress known for roles in "The Unit" (2006-2009) and "Bosch" (2020)
• She is married to artist Stefan Bishop and the two have a son
• She is active in film, TV, and stage performances
• She is an animal lover, loves to travel and read, and practices yoga and meditation
• Her net worth is estimated to be around $2 million
Who is Abby Brammell?
Abby Brammell is an American actress, who is perhaps still best known to the world as Tiffy Gerhardt in the TV series "The Unit" (2006-2009), and most recently as Heather Strout in the TV series "Bosch" (2020), among numerous other roles that she has secured during her career.
Where is Abby Brammell Now? What Is She Doing Today?
Abby is still active, performing as an actress on both stage and screen. In recent years, she featured in the film "JL Family Ranch 2" (2020), and in the short film "Hangry". She is now enjoying family life in Pasadena, California with her husband and their child.
Abby Brammell Wiki: Age, Childhood, and Education
Abigail Brammell was born on 19 March 1979 under the Pisces zodiac sign, in Kentucky, USA, to Jack Brammell and his wife Patty. Although born in Kentucky, Abby grew up in San Antonio, Texas, and went to Churchill High School from which she matriculated in 1997. She became interested in acting at the young age of six, and during her high school years, Abby was a member of the drama club, performing in a number of high school plays. After matriculating, she enrolled into Carnegie Mellon University's Drama school, from which she graduated in 2001.
Career Beginnings
Abby's professional career started in 2002, with the role of Darlene Prufrock in the TV mystery-crime drama series "Push, Nevada". The same year, she was Jade in the TV series "Fastlane", and also played Veronica Roberts in the TV series "Glory Days". She continued with television roles, portraying Claire in the TV series "Birds of Prey" in 2003, and the following year she was Mindy in the television movie "Revenge of the Middle-Aged Woman", and portrayed Persis in the TV action adventure-drama series "Star Trek: Enterprise".
She made her film debut as Bar-Back Chick in the film "The Last Run", then Abby appeared in the thriller-drama film "Sawtooth", also in 2004.
Rise to Prominence
In 2006, Abby was selected for the part of Tiffy Gerhardt in the TV action thriller-drama series "The Unit", starring alongside Dennis Haysbert, Regina Taylor, and Audrey Marie Anderson. This turned out to be one of her most popular roles, and helped her launch to prominence. While on the show, she didn't pursue other roles, until in 2009 featuring in the award-winning drama film "Like Dandelion Dust", starring Mira Sorvino, Barry Pepper and Cole Hauser.
She continued her career with guest-starring roles in such TV series as "Lie to Me" also in 2009, "Castle" and "NCIS" both in 2010, and "Criminal Minds" in 2011.
In 2012 she co-starred in the horror mystery-thriller film "Playdate", next to Marguerite Moreau and Richard Ruccolo. Next, she starred as the female lead Laurene Jobs in the biopic about Steve Jobs, simply entitled "Jobs", starring Ashton Kutcher, Josh Gad and Dermot Mulroney.
Following on from "Jobs", Abby appeared in several TV series as a guest-star, including "Longmire" (2014) and "Rizzoli & Isles" (2015), while in 2016 she was Helena in the TV series "Mad Dogs".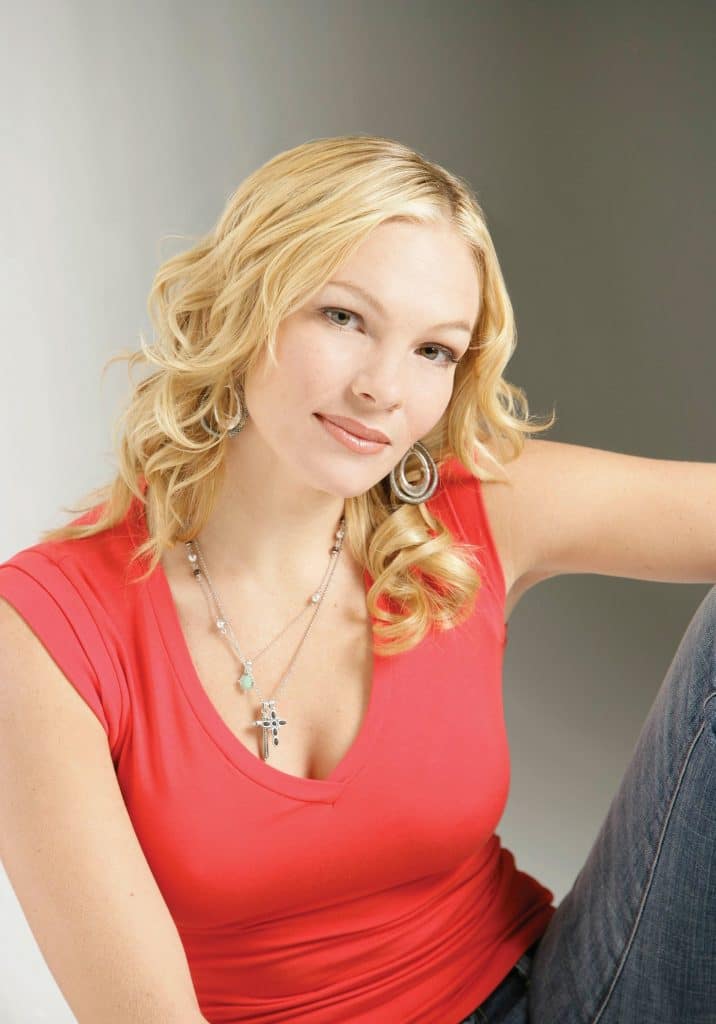 Two years later, Abby portrayed Elaine in the drama film "North Blvd", with Ed Ackerman, John Bain and Meredith Bechtel, and was also cast as Eva in the TV series "9-1-1". Arombby next played Betsy Sullivan in the TV series "Pearson", the spin-off series of "Suits", following the life and career of Jessica Pearson, starring Gina Torres as Jessica, then Bethany Joy Lenz, and Simon Kassianides. Furthermore, she joined the main cast of the TV series "Bosch", appearing in nine episodes of the Primetime Emmy Award-nominated series.
Personal Life, Dating, Marriage, Children
Abby Brammell was married to musician, singer/songwriter Jake La Botz from 2006 to 2008.
The two met in the early 2000s and married on the 27th May 2006, however, their marriage lasted only for two years, as Abby discovered that Jake was being unfaithful.
Soon after their divorce, Abby met artist Stefan Bishop and the two eventually married on the 22nd January 2010. Since then, the two have welcomed a son, Tru Brammell Bishop.
Net Worth
As of mid- 2021, Abby Brammell's net worth has been estimated to be around $2 million, earned through her successful career as an actress, during which she's appeared in more than 40 film and TV titles.
Appearance and Vital Statistics
This prominent actress has blonde hair and brown eyes. She stands at a height of 5ft 7ins (1.7m), weighs approximately 119lbs (54kgs), while her vital statistics are 33-24-35, bra size 38C.
Hobbies and Interests
Abby has several interests away from acting. Although she never said that she wanted to become a star actress when she was a child, she has become just that. Nevertheless, she has nurtured other talents, including singing, and often spends her free time singing for her own pleasure.
She is a huge animal lover, and has two pet dogs and a pet cat. She loves to travel and has visited a number of European countries, including England and Spain.
Although in her 40s, Abby, has maintained a slim figure by going to a gym several times each week. She also follows a strict diet, which includes no fast food and little to no sugar. She also practices yoga and meditates. Abby can be often seen in the parks, running and hiking, but also reading a good book – her favorite authors are Herman Hesse and Agatha Christie.