Joanna Barnes:
• Born in Boston, Massachusetts on 15 November 1934
• Retired actress, author and journalist
• Best known for her portrayal of Gloria Upson in the 1958 romantic comedy movie "Auntie Mame"
• Nominated for a Golden Globe Award for Most Promising Newcomer – Female for the same role
• Published one biographical book entitled "Starting from Scratch" and a few novels
• Net worth estimated at over $1 million
Who is Joanna Barnes?
Joanna Barnes was born in Boston, Massachusetts USA, on 15 November 1934 – her zodiac sign is Scorpio, and she holds American nationality. She's a retired actress, author and a journalist, with exactly 100 acting credits to her name; she's perhaps still known best for her portrayal of Gloria Upson in the 1958 romantic comedy movie "Auntie Mame". It was directed by Morton DaCosta, starred Rosalind Russell, Forrest Tucker and Coral Browne, and follows an orphan who has just begun living with his aunt. The movie won five of the 17 awards for which it was nominated, including six Oscar nominations.
Joanna retired from acting in 2000, and has since been focused on writing, and spending time with her family.
Early life and education
Joanna was raised in Boston alongside her sisters Judith and Alice, by their mother Alice Weston Murch, and their father John Pindar Barnes.
Growing up, Joanna was mostly focused on her education, and was the top of her class at Milton Academy. She excelled at poetry, while she also enjoyed writing short stories. Upon matriculating in 1952, Joanna enrolled at Smith College, and was a member of the sorority Phi Beta Kappa. She obtained her Bachelor's degree in 1956, majoring in English, and the college presented her with an award for her skills as a poet.
Joanna wrote for various magazines, and after researching about moviemaking for one of these, she chose to venture into the film industry.
Roles in TV series
Joanna made her debut TV series appearance in 1956, with her portrayal of Cymanthia, in the episode "The Regiment" of the adventure "Tales of the 77th Bengal Lancers", and the following years saw her appear in an episode or two of numerous series, including in the musical comedy "The Ford Television Theatre", the crime comedy "Playhouse 90", and the drama "Conflict".
It was in 1959 that she gained recognition, when cast to play Lola, one of the lead characters in the drama "21 Beacon Street". It also starred Dennis Morgan and James Maloney, and follows the lives of the private investigator Dennis Chase, and the members of his staff – Lola, Brian and Jim.
In the first half of the '60s, Joanna was cast to appear in an episode of over 20 series, winning no lead roles, until in 1965 she was cast to star as Katie O'Brien, in the drama "The Trials of O'Brien".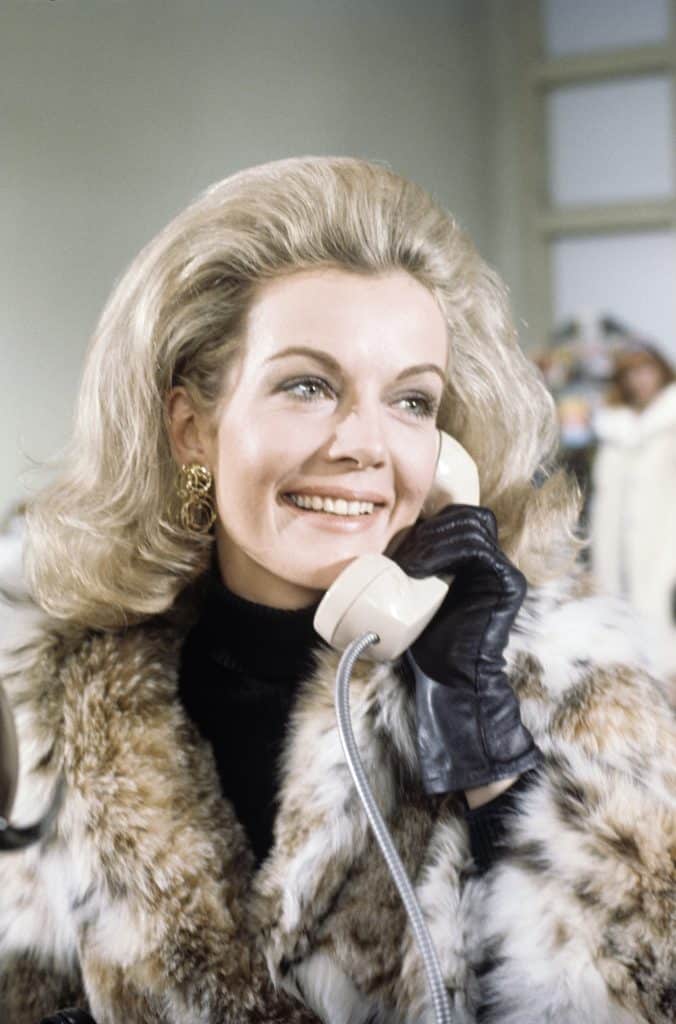 Created by Gene Wang, it also starred Peter Falk and Elaine Stritch, and follows the life of a defense lawyer from New York City; the series won one award, and was nominated for a Primetime Emmy. The remaining of the '60s saw her make a guest appearance in a number of series, such as the action crime drama "Mannix", the crime drama "Judd for the Defense", and the adventure science fiction "The Name of the Game".
Joanna's most notable performance in the '70s, was most likely her portrayal of three characters in three episodes of the adventure comedy "Fantasy Island". It was created by Gene Levitt, starred Ricardo Montalban, Herve Villechaize and Christopher Hewett, and follows Mr. Roarke who's running a mysterious resort island. The series was nominated for 10 awards, including seven Primetime Emmys.
Some of Joanna's most notable roles in the '80s were in the crime action adventure "Hart to Hart", the drama "Trapper John, M. D." and the mystery crime drama "Murder, She Wrote".
Two of her later roles in TV series' were in the 1989 episode "The Visiting Lecher" of the comedy drama "Cheers", and the 2000 episode "Then Came the Monthiversary" of the comedy "Then Came You".
Roles in movies
Joanna's debut film appearance was in the 1957 crime drama "The Garment Jungle", and the remainder of the '50s saw her appear in a couple of movies, such as the drama "No Time to Be Young", the adventure drama "Violent Road", and the biographical romantic drama "Too Much, Too Soon".
She starred as Jane Parker, in the 1959 romantic action adventure "Tarzan, the Ape Man", and the early '60s saw her play supporting characters in a couple of critically acclaimed movies, including in the biographical adventure drama "Spartacus" which won four Oscars, and the romantic family comedy "The Parent Trap", which was nominated for two Oscars. As she was mostly focused on winning roles in TV series, the remainder of the '60s saw Joanna appear in only a couple of movies, including the 1964 romantic fantasy comedy "Goodbye Charlie", the 1966 crime drama "Too Many Thieves", and the 1967 western "The War Wagon".
Three of Joanna's final roles in movies before retiring from acting, were in the 1975 crime comedy "I Wonder Who's Killing Her Now?", the 1983 drama "Secrets of a Mother and Daughter", and the 1998 adventure comedy drama "The Parent Trap", which won two of the nine awards for which it was nominated.
Other credits
She has been featured in a number of documentaries, including the 1986 movie "Mackendrick: The Man Who Walked Away", and the 1996 series "Biography".
Joanna received special thanks for the 2002 short documentary video "The Parent Trap: Caught in the Act".
She has made guest appearances in over 20 talk-shows, such as "Here's Hollywood", "The Jack Barry Show" and "The Virginia Graham Show".
Awards and nominations
In 1959, Joanna was nominated for a Golden Globe Award for Most Promising Newcomer – Female, for her performance in the movie "Auntie Mame".
Career as a writer
Joanna began working as a writer as soon as she obtained her college degree, and in a 1971  interview she gave to the columnist Dick Kleiner, Joanna said 'Writing is something you do yourself. With acting, if you win an Oscar or an Emmy, you have to thank everybody. If you write a book, it is completely your own'.
She's published one biographical book entitled "Starting from Scratch", and a few novels, such as "The Deceivers", "Pastora" and "Silverwood".
Love life and husband
Joanna has been married three times. On 30 April 1955, she exchanged vows with the non-celebrity Richard Edward Herndon, and the two divorced sometime later – Joanna hasn't shared the date of the divorce, nor the reason behind it.
On 24 June 1962, she married the American actor Lawrence Dobkin, who passed away on 28 October 2002. The two were together for five years before divorcing on 16 January 1967 – it's believed that Lawrence wanted children but Joanna didn't, which is what led to their divorce.
On 1 October 1980, Joanna exchanged vows with Jack Lionel Warner, and they were together until his death in 2012.
Joanna has also been in various relationships, with men such as G. David Schine, Gary Merrill and Brian Kelly. From 1970 to 1972, she dated Henry Kissinger, an American politician and diplomat, but it appears that she's been single since her third husband's death.
Hobbies and other interests
Joanna loved to travel while she was still an actress, and visited all of the US states, and been to various European and Asian countries, for both work and pleasure.
She's interested in politics, and has been a liberal Democrat since her early 20s.
Joanna's a lover of animals, and has had several pet dogs.
She's a philanthropist, and has worked with various charity organizations, mostly focused on working with those which aim to help underprivileged children, and war veterans.
Joanna has her own favorite actors and actresses, some of whom are the late Marlon Brandon, the late James Dean, and Meryl Streep – a couple of her favorite films include "Last Tango in Paris", "Rebel Without a Cause", and "Giant".
Age, height and net worth
Joanna's age is 86. She has long blonde hair and blue eyes, her height is 5ft 4ins (1.62m) and she weighs around 128lbs (58kgs).
As of June 2021, her net worth has been estimated at over $1 million.