• Benzino is a rapper, record producer, and urban media proprietor best known for being a cast member on "Love & Hip Hop: Atlanta."
• He was raised by his Puerto Rican father and German and Cape Verdean mother.
• He founded the rap group The Almighty RSO and the group Made Men.
• He also acted in the movies "Bloodline," "Hollywood Hearts," and "Turnt."
• He has an estimated net worth of $400,000.
Who is Benzino?
A controversial rapper, record producer, and urban media proprietor, Benzino is perhaps widely known best as one of the cast members in the reality TV series "Love & Hip Hop: Atlanta" from 2012 through 2014. He is also known as the former co-owner of the magazine The Source.
He formally resigned from his position after his feud with Eminem escalated. Benzino claimed that Eminem's popularity was ruining African-American and Latino rappers' chances for success. He believed that corporations are supporting Eminem, and so he was allowed to speak about meaningful topics, while other rappers must rap about materialistic things, such as cars, money, and mansions.
To find out more interesting facts about Benzino, keep on scrolling through this article.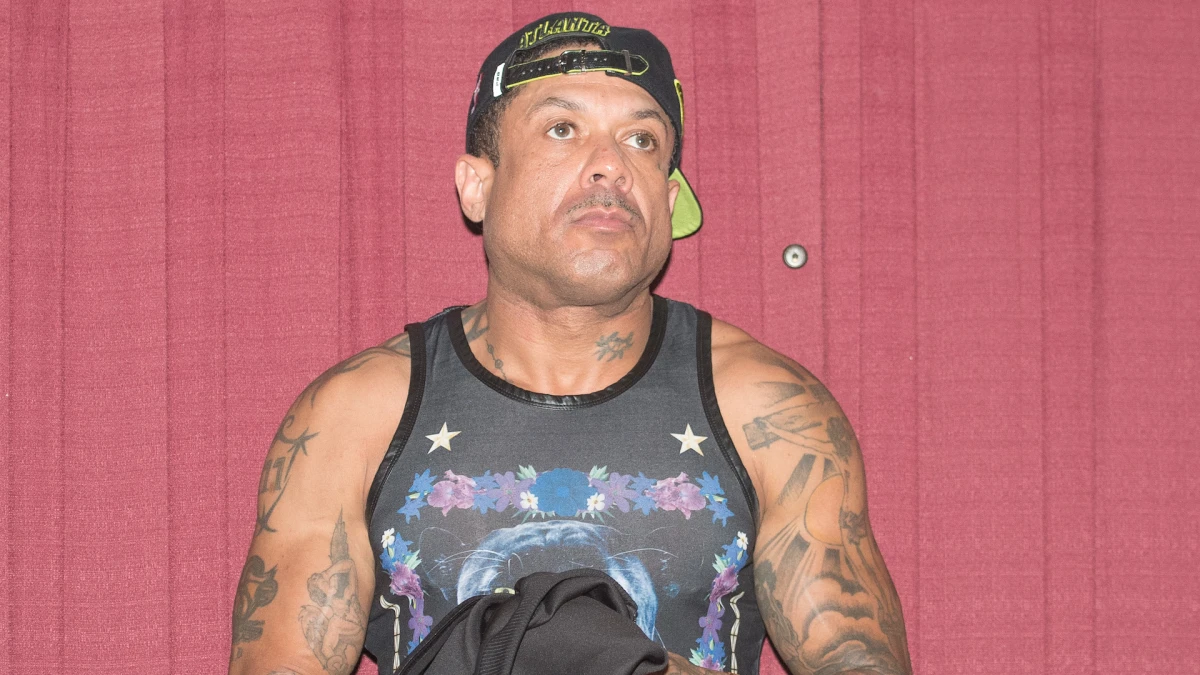 Early life, family, and education
Born Raymond Leon Scott, under the zodiac sign of Cancer on 18 July 1965, in Boston, Massachusetts USA, Benzino was raised by his Puerto Rican father Edward DeJesus, and his German and Cape Verdean mother Mary Scott, who passed away in 2014.
On the day of her funeral, Benzino was shot, luckily the bullets hit his shoulder, so the injuries were non-life-threatening. Benzino's nephew, Gai Scott, was arrested and charged with assault with intent to murder. Benzino's relatives said that gunfire erupted following an argument Benzino had with Gai.
When it comes to Benzino's childhood days, he hasn't shared much information regarding his upbringing, however, it's known that he was raised alongside his two sisters Maureen and Anitta.
Speaking of his educational background, Benzino attended a local high school, and upon matriculating in 1983, he enrolled at Harvard University, where he met Dave Mays, with whom he co-founded The Source. It isn't clear if Benzino graduated.
Rap music career
Although his career as a rapper has been relatively unsuccessful, Benzino is known as the founder of the rap group The Almighty RSO, alongside Marco Antonio Ennis and Tony Rhome. The group's first single, "We're Notorious" was released in 1988, and it was quite successful. In 1994, the group released the Extended Play (EP) "Revenge of da Badd Boyz", which caused considerable speculation, especially the controversial song "One in the Chamba", inspired by the alleged murder of youths by Boston Police.
Gm. May your day be filled with peace and blessings. pic.twitter.com/ZwkdfOayu1

— Benzino (@IAMBENZINO) December 1, 2022
Their debut album "Doomsday: Forever RSO" was released in 1996, featuring collaborative songs with Faith Evans and Mobb Deep.
Two years later, Benzino and Ennis founded the group called Made Men, and released their only album "Classic Limited Edition" in August 1999. It charted at number 66 on the Billboard 200; they also made guest appearances on albums by other artists, but that was all.
Acting career
Benzino made his acting debut as Kilo in the 2005 movie "Bloodline", starring opposite Karina Bonnefil and Tanorris Blash in this drama about two brothers who have chosen opposite sides of the law.
In 2014, he guest starred as Dominic in an episode of the series "Single Ladies". Next, Benzino was seen in the 2016 TV movie "Hollywood Hearts", also starring Emmaline and Patrice Fisher, which although having no nominations, was well-rated by the audience (7.8/10). It was a story about a music artist who struggles to balance his romantic relationship and his life as a superstar.
Benzino also starred oposite Marian Berry and Torrei Hart in the 2020 drama "Turnt".
Where is he now?
Benzino appears to have tried his hand as a boxer, after his less-than-successful career as a rapper. Benzino appeared in the short reality TV series "Celebrity Boxing Miami Press Conference" in May 2022. He fought Razor Rizzotti in "Celebrity Boxing Miami Pay Per View" in June 2022.
When it comes to his acting career, he will be seen in the upcoming films "Street Runners" and "The Best Day of Your Life", which are currently in development.
Love life and relationships, kids, daughter
Benzino was the subject of various rumors about his sexual orientation and his love life. It's known that he was in a relationship with Karlie Redd, an American actress, model and rapper, who was featured in the reality show "Love & Hip Hop: Atlanta", where the two met. He proposed to her, however, he took the ring back before the final episode of the first season.
The second season was marked by his fight with Joseline Hernandez, after he implied that they had sex through his diss track "Smashed Da Homie".
In the third season of the show, Benzino began dating Althea Hart, a singer from Georgia; Benzino proposed to her, and she said 'yes'. Their son was born in November 2015, however, they broke off their engagement soon afterwards.
Besides his and Althea's son, Benzino has five more children, and although he hasn't shared their names, one of his daughters is quite famous.
Coi Leray followed in his footsteps and became a rapper; many critics are saying that she's much more successful than her father was. She has over 6.5 million followers on Instagram, and her official YouTube channel has been subscribed by over 1.5 million people, while all of her music videos combined have amassed over 400 million views. Coi has collaborated with artists such as Nicki Minaj and Lil Durk.
In April 2022, transgender model Shauna Brooks announced that she's tired of hiding her and Benzino's relationship, so she posted a few recordings online to, as she said, 'highlight' her relationship with him. Benzino hasn't commented on her statement.
Age, height, and net worth
Benzino is 57 years old. He has black hair and dark brown eyes, and if you have wondered how tall he is, Benzino stands at the height of 5ft 2ins (1.6m), and weighs around 175lbs (80kgs).
You might think that this self-titled hip-hop mogul has made a lot of money as he's pursued three careers, but the truth is that he isn't a millionaire. According to sources, as of late 2022, Benzino's net worth has been estimated to be slightly more than $400,000.