• Gena O'Kelly was born in California in 1963
• She was a model, deputy sheriff and actress
• She is married to martial artist, actor and film producer, Chuck Norris
• They have two children from their marriage and four from previous relationships
• She enjoys watching movies, luxurious fashion brands and Italian food.
Do you know Gena O'Kelly?
For fans of karate and martial arts in general, Chuck Norris has become a household name. Even though her husband's popularity crosses international borders and languages, the celebrity life has not influenced Gena O'Kelly away from her modest ways. So who is she?
Her childhood and early life
She was born Gena O'Kelley on 10 August 1963, in California, USA – she's an American and a Caucasian. Her father, Alan Gordon O'Kelley was a security person at a winery, while her mother, Annette M. O'Kelly, stayed at home to care for their family. Gena and her three siblings – Elizabeth, Maureen and Eric – were brought up in a conservative middle-class Christian home.
Gena lost her father in 2008, but hasn't released details surrounding his demise or her siblings' professional life.
Gena's education
Not much is known about her education, but she is said to have attended a local high school; it's still uncertain if she attended college or has a degree.
Her Professional life
She started as a model quite early, after her gorgeous stature drew the attention of a model scout who introduced her to a successful career strutting the catwalks for several major brands even though she still stuck to her modest lifestyle. She later decided to leave the fashion scene altogether, and try other career options including becoming a deputy sheriff.
Aside from modelling, Gena has made appearances on shows such as 'Yes Dear', and 'Hannity'.
Her marriage, children and family life
Gena met her future husband, Chuck, in 1997, when he was on a lunch date with another lady; she was involved in a movie production in the same restaurant that the actor was in. Chuck was captivated by her and invited her over to see him. Carlos Ray 'Chuck' Norris came into the world on 10 March 1940 under the Pisces sun sign, in Ryan, Oklahoma USA.
He has American nationality and mixed ancestry of Cherokee and Irish origins. His mother was Wilma Scarberry whose profession is unknown but his father, Ray Dee Norris was a soldier in World War II, who later became a driver. Chuck's was raised along with his two younger brothers, Aaron and Wieland by their mother in California, after his parents divorced. He stated that his father's alcoholism and embarrassing behaviour largely contributed to his own very reserved character.
In 1958, he became a member of the US Air Force, and while he was on a mission to South Korea, he developed an interest in martial arts. After his service in the Air Force came to an end, Chuck pursued his interest in martial arts, and entered several competitions and won some awards including the All-American Karate Championship held at the prestigious Madison Square Garden.
He also achieved a black belt in judo and jiu-jitsu. He soon formed his own technique named 'Chun Kuk Do', and became a celebrity martial arts trainer.
He later carried his art into Hollywood, and has since featured in over 40 movies, notable of which was his appearance in the series "Walker, Texas Ranger" as Cordell Walker. The series ran from 1993 till 2001, and was a big hit. Other blockbusters include "Good Guys Wear Black", "A Force of One", "An Eye for an Eye", "Delta Force 1 and 2", and Sylvester Stallone's "The Expendables 2″, among many others. Chuck's movies have been so impactful that decades later, in 2005, his characters in movies resurfaced and the actor was used as a 'meme' for several jokes and skits on social media.
Before meeting Gena, the martial artist married his high school sweetheart, Diane Holochek when he was 18 and she was 17 years old.
Their marriage lasted for about 30 years before they went their separate ways in 1988 – rumours surrounding their divorce claim that it was due to infidelity on the actor's part. His first marriage produced two boys: Eric and Mike, he also has a daughter, Dina, from a past relationship, who he claimed not to have met until she was 26 years old.
Gena was also formerly married, to Gordon Hinschberger, and they had two children named Kelly and Tim. Being the private person, Gena is yet to disclose how long their marriage lasted, and what led to their divorce.
Gena and Chuck later got to know each other, and although there's a 23-year age gap between them, their friendship culminated in a relationship. After about a year of dating, they tied the knot on 28 November 1998, and have apparently been happily married ever since.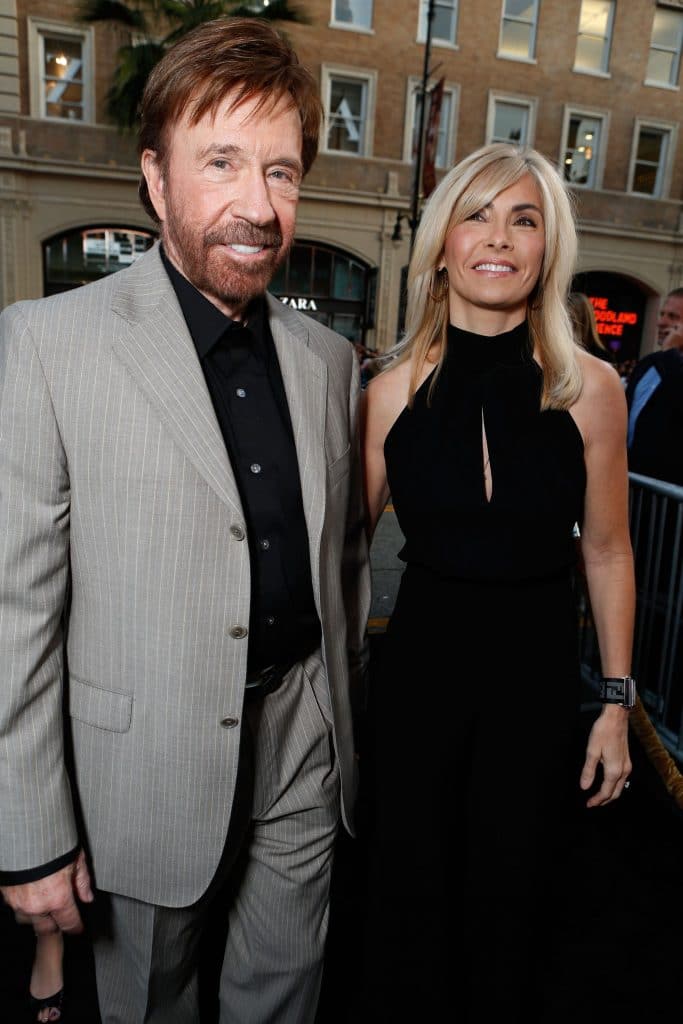 Their marriage produced twins, Danilee and Dakota Norris, who came into the world in 2001 when their father was already 61 and their mother almost 40. They were born prematurely, and had to remain in intensive care for some time before they could go home. The twins have lived a healthy life since, with Danilee acting alongside her father in the movie 'Walker, Texas Ranger: Trial by Fire'. Both have also shown an interest in martial arts like their father, and already hold black belts.
Gena and her family are very religious and she even appeared in the Christian show 'Praise the Lord' along with her husband. They also have a common interest in health and wellness, with Gena making an appearance on her husband's health show 'Total Gym'. The couple enjoys a healthy life together in their home in Navasota, Texas, with their children and relatives.
Controversies around her health
Her husband stated that he put his acting career on hold to tend to his ailing wife who had been injected with toxic substances during the management of her arthritis. Gena was full of life until she became ill in 2013, and was diagnosed with rheumatoid arthritis. She stated that after she received the dye injections used to investigate her condition, she started to feel a burning sensation slowly spreading all through her body. Chuck filed a lawsuit against the pharmaceutical companies, claiming that the complications of kidney issues and nerve ache stem from the shots she received, and claimed damages up to the tune of $10 million.
Awards and recognition
Gena, though hardworking, hasn't received any awards or formal recognition, however her husband, apart from having several black belts and karate championships, has also been rewarded for his brilliant performances as an actor.
He was named the Action Star of the Year in 1982; International Box Office Star of the Year both awarded at the ShoWest Convention, and also won the Inspirational Acting in a Drama which was part of the Grace Prize Award. Chuck also has a star on the Hollywood Walk of Fame, and a nomination by TV Guide Award for Favourite Actor in a Drama.
Gena's Hobbies and Favourites
She is no stranger to Hollywood, and enjoys watching movies starring her favourite actors Leonardo DiCaprio and Jennifer Lawrence. When it comes to fashion, Gena doesn't hold back on spending on her favourite brands Louis Vuitton, Chanel and Gucci. Her favourite season is summer when she can flaunt her fashionable collections; she loves the colour red, and also Italian food.
Her physical characteristics
The former model has still retained her beautiful features, with a height of 5ft 8ins (1.73m) and weighing about 140lbs (64kgs). She has long blonde hair, brown eyes and is said to wear a US shoe size 8.
Her Net worth
Details of Gena's net worth have not been made public especially since she has been off the fashion scene for quite some time. Nonetheless, top models in America are said to earn about $500,000 annually, which places her net worth at about $1,000,000. Her husband, however, is said to have a reputed net worth of over $70 million as of early 2021. Gena enjoys her husband's fortune and lives a lavish lifestyle.
Where can you find her?
Gena maintained a low profile even before she became the wife of a megastar, and has continued to do so. She is not active on social media, and no known account has been linked to her, but this hasn't hindered her husband from posting pictures of her and their wedding anniversaries for his over 200,000 followers on Instagram through his account @chucknorris.