• David Farrington Thornton was born in Cheraw, South Carolina in 1953 and holds American nationality.
• His most notable performance was in the 1997 action crime comedy movie "Home Alone 3".
• He has appeared in over 70 movies and TV series and currently has two upcoming movies.
• He is married to famous American singer and actress Cyndi Lauper and they have a son together.
• As of June 2021, his net worth is estimated to be over $8 million.
Who is David Thornton?
David Farrington Thornton was born in Cheraw, South Carolina USA, on 4 May 1953 – his zodiac sign is Taurus, and he holds American nationality. He's an actor, who's perhaps still known best for his portrayal of Early Unger in the 1997 action crime comedy movie "Home Alone 3". Written by John Hughes, directed by Raja Gosnell, and starring Alex D. Linz, Olek Krupa and Rya Kihlstedt, the film follows the eight-year-old boy Alex Pruitt, who's trying to stop the international spies from stealing his toy car, which has a very special computer chip in it. It was nominated for three awards.
David's still quite active in the film industry, and is currently shooting for two upcoming movies: the action crime drama "God Is a Bullet", and the comedy "Off by Heart".
Early life and education
David was raised in Cheraw as an only child, by his father Robert Donald Thornton who was a professor at Harvard University, teaching English for 45 years, and his mother Grace Ellen, who was a housewife.
He became interested in acting while attending a local high school, and appeared in various plays performed at the school, as well as at a local theatre. David was urged by his parents to attend college, which is why upon matriculating in 1971, he enrolled at Hamilton College. He graduated with a Bachelor's degree in 1974, and then studied acting at both Yale Drama School, and Lee Strasberg's Actors' Studio.
David was appearing solely in plays until the early '80s, when he launched his career on TV.
Roles in movies
David has appeared in over 70 movies and TV series, and we're about to mention more of his most notable performances.
He made his debut film appearance in 1983, with his portrayal of Marc in the drama "Sessions", and a couple of his following roles were in the 1988 action drama "Diamond Run", the 1990 crime thriller drama "Men of Respect", and the 1993 drama "Blind Spot". He gained recognition in 1995, when he appeared in the comedy drama "Jeffrey", which starred Steven Weber and Michael T. Weiss. It follows the life of a gay actor, and the movie won one of the five awards for which it was nominated.
The second half of the '90s saw David appear in over 10 movies, with the most popular amongst these being the 1998 drama "A Civil Action".
John Travolta and Robert Duvall played the lead characters in this movie, which follows a lawyer who has taken on a case against a major company, accused of poisoning the water which has led many people to be diagnosed with leukemia. It won five and was nominated for 10 other awards, including two Oscar nominations.
A couple of David's most notable performances in the 2000s were in the 2004 romantic drama "The Notebook", the 2005 romantic musical comedy "Romance & Cigarettes", and the 2006 biographical crime drama "Alpha Dog".
In 2014, he was cast to play Nick, in the romantic comedy "The Other Woman", written by Melissa K. Stack, and directed by Nick Cassavetes. It starred Cameron Diaz, Leslie Mann and Kate Upton, and follows Carly, who has just learned that her boyfriend's actually married.
David's most recent movie role has been his portrayal of Aldo, in the 2020 drama "Darcy".
Roles in TV series
David made his debut TV series appearance in 1985, with his portrayal of Lile in the episode "Rites of Passage" of the action crime drama "Miami Vice". The following years saw him appear in an episode of various series, such as the fantasy comedy drama "Tales from the Darkside", the mystery crime drama "Crime Story", and the romantic comedy drama "American Playhouse".
Between 1996 and 2005, David played various characters in the mystery crime drama "Law & Order". The series was created by Dick Wolf, starred Jerry Orbach, Jesse L. Martin and Dennis Farina, and tells the story of various crimes committed in the US. It aired from 1990 to 2010, and won 47 awards, including six Primetime Emmys, while it was nominated for 203 other awards.
David also played various characters in the mystery crime drama "Law & Order: Special Victims Unit", between 2003 and 2010.
His three most recent TV series roles have been in the 2016 episode "A Study in Charlotte" of the mystery crime drama "Elementary", three episodes of the mystery crime drama "Homeland" in 2017, and the 2020 episode "In Dreams Begin Responsibilities" of the drama "Tommy".
Other credits
He sang the song "Prisoner of Love" in the 2005 movie "Romance & Cigarettes", and the same year saw him receive special thanks, for the film "Cake".
David featured in the 2005 short documentary film "All in the Extended Family: Nick Cassavetes Profile", and in the 2021 documentary series "A Time to Kill".
Awards and nominations
David has won two awards: a 2009 Fort Lauderdale International Film Festival Jury Award for Best Actor In an American Indie, for his performance in the comedy "Here and There" (original "Tamo i Ovde"), and a 2011 Breckenridge Festival of Film Best of the Fest Award for Ensemble Cast, for his and his colleagues' performance in the romantic comedy "Trophy Kids".
Love life and relationships
David met the famous American singer and actress Cyndi Lauper in 1990, when they were shooting together for the movie "Off and Running". The two fell in love quite quickly, and after less than two years of being together, on 24 November 1991 they exchanged vows in front of their closest friends and family members.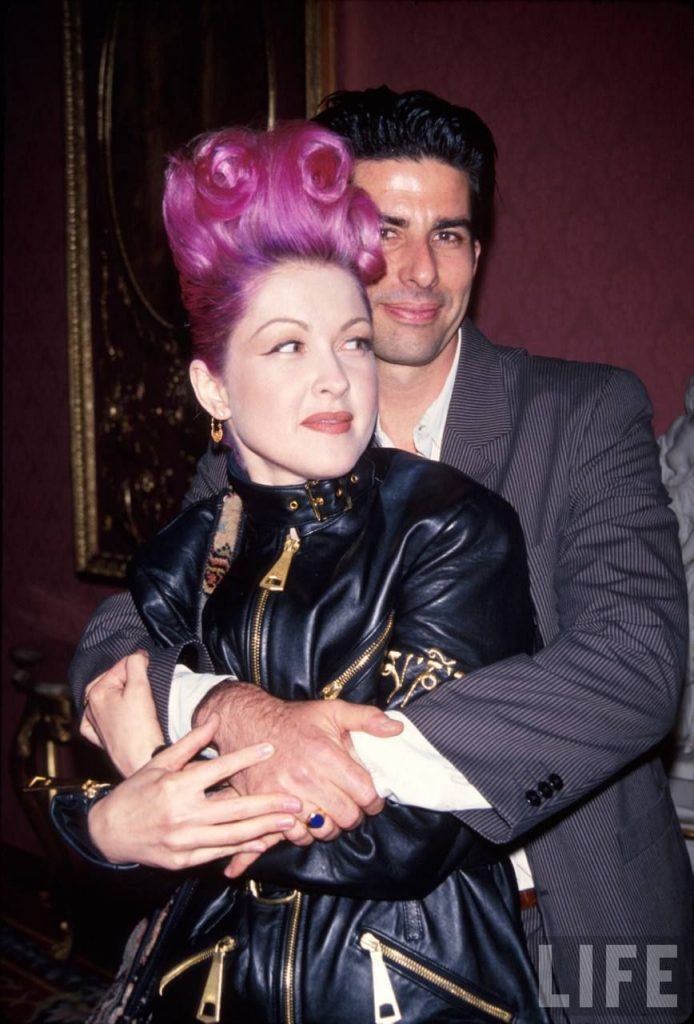 David and Cyndi initially wanted to focus on their careers, which is why it took them six years to become parents; on 19 November 1997, Cyndi gave birth to their son Declyn Wallace Thornton.
David hasn't spoken of any other women whom he had perhaps dated before meeting Cyndi, while it's known that she was in a relationship with the film producer David Wolff, from 1982 to 1988.
As of June 2021, David's married to Cyndi Lauper, and they have a son together.
Hobbies and other interests
David's been passionate about travelling since the day he launched his acting career, and it has taken him all around the world. He has been to nearly all the US states, and to various European and Asian countries, with his dream travel destination still being Miami in Florida.
He loves to listen to music, and his wife is amongst his favorite three singers, with the other two being Frank Sinatra and Louis Armstrong.
David's a philanthropist, and has donated money to various charity organizations, mostly to those which aim to improve the quality of life for underprivileged children.
He has his own favorite actors and actresses, some of whom are Robert De Niro, the late Heath Ledger and Julia Roberts. A couple of David's favorite movies are "Scent of a Woman", "The Dark Knight" and "The Runaway Bride".
Age, height and net worth
David's age is 68. He has short brown hair and brown eyes, his height is 6ft 4ins (1.93m) and he weighs around 185lbs (84kgs).
As of June 2021, his net worth has been estimated at over $8 million, while his wife Cyndi's wealth is reputedly over $50 million.