Demetria Obilor:
• American journalist and TV personality
• Born in Kansas City, Missouri in 1991
• Mixed ethnicity of Nigerian, German-Lithuanian-Russian
• Worked for WFAA in Dallas as a traffic reporter
• Active on social media with over 1 million followers on Instagram and 170,000 on Twitter
Who is Demteria Obilor?
Demetria Obilor is an American journalist and TV personality, perhaps best recognized for her work on the ABC-affiliated television station, WFAA.  She was born on 29 March 1991 in Kansas City, Missouri, USA; her Zodiac sign is Aries, she holds American nationality, and is of mixed ethnicity.
Early Life, Family, and Education
Demetria spent most of her childhood in Kansas with three brothers Uzoma, Ikkena, and Kelechi, with whom she shares a very close bond. She hasn't disclosed the names of her parents, but it's known that her father is from Nigeria and her mother is a mix of German-Lithuanian-Russian ethnicity.
I just do me. On air, off air 🤷🏽‍♀️
It is what it is. More examples of what I do on TV and it ain't just traffic 😂💯#news #tv #vegas #dallas #kc pic.twitter.com/F2QNQyHUWr

— Demetria Obilor (@DemetriaObilor) August 15, 2018
The whole family moved to Las Vegas in 2005, but determined to get her degree, Demetria returned to her hometown and enrolled at the Johnson County Community College, transferring a year later to the University of Kansas. In 2012 she obtained her bachelor's degree in Science and Broadcast Journalism.
Career
Even during her college days, Demetria was very active as a journalist "in the making". One of her first jobs was at the college station KUHJ-TV as an off-screen writer and graphics creator. In 2011 she landed a job at the NBC affiliate station, KSHB-TV in Kansas City, continuing after graduation, and later was promoted to a traffic anchor, compiling and making reports on important traffic information.
Soon she began her on-screen career as a journalist, and in 2014 she went to work as a reporter at the NBC affiliate station KLAS-TV in Las Vegas. She also had a morning segment called "Trending Now" which she hosted and produced, and another segment "What's driving you crazy". Besides working as a traffic reporter, she did some jobs such as modeling, participating in the Las Vegas Container Park Fashion Show, and also winning a People's Choice award. Demetria's likeability and vivacious charm definitely brought additional viewers' attention to her station's segments.
After leaving KLAS TV in 2017, she worked for WFAA situated in Dallas, as a traffic reporter, and had her morning segment called "Day Break".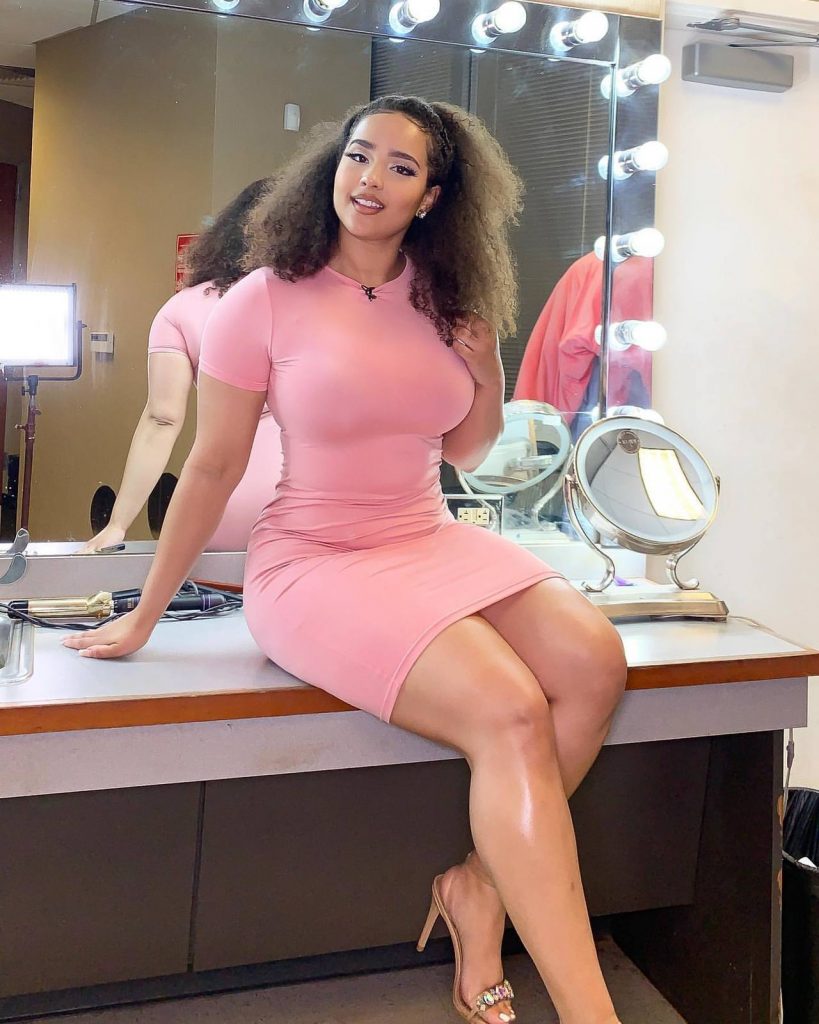 She also worked as a host on another social media segment, "Speed Feed". Reportedly she was being paid $78,000 for her work as a traffic reporter. In October 2019, there was an announcement that Demetria would be leaving WFAA, followed by a video posted on WFAA's YouTube channel entitled "WFAA says Goodbye to Demetria Obilor". The video sums up her best appearances and quotes, but it doesn't disclose the reason why she left WFAA, however, she tweeted that she is in pursuit of other opportunities, without disclosing any other information.
Personal life
Surprisingly there isn't much information about her personal life and dating prospects. It's known that she isn't married, and it appears that she isn't dating anyone at the moment.
Also, her dating history is a mystery considering that she has never been linked to anyone in particular, nor has she ever posted a photo of her love interest. There is a photo on her Instagram with Chance the rapper after the ordeal with the viral post, which gave many false ideas that something might be happening with the two, but nothing was ever disclosed.
She is a TV personality and hence very active on social media. Her Instagram account has over a million followers, which she uses to draw attention to many issues in our society, including body image and the everlasting issue of racism. One of the popular quotes is: "I don't care if a black woman wants to wear her hair straight or in braids.
You don't get to say what's professional based on your white standard of beauty." She has been very vocal about the hypocrisy related to police brutality, which is disproportionate in black communities, political and racial issues revolving around the protests and demonstrations. Demetria is definitely not afraid to speak her mind and point to some far-reaching topics and issues.
Enjoying brand affiliation, she often posts photos of herself training at the gym, trying out nutribullet, food, etc.
She takes a lot of pride in her fashion choices and flaunts her curvy body hugged by Marciano of Fashionova dresses.
Even though it is not certain whether she's affiliated or sponsored by those brands, she is known to make posts with tags, often praising the dresses and their style. She is also very popular on Twitter, which counts almost 170,00 followers. As with Instagram, most of her posts on Twitter are pointing out racial issues, her idols, TV segments with an occasional meme, or a funny post. Given her quirky personality and honesty whether in traffic reports or social segments on TV stations, it is undoubted that she has a huge following for good reason.
Viral Facebook Post
Given that Demetria is a public persona who works on TV, she's an easy target for people to make comments about her appearance, fashion choices, race, etc.
In 2017, the woman named Jan Shed wrote on Facebook "Has anyone seen Channel's new morning traffic reporter? Her name is Demetria Obilor and she's a size 16/18 woman in a size 6 dress and she looks ridiculous. I understand that when I watch I am going to get biased reporting and political correctness but clearly they have taken complete level of leave of their senses. I am not going to watch Channel 8 anymore." Revolted by the level of ignorance and insensitivity, Demetria posted a video saying "This is the way I am built, this is the way I was born, I am not going anywhere." The video went viral after Chance the rapper tweeted about it, prompting many to comment and share their opinion. News organizations around the world wrote about Demetria and her brave endeavor, facing body shamers. Many women tagged along to praise her for standing up to haters expressing support and appreciation for the encouragement she has provided to many other women who don't fit the idea of a " perfect woman's body".
Some of Demetria supporters wrote: "Jan is JEALOUS! I WISH I was as SEXXY as Demetria,", "That dress was literally made for her." Unfortunately, criticizing others through their appearance is not a novelty. We live in a society with imposed values and ideals of what beauty should be. Beauty is not wearing a size 0 dress or having the flattest tummy. As it was said, "Beauty comes in all sizes and shapes", and it is refreshing and notable that the popular TV reporter has stood up against the trolls and brought attention to this rising issue in our society. In an interview about her viral post for WFAA, she said: "This is a huge issue, and you know I work on TV, people can see me and you can pick me apart. I can take it if it puts a spotlight on this issue…"
Physical stats and Hobbies
Demitria is 5ft 4ins (163cm) tall and weighs around 135lbs (62kgs), with vital statistics of 38-26-42. Her hair is brown and curly, while her face is adorned with a pair of brown eyes. She enjoys traveling, reading books, listening to music. For many out there, this will be a surprise, but Demetria is also a talented musician- she plays the flute.
Would you like to know her net worth?
Her estimated net worth is around $200,000 as of early 2021, amassed through her career as a TV reporter and journalist, which is expected to rise, given her popular social media presence. Instagram influencers and TV personalities are known to gather hefty sums for affiliate posts and promotions on their accounts.