• George Hamilton is an American actor known for his roles in films such as "Crime & Punishment" (1959) and "By Love Possessed" (1961).
• He is also known for his work in television commercials for KFC.
• Hamilton is still active in show business, most recently appearing in the TV series "American Housewife" in 2019.
• He is currently working on the upcoming action film "All Terrain" set to premiere in 202•
• His net worth is estimated at $20 million.
Who is George Hamilton?
George is an American actor, perhaps still best known as Robert in the film "Crime & Punishment" (1959), and as Warren Winner in the film "By Love Possessed" (1961). Moreover, he's known for his perpetual suntan and as the Extra Crispy Colonel in television commercials for the KFC brand.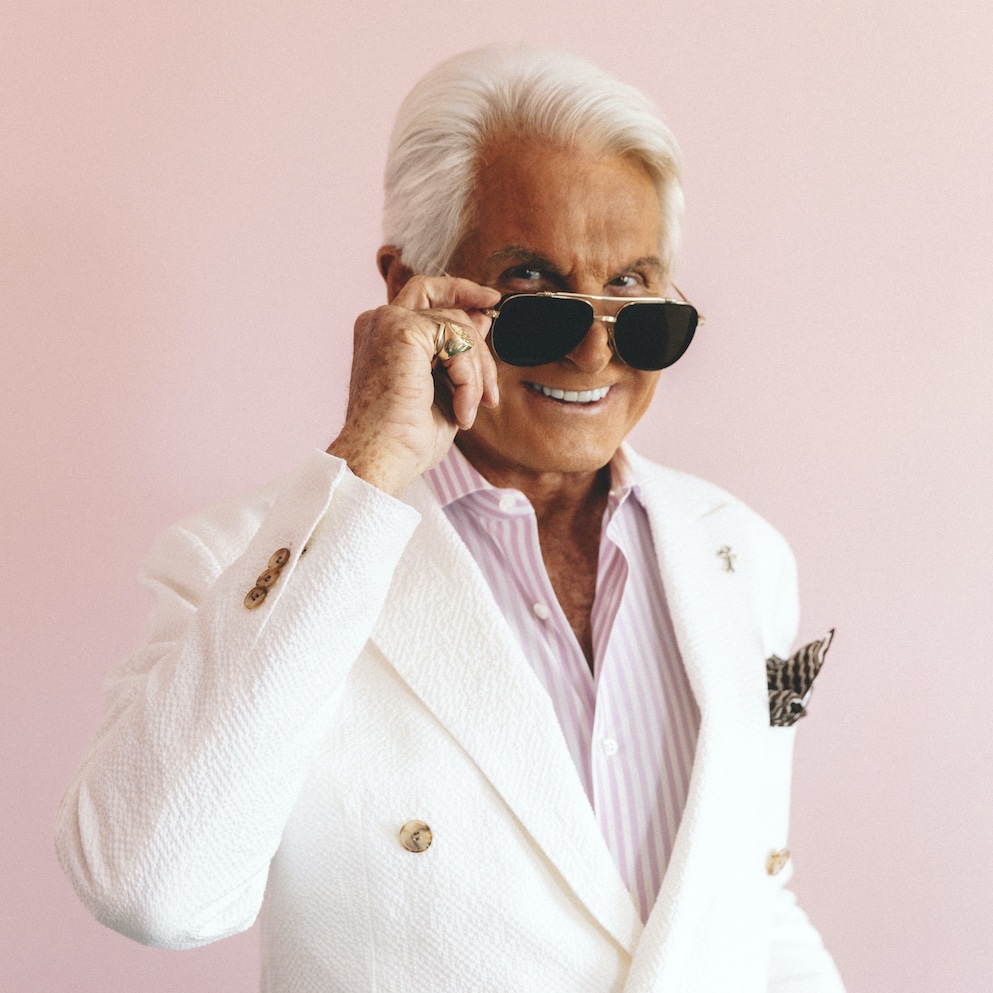 Where is George Hamilton Now?
Although he is in his 80s, George is still active in show business – his latest on-screen appearance was in the TV series "American Housewife" as Spencer Blitz in 2019. However, he's currently working on the upcoming action film "All Terrain", which tells a story of a secret organization that creates enhanced soldiers to combat one of the earliest soldiers that has gone rogue. The film is set to premiere sometime in 2023, and is being directed by Ross Otterman, while it will star Rett Terrell, Jennifer Rader and Kristi Lopez.
George Hamilton Wiki: Age, Childhood, and Education
George Hamilton was born on 12 August 1939, in Memphis, Tennessee, USA, the son of George 'Spike' Hamilton, a bandleader, and his wife, Ann Stevens. His parents divorced and remarried several times, so he had two stepfathers, Carleton Hunt and Jesse Spalding, while his stepmother was June Howard. According to him, he had an intimate relationship with his stepmother at only 12 years old.
He went to Hackley School in Tarrytown, New York, from which he matriculated in 1957.
Career Beginnings
George made his acting debut in 1958, in the role of Krishna Vernoy, an Indian, in the TV mini-series "The Veil". The same year, he appeared in the Primetime Emmy Award-nominated TV western series "The Adventures of Rin Tin Tin".
The following year, Hamilton starred in the drama film "Crime & Punishment, USA", about a law student who kills a pawnbroker, and then tries to outsmart the detective on the case; the film was based on the novel by Fyodor Dostoevsky, and earned George his first BAFTA nomination, and won him the Golden Globe Award in the category for Most Promising Newcomer.
He started the '60s pretty successfully – he first co-starred with Robert Wagner and Natalie Wood in the romantic drama film "All the Fine Young Cannibals", then starred as Theron Hunnicutt in the BAFTA-nominated romantic drama movie "Home from the Hill", a dramatized story of the influential Hunnicutt family set in Texas during the late 1950s.
Rise to Stardom
In 1961, he starred in John Sturges's drama film "By Love Possessed", alongside Lana Turner, Jason Robards and Efrem Zimbalist Jr., while in 1962, he starred in the romantic drama film "Light in the Piazza", which earned him his second BAFTA-nomination.
George starred in a number of successful projects throughout the '60s; in 1963 he played Cpl. Theodore Trower in the BAFTA-nominated war-drama film "The Victors", co-starring Albert Finney and Vince Edwards. The following year, he starred in the romantic adventure-comedy film "Viva Maria!", while in 1967, he was the lead star in the crime drama film "Jack of Diamonds", which follows a cat burglar who accepts an invitation from a lesser criminal to rob an impenetrable vault of several famous jewels.
Before the decade ended, he secured the role of Duncan Carlyle in the TV drama series "The Survivors", starring next to Lana Turner and Kevin McCarthy.
In 1971, George portrayed the legendary motorcycle daredevil Evel Knievel in the biopic of the same name, which focuses on his life and events just before the big jump. Four years later, George was in the horror movie "The Dead Don't Die", portraying Don Drake and co-starring Linda Cristal, Ralph Meeker and Joan Blondell.
The same year, George co-starred in the Academy Award-nominated romantic drama film "Once Is Not Enough", with Kirk Douglas, Alexis Smith and David Janssen as the main stars in the film, based on Jacqueline Susann's novel, which follows a young woman who falls in love with an older man.
After a few mediocre years, George returned to glory with the role of Count Dracula in the award-winning horror-comedy spoof "Love at First Bite" (1979), in which the legendary vampire moves to New York City to find his bride, as he was forced away from his castle in Transylvania. Stan Dragoti was credited as the director, while George's co-star is Susan Saint James.
George Hamilton & Arte Johnson in"Love at First Bite" (1979). Like Candice Bergen, Leslie Nielsen, and, to a degree, Brooke Shields, William Shatner, & Raquel Welch– Hamilton rejuvenated a flagging career by revealing a talent for comedy. pic.twitter.com/jBj850FoUq

— Ken Anderson 🏳️‍🌈🎞🎼🇺🇦 (@XanaduFitness) December 6, 2018
Continued Success
George began the '80s with the lead role in the comedy spoof of the story of legendary swordsman Zorro – entitled "Zorro: The Gay Blade", the film follows Don Diego de la Vega, Zorro's son, and his gay twin brother, Ramon de la Vega, also known as Bunny Wigglesworth. George earned a Golden Globe Award nomination in the category for Best Actor in a Motion Picture – Comedy or Musical.
Then in 1985, he starred in the television movie "Two Fathers' Justice", co-starring Robert Conrad and Brooke Bundy, and portrayed Joel Abrigore in the Primetime Emmy Award-winning soap opera "Dynasty", from 1985 to 1986.
Before the end of the '80s, George appeared in the TV comedy series "Spies" (1987).
The '90s
George began the '90s with the role of B.J. Harrison in the Academy Award-nominated crime-drama film "The Godfather III", starring Al Pacino, Diane Keaton and Andy Garcia.
Two years later, he appeared in the comedy crime-mystery film "Once Upon a Crime…" with John Candy, Jim Belushi and Cybill Shepherd in the lead roles, while in 1995, he starred in the romantic drama film "Vanished".
From 1997 to 1998, he starred in all 17 episodes of the award-winning TV comedy-drama series "Jenny", while he finished the decade with the role of Frances Olmsted in the Primetime Emmy Award-nominated television movie biopic "P.T. Barnum", about the legendary American showman and promoter, with Beau Bridges in the lead role.
The 2000s and Later Career
With the start of the 2000s, George slowed down with his on-screen appearances, though he still had some major roles, which included Woody Allen's romantic comedy film "Hollywood Ending" (2002), and the television comedy movie "Very Cool Christmas" (2004), in which he played Santa Claus. He made a guest appearance in the TV series "Hot in Cleveland" in 2013, while in 2016, he was Bob in the TV comedy series "2 Broke Girls".
Next, he was Laird Devereaux in the award-winning drama film "The Congressman", starring Treat Williams and Elizabeth Marvel, then co-starred in the comedy-drama film "Silver Skies", alongside Mariette Hartley, Barbara Brain and Alex Rocco, both in 2016.
Net Worth
According to sources, George Hamilton's net worth is estimated at $20 million, as of late 2022.
Personal Life, Marriage, Wife, Children
George was married to actress Alana Stewart from 1972 to 1975. They have a son Ashely Hamilton, actor, comedian, and singer-songwriter, born in 1974.
He was romantically involved with Kimberly Blackford, with whom he had a son, born in December 1999. Since then, he appears to have been unattached, officially.
Appearance and Vital Statistics
George Hamilton has gray hair and brown eyes. He stands at a height of 6ft 1in (1.85m), while he weighs approximately 190lbs (80kgs); his vital statistics are 44-32-19.