• Jami Gertz is an American actress with 50 acting credits to her name
• Her breakthrough role was in the comedy-drama series "Square Pegs"
• She is married to American billionaire Tony Ressler and they have 3 adult sons
• She is involved with the Melanoma Search Alliance and is one of the top donors to the charity
• Her net worth is estimated at over $3 billion
Who is Jami Gertz?
Jami is an actress with 50 acting credits to her name, however, she's perhaps still known best for her role as Muffy Tepperman in the comedy-drama series "Square Pegs", which was her breakthrough role. To the younger audience, she is probably known for her roles in the series "Still Standing" and "The Neighbors", while movie lovers know Jami for starring in "Jersey Girl", "The Lost Boys", and "Dealin' with Idiots", among others.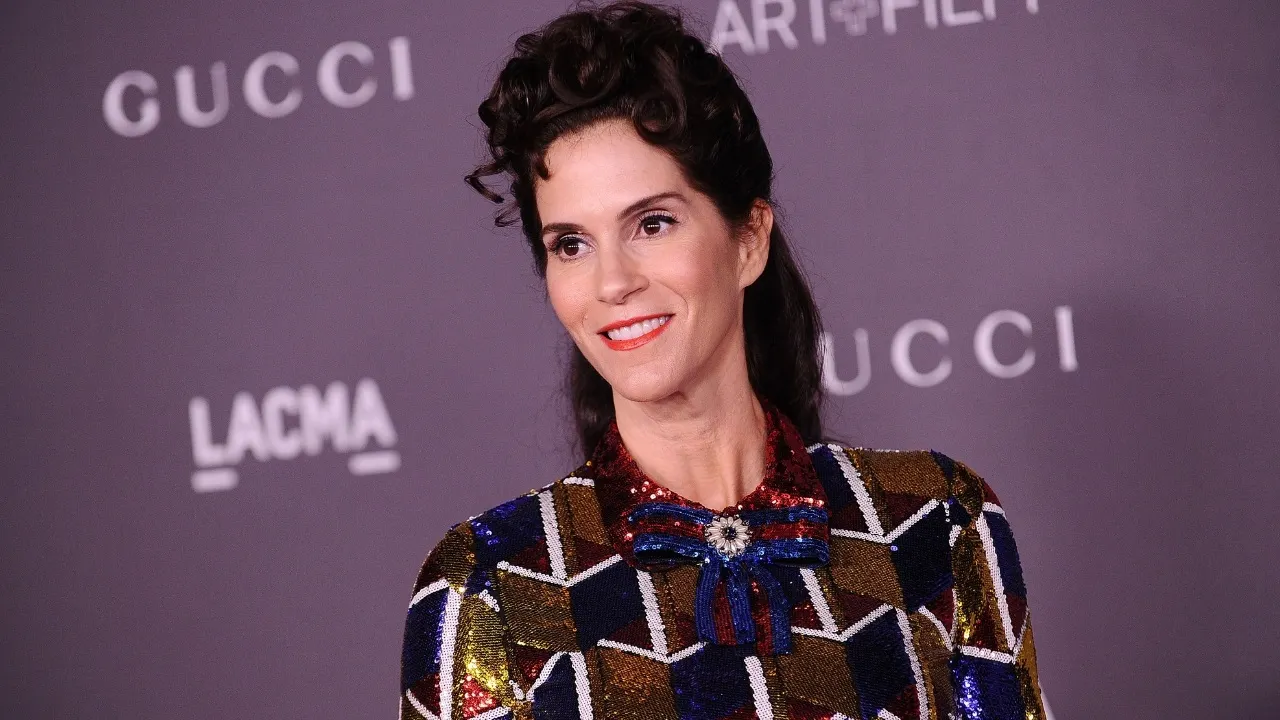 Early life, family, and education
Born Jami Beth Gertz under the zodiac sign of Scorpio on 28 October 1965, in Chicago, Illinois USA, she holds American nationality, and comes from a family of Jewish descent. Jami was raised in the suburb of Glenview by her parents Walter and Sharyn, alongside her two brothers Scott and Michael.
Speaking of her educational background, Jami attended Maine East High School, and upon matriculating in 1983, she enrolled at New York University, from which she graduated with a Bachelor's degree in Arts (Drama) in 1986.
Roles in movies
Jami made her acting debut portraying a Big Girl in the 1981 movie "On the Right Track", then later that year, she was seen as Patty in "Endless Love". She followed with her role as Sophia in the 1984 drama "Alphabet City", and in the same year was cast to play Robin in "Sixteen Candles", written and directed by John Hughes.
In the following years, Jami co-starred in "Mischief" (1985), "Quicksilver", "Crossroads" and "Julian Lennon: Stick Around" in 1986, and then she was seen in one of her notable roles as Star in the 1987 movie "The Lost Boys". This comedy horror, also starring Jason Patric and Corey Haim, had five award nominations and won three, including the Academy of Science Fiction, Fantasy & Horror Films, USA –Saturn Award for Best Horror Film.
In the same year, Jami landed her first lead role as Blair in the crime-drama "Less Than Zero", opposite Robert Downey Junior and Andrew McCarthy, and followed with her lead roles in "Listen to Me" and "Silence Like Glass" both in 1989.
Jami Gertz and Dylan McDermott in Jersey Girl (1992) pic.twitter.com/ilV4d1Sggk

— Frame Found (@framefound) October 6, 2020
1990 saw Jami starring in "The Boyfriend School" and "Sibling Rivalry", and was next seen as Toby in the 1992 romantic drama "Jersey Girl", also starring Dylan McDermott. Although the movie had no nominations, it is still one of the favorites among rom-com lovers. The story about a schoolteacher who wants to look 'like a city girl' and falls in love with a true 'city guy', the audience rated as 'simply irresistible' and 'sweet'.
After this role, Jami co-starred in several TV movies, with some critics saying that it seemed that her career was going down. She did have a supporting role in the 1996 two-times Oscar-nominated (Best Sound, and Best Effects, Visual Effects) movie "Twister", but her role as Doctor Melissa Reeves went almost unnoticed. Well, not quite unnoticed, at least when it comes to non-positive reactions, as for her performance, Jami was nominated for the Razzie Award for Worst Supporting Actress, and 'won' the Stinkers Bad Movie Award for Worst Supporting Actress.
In 1999, Jami was cast to play Lisa in another romantic comedy "Seven Girlfriends", but this time the lead role was played by Laura Leighton. Two years later, Jami was back in the saddle, starring in the comedy-drama "Lip Service" opposite Adewale Akinnuoye-Agbaje, although the movie had no nominations, and was poorly rated by the audience.
Jami was again back on TV screens, and was seen in numerous made-for-TV movies until 2006. Later that year, she was Joanne Fielder in "Keeping Up with the Steins" a comedy-drama also starring Jeremy Piven and Gary Marshall.
In 2013, Jami was cast to play Rosie in "Dealin' with Idiots", about a comedian who after experiencing the insanity of the parents whose children were playing in the school's baseball team, decides to make a movie about them. The movie had no nominations, but viewers rated it as funny.
Most recently, Jami was seen in the 2022 movie "I Want You Back", about two newly dumped ladies who team up to sabotage their exes' new relationships.
Roles in series
Jami's first television series role was her portrayal of Muffy Tepperman in 20 episodes during 1982 and 1983 of the comedy "Square Pegs", also starring Sarah Jessica Parker and Amy Linker. The series was nominated for the Primetime Emmy Award for Outstanding Individual Achievement – Graphic Design and Title Sequences.
Next, she guest starred in "Diff'rent Strokes" (1983), and "The Facts of Life" (1983-1984), followed by her role as Martha Spino in "Dreams" (1984). Her next role came in 1991, and she was seen in 22 episodes of the series "Sibs" through 1992.
Jami was Doctor Nina Pomerantz in six episodes of "ER" in 1997, followed by her guest role as Kimmy Bishop in five episodes of the popular comedy series "Ally McBeal", which brought her a Primetime Emmy nomination for Outstanding Guest Actress in a Comedy Series in 2001.
In the following year, Jami was cast to play Judy Miller in "Still Standing", appearing in 88 episodes from 2002 through 2006 in this romantic comedy about a family where the children are the responsible ones, and which had six award nominations and won three – Jami was nominated for the Young Artist Award for Most Popular Mom & Pop in a Television Series, which she shares with Mark Addy.
In the following years, Jami had a recurring role in "Entourage" (2009-2010), and then from 2012 through 2014, she was seen as Debbie in 44 episodes of the series "The Neighbors". Jami starred opposite Lenny Venito and Simon Templeman in this family comedy that was nominated for the Primetime Emmy and People's Choice Award for Favorite New Comedy.
Most recently, Jami was seen in an episode of the series "This Is Us" (2016) and "Difficult People" (2017).
Where is she now?
Jami's fans were thrilled when they heard that she's back on the big screen, but sadly when the movie "I Want You Back" premiered in February 2022, they realized that Jami wasn't playing the lead role, but was cast to play the supporting role of Rita in this romantic comedy. An interesting fact is that this movie was the most highly-rated of all Jami has acted in.
She may not have managed to climb to the highest heights of Hollywood, but as a philanthropist, she is certainly at the top. Jami is a board director for the Melanoma Search Alliance, which is the largest non-profit foundation when it comes to melanoma research. Her husband and she were named the number-one donors to the charity of any celebrity by The Giving Back Fund.
Husband, children
At the beginning of her acting career, Jami was romantically linked to various people from the entertainment industry, however, after she married in 1989, the rumors about her love life stopped.
Her husband, Tony Ressler, is an American billionaire, and the two are the owners of the National Basketball Association (NBA) team Atlanta Hawks. In 1992, they welcomed their first son Oliver Jordan, their second son Nicholas Simon was born in 1995, and the third, Theo, in 1998.
As of December 2022, Jami is still married, and living with her husband Tony while supporting their three adult sons.
Age, height, and net worth
Jami's age is 57, and she is still known for her dark hair and dark brown wide eyes. Jami has an hourglass-shaped body, weighing around 140lbs (65kgs) which seems to perfectly fit her height of 5ft 5ins (1.65m).
Before she married her husband, Jami's net worth was estimated at around $1 million, and today, they have a joint net worth estimated at over $3 billion, which makes her theoretically the richest actor in the world as of late 2022.