• Maddy Spidell is the girlfriend of YouTuber and philanthropist MrBeast.
• She is a social media star, dancer, and model with over 300,000 fans on Instagram.
• She is a student at the University of Wisconsin and has performed at the Macy's Thanksgiving Day Parade.
• She is a social media marketing manager and has her own YouTube channel.
• MrBeast has earned a net worth of $16 million through his successful career as a YouTuber and entrepreneur.
Who is Maddy Spidell?
Maddy Spidell is the girlfriend of the famous YouTuber and philanthropist, MrBeast, but she has as well earned fame on her own. She is a social media star, dancer, and model, also with over 300,000 fans on Instagram.
Early Life, Parents, Siblings, Education
Maddy Spidell was born on 31 March 2000 under the Aries zodiac sign, in Milwaukee, Wisconsin USA to American parents Michael Spidell and his wife. She grew up in her hometown of Milwaukee with her brothers Thad who is now with the US Air Force, and Jedd who is a development co-ordinator at the Muscular Dystrophy Association.
i think this is the first time uhhhhhhhh ever that i have taken pictures in direct sunlight and haven't hated them with my entire being yipeeeeeeeee pic.twitter.com/CJoJnz0ezB

— Maddy Spidell (@maddyspidell) April 11, 2021
Maddy went to Greendale High School from which she matriculated in 2018, and is now a student at the University of Wisconsin, Milwaukee, and is set to graduate with a bachelor's degree in business in 2022. She started dancing at the tender age of two, having joined a local dance studio, and later became a member of the Young Dance Academy. While in high school, Maddy was a part of the school's cheerleading team, and it was in her first year that she became the captain of the Greendale High Poms squad. The following year she won several awards, showcasing her talent as a dancer.
Career Beginnings
She has continued with her dancing prowess to this day, and became a popular dancer in the US, but it's her beauty and stunning physique that has garnered her worldwide fame. She's trained in jazz, ballet, lyrical, and tap dance since starting her journey as a dancer, and has performed throughout the US. Some of her most memorable onsets include her performance at the Macy's Thanksgiving Day Parade in 2016, held in New York City.
Rise to Prominence
Maddy started her Instagram account back in 2012, but didn't give it much attention until 2016, when she started to frequently upload pictures from her live performances, thus slowly building her online fame. Soon she started exploring other possibilities, collaborating with several fashion brands, starting with the vintage clothing line Girlboss.
New offers quickly came along, such as DSW shoes, EllieActiveWear, and many others, all of which contributed to her popularity. To speak further of her success, Maddy is also a social media marketing manager for several brands and influencers, making sure that they have the best social platform that they can get.
Personal Life, Dating, Boyfriend
Maddy and MrBeast started their relationship in June 2019, when the popular MrBeast first spoke about it. Once their romance became public knowledge, many fans stormed Spidell with comments of her being a gold digger, with MrBeast just for his money. She responded to those comments with the tweet saying that she isn't with him for his money, but just for his great sense of humor and knowledge of anime shows. She often posts pictures with him on her Instagram page, while she also appears frequently in his videos.
Hobbies and Interests
Maddy isn't just about dancing and uploading pictures of herself, as she has many other hobbies and interests. She is a huge music lover, and her favorite bands are Weezer, Kiss, and other similar bands, she attended a Kiss concert back in 2019. She considers Taylor Swift as her role model, but also looks up to Kate Spade and Audrey Hepburn.
She loves traveling and she would like to visit such places as Paris and Wyoming, while Greece is also one of her favorite places, although she loves Italian food. She's is a dog person, but apparently without a pet at the moment.
In her spare time, she likes to read books, especially those of Sophia Amoruso.
Net Worth
As of mid-2021, Maddy Spidell's net worth has been estimated at around $1 million, earned through her successful endeavors as a dancer, model, and social media star.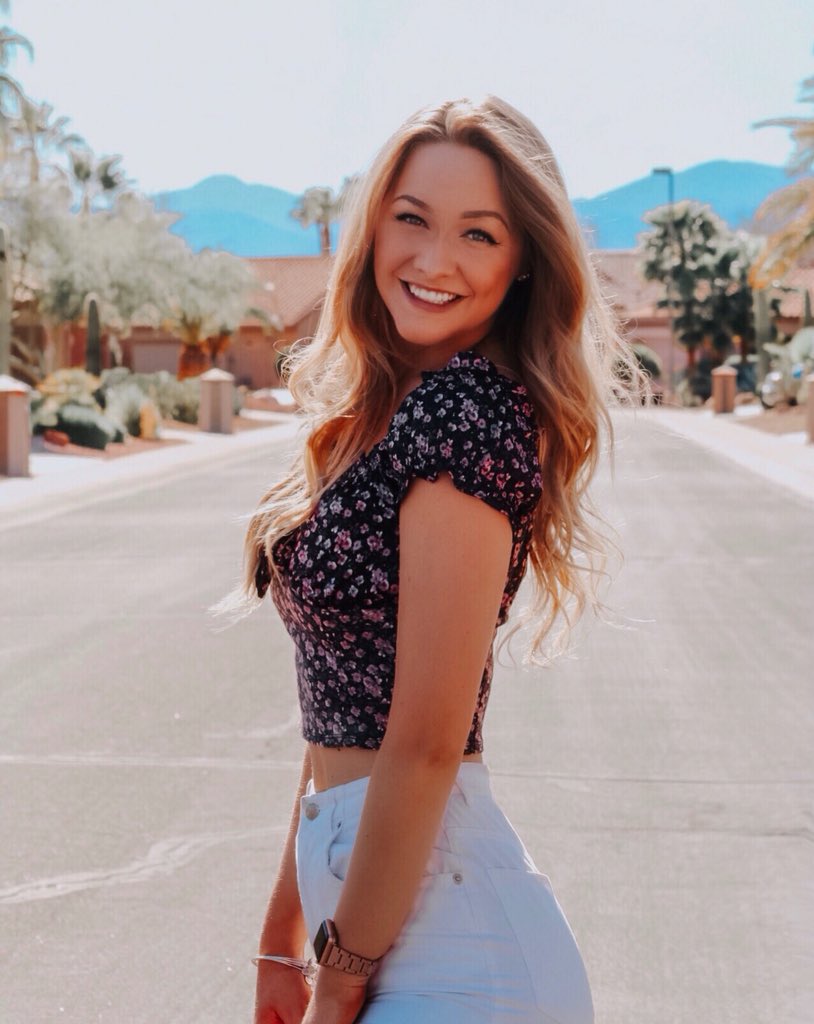 She has also started her own YouTube channel, which is expected to attract subscribers in a short time.
Appearance and Vital Statistics
Maddy has blonde hair and blue eyes. She stands at a height of 5ft 9ins (1.75m) tall, while she weighs approximately 127lbs (58kgs). No information is available about her vital statistics, while her shoe size is 7.
Maddy Spidell's Boyfriend MrBeast Biography
Better known under his online alias, he was born as Jimmy Donaldson on 7 May 1998, in Greenville, North Carolina USA. Raised by a single mother, Jimmy and his brother CJ spent their childhood in Greenville, where he went to Greenville Christian Academy, which is a private secondary school.
Career
His career started when he was just 13 years old under the channel name MrBeast6000.
The early channel featured videos of such games as Minecraft and Call of Duty, but also estimation videos on the wealth of other popular YouTubers of the time, and several other topics. It took a few years for his videos to pick up popularity, and from 2015 he started gaining attention, thanks to the series of videos that he called "worst intros", in which he made fun of introduction videos of other YouTubers. As his popularity was increasing he made rather vague choices, such as dropping out of school, which resulted in his mother forcing him out of the family house.
Nevertheless, he believed in himself and his aspirations, and offering innovation to the public made him rather popular. In early 2017, MrBeast made a video that lasted almost a day of himself counting to 100,000. The entire video was filmed in 40 hours, while the video uploaded on YouTube lasted just under 24 hours.
His next stunt was the video of himself counting to 200,000, which lasted 55 hours; he's performed numerous other stunts which gained him popularity. Today, MrBeast has six active YouTube channels and close to 100 million subscribers, with more than 13 billion views. He still produces content on various topics, from YouTube reactions, gameplay videos, and pranks, all of which have added to his popularity.
Philanthropy
Rarely seen among the YouTubers, MrBeast his philanthropic activities within the YouTube community, resulted in $1 million giathered through his stunts, making him the first one to achieve such a thing. Some include out-of-the-ordinary contests, such as the rock, paper, scissors competition stream, which was viewed by more than 662,000 concurrent viewers; the competition winner took home $250,000.
Furthermore, he has raised $20 million to plant trees in the Arbor Day Foundation event on 1 January 2020, and MrBeast also started the YouTube channel Beast Philanthropy in March 2021 – in one of the videos on the channel, he stated that he has started a charity food bank.
Net Worth
As of mid-2021, MrBeast's net worth has been estimated to be around $16 million, earned through his successful career as a YouTuber, but also through his entrepreneurial career, since he's also started MrBeastBurgers, a virtual restaurant that sells rights to serve the burgers in different restaurants across the US, and the burgers can be ordered online by customers through an online delivery service. He also has several investments under his thumb, including the financial technology company Current and Juice Funds, among others.