• George Wendt is an actor, director and producer with over 160 acting credits
• He is best known for his role in the series "Cheers", for which he earned 6 Primetime Emmy nominations
• George was born in 1948 in Chicago, Illinois, with German and Irish descent
• He is married to actress Bernadette Birkett, and they have 3 children
• His nephew, Jason Sudeikis, is also an actor with over 80 acting credits to his name
Who is George Wendt? Wiki
He's a director, producer and an actor with over 160 acting credits to his name, however, George Wendt is probably still known best for his role as Norm Peterson in the series "Cheers", which brought him six Primetime Emmy nominations for Outstanding Supporting Actor in a Comedy Series, and the Viewers for Quality Television Award nomination for Best Supporting Actor in a Quality Comedy Series.
To movie lovers, George Wendt, is well-known for his portrayal of Harry Finley in the 1992 romantic drama "Forever Young", also starring Mel Gibson.
To learn more about this veteran actor, his life, his career, and what is he doing now, keep on scrolling.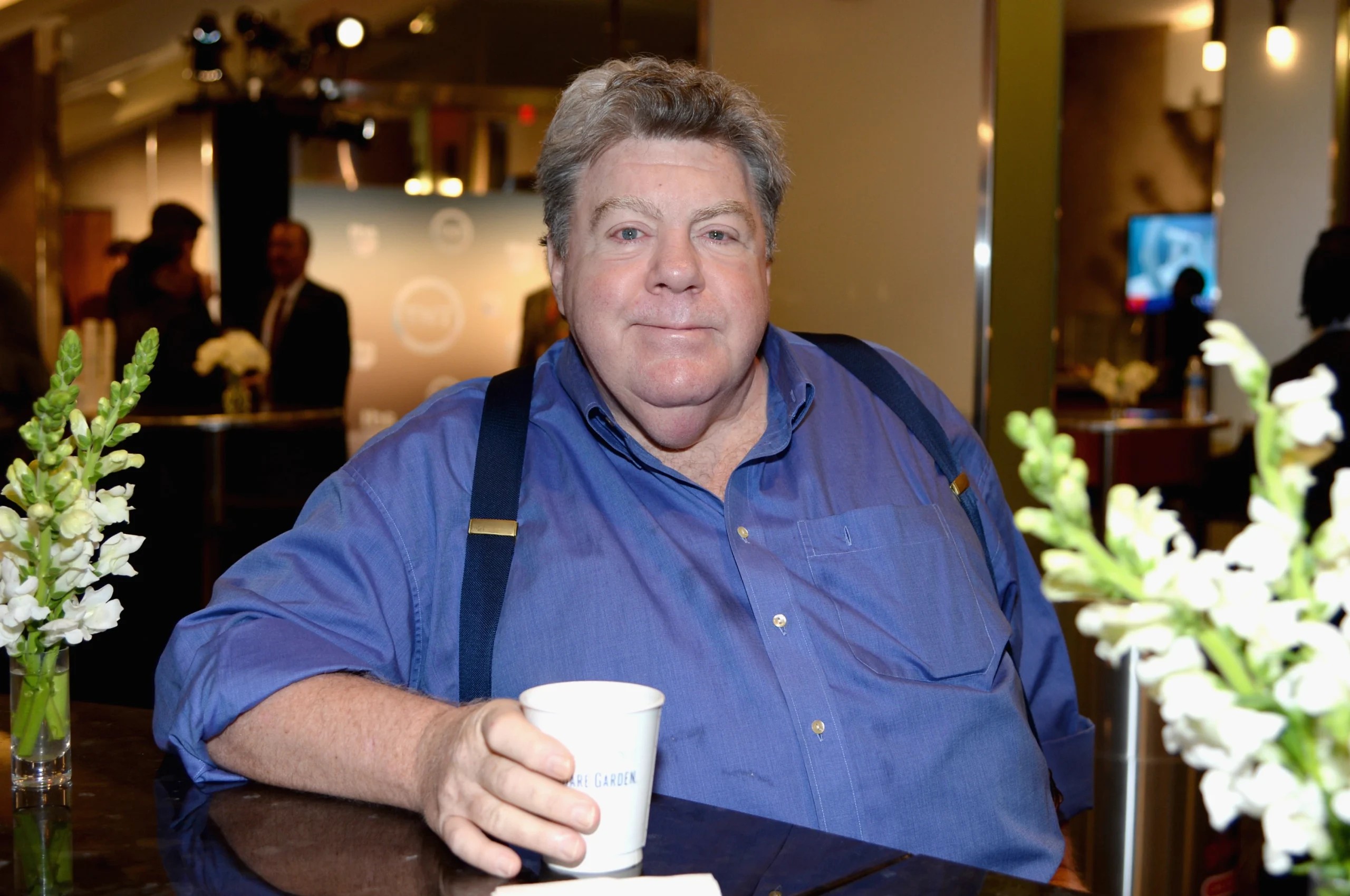 Early life, family, and education
Born George Robert Wendt Junior, under the zodiac sign of Libra on 7 October 1948, he recently celebrated his 74th birthday. George is a Chicago, Illinois USA native, so holds American nationality although he comes from a family of German and Irish descent.
When it comes to his family, George is one of nine children of Loretta Mary and George Wendt, who was a former US Navy officer.  George has six sisters, namely Marti, Nancy, Mary Ann, Loretta, Kathryn and Karen, and two brothers- Paul and Tom.
Speaking of George's educational background, he attended Campion High School, and upon matriculating in 1966, enrolled at the University of Notre Dame, but was expelled after he received a 0.00 Grade point average (GPA) in the first semester of his junior year. Later, he enrolled at the Jesuit Rockhurst College in Missouri, from which he graduated with a Bachelor's degree in Economics.
Acting career beginnings
George made his acting debut as Caterer in the 1978 movie "A Wedding", but his role was uncredited. Two years later, he was cast to play a Bartender in "Bronco Billy", but also uncredited, then later that year he was seen as an Engineer in "My Bodyguard", followed by his role as a Student in "Somewhere in Time" but this time his scenes were deleted.
Next, George made his first television series appearance, as Sergeant Tate in an episode of the series "Hart to Hart" in 1981, then in the following year, he had a small part in "Jekyll and Hyde…Together Again", followed by a supporting role in the TV movie "Journey's End" (1983).
George seemed to be struggling, waiting for his first lead role as Jake in the 1984 musical comedy-drama "No Small Affair", in which he starred opposite Demi Moore and Jon Cryer. He followed with his role as Fat Sam in the 1985 comedy "Fletch", which was nominated for the Edgar Allan Poe Award for Best Motion Picture.
"Guilty by Suspicion", "Culpable por sospecha", USA, (1991)Director:Irwin Winkler Reparto: Robert De Niro, Annette…

Posted by Cínico on Monday, September 26, 2016
It appears that the late '80s and early '90s were quite successful for George, and since he had numerous roles, we will mention some of his most notable.
George starred opposite Robert De Niro in the 1991 drama "Guilty by Suspicion", followed by his aforementioned role in "Forever Young". The movie had no nominations, but the audience loved this story about a pilot frozen in 1939 during a cryogenics test, who awakes in 1992.
Certainly worth mentioning is George's role in the 1994 family comedy "The Little Rascals", followed by his role in "The Lovemaster", in which he starred opposite Craig Shoemaker in 1997. In the following year, George was cast to play Ivan Bloat in the drama "Rupert's Land", which followed the story of two estranged step-brothers who travel to their father's funeral.
The movie had nine award nominations and won six, with George nominated for the Genie Award for Best Performance by an Actor in a Supporting Role.
The early 2000s saw George in "King of the Ants" (2003), "The Life Coach" (2005), and "Unnatural Causes" (2008), and then, in the following years, he focused on his television series roles. He returned to the big screen playing in the 2017 comedy "Sandy Wexler", followed by his role in "The Independents" in 2018.
In the following year, George was cast to play Thomas Zabriski in the action horror "VFW", which brought him the Brooklyn Horror Film Festival award for Best Actor.
Most recently, George was seen as Robert Campbell in the 2022 romantic comedy "Christmas with the Campbells", also starring Justin Long and Brittany Snow.
Most notable television series roles
As mentioned, George's most notable TV series role is his portrayal of Norm Peterson in the series "Cheers", seen in 270 episodes of this comedy-drama which aired from 1982 until 1993. His co-stars were Ted Danson, Rhea Perlman and John Ratzenberger, and the show followed the regulars of the bar Cheers, where they shared their life stories and experiences. It had 181 award nominations and won 78, including 28 Primetime Emmys.
In the following years, George had notable roles in the series "The Naked Truth" (1997), "Madigan Man" (2000), and "Sabrina the Teenage Witch" (2001-2002).
In 2006, George was seen as Tug Clarke in the series "Modern Man", about three single men who hire a life coach to help them with their search for love, which had no nominations but was well-rated by the audience (6.9/10).
George was cast to play Buzzy in the 2015 TV mini-series "Clipped", also starring Mike Castle and Ashley Tisdale, and most recently, he was heard as Grandpa Frank in the series "Fancy Nancy" (2018-2022).
Love life and wife
George isn't one of those Hollywood actors known for love affairs and controversial lifestyles. Since 8 July 1978, he has been married to Bernadette Birkett, also an actress, perhaps still known best for her role as Jackie Schumaker in the series "It's Garry Shandling's Show" (1984-1993).
The two have three children together, namely Hilary, Daniel and Joe, who prefer to keep their lives away from the media's attention.
Just to let you know that the news about his death in September 2021 was a misunderstanding – the man who drowned in Lake Michigan does have the same name and surname as this actor.
As of January 2023, George lives a seemingly peaceful life with his wife – although many of his fans think that he's stopped acting, he hasn't shared any update about his retirement.
Jason Sudeikis followed in his uncle's footsteps and became an actor. If you wondered how related these two are, George is Jason's maternal uncle, as his mother, Kathryn is George's sister.
Evil tongues say that George's nephew is much more successful than him, but if they compare their earnings, maybe they would judge differently. According to sources, Jason Sudeikis has a net worth estimated at $25 million, while his uncle, George, has a net worth estimated at over $45 million – George's salary for "Cheers" was around $200,000 per episode. (Who would have thought that sitting in a bar could bring you so much money, right?)
Briefly about Jason Sudeikis
Born Daniel Jason Sudeikis, under the zodiac sign of Virgo on 18 September 1975, he recently celebrated his 47th birthday. Jason is an actor with over 80 acting credits to his name, but is probably known best for his appearances in the show "Saturday Night Live" (2003-2020).
Jason made his acting debut as Chester in the 1997 TV movie "Alien Avengers II", and his first television appearance as George Wendt Family Member in an episode of the show "Late Night with Conan O'Brien" in 1998.
He rose to prominence as Kurt Buckman in the 2011 comedy "Horrible Bosses", reprised in its 2014 sequel "Horrible Bosses 2", starring opposite Jason Bateman and Charlie Day. Jason also gained success with his role as David Clark in the comedy "We're the Millers", also starring Jennifer Aniston.
His most recent notable role is his portrayal of Ted Lasso in the eponymous comedy series, which brought him two Primetime Emmy Awards for Outstanding Lead Actor in a Comedy Series in 2021 and '22.
Speaking of his private life, he was marriage to screenwriter, Kay Cannon (2004-2010). In 2011, Jason began a relationship with actress Olivia Wilde, and the two became engaged in January 2013. Their first child, son Otis, was born on 20 April 2014, while their second,  daughter Daisy, was born on 11 October 2016. Jason and Olivia separated in 2020. In 2021, Jason dated Keeley Hazell, a model from London, England, but the two broke up in May 2022.
As of January 2023, it seems that Jason is single.