--Kate Vernon is a 60-year-old actress.
--She has a net worth of over $5 million.
--Her parents are Nancy West and John Vernon.
--Her big break was playing Lorraine Prescott in the CBS prime-time soap opera "Falcon Crest".
--She has a daughter named Annabelle Negron with singer-songwriter Chuck Negron.
Who is Kate Vernon?
Katherine Elizabeth 'Kate' Vernon was born on 21 April 1961 under the zodiac sign of Taurus, in Toronto, Ontario, Canada. She is a 60-year-old actress, probably best recognized for landing the role of Lorraine Prescott in the CBS primetime soap opera "Falcon Crest" (1984-1985), playing Ellen Tigh in the Syfy series "Battlestar Galactica" (2004-2009), and featuring as Lily Partridge in the Audience/Epix thriller series "Condor" (2018-2020).
How rich is she, as of now? Kate Vernon Net Worth
As of mid-2021, Kate Vernon's net worth is estimated at over $5 million, acquired through her successful involvement in the world of entertainment as a professional actress, who has garnered over 90 television and film acting credits over the decades since she launched her career in the mid-1980s.
Early Life, Parents, Nationality, Ethnicity, Educational Background
Kate Vernon spent her early years in her hometown of Toronto, until she moved with her family to Los Angeles, California at the age of seven. She is the daughter of Nancy West and famous Hollywood star John Vernon, known for his roles in "Animal House", "Dirty Harry", and "The Outlaw Josey Wales". She has two siblings – actor Chris Vernon, and singer Nan Vernon. She holds Canadian nationality, belongs to White Caucasian ethnic group, and is of American, Armenian, Polish and German descent. Regarding her education, little is known about that except that she completed her acting studies.
Career Beginnings
Kate Vernon began her professional acting career in 1983, when she made her debut film appearance in a small role in the American-German film "Chained Heat", alongside her father. It was followed by her portrayals of Angie in the crime drama "Alphabet City", and of Melissa Duran in the comedy action "Roadhouse 66", next to Willem Dafoe, both in 1984. The same year, she also featured as Donna Adams in the made-for-TV drama film "Flight 90: Disaster On The Potomac", which was nominated for two Primetime Emmy Awards.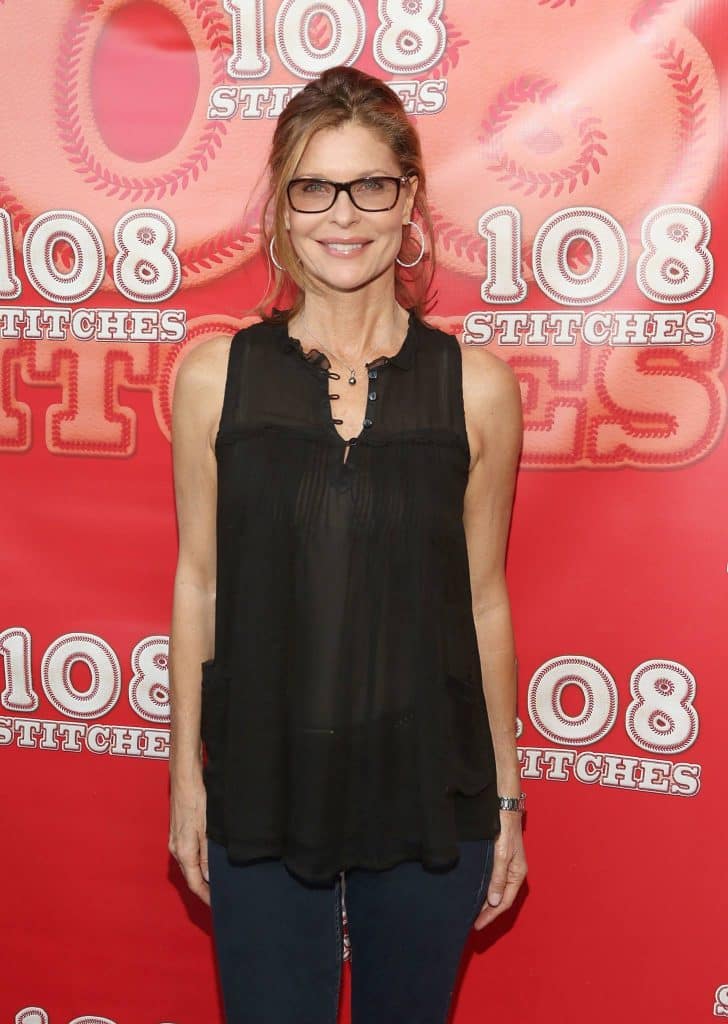 Rise to Fame
Kate Vernon's big break came when she was chosen to play Lorraine Prescott in the third season of the CBS prime-time soap opera "Falcon Crest", that ran from 1984 to 1985. The series showcased her outstanding acting skills, which led to more serious roles. In 1986, she played Benny Hanson in the teen romantic comedy-drama film "Pretty In Pink", written by John Hughes and directed by Howard Deutch, a film which eventually acquired a cult following. In the same year, she portrayed Brent Holliday in the Spanish-Swiss drama "The Last Of Philip Banter", after which she was cast as Nanette Alexander in the CBS drama miniseries "I'll Take Manhattan" in 1987.
Kate then appeared as Mindy along with her father in the Canadian gangster comedy "Mob Story" (1989), and featured as Kathleen Sawyer in the popular ABC sitcom "Who's The Boss?" (1990).
Roles in the 1990s
Kate Vernon's next major appearance came with the role of Sophia in the critically acclaimed epic biographical drama film "Malcolm X" (1992), co-written and directed by Spike Lee, starring Denzel Washington, Albert Hall, and Angela Bassett. It was followed by her portrayals of Amanda Grace in Lou Diamond Phillips' erotic thriller "Dangerous Touch", and DDA Belinda Fox in the NBC legal drama series "L.A. Law", both in 1994.
Between 1996 and 1997, Kate had a supporting part as Whitney Thomas in the CBS police procedural series "Nash Bridges", starring alongside Don Johnson and Cheech Marin.
She then landed the role of Dr. Rachel Stein in the 1998 Canadian-American made-for-TV action film "Blackjack", opposite Dolph Lundgren, and played Kay in the comedy "The Secret Life Of Girls", next to Eugene Levy and Linda Hamilton. During the decade, she had guest parts in various TV series such as "Tales From The Crypt", "The Outer Limits", and "Star Trek: Voyager", to name a few.
Further Work in the 2000s
After landing minor roles at the beginning of the 2000s, Kate Vernon eventually joined the cast of the critically acclaimed military sci-fi TV series "Battlestar Galactica", that ran on the Sci-Fi Channel from 2004 to 2009, starring in the recurring role of Ellen Tigh along with Edward James Olmos, Mary McDonnell and Katee Sackhoff. Concurrently, she continued to work on other projects, playing Elli Warner in the made-for-TV comedy-drama film "School Of Live" in 2005 alongside Ryan Reynolds, and portraying Sally in the made-for-TV romantic film "Safe Harbour" (2007), next to Brad Johnson and Melissa Gilbert.
Two years later, she reprised the role of Ellen Tigh in the made-for-TV film "Battlestar Galactica: The Plan", which was followed by her portrayal of Susan Blakelee in the coming-of-age teen romantic film "The Last Song" in 2010. She also guest-starred in such TV series as "CSI: Crime Scene Investigation", "Reunion", and "Bones", among others.
Continued Success
In 2011, Kate had the part as The Matriarch in the made-for-TV sci-fi film "Red Faction: Origins", directed by Michael Nankin and based on a series of the shooter video games "Red Faction". Thereafter, she guest-starred as Diana Sydney in several episodes of The CW's post-apocalyptic sci-fi series "The 100" (2014) and played Dr. Ellen Beckett in the sci-fi romance "Amelia 2.0" (2016).
Kate then featured as Arabella Gravesend in the 2018 drama "Barking Mad", written and directed by Charles Dennis. Between 2018 and 2020, she was cast as Lily Partridge in the Audience/Epix thriller series "Condor". Concurrently, she also played Geneva Micklen in the Apple TV+ drama series "The Morning Show", alongside Steve Carell, Jennifer Aniston, and Reese Witherspoon.
Appearance and Vital Statistics
Kate Vernon has long blonde-dyed hair and blue eyes. She stands at a height of 5ft 8ins (1.73m), weighs around 128lbs (58kgs), and her vital statistics are 30-24-33, bra size 36A, dress size 4 (US), and shoe size 10 (US).
Me n mom had fun @StarbaseIndy I especially liked meeting @nanavisitor n @kate_vernon pic.twitter.com/S839jPBEhO

— Logan the 'retired' Cosplay SD (@LoganSibHsky) December 1, 2014
Personal Life
Kate Vernon was romantically involved with American singer-songwriter Chuck Negron, who gained fame as one of the three lead vocalists of the rock band Three Dog Night. The public isn't aware of how long they were together, but they have a daughter named Annabelle Negron, who is a singer and actress. Regarding her current relationship status, Kate remains silent. She hasn't been spotted with any other men, so it's believed that she's single. She still resides in Los Angeles, with her daughter.