• Cash Warren is an American film producer and business man, husband to Jessica Alba
• Jessica Alba is an American actress and business woman who began her career at age 5
• Cash Warren attended Yale University and worked his way up the Hollywood ladder
• The couple married in 2008 and have 3 children together
• Cash Warren is estimated to have a net worth of over $10 million
Cash Garner Warren is an American film producer and business man, probably best known for his work in Taxi (2004) and Fantastic Four (2005). Besides being at the top of the game in the film industry, he is also the husband to Hollywood's sweet heart, Jessica Alba.
Who is Jessica Alba?
Jessica Alba is an American actress and business woman, born on 28th April 1998 to parents Catherine Louisa and Mark David Alba in Pomona, California. Her father's career in the army took them across states from Biloxi, Mississippi to Del Rio, Texas and eventually Claremont, California.
Jessica has said that their constant moving and her sickly nature left her at a disadvantage when it came to making friends as a child.
By the age of five, Jessica had already identified her interest in acting, and by the time she hit ten she'd successfully convinced her mother to accompany her to an acting competition in Beverly Hills. As winner of the competition, Jessica received her first acting lessons, and was signed by an agent nine months later.
Jessica made her debut into the Hollywood scene in 1994, when she was cast as Gail in "Camp Nowhere". The role was initially scheduled as a two-week role, but the dropping out of a prominent actress secured her a more permanent position. In an attempt to expand her portfolio and get her name out there, Jessica appeared in TV commercials for Nintendo and JC Penny, and continued to appear in numerous productions alongside prominent actors, and enrolled at the Atlantic Theatre Academy to study acting.
Alba's catapult to fame came when James Cameron cast her as Max Guevara in the popular sci-fi TV series "Dark Angel." The show earned her a Golden Globe nomination and the Teen Choice Awards for Choice Actress. Alba's role in the series opened up to numerous roles on the big screen, and birthed the icon we adore today. Over the course of her career, Alba has been highly awarded and made her mark in the industry. Unfortunately, Alba has also been a repeat nominee and winner of the Razzie Awards, which goes to show that even the best in the game have their fair share of critics.
As well as an outstanding career in the entertainment industry, Alba also dipped her hand into business, and co-founded The Honest Company in 2012.
The company's initial scope was in household goods, diapers and body care products, and its launch was so well received that in 2014 the company was valued at a solid $1 billion, so in 2015 the company expanded and launched Honest Beauty, a focus on beauty and skin care. Its value seems to have doubled as of mid-2021.
Alba has also written a book – "The Honest Life" – based on her experiences creating a natural and non-toxic life for her family. The book was well received at least by her audience, as it immediately became a New York Times Best Seller.
 Early Life
Cash Warren was born on 10th January 1979, in Los Angeles, California USA, to parents Michael Warren and his first wife Sue Narramore.  The couple share their son Cash and daughter Kekoa "Koa" Brianna Garner. On his parent's divorce, his father married Jenny Palacios, and from his second marriage, Michael had two more children; Makayla and Grayson Andres.
More about Cash Warren's famous dad
Lloyd Michael Warren is a retired actor, TV personality and former college basketball player. Michael is most famous for his role as "Officer Bobby Hill" in NBC TV's series "Hill Street." Throughout his acting career, Michael built a portfolio by appearing in "City of Angels" and "Sierra" alongside other guest appearances. However, Michael quickly retreated from his life in the limelight and has transitioned into art photography.
According to an artist statement he made, the move to take up photography was inspired by a spiritual intervention that opened his eyes to things he once took for granted. Needless to say, he has turned his newfound passion into another career; it's safe to say the man has the golden touch.
Education
A lot of Warren's early childhood life remains private and a mystery to fans.
However, it's known that he attended high school at Crossroads in Santa Monica, where he played high school basketball alongside future professional player Baron Davis. Cash is often seen at his childhood friend's games to cheer him on.
After matriculating, Warren joined Yale University in Connecticut to pursue a degree in Political Science, and graduated in 2001, but Cash seems to have ditched his initial career interest for a life in Hollywood, although at least he had a fall back plan after the disaster that was "Fantastic Four."
Relationship with Jessica Alba
Jessica and Warren met on the set of "Fantastic Four". In a Cosmopolitan interview, Alba said that she felt an instant connection to Warren, and voiced the same to her best friend.  At the time, Alba was filming for her part as Sue Storm, while Warren was director Tim Story's personal assistant.
When the pair met, Alba was already in a relationship, however she fell in love with Warren instantly. The two simply agreed to be friends but Jessica says that his spirit, mind and the little things he did for her made her fall for him. Jessica eventually broke off her engagement to Michael Weatherly, and pursued a relationship with Warren.
The couple became engaged on 27 December 2007, and were content simply cruise through life without the societal pressure of marrying. In an Instagram post to celebrate his wife, Warren opened up about their impromptu decision to marry – the pair had just woken up, and decided they could as well marry, and they did exactly that. The pair went to a Beverly Hills courthouse, and with a courthouse employee as their witness and Jessica bumping around, they exchanged their vows on 19 May 2008. 12 years down the line, the couple seem to be just as in love as they were back then.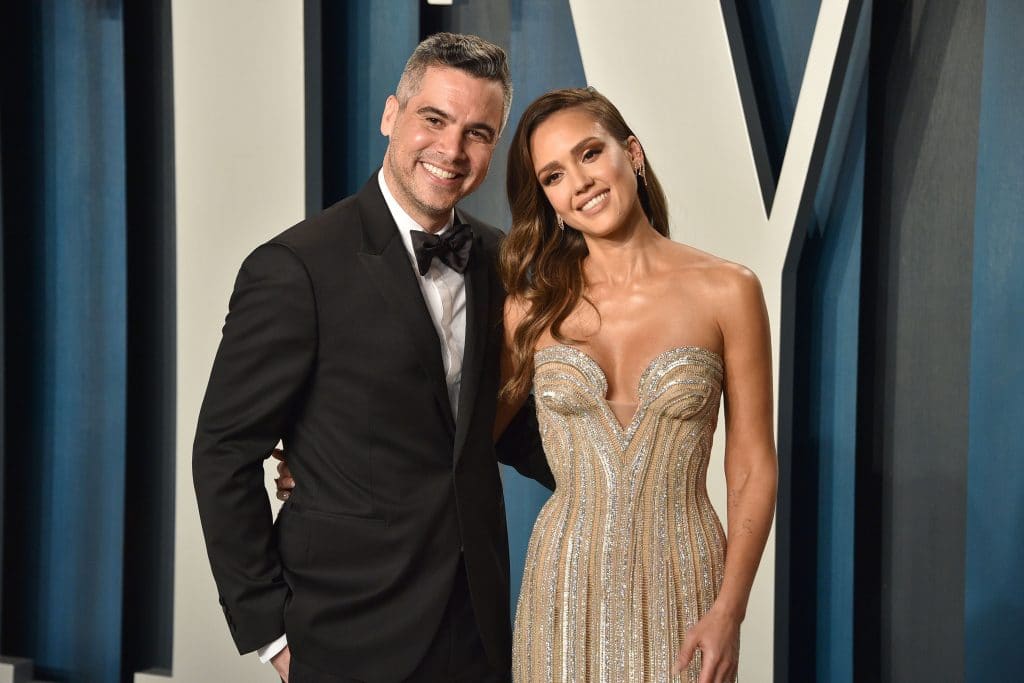 Family
Just a month after their private wedding, Jessica and Alba welcomed their first born daughter, Honor Marie. Jessica allowed OK! magazine to feature exclusive photos of her daughter for the July issue for an impressive $1.5 million. Jessica and Warren have been blessed with two other children – Haven Garner in August 2011 and Hayes in December 2017.
Cash took up coaching his daughter Haven's soccer team, The Pink Tigers. He's not too shabby a coach as he posted a picture to his Instagram beaming in the pride of their win at the AYSO Girls U9 Championship.
Career
Warren entered the entertainment industry as what would simply be referred to as additional crew, and worked his way to the top. One of Warren's earliest gigs was an assistant on the set of the film "Taxi" (2004), which was a box office smash and helped get his name out there.
He later joined the "Fantastic Four" franchise as Tim Story's assistant; although the film was substantially torn apart by critics, it catapulted Warren's career.
Warren has since worked on numerous projects, including "Made In America" (2008), "In The Blood" (2014) and "30 for 30" (2015). Besides creating a space for himself in the entertainment industry, Warren also co-founded the entertainment company Verso, focused on documentaries that tackle social issues, specializing in film, TV and digital media. The move to create a space for documentaries seemed to have received a nod from the industry as he was nominated for a  News & Documentary Emmy in the category Best Documentary.
Warren also served as part of the founding team of Apoko, a digital media group which facilitates interaction between fans and celebrities.
Still in the entrepreneurial  mindset,  on National Socks Day 2016, Warren and two of his friends came together and founded Pair of Thieves, an apparel company specialising in socks, underwear and shirts. The company picked up immediately and has been a success since. Pair of Thieves is also bent on giving back, and has donated largely to homeless shelters and other charities.
Net worth
With over 10 years in the game, Cash has made a mark and the rewards that come with it. As of mid-2021, Cash Warren's net worth is estimated at over $10 million, while Jessica's wealth is reputedly over $200 million.
Physical Characteristics
Cash is quite the looker for his age, at 6ft (1.83m) tall and weighing approximately 187lbs (85kg). He has a set of dark brown eyes. As a younger man, Warren boasted a full head of jet black hair, however, he's pick-up a couple of silver strands along the way.