• Diandra de Morell Luker is a film producer and ex-wife of Michael Douglas.
• She holds both Spanish and American nationality and has three biological and one adopted child.
• She has a Bachelor's degree in Georgetown University's Edmund A. Walsh School of Foreign Service.
• She has produced the documentary movie "Off the Menu: The Last Days of Chasen's" and the 2008 drama "Broken Lines".
• Michael Douglas is a British and American actor, film producer and director with a net worth of over $300 million.
Who is Diandra Luker?
Diandra de Morell Luker was born in Deia, Majorca, Spain, on 30 November 1957 (some sources wrongly claim 1955) – her zodiac sign is Sagittarius and she holds both Spanish and American nationality. She is a film producer, but who might better known for being the now ex-wife of Michael Douglas, a famous American actor and producer.
Early life and education
Diandra was raised in Majorca by her father who was an Austrian diplomat, and her mother who was a housewife of French descent. Diandra hasn't talked about having any siblings, which is why she's believed to be an only child.
She became interested in acting at quite an early age, when she was sent to live in Switzerland where she attended a boarding school.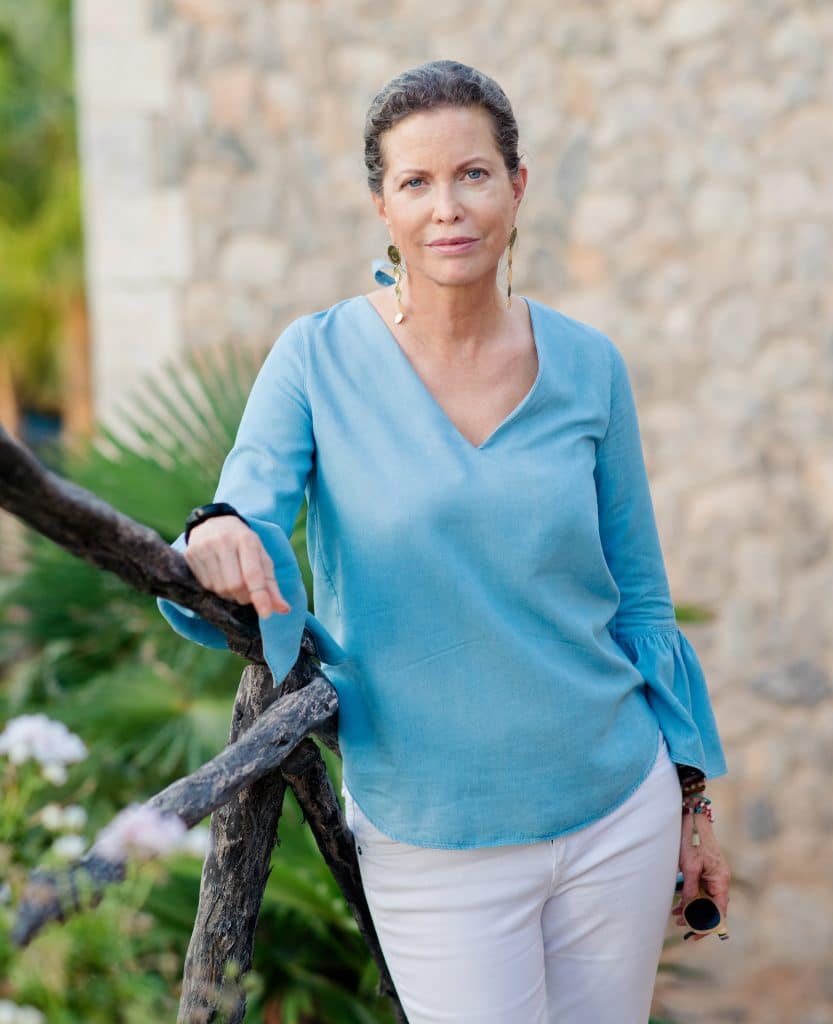 Diandra eventually moved to the US with her family, and there studied at Georgetown University's Edmund A. Walsh School of Foreign Service, from which she graduated with a Bachelor's degree in 1979.
Career as a producer
After giving birth to her first child in 1978, Diandra focused on staying at home, chasing her career later. It was in 1991 that she made her TV series producing debut, working on the episode "Frederic Remington: The Truth of Other Days" of the biographical documentary series "American Masters". She made her film producing debut in 1993, with the documentary movie "Beatrice Woods: Mama of Dada", and then worked on the episode "The Birth of a Sound / Singing Cowboys and Western Swing" of the documentary mini-series "America's Music: The Roots of Country".
In 1997, Diandra produced the documentary movie "Off the Menu: The Last Days of Chasen's".
Her only other, and most recent producing credit was the 2008 drama "Broken Lines", which starred Paul Bettany, Olivia Williams and Dan Fredenburgh, and follows the lives of two people who have suffered family tragedies. The film failed to attract any attention, and received mixed reviews.
Diandra has also appeared in a couple of TV specials, such as "The 57th Annual Academy Awards" in 1985, "The American Academy of Dramatic Arts Annual Tribute: A Salute to Kirk Douglas" in 1987, and "The 60th Annual Academy Awards" in 1988.
Love life and marriage with Michael Douglas
Diandra married Michael Douglas in March 1977 when he was 32 and she was 19 years old.
They were criticized by many people because of their age gap, but this didn't seem to bother the two. In 1978, Diandra gave birth to their son Cameron, but in 1995 she filed for divorce for unknown reasons, and received a $45 million settlement. It was later revealed that Michael promised to give Diandra whatever she wanted as long as they divorced, because he wanted to marry his girlfriend, famous British actress Catherine Zeta-Jones.
In 2001, Diandra started dating Zach Bacon III, the CEO, CIO and managing director at Alstra Capital Management, LLC., a multi-billion dollar company. They became engaged in 2003, and Diandra gave birth to their twin sons Hawk and Hudson Bacon in 2004, however, Zach and Diandra split-up in 2005, and then fought for custody of their sons.
In 2005, she married Michael Klein, an American environmental activist and entrepreneur, and they adopted the Kazakhstani girl Imara in the same year. However, in 2012, Diandra divorced Michael, and as of January 2021, Diandra is single, was married two times and has three biological and one adopted child.
Hobbies and other interests
One of Diandra's many hobbies is tasting different cuisines, and her favorite is Italian as she enjoys eating pasta and pizza. She is also a fan of seafood, saying that one of the best meals she has tried was at a restaurant in Athens, Greece. Diandra also likes to travel, and combines her passion for food with it. She has been all around Europe and to various US states, while she's also had an opportunity to visit Japan in Asia.
She is interested in all kinds of arts, and has been to many museums and galleries in both Europe and the US.
Diandra is a philanthropist who has worked with various charity organizations, but has mostly devoted her time to The Red Cross.
She also did a bit of modelling, as she was signed to Ford Models and worked with Donna Karan, Carolina Herrera and Oscar de la Renta.
In her spare time, she enjoys watching romantic comedy movies, and her favorite actor and actress are Tom Hanks and Anne Hathaway, while a couple of her favorite movies are "Sleepless in Seattle", "Les Miserables" and "One Day".
Age, height and net worth
Diandra's age is 63. She has long brown hair and blue eyes, her height is 5ft 6ins (1.71m) and she weighs around 130lbs (59kgs). As of January 2021, her net worth has been estimated at over $45 million, while Michael's net worth is reputedly over $300 million.
Who is Michael Douglas?
Michael Kirk Douglas was born in New Brunswick, New Jersey USA, on 25 September 1944 – his zodiac sign is Libra and he holds both British and American nationality (British thanks to his mother who was born in Bermuda). He has been credited with appearing in around 70 movies and TV series, and has won numerous awards including five Golden Globes, one Primetime Emmy, an American Film Institute (AFI) Life Achievement Award, two Oscars and one Cecil B. DeMille Award.
Michael was raised in New Brunswick alongside his brother Joel and his two half-brothers from his father's side, named Eric and Peter, by his father Kirk Douglas who was a famous American actor, film producer and director, and his mother Diana Dill who was an actress. Diana died in 2015, and Kirk in 2020.
Michael studied at the Allen-Stevenson School before moving on to Eaglebrook School, and eventually finding himself studying at The Choate Preparatory School.
Upon matriculating in 1962, Michael enrolled at the University of California, South Barbara and graduated with a Bachelor of Arts degree in drama six years later in 1968.
His first notable performance was in the 1969 TV play "The Experiment" and he then appeared in several movies which failed to attract a lot of attention, including "Summertree", "Adam at 6 A. M." and "Hail, Hero!" His first notable performance in a TV series was in the crime drama "The Streets of San Francisco" which aired from 1972 to 1976.
Michael went on to produce the critically acclaimed 1976 drama movie "One Flew Over the Cuckoo's Nest", and while his father wanted the lead role, Michael decided to give it to Jack Nicholson, who for his performance won the Academy Award for Best Actor.
Michael became famous worldwide after his starring role in the 1984 romantic comedy movie "Romancing the Stone" which also starred the famous actor and comedian Danny DeVito. He went on to appear in many critically acclaimed movies, such as the thriller "Fatal Attraction", the drama "Wall Street" which also starred Charlie Sheen and Daryl Hannah, both in 1987, and the 1989 black comedy "The War of the Roses".
The '90s saw Michael appear in more popular movies, such as the 1996 historical adventure "The Ghost and the Darkness", the 1997 thriller "The Game" and the 1998 crime thriller "A Perfect Murder", performances which helped Michael win a Crystal Globe Award for Outstanding Artistic Contribution to World Cinema. For his performance in the 2000 crime film "Traffic", Michael was nominated for a BAFTA and a Golden Globe Award.
In 2006, he guest stared in a single episode of the critically acclaimed comedy series "Will & Grace", and was nominated for an Emmy Award for Outstanding Guest Actor in a Comedy Show. In 2013, Michael was cast to star alongside Matt Damon in the biographical film "Behind the Candelabra", which won him an Emmy Award for Outstanding Lead Actor in a Mini-Series of a Movie. The decade saw him portray Hank Pym in the superhero movie "Ant-Man" as well as in its sequel "Ant-Man and the Wasp", while he reprised his role in the 2019 superhero film "Avengers: Endgame". For his performance in the comedy series "The Kominksy Method", Michael won a Golden Globe Award.
He married Catherine Zeta-Jones on 18 November 2000 several months after their son Dylan Michael was born.
Happy birthday #MichaelDouglas 76 today pic.twitter.com/W9zQ60IpjV

— Pudding Paul🤓 🏴󠁧󠁢󠁥󠁮󠁧󠁿 (@paulknight14) September 25, 2020
On 20 April 2003, Catherine gave birth to their daughter Carys Zeta. It was reported in August 2013 that Michael and Catherine were no longer living together, but had decided not to file for divorce. They reconciled in September of the same year, and Catherine moved back in with Michael.
In 2004, Douglas and Catherine were stalked by Dawnette Knight who sent death threats to Catherine. Dawnette later admitted in court that she did it because she was in love with Douglas, and was sentenced to spend three years behind bars.
On 16 August 2010, Douglas announced that he was suffering from throat cancer (later changing his statement to tongue cancer) which had progressed to stage IV. He announced on 11 January 2011 that the cancer was gone thanks to chemotherapy and radiation, but that it might return within a couple of years, but so far untrue!