• Mike Vitar is a former child actor, best recognized for his roles in the 'Mighty Ducks' trilogy and 'The Sandlot'.
• He has an estimated net worth of $300,000.
• He was born in Los Angeles and is of Latin ancestry.
• He worked as an EMT before becoming a firefighter for the Los Angeles Fire Department in 2002.
• He has been married to Kym Allan since 2007, and they have three children.
Who is Mike Vitar?
Michael Anthony 'Mike' Vitar was born on 21 December 1978 under the zodiac sign of Sagittarius. in Los Angeles, California USA. He's of Latin ancestry, holds American nationality, and belongs to White Caucasian ethnic group. He's now a 42-year-old former child actor, probably best recognized for landing the role of Benjamin Franklin 'Benny the Jet' Rodriguez in the sports comedy film "The Sandlot" (1993), and playing Luis Mendoza in the final two film titles of the "Mighty Ducks" trilogy, "D2: Mighty Ducks" (1994) and "D3: Mighty Ducks" (1996). He is also known for being a firefighter.
How rich is he, as of now? Mike Vitar Net Worth
As of early 2021, Mike Vitar's net worth is estimated at over $300,000, earned largely through his successful career as a child actor, appeared in nine television and film titles from 1990 to 1997. He has also increased his wealth working as a firefighter.
Early Life, Parents, Siblings, Nationality, Ethnicity, Educational Background
Mike Vitar spent his early years in his hometown of Los Angeles, where he was raised by his parents; however, there is no information in the media about their names and professions. Nonetheless, it is known that he has two older siblings, a brother named Pablo Pedro, and a sister named Elizabeth. His brother Pablo was also an actor briefly, portraying the older version of his character, Benny the Jet, in the film "The Sandlot".
He later worked at Hollywood Division for the Los Angeles Police Department in 1996, but sadly passed away after a short battle with colon cancer in 2008. Regarding his education, Mike went to St. Francis High School, located in La Cañada, California, matriculating in 1997.
Career Beginnings
Mike Vitar started to pursue his acting career when he was spotted by a casting manager while he was standing in line for a school carnival ride in 1990 – at the time he was just 12 years old. In no time, he made his first on-screen appearance in the role of Arturo in the action drama thriller film "Diplomatic Immunity" (1991), next to such actors as Billy Drago, Bruce Boxleitner and Tom Bresnahan.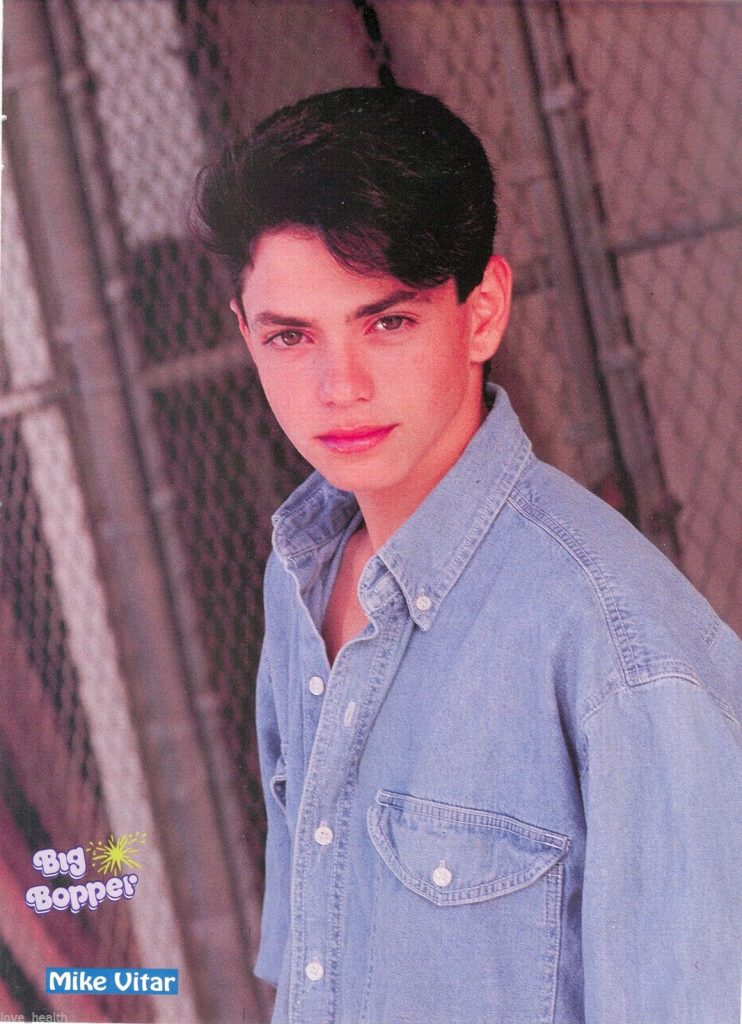 During the same year, he was also cast in the short family drama film "Everything You Wanted To Know About Puberty For Boys". and made a guest appearance as Anthony Gambuzza in the episode "Boys Of Summer" of the CBS sitcom "Brooklyn Bridge".
Rise to Prominence and "The Sandlot"
As he became more involved in acting, his roles became more serious. In 1993, he landed the minor role of a boy named Luis in Kevin Connor's neo-noir mystery film "Sunset Grill", alongside Peter Weller, Lori Singer, and Stacy Keach. His most prominent role came later that year, when he portrayed Benjamin Franklin 'Benny the Jet' Rodriguez in the sports comedy film "The Sandlot", next to Art LaFleur and Tom Guiry, co-written and directed by David Mickey Evans.
The film became a box office success, grossing over $34 million worldwide against the budget of $7 million. Moreover, the film has become a cult classic since its release; Mike's performance was praised and earned him the 1994 Young Artist Award for Outstanding Youth Ensemble in a Motion Picture, which he shared with other members of the cast.
Continued Success and Retirement
Mike's next major role came in 1994, when he had the part of Luis Mendoza in the second installment of The Mighty Ducks trilogy, entitled "D2: The Mighty Ducks", directed by Sam Weisman. Two years later, he would reprise his role in the third and final installment – "D3: The Mighty Ducks" – along with Emilio Estevez.
He then made a guest appearance as a teenager in the episode "Girl Talk" of the ABC police procedural drama series "NYPD Blue" in 1996, and the following year, he made a guest appearance as Carlos Lunes in the episode "Mother, May I?" of the CBS medical drama series "Chicago Hope". After which, he decided to retire.
Where is he now? What is he doing today?
Mike Vitar ended up in Hollywood by chance, and didn't stay there for too long. Even before his high school matriculation in 1997, he started working for Gerber Ambulance in Torrance as an EMT – Emergency Medical Technician. He remained in the position for the next six years, before passing the test and becoming a firefighter. Since 2002, Mike has been working as a firefighter for the Los Angeles Fire Department.
Controversy – Halloween Attack
Back in 2016, Mike Vitar's name appeared in the news, but for the wrong reasons. Namely, he and his firefighter colleagues, Eric Carpenter, Eugene Elbert and Michael Cirlin, beat a graduate student named Samuel Chang. On Halloween night 2015, Samuel Chang was handing out candy in the neighborhood to children; however, he was wrongfully accused of giving out drug-laced candy. He passed a house where Carpenter was hosting a Halloween party. Carpenter's wife asked him to go away, but he didn't, after which Eric Carpenter reacted and Mike joined the argument with others. Both Carpenter and Michael were off-duty that night.
Nevertheless, a fight between Chang and others broke out, and he was beaten and choked to death. For six straight minutes, Chang was choked until he passed away. Luckily, Michael and others performed CPR, which was enough to revive him until the paramedics arrived. He spent weeks in a hospital, left with some life-changing health problems including kidney failures, and also experienced bleeding on his brain, among many other injuries that changed his life for good.
The Lawsuit and Suspension
Two years after the incident, Samuel Chang filed a lawsuit against Mike Vitar and his colleagues, as he was perfectly innocent since no drugs were found neither on him nor in his blood. On misdemeanor battery charges, Mike received three-years probation, 90 days of community service, and a six-month unpaid suspension, after pleading no contest to the charges. Moreover, he had to pay $1.5 million to Chang.
After his suspension ended, Mike continued to work for the Los Angeles Fire Department, as did his colleagues.
Appearance and Vital Statistics
Mike Vitar has short dark brown hair and dark brown eyes. He stands at a height of 6ft 0½in (1.84cm), while his weight is around 135lbs (62kg). His vital statistics are 42-14-32; his shoe size isn't available.
Personal Life
Mike Vitar is married to Kym Allan. The public isn't aware of when they became romantically involved, but it's known that the lovebirds exchanged their wedding vows at a ceremony held on 27 January 2007. They have three children together – his wife gave birth to a son named Eli on 12 March 2007, their second son named Wesley on 30 April 2009, and thirdly their a daughter named Norah Paige, on 31 January 2013. The family of five resides in Los Angeles, California.