• Nita Talbot is a retired American actress best known for her roles in "Hogan's Heroes" and "Here We Go Again"
• She is now in her early 90s and lives away from the media
• Talbot began her career at 18 and had a number of notable roles in the '60s and '70s
• She was married twice and has one daughter
• Nita Talbot's current estimated net worth is around $4 million
Who is Nita Talbot?
Nita Talbot is an American retired actress, and in a career that spanned almost 50 years, she had a number of notable roles, but is perhaps still best known to the world as Marya in the TV series "Hogan's Heroes" (1968-1971), and also as Judy Evans in the TV series "Here We Go Again" (1973).
Where is Nita Talbot Today?
Nita left show business in the late '90s and since then has rarely appeared in the public. She is now in her early 90s, and is enjoying life away from the media buzz. In 2020, a picture of her was posted on Twitter, showcasing her present look, compared to her stunning beauty at the peak of her career.
Nita Talbot Biography: Age, Childhood, and Education
Born Anita Sokol on 8 August 1930 under the Leo zodiac sign, in New York City, USA, she's never revealed the names of her parents, but she had an older sister, Gloria Stone Martin, a dancer and actress, who passed away in 2014 at 85 years old. From an early age, Nita was interested in acting and performing, but didn't think of it as a professional career until her sister launched her own professional career.
Career Beginnings
Nita followed her sister to auditions, and was spotted by a scout who immediately signed her to Warner Bros.
Nita was 18 at the time, and made her acting debut in the 1951 Academy Award-nominated drama film "It's a Great Feeling", starring Doris Day, Dennis Morgan, and Jack Carson. Though the role went uncredited, she then secured the part of Gloria in the TV action-drama series "Man Against Crime", appearing in nine episodes next to Ralph Bellamy until 1954. In addition, she continued making minor appearances in such projects as the western "Montana" (1950), with the legendary Hungarian-born actor S.Z. Sakall in the lead role, and Alexis Smith, and the same year she appeared in the Academy Award-nominated crime-drama film "Caged", starring Eleanor Parker, Agnes Moorehead, and Ellen Corby.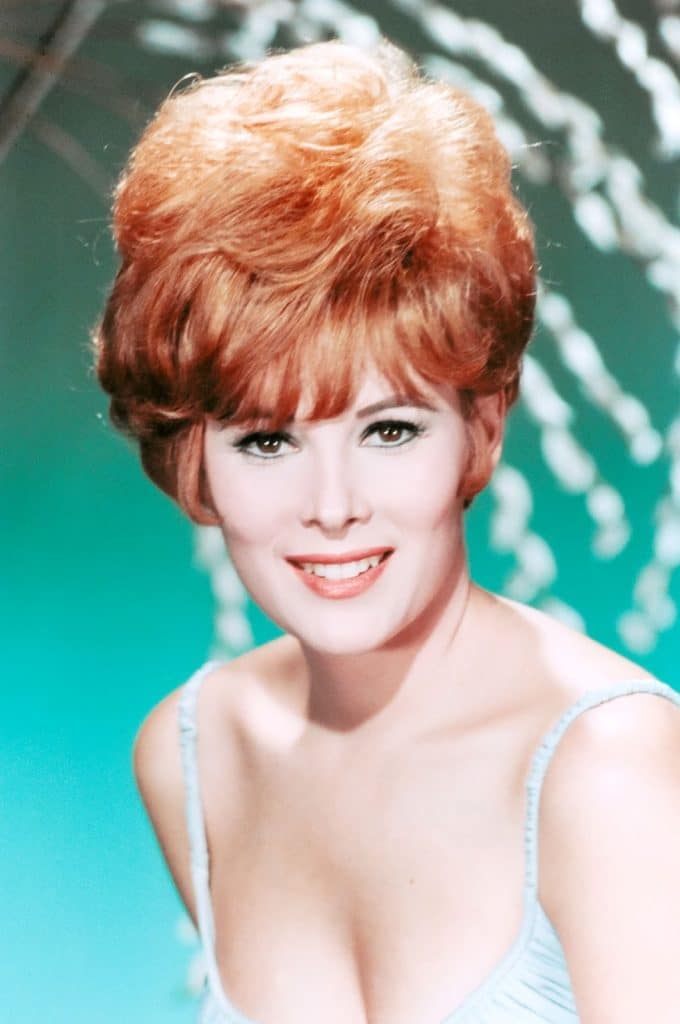 She struggled at the start of her career to secure any major role, but then in 1956 she had a supporting role in the romantic comedy film "Bundle of Joy", with Eddie Fisher and Debbie Reynolds in the lead roles, and before the decade ended, she also had a supporting role in the western-comedy film "Once Upon a Horse" (1958), and portrayed Lusti Weather in the TV series "Bourbon Street Beat" (1959-1960).
Rise to Prominence
The start of the '60 was quite good for her career, as she was chosen for one of her most popular roles as Dora Miles in the TV comedy series "The Jim Backus Show", with Jim Backus as the main star portraying the character Mike O'Toole.
The show lasted only until 1961, but became quite popular, which made Nita rather famous. She continued with guest-starring roles in such TV series as "The Untouchables" (1960-1962), then "Ensign O'Toole" (1963), and "The Lieutenant" (1964), before she appeared in the 1965 romantic comedy film "Girl Happy", which starred Elvis Presley and Shelley Fabares. The same year, Nita starred in the romantic comedy "That Funny Feeling", co-starring Sandra Dee and Bobby Darin, while in 1966, Nita was selected for her career role as Russian Spy Marya in the TV comedy series "Hogan's Heroes". She only featured in seven episodes until 1971, but it was enough for her to gain worldwide recognition, and a Primetime Emmy Award nomination for her work on the series.
She continued to make guest-star appearances in various TV series throughout the '60s, including the critically acclaimed series "The Virginian" (1966), then "The F.B.I" in 1967, and "Bonanza" inthe same year, while in 1969 Nita appeared in TV comedy series "The Debbie Reynolds Show".
After the end of her stint on "Hogan's Heroes", Nita appeared in the television movie "They Call It Murder" (1971), while in 1972 she featured in the western adventure drama film "Buck and the Preacher", with Sidney Poitier in the lead role. In 1973, Nita portrayed Judy Evans in the short-lived comedy series "Here We Go Again", co-starring Larry Hagman and Diane Baker, and two years later she appeared as Joan in the Academy Award-nominated thriller-drama film "The Day of the Locust", with Donald Sutherland and Karen Black in the lead roles.
Before the '70s ended, Nita had several other notable roles, including as Marcia in the 22 times Primetime Emmy awarded TV comedy-drama series "All in the Family" (1977), and as Mrs. Sheila Fine in the daytime soap opera "Soap" (1977-1978), among several other roles.
She began the next decade with a couple of acclaimed roles, first in the comedy film "Serial", starring Martin Mull and the Academy Award-nominated actress Tuesday Weld, and starred in the sci-fi horror film "Island Claws", next to Robert Lansing and Steve Hanks. Her next role was as Delfina in the medical drama "General Hospital" (1981-1982), and in 1983 she starred in the horror film "Frightmare". Her career in the '80s was colored by appearances in numerous films, such as the comedy-drama film "Approaching Omega", and "Movers & Shakers" in 1983 and 1985 respectively.
Next, she appeared in the romantic crime-drama film "Take Two" in 1987, starring Frank Stallone, Robin Mattson and Grant Goodeve, while from 1988 to 1989 she portrayed Rose in the short-lived comedy series "Starting from Scratch".
Retirement
Nita remained active in show business until the late '90s, and during the decade made several notable appearances. She was Camille in the fantasy sci-fi horror film "Puppet Master II", starring Elizabeth Maclellan, Collin Bernsen and Steve Welles, and in 1994 she guest-starred in the Primetime Emmy Award-winning comedy series "Empty Nest", with Richard Mulligan as the main star of the series.
She made another guest-star appearance as Roz in the critically acclaimed comedy series "Dream On", which starred Brian Benben, Denny Dillon and Wendie Malick, then her last credit was as the voice of Anastasia Hardy in the animated TV action series "Spider-Man: The Animated Series" in 1997.
Personal Life, Marriage, Husband, Children
Nita was married and divorced two times – her first husband actor was Don Gordon, known for his appearances in such films as "Bullitt", "Papillon", and "The Towering Inferno" and the two were married from 1954 until 1958. She was his second wife since Gordon was previously married to Helen Westcott.
Happy birthday, Nita Talbot!The Emmy nominee for HOGAN'S HEROES is 91 today! See her on CHARLIE'S ANGELS Aug 19 at 9p ET. What have you seen her in? https://bit.ly/2vboEnp

Posted by getTV on Sunday, August 8, 2021
Nita's second marriage was to actor Thomas Andrew Geas. The two married in 1961 and had a daughter, Nicole Andrea Geas, born in 1962, but divorced before the end of the decade. Geas went on to marry his second wife, Lucia I. Blanco.
Net Worth
As of mid- 2021, Nita Talbot's net worth has been estimated to be around $4 million, earned through her successful career as an actress, during which she appeared in more than 150 film and TV titles, all of which added to her wealth.
Appearance and Vital Statistics
This prominent actress has brown eyes and brown hair, though she now dyes it due to her age. She stands at a height of 5ft 9ins (1.75m), while she weighs approximately 137lbs (62kgs). Her vital statistics are 33-24-33 and her bra size is 36B.