• Veronica Hamel is a 77-year-old retired actress, producer, and former model from Philadelphia, Pennsylvania USA.
• She has an estimated net worth of over $4 million, earned through her 4-decade career in entertainment.
• She gained worldwide recognition for her portrayal of Joyce Davenport in the NBC serial police procedural series "Hill Street Blues" (1981-1987).
• She has over 50 television and film acting credits and has been nominated for multiple awards.
• She is believed to be single and currently resides in Los Angeles, California.
Who is Veronica Hamel?
Veronica Hamel was born on 20 November 1943 under the zodiac sign of Scorpio, in Philadelphia, Pennsylvania USA. She is a 77-year-old retired actress, producer, and former model, probably still best recognized for landing the role of Joyce Davenport in the NBC serial police procedural series "Hill Street Blues" (1981-1987), which earned her five Primetime Emmy Award nominations.
How rich is she, as of now? Veronica Hamel Net Worth
As of mid-2021, Veronica Hamel's net worth is estimated at over $4 million; acquired through her successful involvement in the world of entertainment as a professional actress and producer, who garnered over 50 television and film acting credits during her career that lasted for four decades. She also increased her fortune through her brief modeling career.
Early Life, Parents, Siblings, Nationality, Ethnicity, Educational Background
Veronica Hamel spent her early years in her hometown of Philadelphia, where she was raised by her father who worked as a carpenter, and her mother who was as a housewife; the names of her parents haven't been revealed to the public yet. It's known that she isn't an only child, and has at least one sibling. She holds American nationality and belongs to White Caucasian ethnic group. Regarding her education, Veronica attended Jules E. Mastbaum High School in her hometown, and after matriculating, she subsequently graduated from Tampa University.
Career Beginnings
Prior to becoming a model and actress, Veronica Hamel spent some time working as a secretary for a company that produced ironing board covers. Her professional modeling career started when she was discovered by Eileen Ford, and she appeared in various print advertisements and commercials, working for such cigarettes brands as Virginia Slims and Pall Mall Gold. She then made an appearance as a model in the 1971 neo-noir crime thriller "Klute", but it went uncredited. Her film debut eventually came with the role of an artist in the comedy "Apple Pie", while she made her TV debut as Elenora in an episode of the CBS action crime series "Kojak", both in 1975.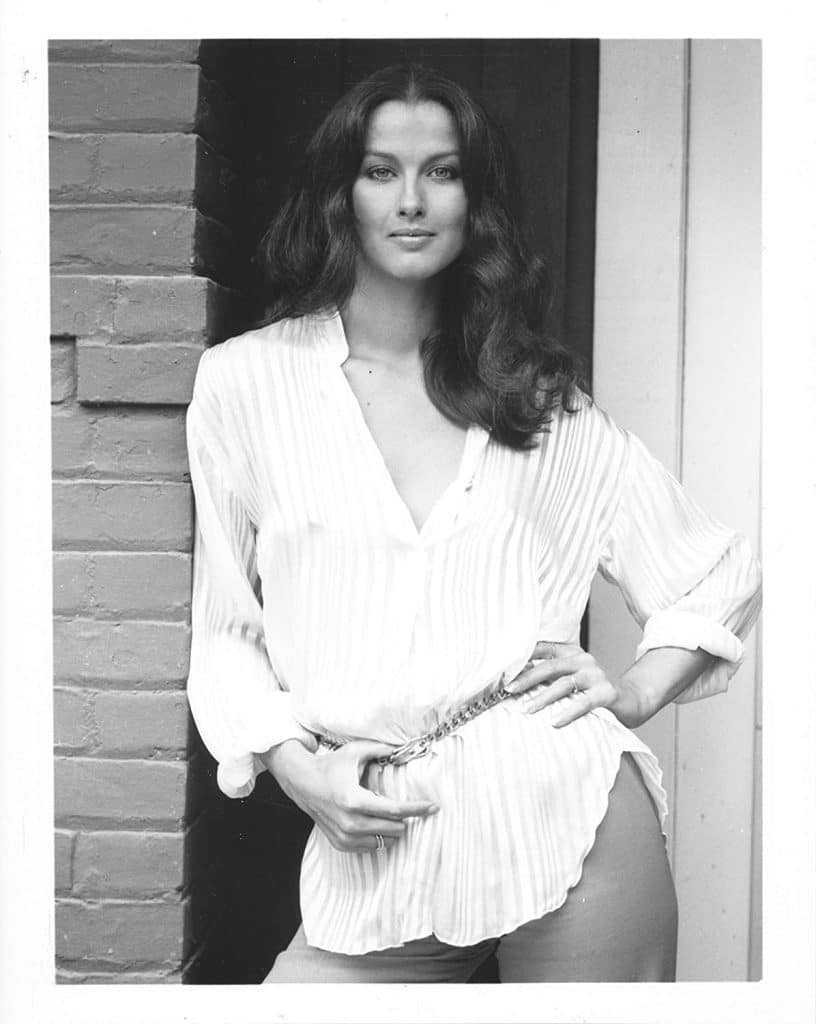 These were followed by her portrayal of Linda Maxwell in Paul Bartel's comedy film "Cannonball" (1976), alongside David Carradine.
Roles in the Late 1970s
Thereafter, Veronica Hamel had guest parts in such TV series as "City Of Angels", "The Rockford Files" and "Family", among others. In 1977, she played Laura Koshko in the NBC drama miniseries "Harold Robbins' 79 Park Avenue", next to Lesley Ann Warren, and featured as Helen in Randal Kleiser's made-for-TV drama film "The Gathering", which she would later reprise in its 1979 sequel,entitled "The Gathering, Part II". She then landed the roles of Suzanne Constantine in the action-adventure disaster film "Beyond The Poseidon Adventure" (1979) and Nikki Spangler in the disaster film "When Time Ran Out…" (1980), both of which were critical and commercial failures.
Rise to Stardom
Veronica Hamel gained worldwide recognition when she was chosen to feature in the main role of Joyce Davenport in the long-running police procedural TV series "Hill Street Blues", that ran on NBC for seven seasons from 1981 to '87. The series was created by Michael Kozoll and Steven Bochco and gained critical acclaim, winning numerous accolades including 26 Primetime Emmy Awards out of 98 nominations. For her performance in the series, Veronica received five Primetime Emmy Award nominations for Outstanding Lead Actress in a Drama Series (1981-'85).
Concurrently, she continued to secure other roles – in 1981, she was cast as Jennifer North in the CBS drama miniseries "Jacqueline Susann's Valley Of The Dolls", alongside Catherine Hicks and Lisa Hartman, after which she shared the screen with Jeffrey DeMunn in the made-for-TV film "Sessions" (1983), featuring as Lee Churchill. Two years later, she played Kate Kane in the CBS drama miniseries "Kane & Abel", based on the novel of the same title written by Jeffrey Archer. By the end of the decade, she also had a lead part as Kay Hutton in the 1988 romantic comedy film "A New Life" and portrayed Elizabeth Barnes in the 1990 comedy film "Taking Care Of Business", next to Charles Grodin and James Belushi.
Continued Success
During the 1990s, Veronica Hamel starred in numerous made-for-TV film titles. She landed the roles of Nettie Forbes in the ABC thriller film "Stop At Nothing" (1991) and Bianca Hudson in the CBS drama film "Baby Snatcher" (1992), for which she also served as a co-executive producer. In 1993, she played Nora Freemont in the CBS thriller film "The Disappearance Of Nora", directed by Joyce Chopra.
Following were her portrayals of Dr. Paula Spencer in the 1994 NBC drama film "A Child's Cry For Help", and Lily Munster in the 1995 Fox comedy horror film "Here Come The Munsters".
Afterwards, she played Micki Dickoff in the made-for-TV biographical crime drama film "In The Blink Of An Eye" (1996) and featured as Jennifer in the CBS thriller film "Stranger In My Home" (1997), alongside Joe Penny and Daniel Hugh Kelly. She then appeared as Laura Duvann in the 1998 BBC fantasy film "The Last Leprechaun", directed by David Lister.
Further Work and Retirement
In 2001, Veronica Hamel guest-starred in such TV series as "Touched By An Angel", "The Division", and "The Fugitive", and then had a part as Virginia 'Ginny' Halloran in the crime drama film "Determination Of Death", next to Michele Greene. Thereafter, she took the recurring role of Judge Marjorie Brennan in the legal drama TV series "Philly" that ran on ABC from 2001, but the series was canceled after a single season due to low ratings.
She then made guest appearances as Beth Taylor in the NBC crime drama series "Third Watch" (2002-2003) and Margo Shephard in the ABC drama series "Lost" (2004-2010). Concurrently, she was also cast as Commissioner Hayes in the 2007 made-for-TV monster film "Bone Eater", released on Syfy. Veronica then retired from acting, and hasn't performed since 2010.
Appearance and Vital Statistics
Veronica Hamel has long dark brown hair and green eyes. She stands at a height of 5ft 8ins (1.73m), her weight is around 132lbs (60kgs), while her vital statistics are 32-24-33, bra size 36B. Information about her dress and shoe size isn't available.
#VeronicaHamel pic.twitter.com/OC8ZdXWw3u

— SylviaJulie (@karenshane63) August 15, 2021
Personal Life
Veronica Hamel was married to actor Michael Irving, known for his roles in "The Duellists", "Hangar 18", and "Lou Grant". The couple exchanged their wedding vows in 1971, but after being married for a decade, they went their separate ways and divorced in 1981 – they didn't have children. It is believed that she isn't involved in any relationship at the moment. Her current residence is in Los Angeles, California.