• Jaime Murray was born in London, England in 1976 and holds British nationality
• She is an actress known for playing Stacie Monroe in the mystery crime series "Hustle"
• She has been nominated for a Saturn Award for Best Supporting Actress on Television for her performance in "Dexter"
• She is married to Bernie Cahill, and is an activist fighting to reduce pollution and save the planet
• Her net worth is estimated at over $3 million
Jaime Murray Wiki Bio
Jaime Murray was born in London, England on 21 July 1976 – her zodiac sign is Cancer and she holds British nationality. She is an actress who might be known best for her portrayal of Stacie Monroe in the mystery crime series "Hustle", created by Tony Jordan and which starred Robert Glenister, Robert Vaughn and Rob Jarvis. It follows a group of con artists working in London, and the series was nominated for seven awards including two Primetime Emmys during its airing from 2004 to 2012.
Early life and education
Jaime was raised in London alongside her sister Lizzie, and two half-siblings from her father's first marriage, by her mother Elaine who is a housewife and her father Billy Murray who is a British actor, not to be confused with Bill Murray, a Golden Globe awarded British actor.
Jaime grew up dreaming about becoming a famous model or actress, but her father advised her not to venture into the film industry. She was physically active at high school as she did gymnastics and played soccer, but when it was time for her to take her A-Level tests, Jaime found out she was suffering from dyslexia, or reading disorder. She went on to enroll at the London School of Economics to study philosophy and psychology, however, she quit to practice acting at the Drama Centre London, graduating with a Bachelor of Arts degree in 2000.
Roles in TV series
Jaime made her debut TV series appearance in the 1982 episode "Grass" of the "Saturday Night Thriller". She was only six back then, and it was her father who helped her win the role.
Two decades passed before Jaime returned to acting with her portrayal of Sonia Guzman in a 2002 single episode of the drama "Casualty" and she gained recognition in the same year when cast to portray Melanie in three episodes of the crime drama "The Bill", which aired from 1984 to 2010 counting 2,404 episodes. The following years saw Jaime appear in single episodes of many series, until her next notable performance in 2007 when she played Lila Tournay in the critically acclaimed mystery crime drama "Dexter", created by James Manos Jr. and which starred Michael C. Hall, Jennifer Carpenter and David Zayas. It follows the analyst Dexter working for the Miami police during the day, but who turns into a serial killer at night, however, Dexter only kills other murderers. The series was a hit, winning 53 awards including two Golden Globes, and was nominated for 195 other awards.
Jaime's following notable performance was in 2009, when she starred as Grace Valentine in the comedy "Valentine", which follows several Greek Gods as they help humans find love again. In the same year, she starred as Vivienne in the drama "The Beautiful Life: TBL" which follows the lives of six models living together in New York. In 2012, Jaime played the supporting character Olivia Charles in the mystery crime drama "Ringer", then from 2013 to 2015 starred as Stahma Tarr in the action science fiction drama "Defiance", which also starred Grant Bowler and Stephanie Leonidas, and centers on the city of Defiance, inhabited by both humans and aliens. The series was nominated for four awards including one Primetime Emmy.
In 2019, Jaime both portrayed and voiced Theresa Walker in four episodes of the action crime drama "Gotham" which is about the title city before Batman appeared, and was a hit, winning seven awards including a Primetime Emmy.
Jaime's most recent role in a TV series has been in 2020, when she voiced Carmilla in the animated action adventure "Castlevania", which is about a vampire trying to save a city overtaken by mysterious monsters controlled by Dracula himself. It won three and was nominated for four other awards.
Roles in movies
Jaime made her debut film appearance in 2005, when she appeared in the science fiction thriller "Animal", and the same year saw her star in the short drama "Hustle Season 2: The Big Finish".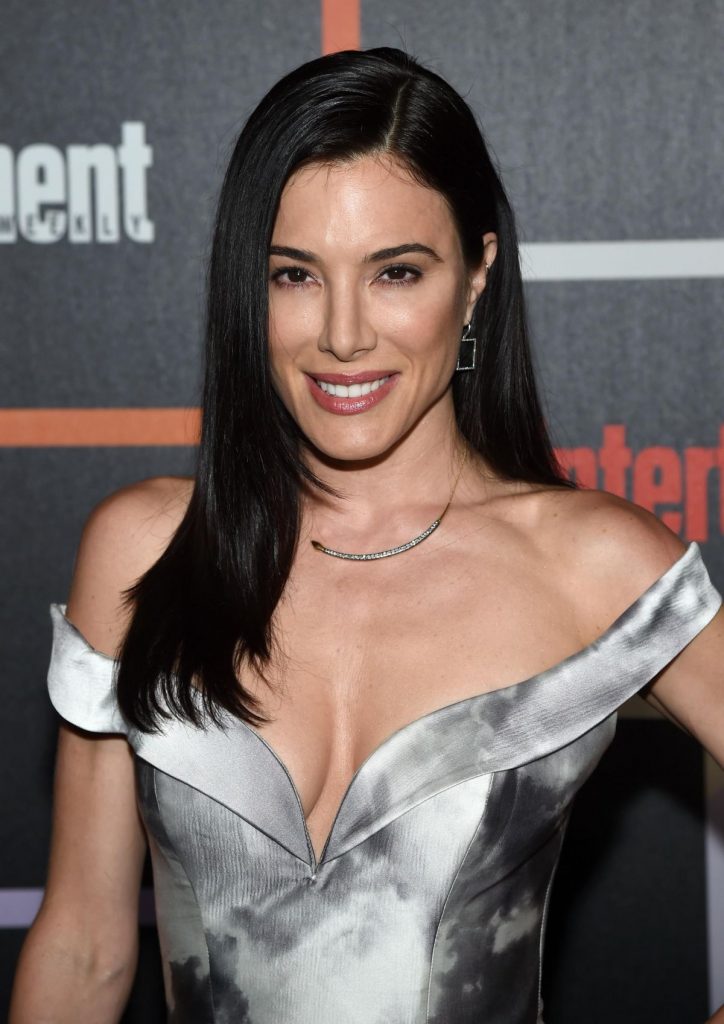 The year 2007 saw her portray Medea, one of the lead characters in the horror thriller "The Deaths of Ian Stone", which also starred Mike Vogel and Christina Cole, and follows an American man who is being killed every day by mysterious creatures, but still wakes up each morning in a different life. A few of Jaime's following roles were in the horror comedy "Botched" and the horror thriller "Demons" both in 2007, and the 2010 action horror "Devil's Playground".
The year 2012 saw her star as Chloe in the drama "Possessions", but which failed to attract any attention, then in 2013, she starred as Vivian Bleak alongside Keith David in the thriller drama "Samuel Bleak", written and directed by Dustin Dugas Schuetter. It follows a mysterious mute man admitted to a mental hospital, and won a Feature Film Award for Best Drama at the New York International Independent Film & Video Festival.
Three of Jaime's most recent roles in movies have been in the 2013 horror thriller comedy "Fright Night 2", the 2014 short musical "Zac Brown Band: Goodbye in Her Eyes", and the 2018 fantasy horror thriller "The Nanny". She is currently shooting as the lead character Fiona for the upcoming mystery thriller "The Rapture".
Jaime has also voiced the character Hedira in the 2014 first-person action video game "Lichdom: Battlemage".
Awards and nominations
Jaime has been nominated for a single award: a 2008 Saturn Award for Best Supporting Actress on Television for her performance in "Dexter".
Has she undergone plastic surgery?
In 2008, Jaime stated in an interview she would never undergo plastic surgery, however, there are many before-and-after pictures on the internet showing that the famous actress might have had some work done on her face.
According to some of the rumors, she has perhaps undergone lip augmentation and rhinoplasty (nose job). Even today, Jaime denies these rumors, claiming that she maintains her looks by following a healthy diet and working out several times a week.
Love life and relationships
In 2007, Jaime began dating American TV show host and author Dan Abrams, and they stayed together for around a year before splitting for unknown reasons in mid-2008. In 2009, she started seeing Corbin Bleu, a famous American actor, model and dancer, perhaps known best for his starring role in the film series "High School Musical", but that lasted for only a couple of months.
It's rumored that Jaime was also in a relationship with the famous actor Ryan Gosling in 2009, but also for just around two months.
Ryan is one of the most famous Canadian actors, with a net worth of around $70 million, and for his starring roles in several critically acclaimed movies such as the romantic drama "The Notebook", the drama "Half Nelson", and the romantic musical "La La Land" for which he won a Golden Globe Award for Best Actor.
On 26 May 2014, Jaime exchanged vows with her other half Bernie Cahill, who is an American talent and brand manager, as well as an entertainment lawyer. He is one of the founding partners of the talent management company Activist Artists Management based in Hollywood in California. It appears that the pair have decided not to have children but to focus on their careers.
As of January 2021, Jaime is married to Bernie Cahill, and doesn't have children.
Hobbies and other interests
Jaime likes to appear in horror movies, but isn't too keen on watching them. As she's explained, she is afraid of horror films, and has to at least turn the music down if she's about to watch one.
She likes to play video games but admits she's bad at them, claiming she isn't strategic and cannot remain calm under pressure.
Jaime is not a big fan of the US, and believes British people have better manners and are friendlier.
She is an activist, who is fighting to reduce pollution and save the planet from a possible disaster.
Jaime loves to travel, and enjoys visiting attractive historical and natural places such as the Sacred Valley of the Incas in Peru (close to Machu Picchu) which she visited in December 2020.
She has her own favorite actors and actresses, some of whom are Brad Pitt, Russell Crowe and Natalie Portman, and her favorite movies include "Fight Club", "Troy" and "The Curious Case of Benjamin Button".
Age, measurements and net worth
Jaime's age is 44. She has long black hair and brown eyes, her height is 5ft 7ins (1.7m) and she weighs around 135lbs (62kgs).
As of January 2021, her net worth has been estimated at over $3 million.