• Amberlynn Reid is a 30-year-old social media star and plus-size model, best known for her YouTube channel with almost 200,000 subscribers and 115 million views.
• As of mid-2021, she has an estimated net worth of over $300,000.
• She was raised by her parents in California and was taken away at age 11 due to their substance issues and lived in foster homes.
• Her rise to fame on YouTube began with her debut video in November 2013, which went viral.
• She is a lesbian and is in a relationship with Rebecca 'Becky' Williams, living together in Lexington, Kentucky.
Who is Amberlynn Reid?
Amberlynn Reid was born on 27 December 1990 under the zodiac sign of Capricorn, in Key West, Florida USA. She is a 30-year-old social media star and plus-size model, probably best recognized for creating daily vlogs and mukbang videos, and uploading them onto her official self-titled YouTube channel, on which she has garnered almost 200,000 subscribers, while her videos have been viewed almost 115 million times in total.
She also runs her official Instagram account with almost 60,000 followers, and her official TikTok account with more than 15,000 followers.
How rich is she, as of now? Amberlynn Reid Net Worth
As of mid-2021, Amberlynn Reid's net worth is estimated at over $300,000, acquired through her successful involvement on the social media scene. She increases her fortune through sponsored posts, stream subscriptions, and video monetization.
Early Life, Parents, Siblings, Nationality, Ethnicity, Educational Background
Amberlynn Reid spent her early years in California, where she was raised by her father whose name is unknown, and her mother, Kristine Reid. The professions of her parents haven't been revealed to the public yet. She is a middle child, having two brothers, one of them named James Reid. She holds American nationality, and belongs to White Caucasian ethnic group.
Her childhood was difficult since she was taken away from her parents at the age of eleven due to their substance problems.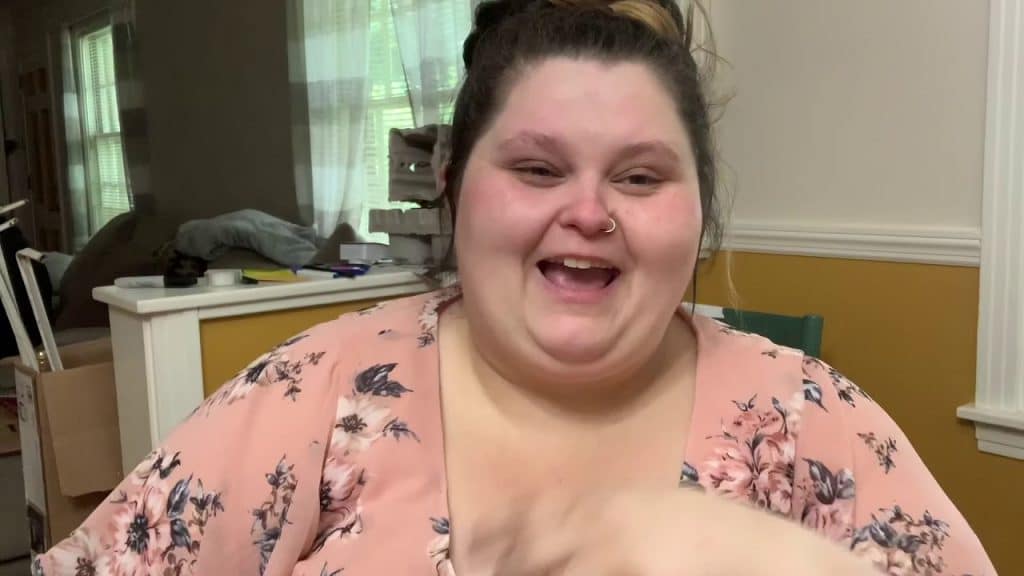 She then lived in foster homes until she returned to them… and started smoking and drinking. Regarding her education, Amberlynn went to Brown Mackie College in Tucson, Arizona.
Rise to Fame on YouTube
Amberlynn Reid launched her official self-titled YouTube channel on 17 September 2011, while she started pursuing her career on it two years later, when she came up with an idea to start filming videos dedicated to weight loss.
In November 2013, she uploaded her debut video, entitled "Nervous + Awkward + Weight Loss Vlog", in which she introduced herself and revealed that she weighed around 368lbs (167kgs). It went viral, which encouraged her to continue making videos of similar content, and motivated her to start losing weight.
Amberlynn started filming workout challenges and other videos related to food in order to document her weight loss journey. Apart from that, she expanded her content, and began to film mukbang videos, fashion, and beauty hauls.
Some of her most popular videos include "I don't know what to say", "MUKBANG | EAT WITH ME | SPICY", and "WHAT I ATE TODAY UNHEALTHY", among many others.
Controversy
Amberlynn Reid caused huge controversy as her videos met with a huge number of negative comments, as her fans noticed that she had actually gained more weight, which caused a lot of discussion about her eating habits and diet; she even ended up eating junk food in front of the camera.
Besides that, she has been criticized for behaviour towards her girlfriend Becky, and her overweight dog.
Other Social Media Platforms
In addition to her career on YouTube, Amberlynn Reid is also active across other social media platforms, which she uses to promote her videos and other projects; she runs her official Instagram account under the username 'raritycat', and is also active on the highly popular service TikTok, on which you can find her under the nickname 'amberlynnreid_'.
Appearance and Vital Statistics
Amberlynn Reid has long dark brown hair and dark brown eyes. She stands at a height of 5ft 3ins (1.60m), while her current weight is around 570lbs (258kgs). Information about her vital statistics, bra, dress and shoe size is unavailable.
Personal Life
Amberlynn Reid is a lesbian, and is very open regarding her sexuality and love life.
She has dated several girls – between 2008 and 2011, she was romantically involved with Kasey Cordiva, the following their split, she went on to date Krystle Sivak, a romance which lasted for four years, from 2011 to 2015. Thereafter, Amberlynn was in a relationship with Destiny Cook between 2015 and 201, after which she started a new romance with a woman named Rebecca 'Becky' Williams in May 2017. They are still going strong and currently live together in Lexington, Kentucky.