• Joanna Newsom is an American harpist, singer and actress.
• She began playing the harp at age 13 and released her debut album in 200•
• She has acted in several films and television series, including "Inherent Vice" and "Portlandia".
• She is married to American comedian, actor and musician Andy Samberg and they have one daughter.
• Her net worth is estimated to be over $5 million.
Joanna Newsom Wiki Bio
Joanna Caroline Newsom was born in Grass Valley, California USA, on 18 January 1982 – her zodiac sign's Capricorn, and she holds American nationality. She's a harpist, Indie singer and an actress, but who's probably known best for being the wife of Andy Samberg, a famous American comedian, actor and musician.
Early life and education
Joanna was raised in Grass Valley and Nevada City alongside her brother Peter and sister Emily, by their parents William and Christine Newsom (nee Mueller), both of whom are doctors.
Growing up, she wasn't allowed to listen to the radio or watch TV as her parents wanted to protect her and her siblings from bad influences. Her mother was also a multi-instrumentalist, while her father played the guitar, thus Joanna was surrounded by music most of the time.
She studied at the Waldorf school at which she learned about memorizing songs, and acting in plays, and when she was five, she asked her parents to let her learn to play the harp. Joanna's teacher didn't want to take her on because she was too young, and suggested that she try the piano first. It didn't take long for Joanna to learn to play the piano, and she then moved on to small Celtic harps, and was 13 when she began playing the large pedal harp.
Upon matriculating from a local high school in 2000, Joanna enrolled at Mills College, but quit to focus on her career as a musician, and moved back in with her parents.
Career as a musician
Her first two extended plays (EPs) – "Walnut Whales" and "Yarn and Glue" – were recorded at her home, and after a member of the Nevada band Golden Shoulders heard her music, Joanna was invited to tour with them.
She got to sign her first contract with the record label Drag City, and her debut album was released in 2004, entitled "The Milk-Eyed Mender".
Joanna toured with several bands including Vetiver and Weird War, and made her debut UK appearance at the Wales' Green Man Festival. In November 2006, she released her second album – "Ys" – which found itself at #134 on the Billboard 200 Chart, and won her a nomination for a 2007 Shortlist Music Prize. Joanna was then invited to collaborate with various artists and bands such as MGM, Moore Brothers, and Golden Shoulders. Her third album – "Have One on Me" -came out on 23 February 2010, and on 19 July 2011, she released her next single "What We Have Known". In February 2013, her single "Kindness be Conceived" was released, and on 23 October 2015, Joanna released her fourth album, "Divers" which topped the Billboard Alternative Albums Chart.
She has been performing to this day although she hasn't released any new albums since "Divers".
Career as an actress
Joanna has nine acting credits, three of which are her music videos "Sprout and the Bean", "Sapokanikan" and "Divers".
In 2008, she voiced a supporting character in the English version of the Japanese animated action adventure movie "The Sky Crawlers", and in 2009 she starred in the music video "MGMT: Kids". The year 2012 saw her appear in the episode "Motorcycle" of the comedy "Portlandia", and in 2014, Joanna played Sortilege in the critically acclaimed crime comedy movie "Inherent Vice", written and directed by Paul Thomas Anderson, and which starred Joaquin Phoenix, Josh Brolin and Owen Wilson. It follows Larry 'Doc' Sportello, a Los Angeles private detective, as he's investigating his ex-girlfriend's disappearance. It won 15 awards including a Robert Altman Award for Joanna and her colleagues.
More recently. in 2016 she played a Steam Punk Doctor in the musical comedy movie "Popstar: Never Stop Never Stopping".
Other credits
In 2006, she voiced Anna in the video game "Hot Shots Tennis".
Joanna has written and performed songs for various movies and TV series, such as the 2007 musical comedy film "Great World of Sound", the 2007 documentary series "P. O. V.", and the 2016 talk-show "Late Night with Seth Meyers".
In 2015, Joanna wrote the short film "Joanna Newsom: Divers".
She has been featured in various documentaries, such as the 2005 series "Musikprogrammet – Programmet om Musik", the 2009 movie "The Family Jams", and the 2013 film "Roy Harper Man or Myth". Joanna has also made a guest appearance in many talk-shows, such as "The Late Show with David Letterman", "Made in Hollywood", and "The Late Show with Stephen Colbert".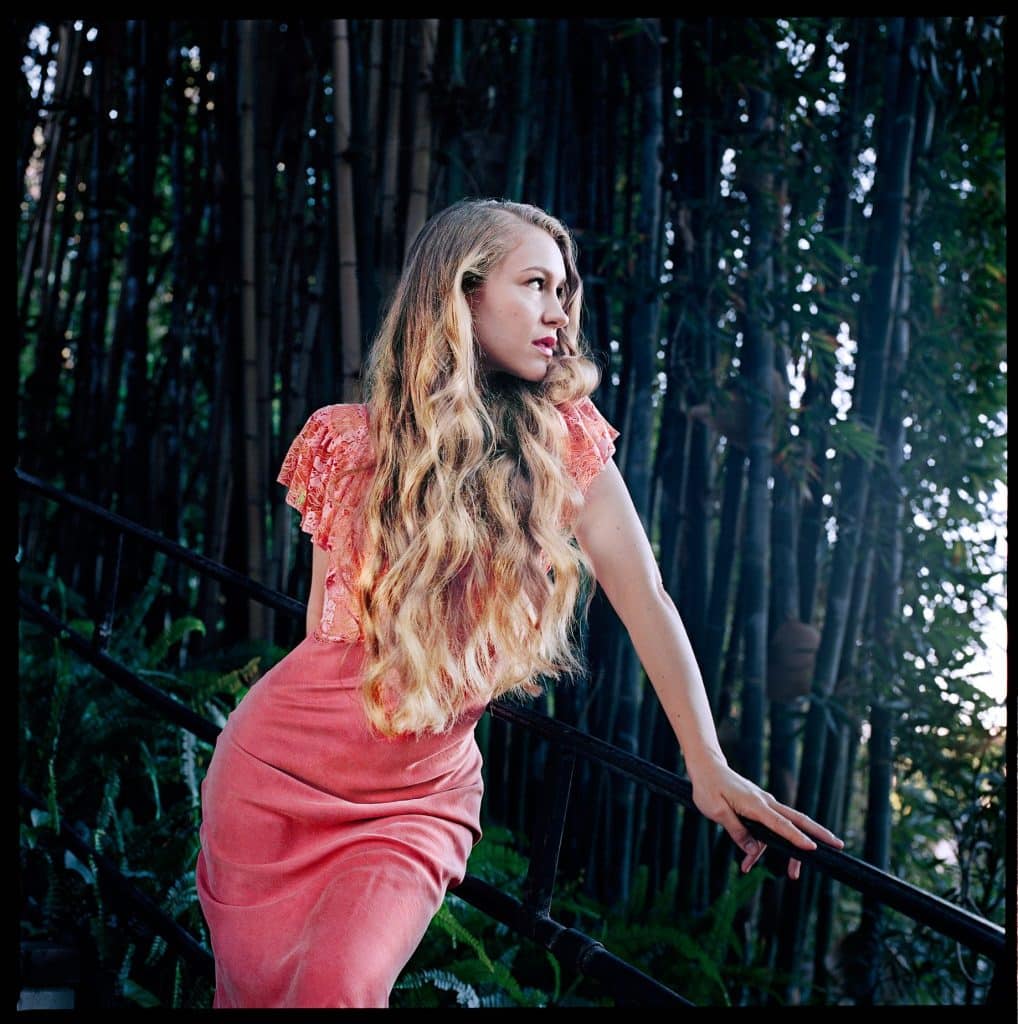 Love life and relationships
Before meeting Andy Samberg, Joanna was in a long-term relationship with the American singer-songwriter and guitarist Bill Callahan, known best for being the lead singer of the band Smog. The two were together from 2004 to 2007, when they split for unknown reasons.
In 2006 while still dating Bill, Joanna met Andy during one of her concerts, and they started seeing each other not long after her split from Bill. It was announced in February 2013 that they were engaged, and on 21 September of the same year, Andy and Joanna exchanged vows in front of their closest friends and family members in Big Sur in California. The two decided to wait with children, to focus on their careers, and it was four years later in August 2017 that they welcomed their first child – a daughter.
As of April 2021, Joanna's married to Andy Samberg and they have one child together.
Hobbies and other interests
Joanna's biggest influence during her high school years was the band Fleetwood Mac, and she rarely listened to any other bands during that time. She's today also a fan of Angus and Julia Stone.
She's passionate about travelling, and her career as a musician has taken her all around the US, as well as to various Asian and European countries.
Joanna's physically active, as she has a couple of training sessions at the gym each week, and is also following a very strict diet, thus her slim figure.
She's a dog-lover, and has volunteered at a couple of animals shelters.
In her spare time, Joanna enjoys watching movies starring her favorite actor and actress Jim Carrey and Kate Winslet, such as "Ace Ventura: Pet Detective – When Nature Calls", "Titanic" and "The Eternal Sunshine of the Spotless Mind".
Age, height and net worth
Joanna's age is 39. She has long blonde hair and blue eyes, her height is 5ft 4ins (1.63m) and she weighs around 112lbs (51kgs). As of April 2021, her net worth has been estimated at over $5 million, while Andy's wealth is reputedly over $20 million.
Who is Andy Samberg?
He was born David A. J. Samberg in Berkeley, California USA, on 18 August 1978 – his zodiac sign is Leo and he holds American nationality. He's probably known best for his lead voicing role in the 2009 animated adventure comedy movie "Cloudy with a Chance of Meatballs", as well as in its 2013 sequel "Cloudy with a Chance of Meatballs 2".
Andy has been credited with appearing in around 100 movies and TV series, and has won eight awards including a 2014 Golden Globe for Best Performance by an Actor in a Television Series – Comedy or Musical, for "Brooklyn Nine-Nine". He's been nominated for 46 other awards.
Andy was raised in Berkeley alongside his sisters Darrow and Johanna, by their Jewish parents Joe who's a photographer and Marjorie 'Margi' (nee Marrow) who's a school teacher. He was five when he asked his parents to change his name to Andy. He attended Berkeley High School from which he matriculated in 1996, and then enrolled at the University of California, Santa Cruz. After two years there, Andy moved to New York University's Tisch School of the Arts, from which he obtained his Bachelor of Arts degree in experimental film in 2000.
He gained recognition with his frequent appearances in the comedy series "Saturday Night Live", and Andy then became a member of the comedy troupe The Lonely Island – in 2009, they released their first comedy album "Incredibad". His first notable performance after "Cloudy with a Chance of Meatballs" was in the 2012 animated comedy movie "Hotel Transylvania", in which he starred alongside Adam Sandler while he also reprised his role in the film's two sequels. In September of the same year, he portrayed Cuckoo in the eponymous British comedy series and in 2013, Andy began portraying Detective Jake Peralta in the police comedy series "Brooklyn Nine-Nine". He has been very active in the film industry to this day.
Andy and Joanna purchased the Mooncrest estate in Los Angeles in March 2014, while they also own a house in the West Village borough of New York City.