• Ariasaki is a social media star, gamer and cosplayer from Vancouver, Canada
• She streams gameplays of online multiplayer games on Twitch, and has a YouTube channel with vlogs and gameplay videos
• She has a Patreon account to post recipes and sells merchandise on her website
• She was in two relationships prior to her current boyfriend Johnny Ru, a professional "League of Legends" player
• Ariasaki loves anime, animals, cooking and is close friends with Twitch streamer DisguisedToast
Ariasaki Wiki bio
Aria Saki was born in Vancouver, British Columbia, Canada, on 31 March 1994 – her zodiac sign is Aries, she holds Canadian nationality, and is of Asian ethnicity. She is a social media star, gamer and a cosplayer, probably known best for streaming her video game "League of Legends" gameplays on Twitch.
Early life and family
Ariasaki grew up in Vancouver, where she was raised alongside her younger sister. Their parents are both of Vietnamese descent: her father worked as a police officer, while her mother was employed at a local supermarket.
Ariasaki and her sister both grew up playing video games, and watching animes and Disney movies. Ariasaki said that the first game she ever played was "Pokemon" on her Nintendo console, which her father bought her as a birthday gift.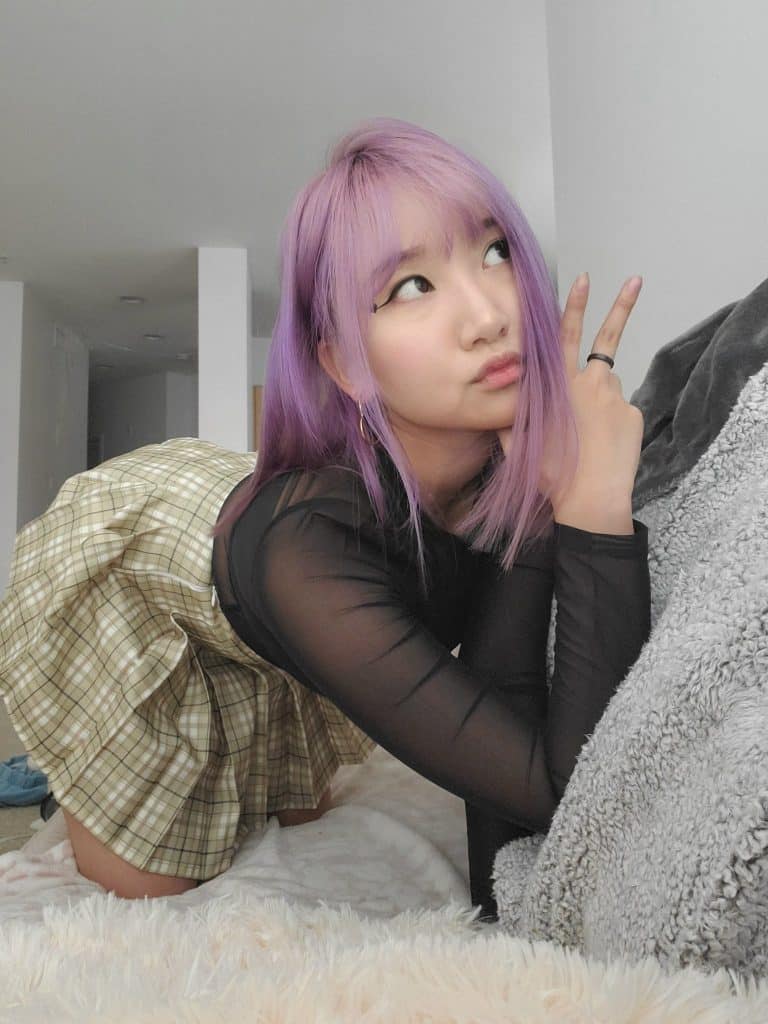 She's currently residing in Los Angeles, California.
Ariasaki launched her Twitch channel on 12 May 2014, but wasn't very active on the platform prior to 2018. She usually streams her gameplays of online multiplayer games such as "League of Legends", "Minecraft" and "Valorant", while also making more casual streams during which she cooks and chats with her audience.
Ariasaki quickly became recognized for her good looks and sarcastic sense of humor. Her account is followed by some other big names on Twitch, who include Sykkuno, pokimane and DisguisedToast, with all of whom she has collaborated.
Ariasaki is very active on the platform, as she streams at least two or three times per week. She currently has more than 400,000 followers, and her streams average about 2,000 viewers, with about 10 million views in total. Her Twitch bio reads 'I cook, watch anime, and design stuff'. She is also active on the Twitch sister platform Twitch Sings, which allows users to sing together online.
Ariasaki has a Patreon account onto which she posts her recipes for a monthly subscription of two dollars. She states that she created this account because a lot of her fans couldn't reference her streams for recipes due to copyright issues.
Today we are sponsored by @GuardianTalesEN ! Guardian Tales is an isometric 2D action-adventure mobile RPG!

DL it now using my link:https://t.co/AsdSiyM7Vx

I'll be starting pre-stream soon ☺️🌸 https://t.co/dd2LbMQtBm pic.twitter.com/aAJTLkpbGj

— Aria (@AriaSaki) June 26, 2021
She has a YouTube channel – 'AriaSaki', which she launched in June 2014, and in February 2017 she uploaded her first video entitled "Lily's new POMERANIAN PUPPY, TEMMIE ! ARIA VLOG", featuring her friend and also a YouTuber, LillyPichy. It's also her most viewed video on the platform, with over 600,000 views. She mostly makes gameplay videos featuring her playing titles such as "Among Us", "Minecraft", and "Valorant", alongside her vlogs. Ariasaki often collaborates with members of the OfflineTV entertainment group, and has even appeared in one of their YouTube videos, while she isn't officially associated with them. Her account numbers more than 150,000 followers, and she has amassed over five million views so far.
Ariasaki is active on Twitter, with her account '@AriaSaki' numbering more than 320,000 followers, and around 22,000 tweets so far, while her Instagram account has almost 250,000 followers. She mostly uploads selfies and photos with her friends onto Instagram. Ariasaki also has a Facebook page that numbers around 12,000 followers, which she mostly uses it to promote her YouTube content.
She sells merchandise on her website, which includes hoodies, T-shirts and chocolate boxes.
Love life and boyfriend
Ariasaki met her first boyfriend while she was in high school, and the two stayed together for three years. She's since stated that the relationship couldn't function anymore due to her partner's jealousy.
Ariasaki met her second boyfriend in January 2018, through her friend Miyoung who introduced them at a party, but the relationship lasted for only three months. In July 2019, she publically announced that she was in a relationship, and soon revealed that she was dating Johnny Ru, a "League of Legends" e-sports player.
Ariasaki currently appears to be single, she hasn't been married or engaged, and doesn't have children.
Hobbies and interesting facts
When asked to describe herself, Ariasaki said that she is a people-pleaser, and an over analyzer.
She is an avid anime watcher, with "Hunter x Hunter", "Jojo's Bizarre Adventure" and "Naruto" being some of her all-time favorite series.
Ariasaki loves animals, and has a Minuet Munchkin cat named Mayo, a Scottish Fold cat named Kisa, and a PomChi dog Cleo. She's managing a separate Instagram account '@ojiksa', dedicated to her pets, which numbers about 5,500 followers.
She is close friends with Jeremy "DisguisedToast" Wang, another famous Twitch streamer from Canada. On his birthday, 25 November 2020, she tweeted that she was in a very dark place a month prior, and that he reached out to her to make sure that she was alright. Her fans were astounded by Toast's kindness, all tweeting in his support.
Ariasaki learned cooking from her mother, and loves making traditional Vietnamese dishes, with her favorite being Bun Bo Hue, a spicy beef and pork noodle soup.
Appearance, age and net worth
Ariasaki is 27 years old, with long black hair and dark brown eyes. She's 5ft 3ins (1.61m) tall, weighs around 114lbs (52kgs), and her vital statistics are 34-24-34. She wears dress size 4 and shoes size 5.
As of May 2021, her net worth is estimated at around $450,000.
Who is Ariasaki's ex-boyfriend Johnny Ru?
Johnny Ru was also born in Vancouver, on 8 May 1997 – his zodiac sign is Taurus, he holds Canadian nationality and  is of Asian ethnicity. He is a professional "League of Legends" player, known under his alias 'Altec'.
Johnny grew up in Vancouver, where he attended Gladstone Secondary School.
He expressed interest in gaming at a very young age, and began playing "Runescape" and other MMORPG games when he was only eight years old. In high school, he got into "League of Legends", and soon began playing competitively.
He joined his first competitive team, vVv Gaming, in April 2012, but left after four months. Johnny is currently playing for Immortals. He won first place at the 2013 We Will Do It Ourselves Cup, as well as at the 2016 NASC Summer. At one point, he held the #1 spot on the NA Challenger Ladder, with 1001 League Points.
Johnny Ru is 24 years old. He has short black hair and brown eyes, he is 5ft 5ins (1.65m) tall and weighs around 134lbs (61kgs). As of May 2021, his net worth is estimated at over $100,000.