• Primetime Emmy Award winning Irish actor and film director
• Best known for his role as Alastor 'Mad Eye' Moody in the "Harry Potter" films
• Also known for his role as Father James in "Calvary" (2014)
• Son Domhnall is also an actor
• Net worth of over $4 million
• Skilled with the mandolin and Irish language
• Fan of the English football club Aston Villa
Who is Brendan Gleeson?
Brendan Gleeson is an Irish Primetime Emmy Award-winning actor and film director, who is still best known to the world as Alastor 'Mad Eye' Moody in the "Harry Potter" films, in which he featured from 2005 to 2010. He's also known as Father James in the film "Calvary" (2014), in addition to numerous other prominent roles that he has secured in his career that spans more than 30 years.
Brendan Gleeson Bio: Age, Childhood, and Education
Brendan Gleeson was born on 29 March 1955 under the Aries zodiac sign, in Dublin, Ireland to Frank Gleeson and his wife Pat. He spent his childhood in Dublin with his younger brother Frank, and went to St Joseph's Christian Brothers School in Fairview, Dublin. He fell in love with books and plays at an early age, and n school was a member of the school drama group, acting in various plays including "Waiting for Godot", which was one of his favorite books growing up.
During his teenage years, he attended drama classes, and in addition to his high school plays' appearances, Brendan was a regular at the Dublin Shakespeare Festival. After high school, he enrolled at University College, Dublin where he majored in English and Irish (Erse).
Career Beginnings
He continued to attend acting classes, but before he pursued acting as a career, Brendan worked for several years as a secondary school teacher of Irish and English at Catholic Belcamp College in North County Dublin. He left the teaching profession in 1991, having already started appearing in semi-professional theater productions in Dublin and surrounding cities.
As an aspiring actor, Brendan joined Passion Machine Theatre Company following a successful audition, and began appearing in plays produced by the company. His debut was in the play "Wasters" in 1985, and he continued with appearances in such plays as "Brownbread" (1987), and "Home" in 1988.
In his early career, Brendan was also writing for the company, and completed scripts for the plays "The Birdtable", and "Breaking Up" in 1987 and 1988 respectively, which he also directed.
After successfully launching his career on stage, Brendan started auditioning for on-screen roles, and made his debut at 34 years old as Brendan Dowd in the 1989 television movie "Dear Sarah" with Stella McCusker in the titular role. The following year, Brendan appeared in the Oscar Award-nominated thriller film "The Field", directed by Jim Sheridan, and starring Richard Harris, John Hunt and Sean Bean.
His first major role was as Michael Collins in the historical television movie about the treaty between the Irish Republic and British government, entitled "The Treaty" (1991); Brendan received Jacob's Award for his work on the film. He next appeared in the family fantasy "Into the West", starring Gabriel Byrne and Ellen Barkin, in the following year, while in 1994 he starred in the short-lived series "The Lifeboat".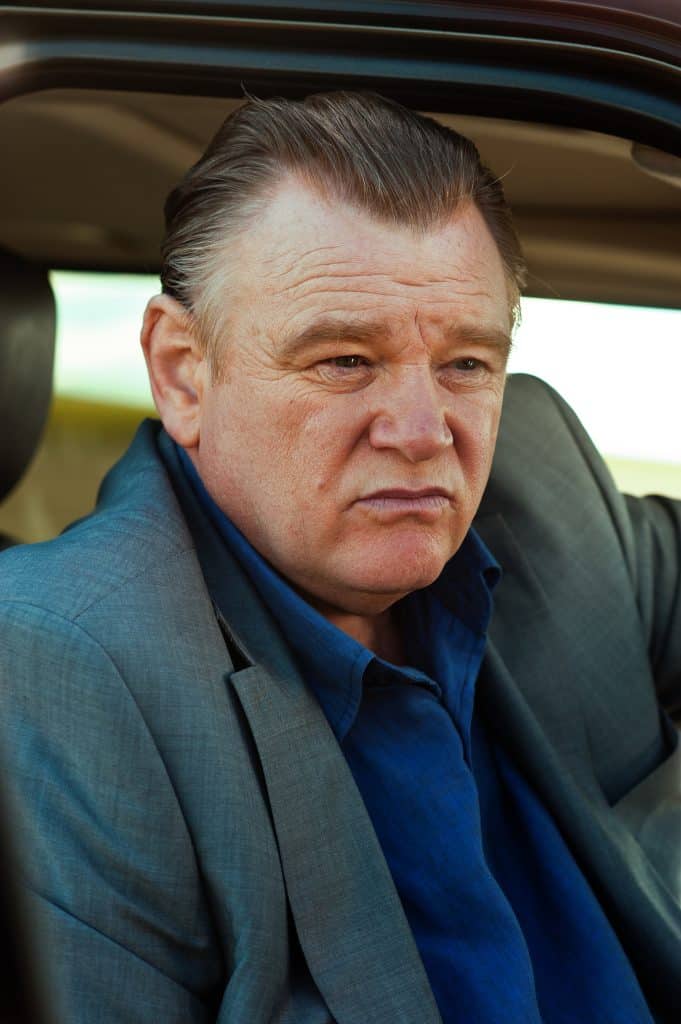 Rise to Stardom
He came to prominence with the part of Hamish in the critically acclaimed 1995 biopic about Scottish warrior William Wallace – "Braveheart" – starring Mel Gibson, Sophie Marceau and Patrick McGoohan. Following this success, Brendan began getting more prominent roles, and enjoyed huge success throughout the rest of the decade. He played the supporting character Liam Tobin in the historical biopic about Michael Collins, with the titular character this time portrayed by Brendan's close friend Liam Neeson.
In 1997, he starred in the film "Turbulence", alongside Ray Liotta, and also in the action-comedy film "I Went Down", for which he won the Boston Society of Film Critics Award in the category of Best Actor. The following year he repeated the feat with the lead role of Martin Cahill, the Dublin folk hero and criminal in the biopic about his life entitled "The General", and finished the decade with his portrayal of Sheriff Hank Keough in the horror film "Lake Placid", which starred Bridget Fonda, Bill Pullman and Oliver Platt.
Continued Success
Brendan started the new millennium with the role of McCloy in John Woo's award-winning thriller action-adventure film "Mission Impossible", with Tom Cruise in the lead role, and next to him Dougray Scott and Thandiwe Newton. Next, he joined Andie MacDowell and Elias Koates in the romantic war-drama film "Harrison's Flowers" also in 2000, while the following year he featured in the thriller-comedy film "The Tailor of Panama", and appeared in Steven Spielberg's Academy Award-nominated sci-fi film "Artificial Intelligence", with Haley Joel Osment, Jude Law, and Frances O'Connor in the lead roles.
In 2002, he had a minor role in the sci-fi horror film "28 Days Later…", starring Cillian Murphy, Naomie Harris, and Christopher Eccleston, and the same year featured as Walter 'Monk' McGinn in the eponymous historical drama "Gangs of New York", directed by Martin Scorsese and starring Leonardo DiCaprio, Cameron Diaz, and Daniel Day-Lewis.
The film received 10 Academy Award nominations, though failed to win even one, but has still become a cult classic, and one of the most praised of Brendan's performances.
In 2003, Brendan portrayed Stobrod Thewes in the Academy Award-winning historical adventure-drama film "Cold Mountain", which earned him a few award nominations, including the London Critics Circle Film Award for British Supporting Actor of the Year. The next year he was Menelaus in the epic historical drama film "Troy", and appeared next to Joaquin Phoenix and Sigourney Weaver in the Oscar Award-nominated thriller-mystery film "The Village". He had a notable role in the comedy-drama film "Breakfast on Pluto" (2005), about a transgender woman in London in the '70s with Cillian Murphy in the lead role – the film received rave reviews, making Brendan a star next to Cillian and Liam Neeson, who also had a representative role in the film.
The same year, Brendan was selected as one of the Professors in Hogwarts School of Magic, Professor Moody in "Harry Potter and the Goblet of Fire". He reprised the role in the sequels "Harry Potter and the Order of the Phoenix" two years later, and "Harry Potter and the Deathly Hallows: Part 1" in 2010.
In 2007, Brendan co-starred in Brad Gann's indie drama film "Black Irish", next to Michael Angarano, while in 2008 for "In Bruges", Brendan received rave reviews for his portrayal of Ken, a mentor-like figure for the hitman Ray who is portrayed by Colin Farrell. Brendan earned a Golden Globe Award nomination, and a BAFTA Film Award, but failed to earn an actual award.
In 2009, he got the role of his career as he was selected to portray Winston Churchill in the televised biopic about Churchill's life and career at the end of World War II, entitled "Into the Storm". The role won him his only Primetime Emmy Award in the category for Outstanding Lead Actor in a Miniseries or a Movie, and a Golden Globe Award nomination in the category for Best Performance by an Actor in a Miniseries or a Motion Picture Made for Television.
The role of Gerry Boyle in the comedy crime-drama film "The Guard" from 2011 was yet another career achievement for Brendan, as it earned him his third Golden Globe Award nomination, this time in the category for Best Performance by an Actor in a Motion Picture – Comedy or Musical. The same year, Brendan appeared in the multiple Academy Award-nominated romantic-drama film "Albert Nobbs", starring Glenn Close, Mia Wasikowska and Aaron Taylor-Johnson, and in 2012 he had a notable role in the mystery thriller "The Raven".
Brendan continued his career with film roles, and starred in the comedy "The Grand Seduction" (2013), with Taylor Kitsch and Liane Balaban as his co-stars, while the lead role of Father James in the mystery-drama film "Calvary" brought him several awards, including the Irish Film and Television Award in the category for Best Lead Actor- Film and the British Independent Film Award in the category for Best Actor, among several others.
In 2014, he was General Brigham in the sci-fi action adventure "Edge of Tomorrow", in which he teamed up again with Tom Cruise, while in 2015 he starred in the action-adventure "In the Heart of the Sea". His next major project was the role of Joseph Lynch in the sci-fi action-adventure film "Assassin's Creed", starring Michael Fassbender, while in 2016 he took the role of Donald Horner in the romantic comedy film "Hampstead" (2017), an unusual role for him, but the critics were kind, praising his efforts and those of Diane Keaton, his co-star. The same year he also appeared in the critically acclaimed comedy film "Paddington 2", and started playing Bill Hodges in the TV series "Mr. Mercedes" (2017-2019). He featured in the Oscar Award-nominated comedy film "The Ballad of Buster Scruggs" in 2019, and appeared in the film "Frankie".
Most recently, in 2021 he joined the cast of the TV comedy series "State of the Union" as Scott, and is working on the new take on the popular "Macbeth" play, entitled "The Tragedy of Macbeth".
🥳Happy Birthday #BrendanGleeson!
What are your favorite roles he has done?
We want to know! pic.twitter.com/JhNfOI7S0q

— Film Inquiry (@FilmInquiry) March 29, 2020
The film is scheduled for release late oin 2021, written and directed by Joel Coen. The film will star Brendan as King Duncan, alongside Denzel Washington as Macbeth, and Frances McDormand who will portray Lady Macbeth.
Personal Life, Marriage, Wife, Children
Brendan Gleeson has been married to Mary Weldon since 1982. The couple has welcomed four children, all sons – Domhnall, Fergus, Brian and Rory. Domhnall Gleeson is an actor and has been in the industry since 2001. He appeared with his father in films "Studs" (2006), "Perrier's Bounty" (2009), and "Harry Potter and the Deathly Hallows: Part 1" (2010), among others, but is possibly best known to the world as Caleb in the Academy Award-winning sci-fi thriller film "Ex Machina" (2014).
Brendan's son Brian is also an actor, and is known as Jimmy Mahon in the TV mini-series "Rebellion" (2016-2019), and also as Dr. Robert Hardy in the film "Phantom Thread" (2017).
Net Worth
As of mid- 2021, Brendan Gleeson's net worth has been estimated at over $4 million, earned through his successful career as an actor, during which he has appeared in more than 100 film and TV titles, all of which have added to his wealth.
Appearance and Vital Statistics
This prominent actor has brown eyes, while in his youth his hair was red, but has turned to salt and pepper due to his advanced age. He stands at a height of 6ft 2ins (1.88m), while he weighs approximately 210lbs (96kgs).
Hobbies, Interests, and Trivia
Brendan has expressed his musical talents in the films "Cold Mountain", "Michael Collins" and "Grand Seduction", as he's seen playing a fiddle, while he is also skilled with the mandolin. He is a talented singer and has collaborated with the Irish folk group Dervish, as he sang "Rocky Road to Dublin" on one of their albums.
He is fluent in the Irish language – Erse – and uses his influence as an advocate of for it.
Brendan is a soccer enthusiast, and a huge fan of the English football club Aston Villa.